What are some of the challenges of enabling ecosystem-level search for OTT devices like Roku and Fire TV and leveling the playing field for niche OTT services? Steve Nathans-Kelly, VP and Editor-in-Chief of Streaming Media, sits down with Steve Harnsberger, Founder & CEO, Universal Search for an in-depth chat about the ways his company approaches these issues.
"I think we all understand that one of the big problems with the OTT experience, both from the user level and also at the channel level, is discovery, right?" Nathans-Kelly says. "Discoverability is the difficulty of finding what you want to see…I think one of the first things that struck me at Streaming Media at a conference was a guy on a panel who said, 'What's the point of looking for a show on Netflix if it takes you longer to find it than it takes you to eat a slice of pizza? I think that problem is just magnified if you're a channel provider and you can't get your show seen…"
Harnsberger laughs and says, "Yeah, I think it was last week at another conference where the industry panel thought that the biggest problem in the streaming industry for consumers is they spend 25 minutes, and they can't find what they're trying to watch. It's both search and discovery, as you said, both on the side of the consumer experience being bad, but then on the side of having a streaming channel, the biggest problem is there are 5,000 competitors and nobody's heard of their channel. And that's where Universal Search comes in. And I think what's important is, first of all, let's define it, what is Universal Search? It is a streaming search at the platform level on the homepage of Roku, on the homepage of Fire TV, on the homepage of Samsung, Apple TV, or Google TV – there is a search function. So someone goes in by voice or by text and requests. It could be a contextual or it could be a title, or it could be an actor…and it is the content that is marketing the channel. So they're looking for Midnight in Paris and they see, 'I have to pay for it on Vudu,' or they're looking for Squid Game, they didn't know it was on Netflix. So the channel is marketed by the content and the app is placed next to the search results. But you can't buy that placement. You can't buy search results; you have to do it through metadata engineering."
"And so that's where you come in," Nathans-Kelly says. "You work with the channel vendors…how does that work?"
"Well, actually, the company was founded in 2017 after the platform Roku had created Universal Search," Harnsberger says. "First of all, it's not universal. There are only a couple hundred apps. Roku has the most…over 500 that have onboarded their library to search. And each platform, Roku included, has a separate metadata spec. You have to reconfigure your data to match their JSON spec. You have to do deep links; you have to give them box art. And it's not a software skill that is normal for an app engineer or a content management engineer. It's a metadata feed configuration engineer. So Roku hired the team that I have now to onboard the majority of the first hundred apps to Roku search because they only had five that were willing to go through the process. And in doing so, we were introduced to TNT and TBS, and all of a sudden, we're like, this is a business. These apps need help! It's typically a three-month process to onboard. And once in, they're one of the select 100 to 200 channels whose results come up in search…their app logo appears in search, and then someone can click install and play for a free ad. Or you can do a trial for a subscription app."
"And then with the companies you've worked with and the channels you've worked with, they've seen some pretty remarkable results in terms of their visibility," Nathans-Kelly says.
"It actually shocked us," Harnsberger says. "The one thing about the algorithms inside of Apple and Amazon or Roku…this is not like the Google search engine where you actually do your site map, and you can see what your top terms are, and you know what the most popular terms are of how someone came to your app. It's all obfuscated. It's not public knowledge. So the only thing you can see is after you put your data in, you don't know what's happening in search. You see your app installs, your streaming hours, your unique users, daily users. So what we saw [in] our last 4K studies, the worst one saw a 500% increase. The worst one. So they were doing a thousand app installs on the first of the month from the last month. And they ended up doing 5,000 app installs in the next 30 days."
Harnsberger highlights additional very successful case studies. "We had one that was 10x…an independent film app called Gravitus. And what it was is basically people have heard of the content. The content is marketing the app now. And so an app install is worth a dollar. If you pay for an add on…on Roku, the screensaver, you pay $2 or $3 per app install. So, based on our model, it's probably about 10 cents or 20 cents that you're paying to get the opportunity to have a new user. So…search really is the most effective user acquisition tool that 90% of the apps are not using today."
"And so how do companies actually find out that this is possible?" Nathans-Kelly asks.
Harnsberger responds, "I think that this is the biggest problem…they're not aware of it. An app team, when the engineers are told that, the boss says you need to go live on Roku, Apple, and Amazon and the engineers build the app, they go through the whole process, they launch the app and we're done. And nobody, said, 'Hey, there's a secondary process that you have to apply for, first of all, and be approved at Amazon and at Apple and Google. They're not aware that [of] this highly effective marketing tool because the engineers were building apps and they onboarded. The marketing team then comes on and says, well, how do I grow my audience? Well, they're not back in the app. They're not on the front end on the app engineering side. I don't think they're aware of it. I mean, Netflix knows, and Paramount knows, and the top 50 channels they're in search for. Because if you can't be found, then you don't exist. The truth is, I think it's lack of awareness, that search is this incredibly powerful tool that you have to go through the process of onboarding your metadata, either with us, do it yourself, or work with your engineering team…"
"That makes sense because, you know, Netflix, HBO…these are so few of the companies in this vast OTT marketplace now," Nathans-Kelly says. "I mean these are the giant trees and then there are the niche content providers that just can't be seen."
"Actually, the truth is the niches are the most important," Harnsberger says. "So if you have the crafty channel, it's quilting and knitting and all of this, well, how are they going to find you? You have a small budget, but if anyone search[es] for quilting, or knitting, that will pop right up and say go to the channel. So if you're in a niche of whatever it is…yoga meditation…if you're the Ted Channel, climate change…We're working with a disability network right now. And if you search disability streaming, there's no one that's really owned the genre. So I think actually the smaller apps that have gone after a particularly targeted audience, they're the most important to be in search. Because you can really identify the people [who] are searching, they self-identify saying, 'Hi, I want a quilt, or hi, I want to watch The Seventh Seal on the Criterion Channel. So they've actually announced that they are the perfect candidate for the content inside the channel before they've even installed the channel. So the audience, the prospect is possibly the highest quality prospect to be discovered for the app that they ever could have heard of. And they didn't realize that connectivity. So we're the bridge between the library and the user. That's why we buy data. So…the engine has to listen to the user, and we translate the data so that it can be read and heard by the text, or especially by the voice search."
"The users are looking for the content, but they don't know who has it," Nathans-Kelly says.
"That's the number one thing," Harnsberger says. "The previous company we came out of was Guide Box. And that was simply, I don't know where to watch Home Alone, I just don't know what channels, I mean who has Home Alone 2? And the big one is who has Yellowstone this year, right? The rights were all chopped up. Season Four is in a different place [from] Season Three…The truth is, I think [Roku] hasn't found the value of search. They aren't using the voice search on the platform as effectively as they could. If they know what they want to watch. But if you actually know what's in your watch list…the search will tell you, oh, it's over here. It's in Peacock or it's in Gravitus, it's in Criterion. And it will also show you, it's free on the Sinclair app to see Dr. Phil, but it's $1.99 on Amazon. And this is the other problem we have, right? 'Oh shoot, I bought the whole series Happy Valley and it was on Paramount, and I paid 39 bucks for it. I actually did that, right? I was like, and I'm in the business. So, you know, search can save a consumer money and it can also be a very successful consumer experience."
"Well, yeah," Nathans-Kelly says. "And you know, I'm in the business too, right? And I often feel like when I get results on Roku that I'm not really seeing the results that are out there. I don't think I'm seeing the whole picture."
"In this case, because the search engines are obfuscated, we don't know what they're doing," Harnsberger says. These are businesses that…they can take someone then when they say the Carol Burnett Show, well it might be inside of the Roku Channel, and it might be inside of the Shout Factory Channel, and it might be inside of the Freebie Channel. So the question is, how are those results being presented to a consumer so that they can actually see all of them? And sometimes it will be watched on Freebie, right? And there'll be another button. It'll say click here if you want to find it anywhere else on Amazon, right? So that's a way of sending the searcher to your own app where you have a possibly better revenue model on it. And that's just smart business, right? But the user experience, perhaps you want to see all of them you know, and you want to see the free ones, the subscription ones, and the transactional ones. Because maybe you don't want to subscribe and you'll pay $3.99 because who wants to sign up, right? But search actually works and it works very well for those channels that have thought about it and had a strategy [that] said, 'I'm going to get my data out there so I can get discovered by the guy who's asking for the very product in my library."
Nathans-Kelly asks Harnsberger to clarify the term "ecosystem-level search."
"We all work on in a streaming ecosystem on the television," Harnsberger says. "Roku is number one in the United States – 50% of the streams – then there's Fire TV [at] number two, then there's Apple TV, and then you have Samsung growing, and Vizio…each one of them has built a streaming ecosystem that has transactional subscription, ad-supported and FAST apps all inside of that. And so in terms of onboarding all of that, it's a data silo, it's a lock silo, and they've built their own engine and everything else has to correspond to their proprietary metadata specification. And they're completely different. So…if you want to distribute into Portugal, you have to learn Portuguese. So if you want to go to Apple, you have to learn the Apple flavor, and that's Chinese. If you want to go to Amazon, you have to do the Amazon flavor, you know, and that's Norwegian. So you would actually have to learn a whole different language to get into the data silo. And that's why there's only 120 channels that have gone through it because it's a process that might take six to 12 months to onboard your data, to get it tested to have everything work. But just imagine…you know, the Chargers versus the 49ers game, that was a Sunday night, right? Searching for some high-valued sports content that's barely functioning just now. They haven't gotten the live searching working. Most of this is VOD. So these data silos that we're working within, they're literally constrained by their business objectives. And the business objectives are making it difficult for the channels who have to cross them all to be discovered because it's not a simple process."
"Well it sounds like we still have a ways to go, but Universal Search is helping us get there," Nathans-Kelly says.
"It actually works pretty well, but at the same time, the fact that we're limited to a hundred or two hundred when we're asking Siri and Alexa…and you know, we had 500 back in the day with Comcast, right?" Harnsberger says. "And there are thousands of them. What we're doing is we're missing out on a lot of the niche content. All the smaller ones aren't bubbling up and it's most important for the smaller ones. And so we haven't ended up saying, 'Well, we have to have a different model for the smaller ones to help them because they can't pay the bills the same way that the big channels can. If you're seeing a 500% increase in new daily users from being in search on Roku and you're not doing it well, then somebody has to start thinking about what's on the roadmap for next year. We think Universal Search itself is the number one most powerful user acquisition tool that people aren't using. That's basically it. And they need to figure it out one way or another."
"And that's critical because without [the reach], they can't sell ads," Nathans-Kelly says. "They can't survive."
"Because they can't find things in search, that's why they're going to the FAST channels because it's down, down, down, funny cat video play that's actually grown because searching isn't working perfectly," Harnsberger says. "Just that [is] making discovery so easy. You just fall into a channel, you push play, and you hang around, right? So it's still an evolving marketplace. We'll see where it's headed, but we think search is the best thing going on."
Learn more about OTT discoverability at Streaming Media East 2023.
[Editor's note: This is a sponsored interview with Universal Search LLC. Streaming Media conducts sponsored interviews based solely on their value to our readers.]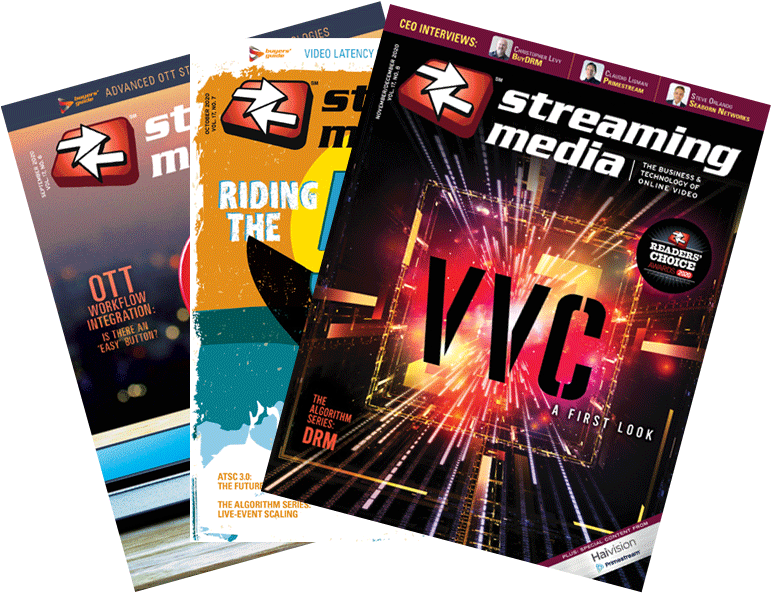 Related Articles