Increasing subscribers has been a focus for streaming services, but – perhaps illogically – it doesn't necessarily lead to increasing revenue. Nor does it lead to year-on-year revenue growth. Even Netflix has seen declining revenue year on year. If running a revenue-generating business was a test you were studying for, I'd tell you to study smarter, not harder. So why don't we take the same approach in business?
Instead of coming up with innovative ways to find new revenue, let's keep it simple: content owners and service providers need to find cost savings, generate additional revenue and meet customers' tightening budgets. They can do that by monetizing non-paying consumers, adding advertising models in addition to subscription, and improving sustainability to both reduce energy usage and save costs. In simple terms: protecting, enriching and delivering their video content.
Protect
Today, companies are cracking down on password sharing, with Netflix announcing they will start charging accounts for password sharing early next year – and for good reason! The company estimates that Netflix is sharing with over 100 million additional households, representing a tremendous revenue hit. In fact, the new plan could potentially add $1.6 billion in revenue. 
Despite the recent measures taken by Netflix and others, credential sharing is still socially acceptable – with almost a third of U.S. direct to consumer (DTC) services shared outside the household – and many long-time consumers are frustrated with the crackdown.
Addressing the need to recoup revenue while addressing customer frustration is a two-pronged approach which requires identifying non-paying consumers and providing an affordable and straightforward option for them to continue consuming.  When dealing with casual password sharing, a threshold-based approach – e.g. restricting locations or devices – isn't as effective and users are understandably dissatisfied with being penalized for traveling or watching multiple streams at a time.
Instead, behavior analysis over time is a more effective way of getting true positives, or actual sharers. And it all starts with identifying how big of a problem password sharing truly is. Synamedia's CSFEye is a cloud-based user behavior analysis service that identifies shared accounts by enabling video services to ingest their data and get insights into how their accounts are being used.
By accessing data and identifying accounts that are sharing credentials, providers can convert or upsell account sharers to real, paying subscribers. It may be possible to reduce cost of acquisition by tapping into consumers who are already viewing your content – they are interested and meet all the technical requirements.
Enrich
So much content, so little time. Whether our content is scheduled or on-demand, and delivered via broadcast or over the top (OTT), each consumer has a unique preference of monetization model, that depend on a variety of factors including region, age, gender, socio-economic status and time.
In today's multi-platform environment, while mass advertising is still valuable for brand building, digital consumers now expect more personalised advertising. Online video is gaining subscribers while cable, satellite and DTT are declining or remaining static. SVOD and Pay TV are plateauing in revenue, while online ad-supported has a much higher growth rate – that's where the real money is.  
In an attempt to tap into this revenue, both Netflix and Disney have added an ad-supported payment model in addition to SVOD. The competition is fierce as consumers only have so much budget in terms of both time and money. The average consumer in the United States only has two SVOD services, so you have to be at the top to compete. If you extend the offer to include AVOD or ad-supported, your opportunities increase, as consumers also have upwards of four AVOD services.
Given the revenue potential of AVOD and ad-supported online video, we need to create compelling advertising propositions that reach specific audience segments, across all services and screens.
Synamedia Iris unifies addressable advertising across both broadcast and streaming, ultimately increasing the value of your business. The solution takes advantage of data from multiple sources and enables sophisticated audience insights that can be checked against an advertiser's desired characteristics.
Deliver
Most people can agree that conserving energy is good for the world and the environment with 66% of US consumers and 80% of young US adults willing to pay more for sustainable products versus less sustainable competitors.
Not only is sustainability good for the world, but it's also good for your business – and not just appearance-wise. The bottom line is saving energy will also save you money.
Video streaming is not the first thing that comes to mind when we think of conserving energy – but perhaps it should be one of them. In 2021, Netflix had 222 million subscribers with 1.53 million MTCO2e (metric tons of carbon dioxide), which is equivalent to burning almost 1.7 billion pounds of coal.
The energy required for video streaming is also costly. For example, if one million people watch one hour per day, at say 1 GB of data per hour (sort of between SD and 720p HD), and it costs $.0025 to stream that 1 GB to one person, that's nearly $1 million per year ($912,500). To add salt to the wound, that cost increases with full HD, UHD, more subscribers, binge watching, etc. So how do we reduce our energy without compromising on quality?
Just-in-time streaming solutions build video streams on the fly which means that servers are only being tapped when they're needed to deliver content, helping keep energy usage and costs down, especially for delivery of long-tail or niche content, which is useful in the delivery of free ad-supported streaming TV (FAST) channels.
Synamedia Quortex's multi-tenant SaaS patented technology builds video streams on-the-fly, based on the end users' requirements, and matches it to their locations, devices and time zones. It quickly adapts to fluctuating audience demand, unpredictable network traffic, and infrastructure context and limitations. It also automatically scales cloud resources up and down, while maintaining the best quality of experience.
With the servers only being tapped when they're needed to deliver content, we use a lot less energy, ultimately saving money.
By protecting lost revenue from password sharing, adding hybrid ad-funded revenue-generating payment models, and delivering more energy efficient streams, you can work smarter not harder – and focus on saving money, while making money.
Maria Ingold, Synamedia
Maria Ingold is a strategic & technical innovator who brings extensive expertise in deploying successful emerging visual technology across film, TV, video, games and media.
As the former Chief Technology Officer for the Disney / Sony JV FilmFlex Movies, Maria created some of the most successful on-demand movie services in Europe from launch, including for Virgin Media cable and broadcaster Channel 4. FilmFlex was profitable from year one.
Maria is also a global public speaker, including TEDx talk "Innovating the Impossible", a BAFTA film and TV judge, a Board Advisor for iSIZE who provide machine learning bitrate reduction for video, and on the Industrial Advisory Board for the University of Essex, School of Computer Science and Engineering.
Mixing a background in Computer Science and Fine Art, she started her career helping innovate the beginning of multimedia – audio, video and games – on computers.
[Editor's note: This is a contributed article from Synamedia. Streaming Media accepts vendor bylines based solely on their value to our readers.]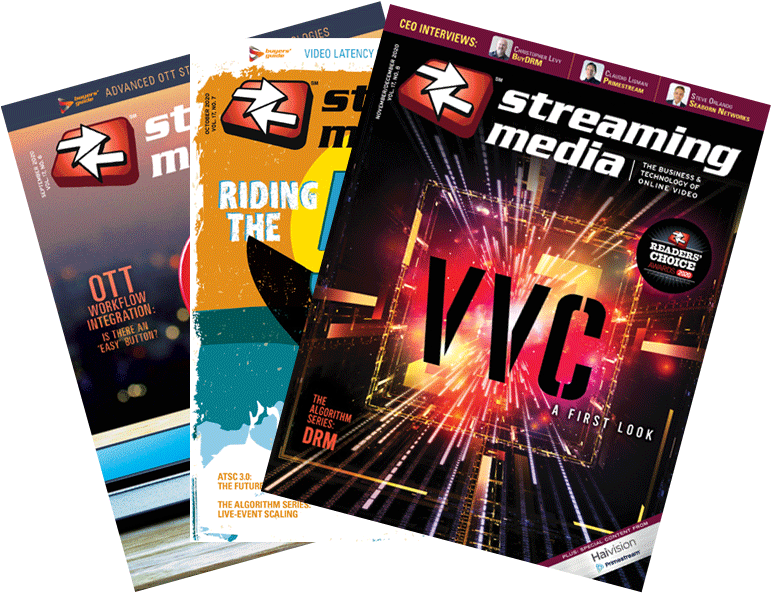 Related Articles
Greg Morrow of Bitcentral looks at how publishers now need a "swiss army knife" of tools to realize their advertising potential. With content spread across so many distribution points and in different forms, publishers now need to integrate a separate toolset for each one to thrive in today's market.

09 Dec 2022
Tony Mooney of ThinkAnalytics discusses approaches for optimizing TV behavioral targeting at whatever speed suits the local market or operational constraints.

07 Dec 2022
As the fight for eyeballs intensifies, we are seeing more and more companies diversify their monetization strategies to include ad-supported revenue models that scale their advertising offerings and capabilities. As companies like Disney and Netflix debut ad-supported models, marketers and advertisers can take advantage by integrating themselves into the OTT mix to create campaigns that hook viewers in.

01 Nov 2022
Companies and Suppliers Mentioned