An audio mixer can take the quality of your live stream to the next level. But how do you know which one to choose or if you even need one? Most audio mixers are built for audio professionals, such as musicians, live event producers, and podcasters. As a live streamer, which features should you look for in an audio mixer?
This buying guide covers the features and attributes of audio mixers that streamers should consider when purchasing. It also lists our seven favorite audio mixers for live streaming.
What is an audio mixer?
An audio mixer takes multiple sources of audio and mixes, balances, and combines them into one signal. If you regularly use more than one microphone, play music, or broadcast video gameplay on your streams, an audio mixer is a must for fine-tuning your sound. It lets you adjust the volumes of all your audio inputs, ensuring consistency.
Why do you need an audio mixer?
With an audio mixer, you can manage multiple inputs at once. You can plug in your mic, mobile phone, and laptop and control the sound and frequencies from each one. Here are some use cases for an audio mixer for streaming:
Controlling the volume of background music
Reducing feedback on a lapel mic
Mixing sound for multiple guests on your stream
Running a two-PC setup
Streaming with XLR mics and a gaming console
Running a live-streamed event or conference with music and multiple speakers
If you don't have multiple audio inputs, you probably don't need an audio mixer. You can get an audio interface instead. But if you do plan to host a stream or broadcast an event that requires more than two audio sources, an audio mixer will help you control your sound.
Audio mixers work seamlessly with streaming software. As a streamer, you shouldn't need to download separate Digital Audio Workstation (DAW) software, as it's more for podcasters and musicians.
How to choose an audio mixer
When you're in the market for a new audio mixer, you have several factors to keep in mind. Audio mixers come with different channels and tuning functions, and you'll need to ensure you choose one that meets your requirements. Here's what you should look for when deciding on an audio mixer.
👀 Type: analog or digital
Audio mixers can be either analog or digital. Analog mixers are more affordable and easier to use than digital mixers because they have fewer buttons and dials. Those new to audio mixing appreciate the simplicity and efficiency of analog mixers. However, they lack the customization options of a digital audio mixer, and they tend to have fewer external device connections.
Digital mixers allow you to connect multiple devices and provide more options for tuning your audio. The digital audio transfer process also prevents white noise and buzzing that analog mixers tend not to block out. The downsides of digital audio mixers are that they're much more expensive than analog mixers and the variety of customization options requires a bigger time investment.
The choice between analog or digital audio mixers comes down to your preference: convenience or customization. If you're new to audio mixing, try analog first to learn the ropes.
🔗 Channels
On an audio mixer, a channel is a signal path; it's what your audio travels on. You plug each of your sources into a channel, so the more channels you have, the more audio sources you can connect. Audio mixers with more channels cost more, so be certain of how many channels you need. For live streaming, three channels are usually adequate — but your specific channel needs will depend on your setup.
🎛 Tuning
Controlling your sound is the reason you're buying an audio mixer, so you want to be sure the tuning capabilities are in line with your goals. Look for audio mixers that let you control the channels, compression, and equalization (EQ). EQ knobs are usually things like bass, treble, etc., and they help you make the sound that the audience hears the same as the sound that goes into the microphone. Having enough tuning options is essential, but don't let yourself get carried away and get an audio mixer with 20+ EQ knobs.
One quick thing to note about EQ and audio mixers is the "British" style EQ circuits. You might see some audio mixers advertised with British EQ, which means they were designed to emulate EQ circuits that were popular in England in the 1950s, 60s, and 70s and gave British rock bands their signature sound.
🎙 Microphone
You have to pair your audio mixer with the right type of microphone. If you use a USB mic that you normally plug directly into your computer, check that the mixer you purchase has a USB audio interface.
If you use an XLR mic for streaming, it needs phantom power to work. It's called "phantom" power because it comes from the XLR cable rather than a power cord. Most XLR mics require 48V of phantom power, so make sure your audio mixer can supply at least that much.
🪨 Size
Audio mixers come in a wide range of sizes, from tiny to massive. Check the dimensions of a mixer before purchasing and be sure it fits on your desk along with your other equipment. You want the audio mixer to be well within reach so you can make adjustments during your live stream.
🤑 Price
The cost will be a concern for most people purchasing an audio mixer. Prices vary considerably, with analog mixers tending to be less expensive than digital. Keep in mind that higher-quality audio mixers will cost more, and if you want extra functionalities, you will have to pay for them.
You can get a decent audio mixer for around $100. For higher-quality mixers with more capabilities, expect to pay closer to $300, or even up to $500 for the ultra high-end models.
7 best audio mixers for streaming
1. Behringer Xenyx QX1002USB Mixer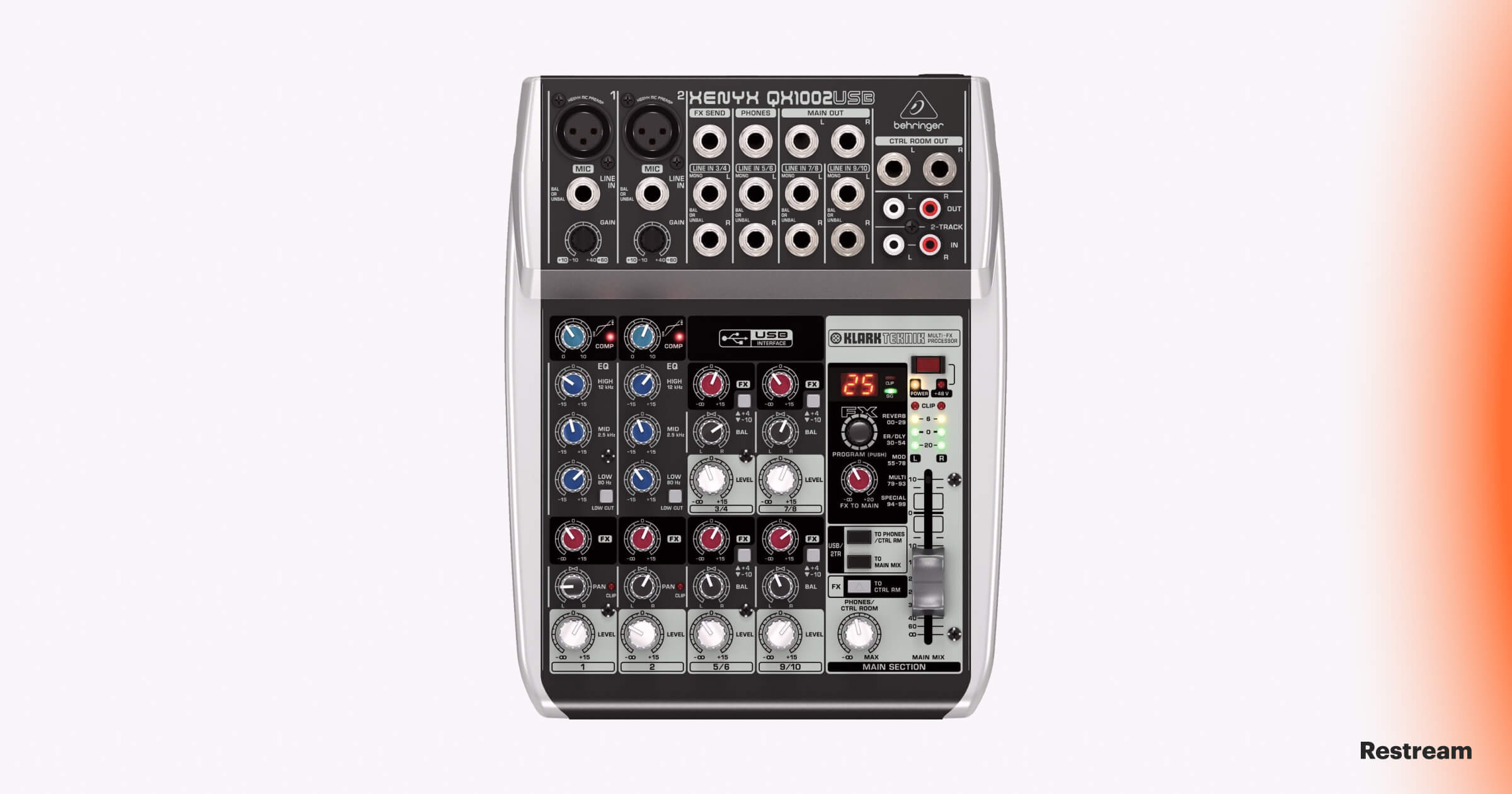 The Behrigner Xenyx QX1002USB analog mixer offers plenty of features to meet more sophisticated needs. With a three-band EQ and six channels, the Xenyx QX1002USB model is suitable for streamers using two PCs. You can connect your XLR mic and control compression with just one knob.
👉 Features
Two Xenyx preamps
One-knob compressors
Processor with 100 presets
Three-band EQ
➕ Pros
Built-in USB audio interface to connect directly to your computer
Comes with free software
10 total inputs (two XLR)
48V phantom power
➖ Cons
Tends to overheat near the power pack
Have to unplug the unit to power it off
2. TC-Helicon GoXLR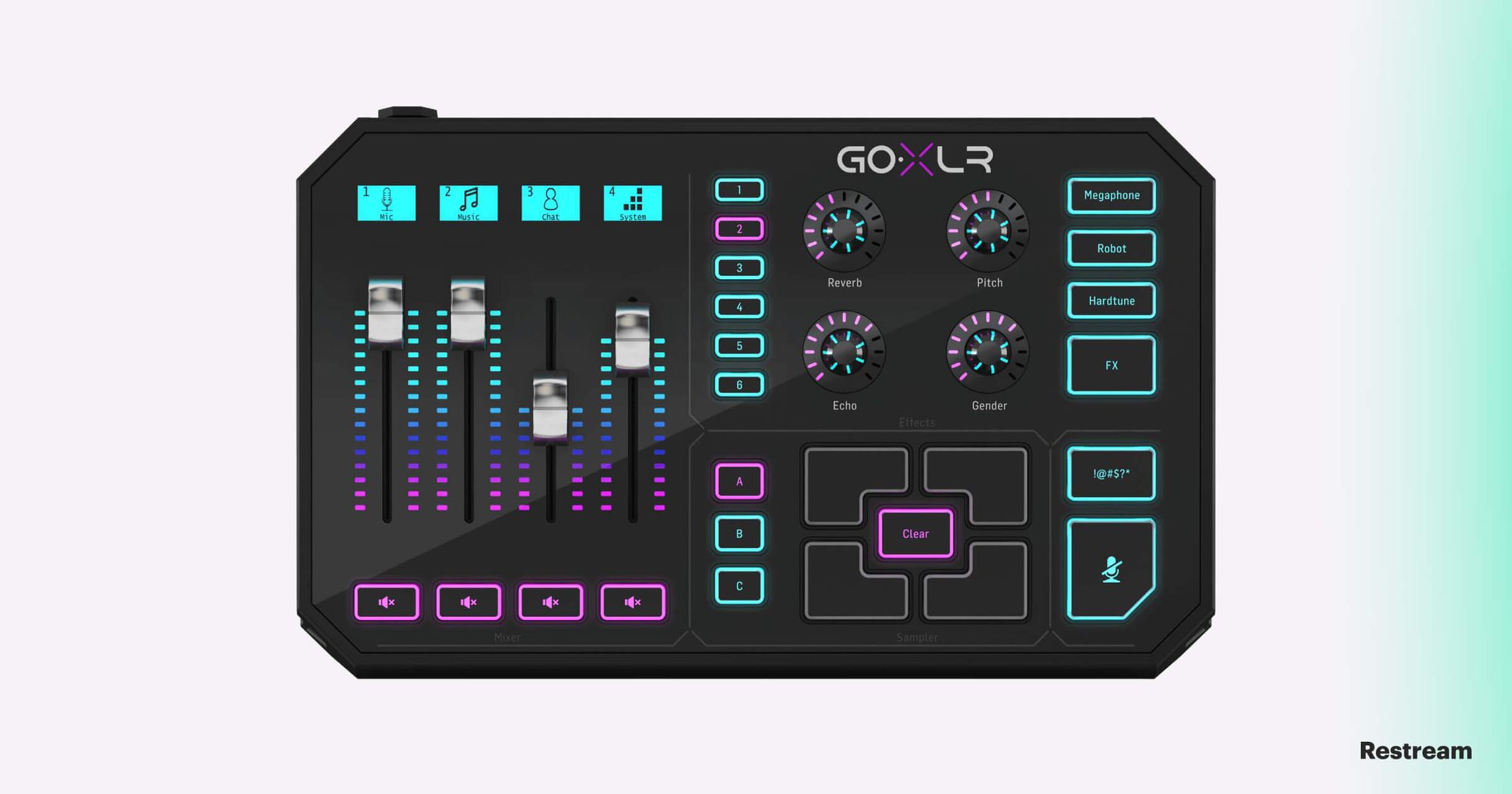 The GoXLR audio mixer from TC-Helicon was created with streamers and gamers in mind. From the compact design and RGB lighting to the voice effects and instant mute button, the GoXLR's features will make controlling audio on your live broadcast a breeze. It can replace your other audio equipment, such as an audio interface, as well, helping you consolidate into one device that takes up less desk space. A high-end mixer like this doesn't come cheap, however.
👉 Features
Four channels
USB audio mixing
MIDAS preamp
48V phantom power for XLR mic
3.5 mm input for headphones
Optical input for Xbox or Playstation
➕ Pros
Tons of customization options
Lightweight
Pro vocal effects
Customizable RGB lighting
"Cough" mute button
➖ Cons
One of the most expensive mixers on this list
Does not work with macOS
3. Yamaha MG10XU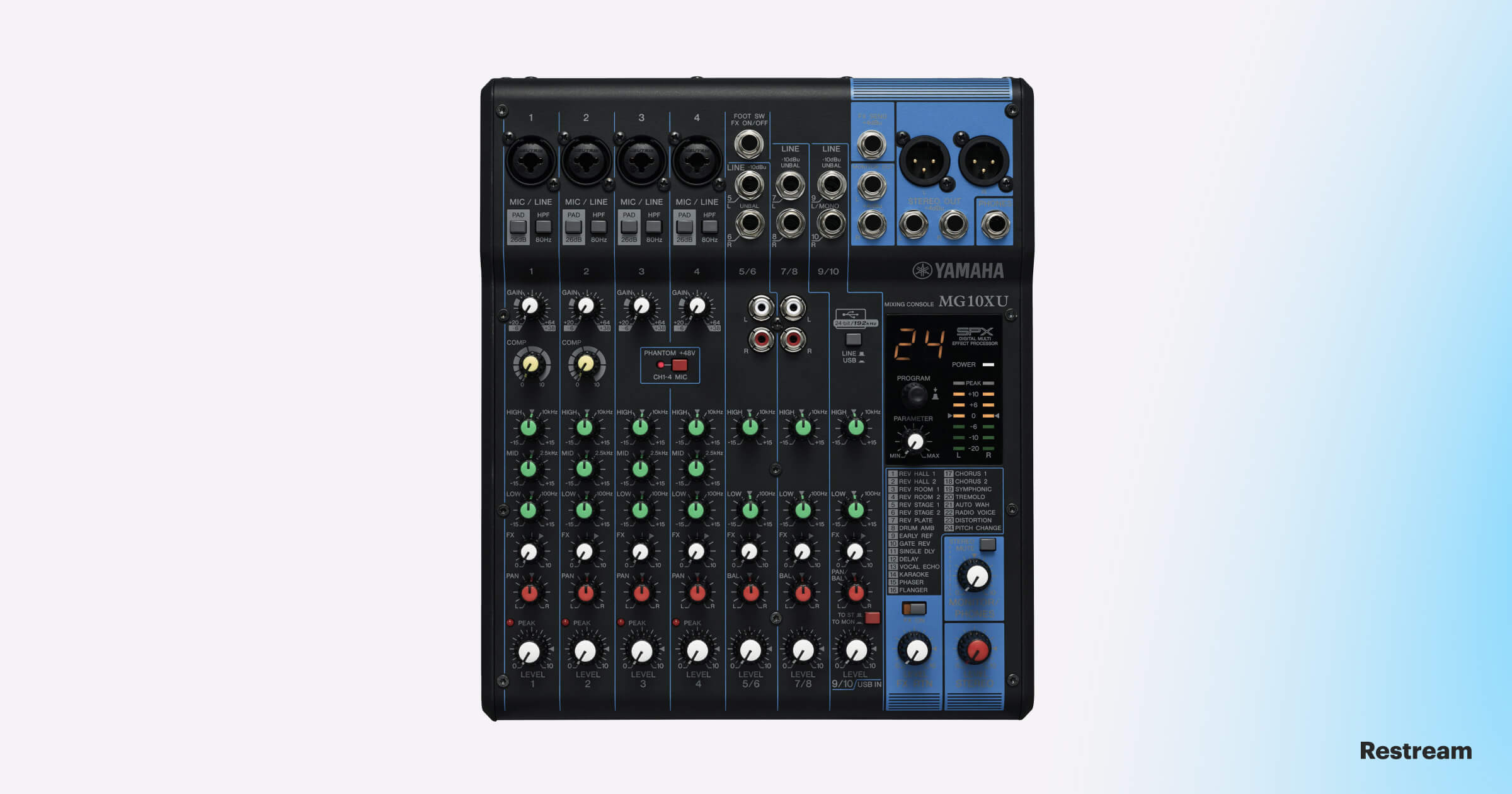 The ten-channel audio mixer from Yamaha, the MG10XU, comes with a USB interface and built-in special effects. This mixer provides studio-quality sound and is straightforward to use, making it a top choice among streamers who want professional-sounding audio. And with ten channels, it's the ideal mixer for streamers using multiple mics.
👉 Features
10 channels
48V phantom power
Three-band EQ
D-PRE Class A preamp
Two-channel recording and playback
One-knob compressor
➕ Pros
Up to 24 special effects
Compatible with iOS and iPad
➖ Cons
USB cable not included
Tends to get hot to the touch
4. Alto Professional ZMX52 Mixer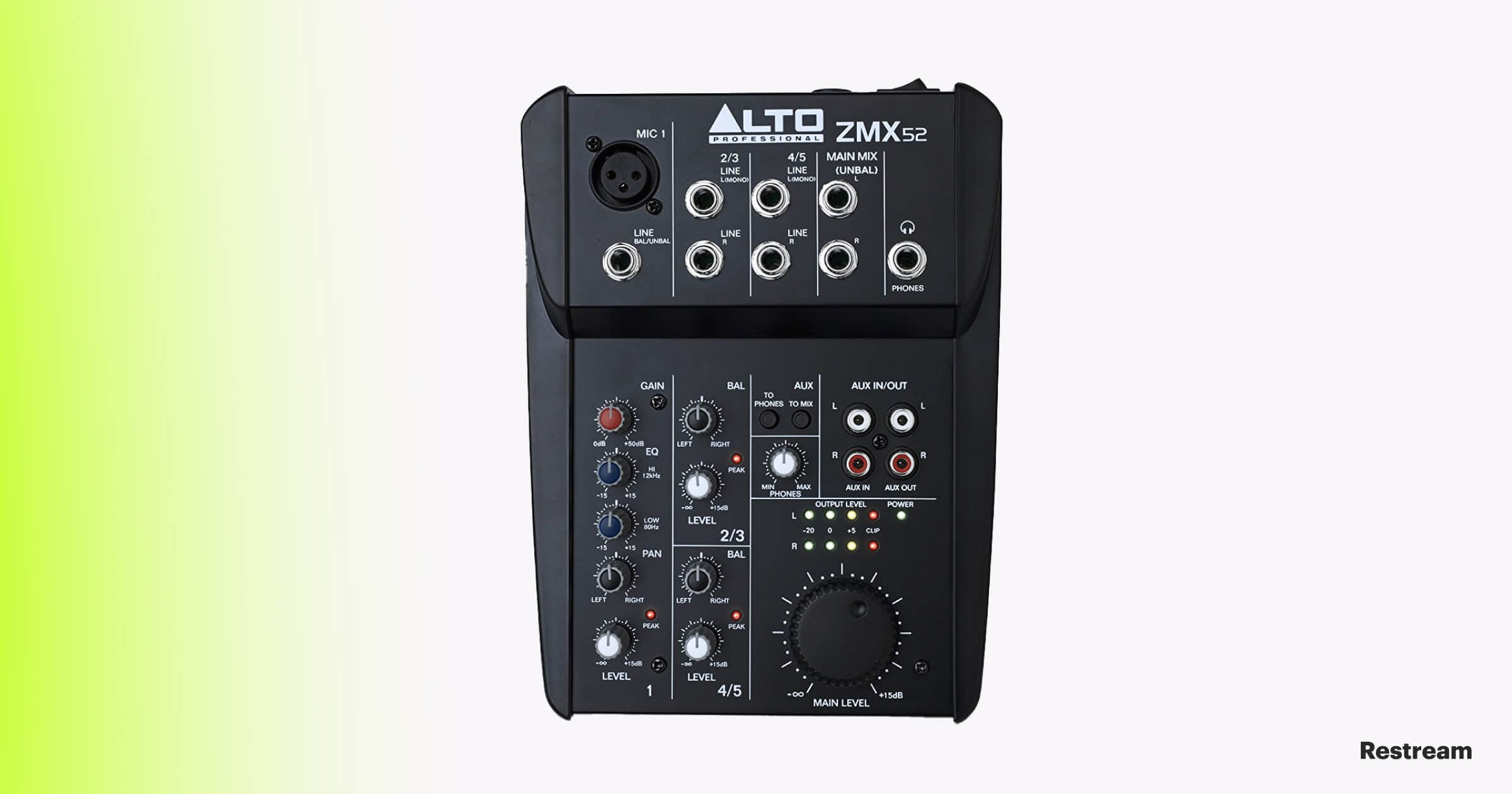 For streamers on the go who need to be able to set up quickly, the ultra-compact Alto Professional ZMX52 audio mixer is the ideal choice. It might be small, but it has all the features a streamer could need, including two-band EQ and five channels. The fact that it's one of the most affordable models on this list makes it worth trying out. If you do need more than five channels, there's an eight-channel model that's almost as compact but more expensive.
👉 Features
Phantom powered XLR jack
Two stereo input channels
Two-band EQ
Main, tape, headphone, and aux outputs
➕ Pros
Affordable
Good entry-level mixer
Decent sound control for the price
➖ Cons
Lacks compression
No USB-out; need line-in to connect to PC
5. RODECaster Pro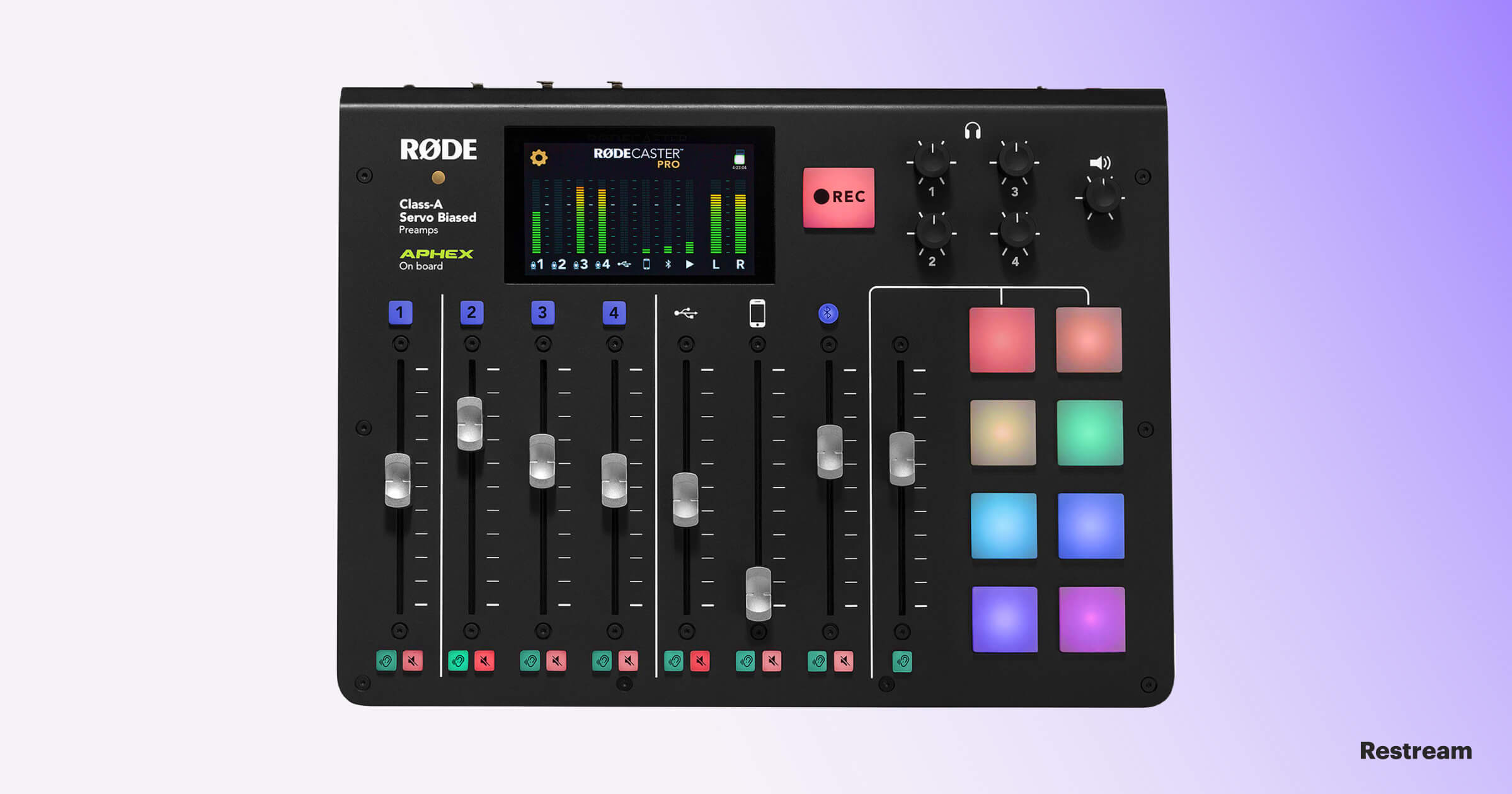 For streamers who host talk shows and interviews rather than gaming sessions, the RODECaster Pro might be best suited to your needs. It's geared toward podcasters, with a USB audio interface, four XLR inputs, phantom power, Bluetooth in and out, and an eight-pad soundboard. It lets you save to an SD card and record phone calls — a feature not all audio mixers can boast.
👉 Features
Four XLR inputs
Smartphone, USB, Bluetooth channels for remote calls
Nine language options
Compressor, noise gate, high-pass filter
➕ Pros
Store up to 64 sounds
All-in-one recording studio
Compact
Power cable screws in so it doesn't fall out
➖ Cons
6. Pyle PMXU83BT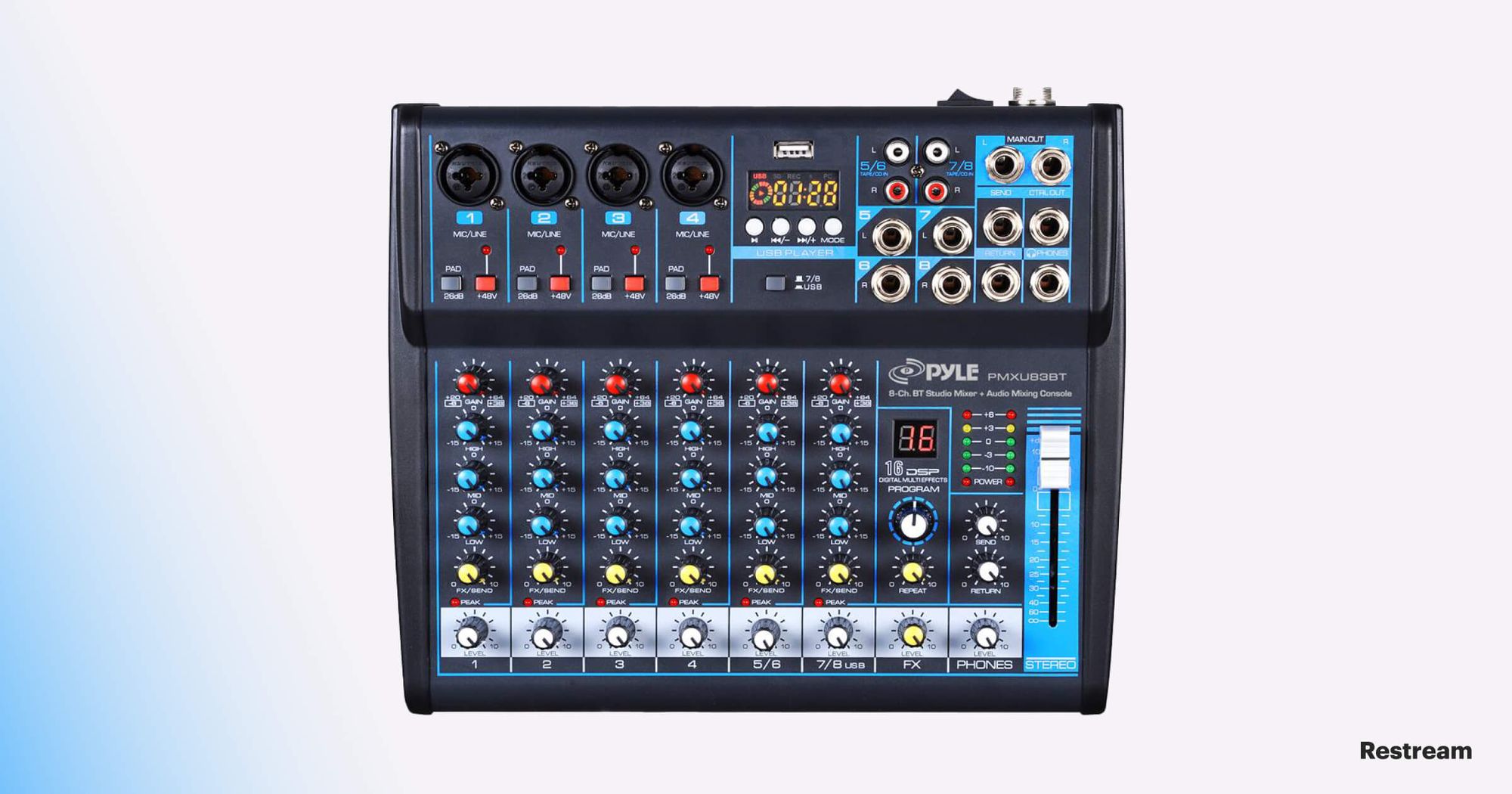 The Pyle PMXU83BT audio mixer works well for all types of settings, not just for streaming. The quality of the Pyle mixer is decent for the price, and it's a good value for someone who wants to mix audio for podcasts, music, and live events as well as for streaming. With three-band EQ, XLR/TRS inputs, and a 16-setting special effects processor, it will get the job done easily. It does lack some features for gaming streamers, though, like compression.
👉 Features
Eight channels
Built-in Bluetooth wireless receiver
USB audio interface
Four XLR inputs
48V phantom power
➕ Pros
Affordable for the features it comes with
Good beginner board for the price
➖ Cons
7. Mackie ProFX8v2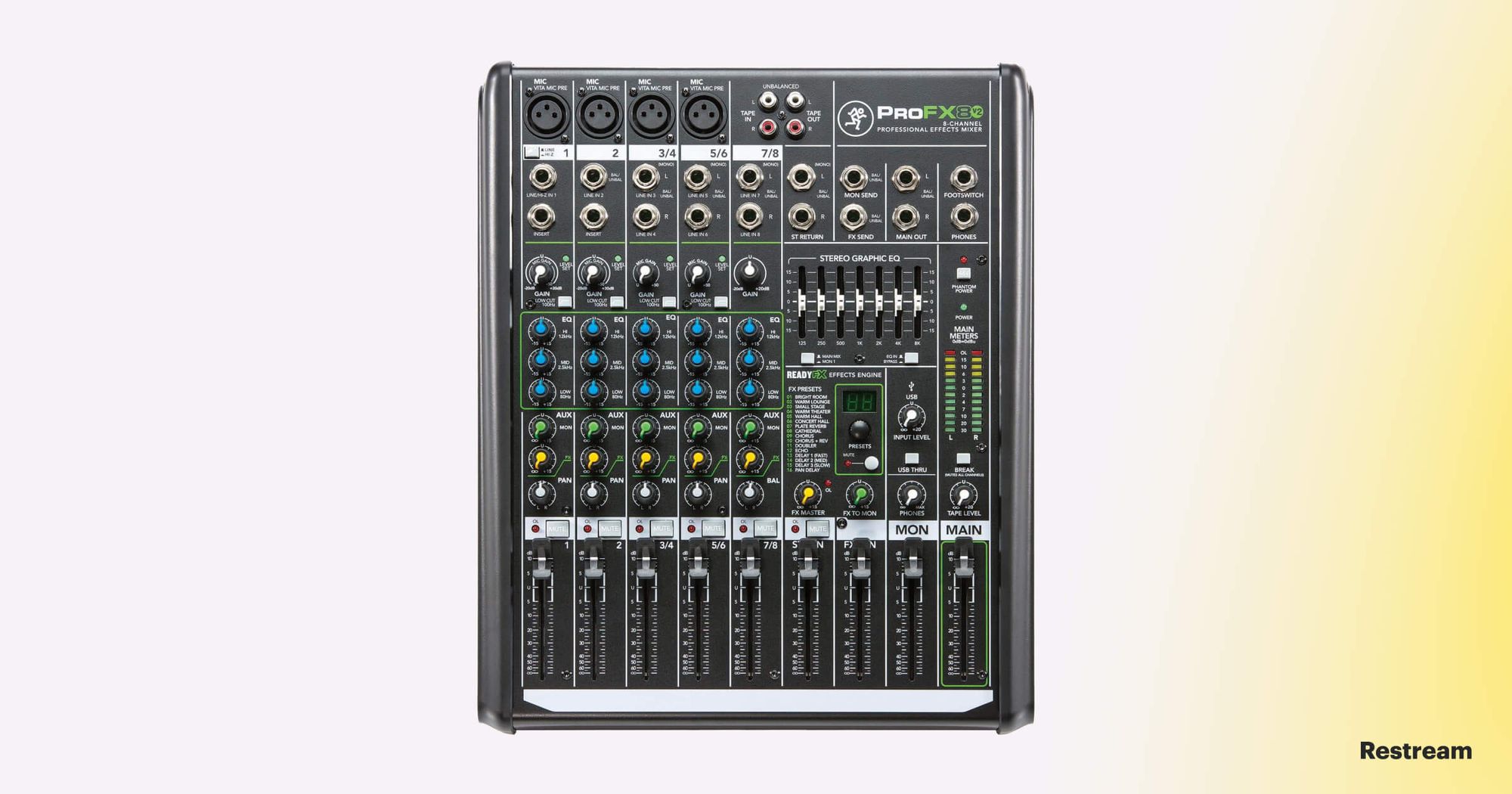 If you want to stream live performances or events, try the Mackie ProFX8v2. It comes with four XLR inputs and seven-band graphic EQ for tuning mains and monitors, panning, compression control, and faders. With a built-in USB interface, you can also easily record your shows or streams. If you're a musician, you'll love that you can directly connect your instrument via a Hi-Z input.
👉 Features
Eight channels
Three-band EQ
Vita preamps
Effects engine with 16 sound effects
Ships with recording software
➕ Pros
FX mute footswitch
High audio quality
➖ Cons
Some background noise with USB in/out
Let's wrap up
You want the audio quality of your stream to be perfect, and you need the right audio mixer to make it happen. After reading our recommendations, you should understand what you need in an audio mixer and how to find the perfect one for your streams.