With the arrival of lower-priced ad tiers for premium streaming services, increasing aggregation and shape-shifting bundling options, and leading streaming channels acquiring sports rights and leaning into their high-profile sports options, ongoing changes to the streaming landscape are transforming consumer behaviour and adoption of pay TV and streaming services. A rapidly expanded focus on gathering and leveraging viewer data is largely driving OTT targeting and personalisation, which is both enhancing the user experience and distinguishing it from traditional broadcast.
But what do the numbers say about emerging market trends? How are platform providers interpreting evident shifts, and does that translate into user experience innovation? And is there really a "Great Rebundling" afoot, as so many pundits have claimed over the last 6 months?
Recently shared survey data and the insights of industry experts gathered in this article provide several answers about how the market has changed in recent months and how it will evolve in 2023 and beyond.
What the Numbers Say
At Streaming Media West 2022 last November, Altman Solon partner Jonathan Hurd shared findings from Altman Solon's 13th annual Consumer Video Survey, which revealed some interesting trends in where video consumers prefer to find their content. Among the survey's 6,000 respondents, it should surprise no one that when searching for something to watch, younger viewers prefer online services, and older viewers by and large opt for traditional TV, with 18–24-year-olds and viewers older than 55 showing the strongest leanings to one side or the other. What's
particularly eye-catching, though, is how dramatically the tide has shifted away from broadcast TV in the last 7 years.
In Altman Solon's 2015 survey, among the five age groups polled, 18–24-year-olds were the only group with a majority in the online/OTT camp; in 2022, the 55-and-older demographic was the only one of the five that expressed a preference for traditional TV (Figure 1, below).
Figure 1. The persisting video consumer behaviour generation gap, as captured in Altman Solon's 13th annual Consumer Video Survey. Used by permission.
One apparent by-product of this shift away from traditional broadcast toward streaming services as the technology of choice for media, entertainment, and sports content consumption that's perhaps more surprising than it should be is that the way content is distributed, consumed, and monetised on streaming platforms is increasingly resembling traditional TV in some respects and diverging from it in others. The growth of live linear, the proliferation of free ad-supported television (FAST) channels, and the increasing number of ad tiers in segments of the SVOD market once thought sacrosanct are three examples of how streaming and TV consumption and profit-taking models are converging, even as we see online/OTT technology beginning to pull away from broadcast and cable in the battle for hearts, minds, and eyeballs.
That said, SVOD is growing too; according to Altman Solon's findings, the total subscription numbers of the major services have more than tripled since 2018, rising from 115 million to 386 million over 4 years. And notwithstanding the 55-and-older holdouts, 68% are subscribing to more than one service. Meanwhile AVOD and FAST, represented by the light blue and orange vertical bars, respectively, in Figure 2 (below), are making inroads as well.
Figure 2. SVOD still holds the lead in streaming service market penetration, but AVOD and FAST are catching up, according to Altman Solon's 13th annual Consumer Video Survey. Used by permission.
The scatterplot in Figure 3 (below) illustrates the market visibility and penetration of a range of streaming platforms—including prominent FAST services Tubi and Pluto TV—with awareness of the platforms graphed on the X-axis and the number of consumers who actually use them plotted on the Y-axis. It's no surprise that YouTube lands in the top-right corner for maximum awareness and usage, "But it's very interesting," Hurd remarks, "how quickly Tubi and Pluto TV have gained a high level of awareness and how much they're actually used. You can see them in the top right as well. The other interesting part of this graph here is looking in the upper left, there are a set of services that don't have very high awareness because they're largely local FAST services. And while they're not showing high awareness across the U.S., they are very highly known in the geographical areas where they're based, and they have very high levels of usage and engagement" in those localised markets. "So there's definitely an opportunity for FAST services that are focused on who their target audience is to build up awareness."
Figure 3. This scatterplot graph from Altman Solon's 13th annual Consumer Video Survey illustrates both the market penetration of national and wide-net FAST services and the emerging opportunities for narrowcast FAST platforms. Used by permission.
Improving Premium Viewing Experiences
Several factors are driving OTT's current growth spurt and improving trend line, both in terms of market penetration and more broad-based adoption across demographics that came later to the party. According to Chris Drake, SVP of revenue at cloud-native OTT platform provider Quickplay (formerly known as Firstlight), the OTT market has reached its second generation in recent years, distinguishing itself from its first incarnation through a more innovative and less broadcast-derivative approach to content.
First-generation OTT took a more static approach, primarily offering "made for TV content and programming that just happened to be distributed on different devices," Drake says. What makes the emerging OTT content market different, he argues, are new approaches to building viewer engagement based on "digital-first, highly targeted, cohort-driven" content models that "bring flexibility, choice, and premium experiences to consumers," with streaming pay TV and large-scale sporting events representing the best of the current breed.
It's particularly the range of available choices today that is driving the evolution of viewer experiences. Whereas 20 years ago, cable, satellite, and phone companies were the only platforms competing for viewers' allegiance, "streaming has enabled a whole host of new entrants—YouTube TV, Hulu Live, Fubo, DirecTV Stream, Sling. Now people have six, seven, eight choices for pay TV. And I think competition breeds advancement and innovation. The old cable box services didn't change much in 10 years. Now, a service like YouTube TV or Hulu Live is pushing app updates every week. So the experience is constantly getting iteratively better," Drake says.
Video Genome Project founder and former HBO Max chief strategy officer Xavier Kochhar agrees that the cable and satellite market remained "insulated from competition" for so long that it left little incentive for innovation in improving the viewing experience for content consumers. In the OTT market, "Everyone's going after the same fuel, which means that they cannot deliver a bad user experience," he says. "It's hard to cancel a cable or satellite subscription, but users all know how easy it is to cancel streaming services. We can do it from our phones." The need to keep users engaged and keep them from churning when it's so easy to go elsewhere keeps OTT providers "from getting fat and lazy," Kochhar
insists. "And that excites me as a consumer, because it means my experience is going to get better and better."
Christina Chung, VP of business operations at Spanish-language FAST channels provider Estrella Media, says the key to delivering better premium content experiences on free platforms isn't just competition, but vastly expanded opportunities to mine, analyse, and leverage viewer data. It starts, she notes, with "the democratisation of data and ad serving" made possible by players that "are providing a lot more information than they otherwise would." She cites YouTube as an example of a platform that has become much more willing to share its data and open up its ad serving to different publishers. This data democratisation makes it possible for emerging channels and publishers like Estrella Media "who are very involved with content creation" to understand their audiences better, and "create more, better content and monetise against it more optimally," says Chung.
How to Leverage Data for Better Viewer Targeting
All of these datapoints are great to have, according to Quickplay's Drake, but having more data isn't a surefire way to reshape the OTT experience or optimise OTT monetisation if you don't know how to harness it, particularly as the market has grown more complex than what Altman Solon's Hurd described as the old "one-size-fits-all offer in pay TV." That old-school model won't cut it in the hypercompetitive streaming world; making the most of the data available naturally means knowing what to do with it.
"I think a lot of media organisations realise the importance of data," Drake says. "The challenge isn't so much that you don't have data, but that it's too big and it's in these silos, and it's in distributed formats and structures that can't really be captured and referenced in real time. And so a big part of what we are doing is driving some of that, not just video orchestration from glass to the user experience, but really bringing a data-centric approach and normalising data structures, cross-referencing that, driving insights, and providing the data to influence the decisions that you're making in real time about your business. And so I think it's forcing a lot of media companies to start thinking about retraining some new muscles as well."
At Quickplay, Drake continues, "our focus is, how do we bring real-time insights and data that influences and provides the blueprint of what you need to do as a media company and an organisation around content, around experience, around business models? And how do you think creatively about those models?" It's not just about improving the creative process around the content, he maintains, "but really the creative process about what it means to provide a digital service for today's consumers."
Likewise, Estrella Media's Chung says, "We've really been trying to get through to our data. We collect so much information from so many different vendors, but how do you parse through that? So I think one of the things that we've been building out is essentially like a data center for ourselves, and some of the information we've found is that our viewers are very different on our FAST channels versus our apps versus our website. And within that, each platform is also slightly different. So an iOS user is going to be very different from a Roku user. And we as a company have the opportunity to kind of segment each of these consumers in different buckets so then we can curate a very personalised experience for them to create more stickiness and fandom. It is a huge data play, identifying what is the right information to use in order to make sure that we keep the audience inside our app or inside our FAST channels."
Fox EVP B.J. Elias, whose company continues to have its feet firmly planted in both the broadcast and digital worlds—with only selective and "smart" investments in FAST, like Tubi—argues that "it's all about servicing both the short and the long tail." Tubi, he says, features a library of 48,000 titles that consumers viewed for 1.5 billion hours in Q3 2022. "You need good data and a good personalisation engine to make sure you're surfacing the right content to the right person to keep them engaged. And with an ad experience that keeps them engaged on the other end of the tail, I think there's still a place for big broadcast events."
Elias references a late fall weekend when Fox's sports offerings included a Thursday NFL game, a Friday World Cup match, a Big Ten college football rivalry game on Saturday, and an NFL doubleheader on Sunday. He conservatively estimates that the 4-day sports lineup would expect to draw 85 million viewers. "So if you're a brand that wants to reach a mass audience all together at once, there's nothing like that. So I think it's about servicing both ends and having the right content for the right audience in the right way," he says.
Dynamic Advertising and the Premium Content Experience
Serving those audiences is not just about programming, of course; it's also about pairing that content with the right ads and, even more so, targeting users to the greatest degree possible with the right ads as well. Arguably, the most dramatic (and certainly the most remarked-upon) change in streaming monetisation in recent years has been the shift toward ad-driven models and away from SVOD and, particularly, the rise of FAST and hybrid AVOD/SVOD, with multiple tiers balancing different subscription pricing levels with more or fewer ads interjected into the viewing experience.
And with premium content that is also available via broadcast and delivered in real time, personalised advertising might be streaming's greatest asset in differentiating the user experience from what traditional TV delivers. "We traditionally play as a company supporting premium content services, so advertising is really important," says Quickplay's Drake. "Tailoring ads, different packages of content, and different monetisation options is essential given the diversity of audiences.
So someone that is really coming in for those big tentpole events and is willing to pay for it might be different than someone that's coming in for clips and highlights that could be ad-supported. I think we're seeing a really interesting opportunity, in particular with sports, of the coexistence of these models."
Sports programming might provide the best example of how dynamic ad insertion (DAI) can elevate an experience, both from a consumer standpoint and a monetisation optimisation standpoint. "Sports content is naturally pre-programmed perfectly for advertisements," Drake says. "There's timeouts, there's injury breaks, there's halftimes. Even in a premium model, consumers are expecting advertising, and there's an opportunity that's been largely untapped of recapitalising that for digital platforms. So we're doing some work, for example, with a large sports broadcaster, and we recently introduced this concept to basically do dynamic ad replacements, some broadcast TV ads, and then simply reinserting digital ads and using data to influence both on that kind of DAI cohort basis—but also looking at a duration based on the variability of a 30-second timeout versus an injury timeout, knowing which ads to kind of preload and stitch, and then addressing a lot of the complexities of broadcast synchronisation and real-time event markers and all the kind of funky standards around that, and doing that real-time and scale.
Adding an ad component that was more DAI-based for a premium advertising service for sports, we were able to increase their gross revenues by 20%, and this was for a very well-established, multimillion-dollar, subscriber premium service. All of a sudden, overnight, they had a 20% lift without changing the consumer experience."
Why Ad-Based Services Are Making More and More Sense
The factors that have led Netflix, Disney, and HBO to augment their formerly subscription-only revenue models with ad tiers present other opportunities for advertisers to capitalise on more flexible advertising approaches and for those approaches in turn to demonstrate their viability and their ability to blend into an existing user experience without disrupting or degrading it.
As these top-tier services have transitioned to ad-tiered models, Video Genome Project's Kochhar says that it's likely to have ripple effects across the industry because it's signaled that even the most popular premium content providers in the market can't continue to raise subscription prices without heavy losses. "If you are any other aggregator of content, you can't necessarily price above Netflix. You can try, but you know that there's a ceiling set on the price," Kochhar notes. "And particularly in an upcoming recessionary environment, what do you do if you can't raise the price on SVOD? How do you increase the revenue or ARPU? You have to have supplemental revenue, and that comes from advertising."
But there's good news on two fronts, Kochhar contends. "People fish where the fish are," and viewers are watching Netflix, so advertisers will clearly want a shot at that market. What's more, neighboring media are normalising ads as part of the video experience in areas of the digital side where they're still relatively new. "What's really helpful is that the two biggest digital publishers in the world, Google and Facebook, have been slowly training Millennials and Gen Zs to completely accept advertising," Kochhar says "Little ads are popping up on TikTok, and the ad product innovation is just amazing. We're starting to get OK with it. We're not OK with it watching Succession yet."
But in a relatively short period of time, he predicts—particularly if the ad model is as innovative as TikTok's—that will change. "There are only so many winners in SVOD," Estrella Media's Chung explains. "There are too many choices, and so people tend to choose. We decided to pursue an AVOD model or go through FAST channels, and it's been very successful. So we don't even focus on subscription because that's not what we're good at. We're going to let those other players beat it out in the competition, but we don't want to be there. And on top of that, there are very creative ways to approach advertising. Different audiences want different types of ad viewership. So the younger generation doesn't mind having more frequent ads, whereas the older generations may want to have more traditional linear television-style ads. And through our data, we're trying to understand what type of audience prefers what type of ad experience. And, hopefully, using our apps, using our different FAST channels, we can cater more toward those audiences."
Bundling and Rebundling in the New Streaming Ecosystem: Can Standalone Services Survive?
In a streaming ecosystem with room for "only so many winners"—a condition that arguably affects AVOD and FAST services, if to a lesser degree than SVOD—the challenge of being seen still relies to some degree on bundlers and intermediaries, however much we may want to will a fully democratised market into existence.
"One of the biggest myths of direct to consumer is that it's direct to consumer. There are just new gatekeepers, new intermediaries," says Fox's Elias. "For networks, it used to be the MVPD. Now for streaming services, it's Amazon and Roku and Samsung. In fact, it's even more consolidated than in the pay TV space. These companies are obviously trying to exact a toll from the streaming services. I think they provide an important service. They're building out a network, they're providing platform-level search, but you're seeing them also take a more active role being programmers. So you have AVOD services and FAST services like Tubi and Pluto, and they're on platforms like Amazon and Roku that have Freevee and The Roku Channel. So they're both platform and competitor, which puts them in a unique position."
In a market largely structured by these gatekeepers, Altman Solon's Hurd argues, "distribution itself is a kind of bundling in many ways." According to Elias, the market's future won't be determined so much by the whim of Amazon, Roku, and Samsung as by the experience consumers prefer—and that may indeed align with what Amazon, Roku, and Samsung bring to the table. What we're seeing, Elias says, is "a new
ecosystem emerging. Ultimately, I think we'll start to see some form of rebundling of streaming services. I don't think people like dropping into five different siloed user experiences to get content. I think that's where the platforms can play a role in both giving you a bundled discount to a collection of services and providing unified navigation and search. Sounds a lot like pay TV, right? Eventually, it will migrate back to that as an option, but the platforms will certainly have a large role in it."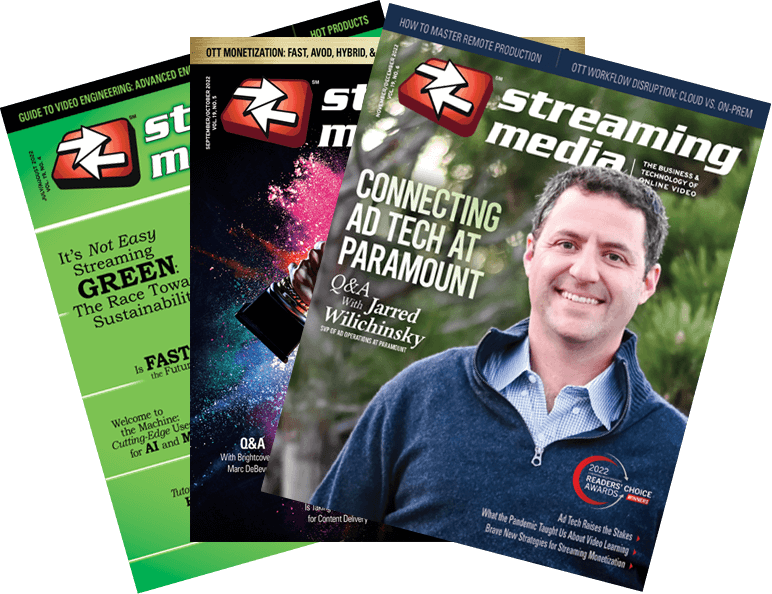 Companies and Suppliers Mentioned