News arrived on Monday that Netflix—now fully invested in the business of selling ads and using advertising to monetize their content—has contracted with Integral Ad Science (IAS) to monitor the validity of their ad delivery.
The fact that Netflix is doing what is expected of every major media company that serves ads is good to know, but not particularly newsworthy on its own. What makes the announcement significant is that it shows that Netflix is relying on a measurement requirement (not of their own creation) which is simply hard to take seriously.
Verifying Ad Viewers
First, some background. Now that both Disney and Netflix have added ad-supported tiers to their content offerings, getting all their ducks in a row to measure advertising accurately and leverage it profitably starts with verification. The simple formula is as follows: verified viewers = views, others = fraud (bots or whatever).
Advertisers who want to use IAS to measure the impact of their campaign on Netflix are now able to do so.
"The Netflix integration highlights a few of our capabilities, one of which is around viewability—measuring that an ad has an opportunity to be seen," says Craig Ziegler, Integral Ad Science SVP of Product. The other part of this is measuring if an ad has not been seen by a real human. This is known, he says, "invalid traffic, or it can also be known as ad fraud."
The verification metric was set by the Media Ratings Council (MRC). It requires that an ad must have 50% of its pixels on screen for two continuous seconds to be constitute valid traffic and be considered "seen." The absurdity of calling two seconds of partial screen time a valid measurement is what we should be looking at, not the fact that Netflix is simply doing what they're supposed to do as a (partly) ad-supported media company.
According to internal data reported by Bloomberg, Netflix went from 0 to 500% growth in the first month of its ad tier's availability. They followed that with 50% growth in their second month of serving ads. The global advertising market (minus China and Russia) is approximately $180 billion, as reported in the Netflix investor call, which offers enormous opportunity for further growth since the percentage of consumers viewing content in streaming is still fairly small. When Netflix first announced their ad inventory, their CPM was at the highest end of ad prices, reportedly between $60–$65 per 1,000 views.
All of this sounds like a promising start, but naturally we can't just take Netflix's word for it. And even if the industry standard for what is considered a valid ad view is appallingly low, it nonetheless takes sophisticated tech to affirm that Netflix is indeed meeting it.
Enter IAS to verify those ad views. "It's one of the things that gets requested most often, with marketers and their media partners," says Ziegler. "This third-party verification transparency is really important to marketers… It's a priority to include that out of the gate."
"Marketers now have powerful new tools to ensure that the ads they run on Netflix are engaging viewers," says Lisa Utzschneider, CEO, IAS. "By launching this partnership, advertisers can invest with confidence as they look to expand their media strategies to Netflix's premium inventory."
Viewability Measurements and Rates
Netflix is deploying IAS's verification in all 12 countries where the streaming giant runs ad-supported services. According to the 17th edition of the IAS Media Quality Report (2022). video ads in mobile environments in the first half of 2022 had about 80% viewability rates, while in connected TV this was 93.2%. We can assume that CTV is a better environment for advertising, unless your TV is downloading and playing ads while your TV screen is off. However, the viewing measurement for CTV is very new—so new that the IAS report barely mentions CTV.
"While CTV ad spend continues to grow at breakneck speed and is estimated to more than double by 2026 in the United States, measurement is not systematically activated across the board for this emerging channel," states the IAS Report. "However, discerning buyers are taking a stance and demanding measurement on CTV with the same level of scrutiny as any other digital media channel. At IAS, we believe that to unlock the full potential of CTV, advertisers should be able to access transparency at scale, beyond the app level."
The measurements that IAS is doing for Netflix include the following:
Viewability
IVT (invalid traffic)
Valid Quartiles—how effective the ad was based on determining how many quarters (25%, 50%, 75% or 100%) of a video was viewed
and Viewable Quartiles—at what quarter was the ad no longer viewed.
The Netflix viewability data allows brands to receive data about how much of the ads being delivered are being viewed and they could compare this to their campaigns in other areas. Another capability IAS has, but one that Netflix is not publicly using is brand safety and ad suitability, ensuring ads are run against appropriate content. "I think those are potential, future enhancements, future partnership opportunities. Nothing confirmed at this at this time with Netflix teams," says Ziegler.
How Advertising Is Impacting Netflix's Existing Subscription Business
Moving back to Netflix and how they're thinking about advertising, the company mentioned in their recent earnings call that the ad-supported tier is not cannibalizing viewers from their non-ad supported tiers. "We aren't seeing, as expected, much switching from plans like premium into our ads plan," said Peters.
Netflix feels that the reason tier-switchers account for so little of their ad-tier takeup is that they're tapping into a vast pool of people who haven't previously subscribed. Netflix sees an enormous amount of growth potential as the world shifts from linear to streaming. At present, said Spencer Neumann, CFO & Principal Accounting Officer at Netflix, "There is no country where streaming [has] more than 40% share of TV time. And in many big countries, it's less than 5%. There's an incredible runaway still in the shift from linear to streaming."
"In the US we're about 8% of TV [viewing] time," said Theoddore Sarandoc, Co-CEO, Chief Content Officer, Netflix during the Q4 2022 investor's call in January 2023. "I would say the business is really completely about engagement, profit and, revenue."
"A significant part of what we need to do is essentially take the core model that we've been operating since we started in streaming and just execute better in all dimensions," said Gregory Peters, COO and Chief Product Officer at Netflix.
Meeting a Low Bar
So, to execute better by following acceptable standards is one thing, but how about going above and beyond?
The MRC, the group that validates viewing measurements, was established by the US congress in 1963. Perhaps it's time to update the measurement requirements. If the combination of the measurement metrics based on two seconds of viewing and the ability to actually have ads play while a TV set is not displaying them make you think streaming advertising is doing well, then you must be selling inventory.
Otherwise, for brands, this doesn't sound like they're getting a good deal, regardless of who verifies it. Congratulations, Netflix, you're meeting a very low bar. In the investor call, executives at Netflix talked about "crawl, walk, run" in regards to how they're handling the introduction of their advertising tier. On their next steps, hopefully they can do better than measuring two seconds as a view.
What would be interesting is if OpenAI (developers of ChatGPT) and MRC had a conversation about what signifies a valuable metric. Any way you measure this, we need to revisit it.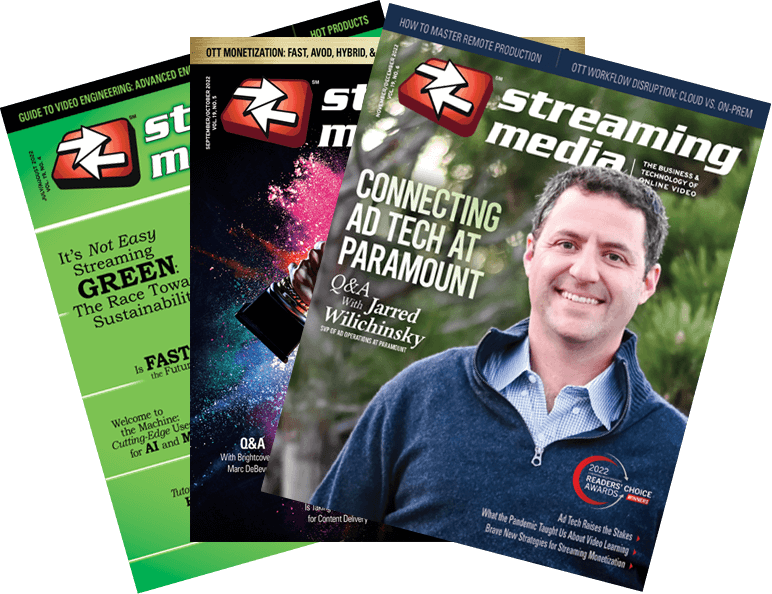 Related Articles
With Netflix' new ad-supported service included for the first time in its earnings results, there were encouraging signs that the streamer has stemmed the crisis that had seemed to engulf it after losing customers in the first half of 2022.

23 Jan 2023
As last week brought the long-awaited, and arguably overhyped debut of Netflix's new ad tier, I had the chance to sit down with Ed Laczynski, CEO of enterprise OTT app and platform builder Zype—a perennial Streaming Media 50 honoree—to talk about what Netflix's move means in the context of the ever-evolving OTT monetization landscape, and get some perspective on longtime, current, and emerging trends. We also talked a bit about how will impact the current and coming ad inventory ecosystem.

07 Nov 2022
Netflix reported a strong third quarter after the market closed on Tuesday, with more growth anticipated in Q4 after its Basic with Ads tier launches November 1 in twelve countries as part of a wider development in the streaming ecosystem that will see streaming platforms engage with the metrics of linear broadcast for the first time.

18 Oct 2022
Companies and Suppliers Mentioned