Netflix is in an enviable position, still viewed as the number one streaming platform even after a slew of new challengers have entered the market. Netflix content regularly ranks as the most-watched streaming content week after week.
Yet for all that dominance, no streamer is free of turmoil. The company lost subscribers last year for the first time in more than a decade. After a strong Q4 and full-year earnings that blew past analysts' expectations in terms of net new subscribers added, it's clear that the company has righted the ship.
Now, co-CEOs Ted Sarandos and Greg Peters have to look to the future and use Netflix's market position to continue redefining the streaming experience. While customer retention is undoubtedly the number one priority, Sarandos and Peters also need to dive into sharpening Netflix's  ad-supported strategy and developing new, innovative approaches to extend the lifetime value of the content portfolio.
Identifying and extending the lifetime value of original franchises
Netflix has the opportunity to continue to reinvent the distribution model to find new ways to extend the value of its multi-billion dollar content investments.  
Netflix has developed a massive library of more than 15,000 original programs. That library has enough assets to compete with many of the legacy studios today. The challenge Netflix faces is two-fold. The success of their binge model means nearly half of audiences will have binged a tentpole like "Wednesday" in three days, leaving them hungry for more content. 
This challenge is not Netflix's alone. Three-quarters of overall 50-day viewership for new content typically occurs in the first 15 days. Finding new ways to drive longer lifetime value from massive content investments is becoming an imperative.   
Netflix's continued tinkering with its release model appears to show one path forward for services looking to both feed the binge-watching demands of many viewers while also staving off subscriber churn. The streamer's decision to split the fourth season release of "You" into two parts, as it did for "Stranger Things" last summer, appeared successful in its first week as every episode of the second season landed in the overall streaming top ten during its premier window.  Similarly, the staggered two-part release model also helped build audience interest for "Stranger Things" fourth volume. The first episode of the second part of volume four, which premiered one month after the first volume's premier, actually attracted a higher audience as the program built momentum and excitement between the two part releases. 
Netflix also has a big opportunity to look for new ways to monetize older library content to extend the lifetime value of the programming portfolio. The earliest shows, like "House of Cards" and "Orange is The New Black" turn 10 this year. Very few current Netflix users are watching these programs today.  
However, just as Netflix has experienced strong growth this past year, so too have a litany of free ad-supported TV (FAST) services that could potentially become distribution for older seasons of Netflix library content. The ability for Netflix to take library content, say a season or two of "House of Cards," and license the programming out to services that reach audiences not currently in the Netflix base, would not only drive annualized licensing revenue but also create a built in marketing flywheel of introducing new audiences who may come and sign up for the cheaper ad-tier to watch the remaining seasons of a newly-discovered show. Audiences who get interested in season one of a catalog show through FAST, will have a higher propensity to convert to subscription if the newer seasons are only available on Netflix. It is a win-win for consideration in a world where content is king.  
Sharpening the ad strategy
Finally, it may be a no brainer, but Netflx has to "stick the landing" on its ad business. The company was late to the AVOD world and has been playing catchup for the past year.  That said, the company assembled a dream team of advertising veterans in Jeremi Gorman, Peter Naylor, Julie DeTraglia, Adam Gerber, Julie Green and Chris Smutny to lead this effort and early signs indicate that the launch of a more affordable ad backed tier is working. 
We know consumers are willing to watch ad-supported content, and Netflix has a big opportunity to propel growth. The opportunity to bring in an entirely new audience to Netflix from an ad supported tier appears to be very strong as a whopping 92% of non-Netflix users today report watching ad-supported streaming platforms. While there has been much angst about cannibalization, the reality is Netflix actually stands to take more money from an ad-tier subscriber than they do from even their highest tier paid subscriber. For Netflix, this is a win-win. 
As Netflix grows its ad business, Sarandos and Peters have a chance to innovate the ad experience as well, something the market desperately needs. Just as Netflix redefined the concept of "TV," there's an opportunity to look beyond the legacy mindset of 30-second spots from linear TV and the non-transparency of digital walled gardens. 
Netflix has the opportunity to completely transform the ad market forever by embracing new ways in which advertisers are hankering to use the incredible data and targeting capabilities of these connected platforms – but are finding increasingly difficult in the largest digital ad platforms due to policy changes. With massive reach and engagement, Netflix has nothing to hide – in fact, doing the bare minimum would be a disservice to itself when major ad platforms rely on click-throughs on very long-tail inventory that might be unviewable or unsafe, Netflix can define itself by quality and engagement with new forms of brand integration, product placement, interactive formats, or advanced measurement, Netflix presents an exciting value proposition to advertisers clamoring for both reach and innovation. This innovation will not only draw budgets away from $170 billion of linear TV globally, we should anticipate that dollars from online video, search and social are also vulnerable with the right proposition from Netflix. 
[Editor's note: This is a contributed article from SambaTV. Streaming Media accepts vendor bylines based solely on their value to our readers.]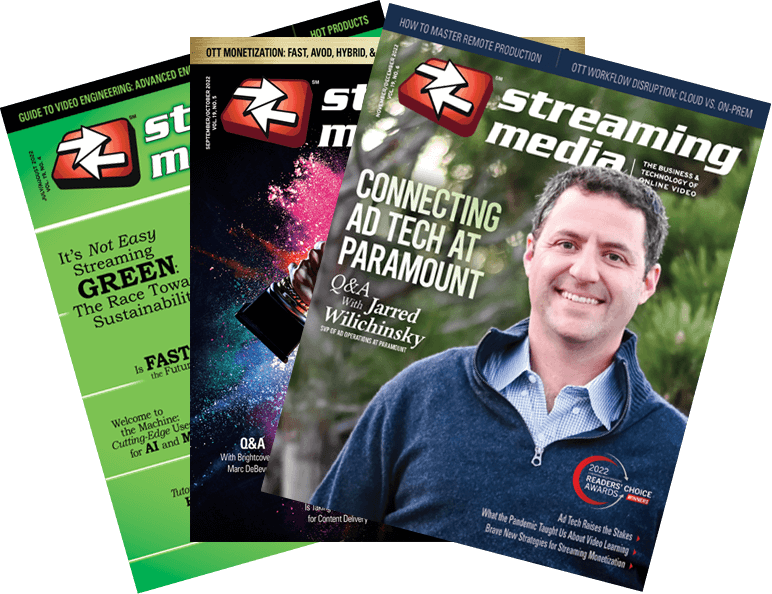 Related Articles