Streaming media business and monetization models expanded and diversified in 2022 and sent a clear message: Paid subscription models were a necessary gateway to widespread streaming adoption, but now ad-supported viewing has a chance to flourish.
"The larger problem in OTT economics is the subscription models don't work," says Josh Stinehour, a principal analyst at Devoncroft Partners. "It doesn't need to be $2 more expensive; it needs to be $10 more. The numbers are not that close to working. None of them are on a near-term timetable to actually make money, and, at some point, they have to make money."
Stinehour contends that OTT economics should now include more than creating subscription services or increasing the size of content libraries. "I actually think what happened in April of last year, with Netflix's announcement [that it had lost 200,000 subscribers in Q1 2022] and the subsequent hits to its stock price, finally pierced this bubble," Stinehour continues. COVID binge watching "drowned out a lot of organic investment that would have otherwise happened. Now we can get back to exploring all these different ways to monetize content. Maybe price increases are part of the solution, but I think something more fundamental needs to happen," he says.
Most telling, in late 2021, Altman Solon's 13th annual "Consumer Video Survey" (go2sm.com/altmansolon) revealed an even split between people who say they don't mind paying more for services with no ads versus those who say they prefer ad-supported services because they are cheaper.
Many industry experts I've spoken with, including Stinehour, point to Pluto TV and Tubi as two ad-driven streaming success stories. In June 2021, Pluto TV reported that ad revenue for its free ad-supported streaming television (FAST) programming was on track to surpass $1 billion by Q4 2021. Paramount Global announced in November 2022 that Pluto TV's average monthly active users had reached 72 million.
Technology ad provider BidMind did some FAST math and concluded, "TV content providers can earn $0.60–$1 for every hour a single consumer watches their FAST channel." It discusses a cost-per-thousand (CPM) range from $10 to $50 depending on content and time of day. "Hulu makes around $15 per month on advertising per subscriber," BidMind says, "which is more than they charge for their premium ad-free package, which is currently $12.99. Another large FAST channel aggregator is Pluto, which earned its $1 million in 2019 and has broken $3 million a day thanks to increased content consumption."
Analyst Dan Rayburn compiled an in-depth average revenue per user (ARPU) evaluation from multiple sources in January 2023. In the most recent available figures (Q4 2021), Pluto TV had a domestic (U.S.) ARPU of $2.54 and a global ARPU of $1.64. Tubi did not release data.
The live-TV replacement/sports services had higher numbers, but also likely have higher licensing rates. fuboTV's North American ARPU (from Q3 2022) was $64.15 for subscription and $7.37 for advertising. Roku (also Q3 2022 numbers) reported a global figure of $44.25, trailing 12 months, for advertising. Vizio reported a global ARPU of $27.69, trailing 12 months, for advertising (Q3 2022). For live TV and SVOD, Hulu's
Q3 2022 number was $86.77 (subscription plus advertising). But then, compare this to Hulu's SVOD-only figure at $12.23 (subscription plus advertising), and there's almost a $75 delta.
Most of the other pureplay streaming services had lower numbers, except for Netflix, whose domestic, subscription-only number was $15.74 (Q3 2022). Many services, including Amazon Prime Video, YouTube TV, Apple TV+, and DAZN, have not released numbers.
"What's the break-even timeline?" Stinehour asks. "DZone is talking about 2024 on a run-rate basis. I know everyone's really enthusiastic, but the numbers don't work."
Part of the Solution
Statista pegs the 2022 worldwide ad budget at $171 billion, with the majority going to traditional linear. But the spend distribution has shifted, causing more premium services, like Netflix and Disney+, to offer ad-supported subscriptions, joining Hulu, Paramount+, and Peacock as major streaming providers with hybrid monetization models. For between $4.99 and $9.99 per month (even less for annual subscriptions), these services generate a recurring subscription fee, plus as much ad revenue as the consumer can watch. According to Roku data from 2021 and 2022, both subscription and ad-supported streaming have grown faster than linear TV. The reach of ad-supported streaming is growing at 1.5x the rate of subscription services' growth.
In the November 2021 Altman Solon study cited earlier, 90%–95% of consumers within the 18–54 age groups said they watch an SVOD service. Speaking specifically of the U.S. market, Altman Solon partner Jonathan Hurd notes, "In the services that currently have both ad-supported and no-ads tiers, there is now a typical 60/40 no ads/ads mix of subscribers. The most popular SVOD services up to now did not have ads, so the vast majority of SVOD [subscriptions] were not ad-supported, but that's beginning to change because Netflix and Disney+ have introduced ad-
supported tiers." He continues, "Subscription services are still more popular, but ad-supported is catching up." The maturation of the business means the random AVOD encounters have now morphed into a paid ad-supported subscription.
According to Hurd, consumers' subscription purchases have roughly doubled over the past 4 years, to an average of 3.9 services in the U.S. "Currently, about 81% of U.S. households subscribe to at least one of the top 18 SVOD services, but the numbers vary significantly. About 23% of those SVOD households subscribe to just one service (usually Netflix or Amazon Prime Video), while about 10% of households subscribe to an average of seven or more," he says. That SVOD has reached this level of market penetration is amazing—slightly more than four of every five American households—considering where the OTT industry was just a few years back. But the number of households with seven or more is even more striking. Don't these people need to work to pay for all of their streaming? And if they are working, when do they find time to watch everything?
Then there's FAST, which provides a 24/7 stream, without any contracts. "I'm a huge believer in FAST," says Stinehour, "because we're finally going to monetize some of these content libraries that have just been in stasis." The next step, he believes, is to figure out "the regulatory and antitrust work. … It might start to look a lot more like broadcast TV did historically, where you cannot target at an individual level; you have to target against demos or regions."
The differences between AVOD and FAST are subtle. FAST requires no subscription and no commitment, and it provides no data about viewers, which is captured via subscription services. AVOD does still exist, and the nuances of ad-
supported content delivery in the industry are almost like a rabbit hole. Ad-supported remains a good catchall.
Technology and Monetization
While the analysts quoted earlier are working with one set of data described in preceding sections of this article, the technology vendors behind the scenes who provide the new media industry infrastructure have a slightly different take on monetization. I spoke with a few of them about what they're seeing with their customers.
"Many of our customers have content that draws millions of viewers a month," says Marty Roberts, SVP of product strategy and marketing at Brightcove. "Here, lowering the barriers to viewing and applying advertising may be the best option. Some customers have a niche library with a passionate audience. In this case, subscriptions work best. And for other customers, the content is popular enough to support both subscriptions and advertising without losing engagement."
Consumption growth of 10%–20% was fairly typical for Brightcove customers in 2022, according to Roberts. For many, FAST channels are an effective and quickly growing revenue stream. "This tends to work very well for back-catalog content, as they save their recent content for their owned-and-operated services," says Roberts.
"We are actually seeing companies new to streaming that are using FAST channel aggregators to get a start and test market interest in their content before launching other types of services," says 24i CEO Neale Foster. These companies may then go on to develop AVOD and/or SVOD offerings.
"I don't think anyone is gravitating toward one model or the other," says Igor Oreper, Bitmovin's chief architect. "I think most of our customers and prospects are really looking at how to provide every model possible to reach as many eyeballs as possible."
Different monetization requirements surface based on a few variables. Stein Erik Sørhaug, Vimond's SVP for the Americas, says that most Vimond customers "are doing an entry-level tier that is ad-supported. That's the trend that we've seen more broadly—they want to reach consumers they weren't [reaching] before, and they want it to be lower risk or something that people aren't going to cancel." In some cases, this could be select content that is SD instead of HD.
"Still, the predominant part of our business, probably because we are global, is SVOD," says Sørhaug. "I think Europe is now just starting to look at ad-based spending; people have also been more conditioned to pay for content there. We do see fewer subscription options and cheaper subscription options in Europe and Asia Pacific. I would say the vast majority of services in Asia Pacific are ad-supported." Likewise, Vimond sees ad-supported viewing growing in Australia.
"We see requests and asks for completely ad-driven type of models as well, more on the FAST side," Sørhaug explains. "Obviously, those need some sort of critical mass. You need a certain amount of subscribers before the ad-driven model makes sense."
Building a Better Mousetrap
With all of these different models in play, which approach will prevail in 2023? "In the short term, it's all about whoever provides an easier, simplified mechanism to have multiple subscriptions in a single service," says Sørhaug. "It's all about keeping customers locked into a single ecosystem at this point and giving them broad choice within. … It's easy to find, it's easy to click, and it doesn't move you outside of that experience." In short, Sorhaug believes the best solution is a multi-service environment and ad-sorted delivery.
Most companies are already working on a version of this. Disney is offering various bundles to bring down pricing and make it easier for consumers to purchase the services they want. For $19.99 a month, you can buy Disney+, ESPN+, and Hulu, both with and without ads (except on ESPN+, where the ads are a permanent fixture). Sling has a range of popular cable channels; Hulu + Live TV also includes cable channels as well as the Disney offerings listed above. Philo offers live and on-demand TV channels, and fuboTV has 100-plus sports channels.
The Perennial Question
"We've seen a lot of demand for new ad integrations with new ad tech providers, like Google Ad Manager or FreeWheel," says Bitmovin's Oreper. "What I see our customers doing is adding ad-supported monetization models to services that are either SVOD only or SVOD and live. … Or maybe they've been doing a little bit of ad-supported distribution for VOD or live, and now they're adding more."
And what's driving technology choices? "A lot of times, it's a question of how much you spend on your ad infrastructure, development, and maintenance operations," Oreper explains. "Client-side [ad insertion] seems to be easier. Server side seems to be a little more complicated. You just have to make that decision in the beginning." However, Bitmovin is seeing a lot of services migrate to server side. "You might have multiple properties, and it makes sense to do client side in one case, server side in another case," according to Oreper.
Several other ad tech-related questions continue to come up. If you're going to do server side, who is going to handle your manifest manipulation? Will you do it in-house; opt for a third-party, just-in-time packager; or go with a service like AWS Elemental MediaTailor? How are you tracking ad inventory? How are you tracking ad-completion rates? Can multiple components in the video supply chain exchange information with one another? Is anything in the chain not standards-based, which means there's a good chance it's not going to play well with one or more other components?
Oreper advises, "Ask about interoperability. Typically, folks will center around implementing technology which is open standards-based—meaning somebody wrote a standard for some protocol or some interface and everyone implements their product to that standard. I strongly recommend that. If you're doing server side, you have to test on all your platforms and hope that they all know how to read the manifests and are going to render the ads so you'll have good completion ratios," he explains.
But now a lot of the ad blockers have gotten smarter and can pick up server-side ads because they recognize patterns in the manifest. Oreper says, "What our customers are interested in now—which they weren't before—is the ad telemetry."
Targeting
"For advertising, there are many technical optimizations that produce increased fill rates and better CPM," says Brightcove's Roberts. "Often, this re­quires a tighter integration between the video management system and the ad server to share metadata around the content or anonymous data based on the device profile."
So another key question to ask ad tech vendors would be, how much data travels between applications? "We get lots of questions about how to use behavioral analytics to drive personalization," says 24i's Foster. "Analytics can only take you so far. If you don't have the good quality metadata that enables you to make links between content items, then knowing what a user has watched is not going to be that helpful." What is helpful is increased amounts of viewer data (possibly with individual user profiles within a household) to have better targeting on advertising, which ultimately means better CPMs.
"Our main advice is that smarter personalization—like highly targeted content recommendations that autoplay when a user finishes watching a piece of content—will encourage binge-watching," Foster says. "By increasing engagement, you increase the perceived value of the user's subscription or increase ad impressions."
Foster encourages agility first and foremost when it comes to vendors and monetization strategies. "You don't want to be tied in to one specific ad provider or payment provider because the industry is moving so fast that you need the flexibility to add/remove business models. It's about choosing components that are modular and easily integrated with, for example, advanced analytics," he says.
Additional insight on analytics comes from Devoncroft Partners' "2021 Big Broadcast Survey": "Supporting interviews seem to indicate [that] emphasis on building internal capabilities reflects how critical these services are to the future of a given media organization. Media executives believe, with strong evidence to support, the future of their organizations [depends] on developing one-to-one, data-driven relationships with consumers."
The Future of Just-in-Time Transcoding
One issue many content owners face that impacts infrastructure decisions is how to manage, store, and serve legacy longtail content. "If you have a big back library of content that viewers aren't actively viewing and you already pay for it," says Vimond's Sørhaug, "you want to figure out a way to get that in front of the viewers."
Decisions on when to surface content need to be cost-effective when content is in deep storage. There has to be a cost benefit to making this available. According to Sørhaug, "There has to be some way for a mezzanine file to sit in one location and have some sort of intermittent access, where that title could be accessed less frequently and then put back into cold storage without having multiple copies out there. No one that I know of has put that into market yet, but there has to be that sort of content checkout library. I think it's an emerging area of growth."
TVOD Anyone?
Demand for transactional video on demand (TVOD)—essentially, pay-per-view content purchasing—has declined over the last few years, according to Foster, "as consumers globally have become more familiar with the 'all you can eat' subscription models popularized by Netflix, Spotify, etc." But TVOD continues to thrive in some isolated areas, he says, such as "the very newest release movies that aren't available through any other route and some high-profile sporting events. We continue to support it on a technical front, but licensing agreements have pivoted to SVOD and AVOD models."
The Trend Toward Ad-Supported Streaming Continues
Nielsen reports that in December 2022, streaming viewing was up 46.1% year over year, which confirms the slow decline of traditional TV viewing in favor of streaming. Meanwhile, streaming's share of the overall M&E viewing audience continues to skew younger. "If we ask people whether they turn to pay TV or streaming when they don't have a plan for what they want to watch," says Altman Solon's Hurd, "84% of 18–24-year-olds say streaming, but only 39% of 55-plus say streaming." As this stat suggests, traditional TV holdouts remain. "The two takeaways are that streaming continues to grow in preference versus pay TV," Hurd says. "Most 55+-year-olds still prefer traditional TV by a wide margin, and they're about 30% of the population. Understanding the segments of consumers out there is very important."
However, advertisers continue to look for ways to find younger consumers, and that means targeting streaming audiences. "I'm excited for the potential breathing new life into old models, like broadcast television or FAST, which is just a replay of linear television," says Devoncroft Partners' Stinehour.
The downturn in the economy signaled in July 2022 may make ad-supported viewing even more popular. And given streaming's increased market share today compared with past recessions, it follows that streaming will take a larger hit, at least in respect to dedicated viewer investment. "I do think that we will see a broader impact to the number of streaming services the household has in this recession, as opposed to other ones in the past," says Sørhaug.
So, to recap: Younger viewers are streaming. Older viewers are still on (mostly) broadcast TV. During the economic downturn, we may continue to see ad-supported content gains relative to subscription-based offerings—although this is dependent on which brands will continue to spend, and how much, during times when consumers are tightening their belts.
Advertising has made a great push this year into streaming subscriptions based on the new Disney and Netflix offerings. Today, ad-supported subscriptions are table stakes for every content producer. Is your tech stack up to it?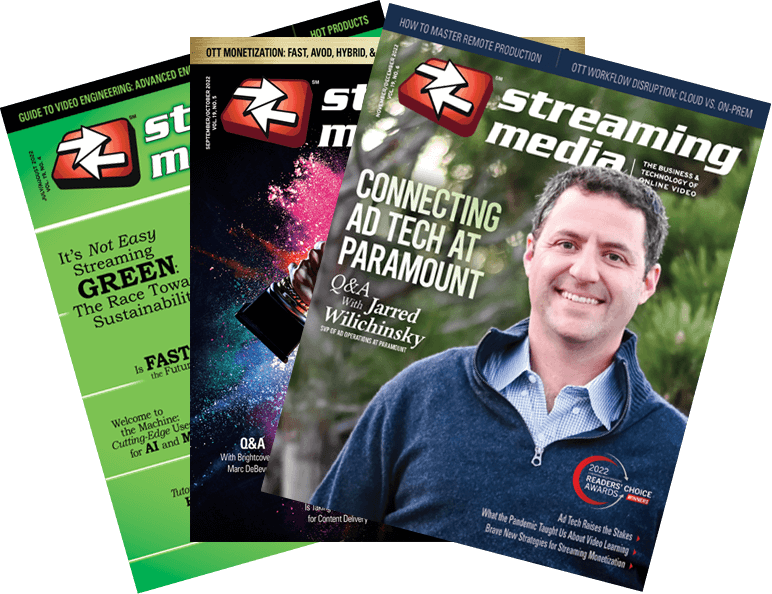 Related Articles