This may be a controversial statement coming from someone who's been a professional camera operator for 30 years, but the most important thing about video production for streaming is the audio. If issues arise with the video you capture, high-quality audio will go a long way to compensate for it. Viewers will often tolerate subpar video, but no one in the world will watch video with absent or poor audio. My advice to any streaming producer is to get the best audio setup you can afford for your video rig. It's always worth the investment.
Durability
One advantage of pro audio gear is durability and comparatively delayed obsolescence. Audio equipment will stay with you much longer than video gear, even if your cameras were state-of-the-art when you bought them. My go-to Sennheiser EW 100 G2 wireless system is 20 years old and has outlived much of the rest of my kit (several times over, in some cases). I started out using it with a Panasonic AG-DP800 S-VHS camcorder, migrated it to my Panasonic AG-DVC100 DV camcorder, then to the Sony HVR-S270 HDV 1080 camcorder, and finally to the Canon XF705 4K camcorder (while in the test fleet for 3 years).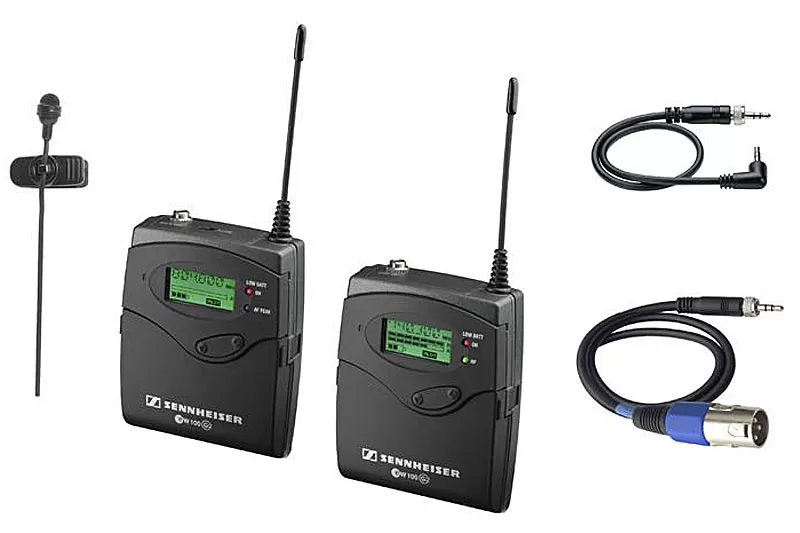 Sennheiser's venerable, durable EW 100 G2 wireless mic kit
My G2 has been handled by presidents, prime ministers, and Hollywood actors and actresses. It's been dropped and banged around and rarely missed a beat. The plastic coating is coming off of the antennas on the receiver and lav transmitter. The OEM 3.5mm cable died and was replaced. One of the battery compartment latches is broken, but each door has two, so the doors still close. The transmitters and receivers look like they've seen better days, but  they work perfectly, and—depending on the job—I still use them on a fairly regular basis. The system has been well worth the $500 I paid for it around 20 or more years ago.
Newer wireless systems are more compact and use USB chargers, but even with older systems like the G2, you can lessen your carbon footprint by using rechargeable AA batteries. Even though Sennheiser urges you to use its own branded rechargeable batteries, the rechargeable AA batteries I got at CVS and Harbor Freight Tools are about 10 years old and still going.
Analog vs. Digital Wireless Mic Systems
If you're in the market for a new wireless system for your streaming productions, new solutions abound. You might even find one that will stick with you for the long haul, like my Sennheiser set.
This buyers' guide looks at a wide variety of analog and digital mics. Analog sets can generally transmit over a greater distance but are more prone to interference. Once, I shot a wedding with a low-end 2-channel VHF model, and I needed to switch channels because I was picking up the wedding coordinator's walkie-talkie. That experience was what triggered me to get a better wireless mic set. Even with the Sennheiser G2, I've done shoots in places near studios in Los Angeles where I've struggled to find an open channel.
Azden's WMS-PRO analog wireless mic kit
Digital sets talk directly to each other and rarely encounter interference issues, but when they do, it's bad. Most digital mics operate on the 2.4 GHz frequency, the same as a lot of Wi-Fi routers. With lower-end models, I have dealt with garbled or dropped signals in high-traffic areas.
RØDE's RØDELink Newsshooter digital wireless kit with XLR plug-in transmitter
Key Contenders in Today's Wireless Field
The prices of the wireless mic sets in this buyers' guide range from $99 to more than $3,500, with most popular brands selling between $500 and $1,500. I did leave off the majority of the cheaper brands, as they probably shouldn't be considered for professional shoots or streams. Some brands offer lots of variations, so I narrowed down the list to the most relevant models. I recommend using this guide as a starting point as you look for the set that best suits your needs. Renting wireless sets for your shoots is a great way to try before you buy and to get a good idea of how a particular brand will work for you in the field.
If you've researched or sampled wireless mic systems in the past, you'll see some familiar names in Table 1, such as Azden, Lectrosonics, Mackie, RØDE, and Sony, as well as newer entrants like Movo.
Click the table to expand it
Just because a mic set appears on the list doesn't necessarily mean I am recommending it. Low price is sometimes an indicator of quality, but with some lower-cost digital models, I've been pleasantly surprised. I have tried and reviewed some, but not all, of the products shown in the table. Look for reviews of the Mackie EleMent series and Movo WMX-20 DUO series on Streaming Media Producer in the coming months.