A session on The Business of FAST: The Challenges in Monetization, Market Saturation and Viewer Engagement in the Streaming Summit at NAB 2023 brought together panelists from Brightcove, Gusto TV, Plex, Samsung TV Plus, SlingTV, and Vevo to discuss the surging FAST segment of the streaming market and strategic approaches to maximizing revenues and enhancing discoverability and personalization as more viewers tune in and new channels increasingly glut the market.
Addressing the problem of saturation of content as channels proliferate, Chris Knight, President and CEO of linear food channel Gusto TV, predicts, "In the next two years, we'll see a culling of the herd." The key to survival, he said, will be "improved collaboration between operators and providers." The question now, he says, is "Where is it working well?"
A Worldwide FAST Market?
Another challenge the FAST market faces on a global level, according to the panel's moderator, Brightcove Chief Strategy and Corporate Development Officer David Peck, is the relative maturity of FAST in different countries and regions; some simply haven't moved as fast as others in adopting free ad-supported TV. 
According to Samsung TV Head of Marketing Aileen del Cid, Samsung TV is currently serving up FAST channels in 24 countries around the world, with a presence in North America, Latin America, Europe, and APAC. "There's so much demand in Brazil and Mexico," she says, "but the market is not as mature as in North America or Europe." Those markets, she explains, are much "farther along."
"Vevo is live in 11 countries," says Vevo Senior Director, Distribution Partner Management Bethany Atchison. "The programming we have on YouTube is not the same as what we put on our FAST channels, but we use data from YouTube to determine which content we use in each market."
"You have to map the content to the audience to the audiences to the devices" in each region across the globe, according to Plex co-founder and CPO Scott Olechowski. One of the key benefits of FAST, even in more nascent markets, he says, is that "the quality and technology are improving, and the cost of entry is lower."
The slower growth of the FAST market in other global regions is not due to a lack of content, says Sling TV VP, Strategy, Business Development & International Liz Riemersma. "We've seen a huge uptick in FAST content from other countries," she says. "Sling will have 200 channels from outside the US whose model is FAST. They may not have the ability to build subs in the US, but it makes sense for us to serve them."
From the content provider's perspective, Knight adds, Gusto TV is operating in 160 countries and "We're killing it in Italy. We don't care where you are," he quipped. "We just want you to watch."
As for the impediments to distributing FAST content internationally, Knight adds, "Localization is still expensive. We localize our entire catalog. We do well in English in some other markets, but we want to localize." AI will be key for language localization–and even hyper-localization, with regional dialects and so forth–he says, but the stars haven't fully aligned for implementation yet. "It's getting there, but it's expensive."
Analytics and FAST Success
One of the critical elements of succeeding with FAST, as with any type of streaming genre or monetization initiative, is gathering audience data, particularly with the goal of serving targeted ads that compensate for lack of reach compared to traditional linear TV with pinpoint precision, and also personalizing the content that's foregrounded for individual users. But in many cases the available metrics aren't what they should be for the FAST world in its present state. 
"Back in the old days," says Knight, "we all subscribed to the same crappy data services. We all took what little we had and we lied about it."
"We want to make sure that every channel on every platform is set up for success," says Samsung TV's Del Cid. "We want to target users with the right content at the right time. We're able to get pretty sophisticated with the data we have and the data we get from our channel partners."
Standardization is also key. "We need to do a lot of work on our side to figure out standard metrics," says Vevo's Achison. "It's an industry-wide problem. I think we've made a lot of progress," she continues, "but expectations are too high for every ad buy satisfying every KPI. The targeting is there, but we need to level-set."
FAST and Interactivity
One of the quandaries of merging linear TV and streaming in the FAST world is how to imbue FAST's more traditional linear TV paradigm with streaming and OTT's potential for interactive, lean-forward experiences where viewers may desire it, or where it might enhance the experience or its monetization potential. "How do we take traditional lean-back experiences and make them more interactive?" Brightcove's Peck asks. "And where is this happening?"
At Gusto TV, Knight says, "We have QR codes in every space. We send you recipes in real time, and ask you to send back pictures, and we plan to start ecommerce later this year. We see spikes when our shows are on," he adds, "and one of the most consistent metrics we have is the number of downloads by U.S. states. But otherwise we don't have much."
At Sling TV, Riemersma says, the strategy is "to invest in more rewarded behaviors. How do we extend viewing sessions to go beyond the living room?" She says Sling is experimenting with different types of audio and short-form content that "leads people to behaviors they've shown interest in and rewards them for it."
At Plex, Olechowski says, "We're experimenting with interactive ads." He says Plex did a campaign for a Sony movie where viewers can click and add the movie to their playlist that had an "unbelievable click-through rate. It's normal for people to have second-screen devices" in hand as they're viewing, he says, so "we're investing more in extending through mobile devices."
Vevo is also doing interactive ads, according to Achison, as well as trivia and "making of" content, but she says they're also being careful to balance increased engagement with "things that don't distract."
The Power of Personalization
The name of the game for monetizing FAST as with most streaming monetization is personalization, playing to streaming technology's strengths. But often it's easier said than done. "How do we get the specific content to the right person at the right time?" asks Samsung's Del Cid. "How do we personalize every aspect of the CTV experience, and get the right content to the user faster? The amount of engagement you get from one user is fruitful for the entire platform."
"For 20 years, the question has been how do we keep people coming back," Gusto TV's Knight says. "Our competitors are multibillion-dollar companies," he adds. So it's all about visibility and discoverability.
For Sling, says Riemerma, the key challenge is "being able to identify customers on the way in." and when it comes to upselling users, "we want to make sure people are ready to pay, and make it easier for them to do so."
Ultimately, of course, it's advertisers who will keep FAST flourishing, even as personalizing the user experience facilitates sales growth. Beck adds, "The feedback loop to advertisers is key to how this ecosystem advances."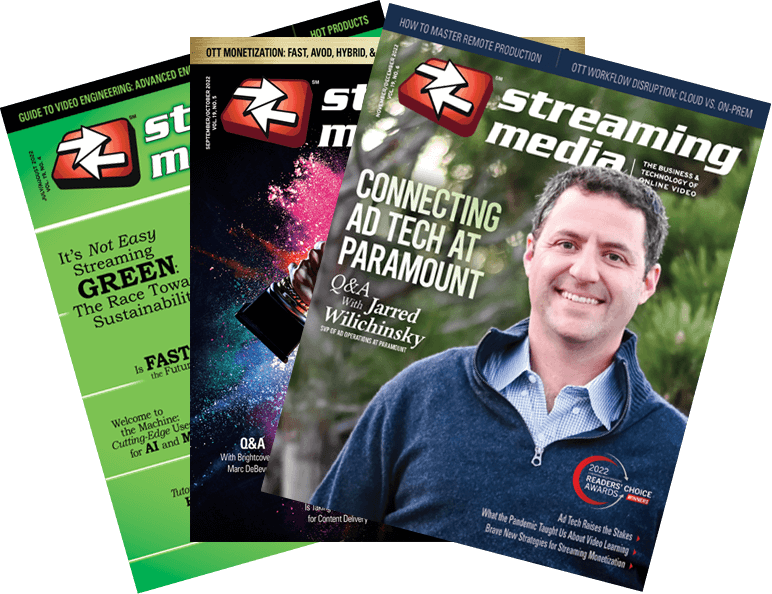 Related Articles