Because NAB attendance requires endurance, I want to recognize several companies who had compelling products, stayed to the end, and were able to do the briefest sub-5-minute elevator pitch for what's new in their offering.
BitRipple discussed their ultra-low latency data delivery software solutions for challenging wireless network environments in a super-speedy manner. They transfer large volumes of data in tens of milliseconds for entertainment as well as remote collaboration and cybersecurity use cases. The demo said it all: Even in the world of conference internet connectivity it was seamless with no visible degradation. They said they were the first to do an interactive live stream of 100 KB/sec 8K HDR across the continent last year. From their website: "At the foundation of BitRipple solutions is a Liquid Data approach to data delivery, based on the RaptorQ erasure code (specified in IETF RFC 6330). The essential idea is that, using RaptorQ, a sender generates and sends liquid packets for each data block to be delivered to a receiver. They are called liquid packets because, like drops of a liquid, they are interchangeable."
Tulix has a CDN that was designed specifically for live streaming (HLS and DASH). It offers both live streaming capability plus, most importantly, the analytics and intelligence broadcasters need to ensure their live streams. They take input from any protocol for live content. We hardly need to reiterate, live has no catch-up and, in the interest of uptime, data supports both any technical and business choice you'll need to make. The company is known for their support. They will help advise on encoders and run extensive tests from your uplink location to ensure everything is stable and ready to go. They have a 10Gbps server architecture and direct connections to the largest internet exchange in the Southeast US. From their site: "See detailed stats during and after your stream that help you make real-time and post-event adjustments. Know exactly who's watching your stream, where, on what device, and for how long." 
Broadpeak is known for their advanced high-bitrate stream capability used by operators. The new numbers they're reaching: 725 Gbps per server streaming. Plus the sustainability side of this is powered by less than 1 watt per gig per second. So, lots of data sent out at scale. From their website: "For more than a decade, we have been working with pay TV operators, broadband service providers, OTT streaming platforms, content providers and aggregators, of all sizes, around the world to deliver video to their subscribers with the best possible experience."
Accedo is extending AR and VR use cases into the streaming environment for both live and VOD content. In the never-ending cycle of trying to impress customers, this brings engagement to another level. Additional content can be incorporated into the streaming experience. Whether it's viewing content on a second screen or projecting the tennis court, playing field, newsroom, or any other environment onto your coffee table, this is a very interesting way to immerse the viewer into programming. From their website: "Accedo… acquired the assets of eyecandylab, the Emmy-nominated provider of innovative extended reality (XR) solutions. eyecandylab's products and solutions help customers leverage the potential of new innovative use cases for XR, regardless of platform or industry."
Qvest has a workflow orchestration product called Qibb which currently allows users to build customer templates gluing together the output from any of the 50 applications they currently support in the various parts of media production and delivery. They are hoping to double this number of applications by IBC. This three-year old product brings efficiency to what we all know can be a lot of manual work walking something from one technology product to another (well, not literally in most cases). They have a drag-and-drop interface which looks very straightforward. Some of these use cases they support from their demo slide: generative AI summary, asset deletion approval, asset ingest from S3, automated CMS publishing, scheduling streaming events, remote editing workstation login, generic approval workflow, accelerate file transfers, automated live recording, visualize cost and usage, placeholder ingest, news agency ingest and transcript. Now if Qibb could only walk the tradeshow floor, talking to vendors, take notes, and write this piece without me…
StreamGuys have a full range of services, but the one we're looking at is how to push content further to more locations. They have a very clear business proposition: They convert audio to video or video to audio. In both cases this is to support wider distribution for content and keep ad markers intact while they're doing this. The first example is for podcasters to be delivered to video platforms like Roku, etc. They take an audio file and convert to the required formats which streaming platforms require. The process is straightforward sounding. Audio file in, with image and out the other end it comes out as a video file. The second use case is for companies—news broadcasters, for example—who want to take their video and distribute it to podcasting platforms. Input video, output audio. It's the ad marker support which makes this such an important tool. They convert as well as maintain the required ad markers (Id3 and SCTE 35) to ensure these are still maintained within a stream. 
Yospace is known for powering dynamic ad insertion – especially managed live server side ad insertion. They updated me about monetization of pop-up channels for their customers. They provide a cloud based SaaS tool to allow an operator to monitor a stream in real time and inject an ad marker. This means additional content around things like sporting events, can be built into a one-off branded digital experience. And there are no hard and fast rules on how long your pop-up channel can run. From their website: We can support the creation of SSAI streams from a dynamic schedule of live events. Dynamically created streams are automatically integrated into the Yospace service monitoring NOC for the lifetime of the event. 

EZDRM has come out with protection for WebRTC streams. The low-latency streaming format previously had no protection from being waylaid. Fast forward to now and they joined the C2PA and are looking to add their support to establishing technical specifications around content provenance and authenticity in an effort to ensure that the content seen online is free from tampering. The C2PA determines a chain of custody for content to protect against the creation of among other things AI-generated or manipulated deep fakes. From their website: "EZDRM is offering a patent pending solution that combines WebRTC low-latency video delivery with commercial-grade DRM content security. Fully leveraging DRM license management and robustness rules will expand the deployment of WebRTC solutions for new media applications such as esports, online gambling, auctions, and online meetings."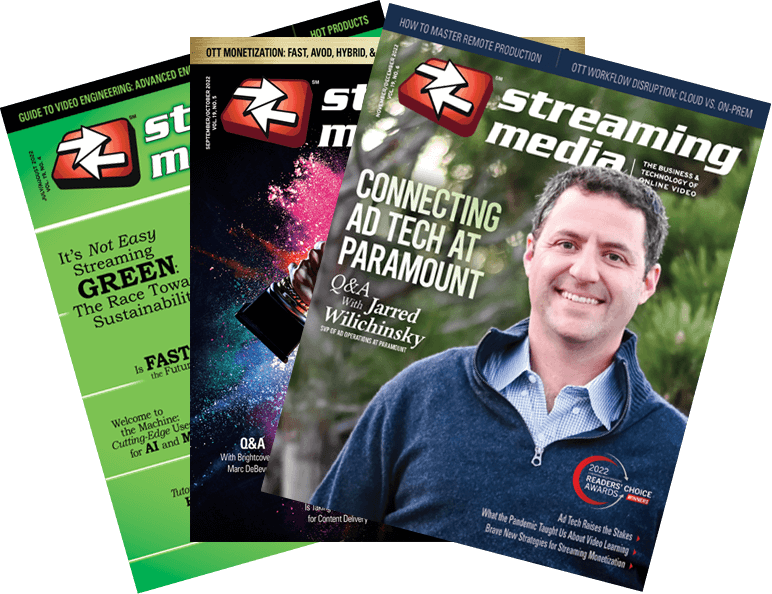 Related Articles
A session on The Business of FAST: The Challenges in Monetization, Market Saturation and Viewer Engagement in the Streaming Summit at NAB 2023 brought together panelists from Brightcove, Gusto TV, Plex, Samsung TV Plus, SlingTV, and Vevo to discuss the surging FAST segment of the streaming market and strategic approaches to maximizing revenues and enhancing discoverability and personalization as more viewers tune in and new channels increasingly glut the market.

18 Apr 2023