A key announcement from AJA Systems at NAB 2023 was the debut of Dante AV 4K, a $2,495 device that delivers 12G-SDI and HDMI conversion to and from Dante AV IP video/audio networks. AJA has been partnering with Dante for a couple of years now, dating back to the release of the openGear Dante-12GAM embedder/disembedder card; the AV 4K itself leverages leverages the Dante AV Ultra solution that integrates networked video with the Dante audio-over-IP platform on 1 GigE IP Networks. 
Streaming Media contributing editor Shawn Lam of SLVLive caught up with AJA Director of Product Marketing Bryce Button at the AJA booth at NAB to discuss Dante integration and more.
"Why Dante?" Lam asks. "Isn't Dante an audio protocol?"
"We've been dealing with Audinate for a while," Button replies. "We were aware that they had a dream to be able to marry video to audio and have as little latency as possible, especially for live performances and so on. So in terms of their protocols and the way they've integrated their system, they're making it very easy for everyone because you've got an entire industry that's been working with Dante Controller, which is almost a spreadsheet-like way of routing one audio channel to another for source destination. And now that includes OTT video. So when it comes to the video choices, they've got two main flavors: the Ultra, which is what we've gone with–that's JPEG2000–and they also have H, which is their H/264. We've always had clients that have done really high-end productions, whether it's Madonna tours or Rammstein coming up this summer And the key advantage here is you've got cinema-quality video via JPEG2000. It can be compressed, but you're not losing actual video in terms of perception. And that can be done across a 1 GigE stream, which is also very appealing because the the higher end of video over IP tends to be the SMPTE2110 stuff that's uncompressed."
Managing Bandwidth
Button goes on to explain that with that uncompresssed video, naturally, "you need a lot of hardware, and you need a lot of bandwidth. So this can work for most people, including churches and all sorts of scenarios. And the really key thing is that church environments are no different from tours at this point. You've always got bands going on, it's live, and people are really perceptive about when things are out of sync. With the singers on stage, if you're close enough and you look up at the huge screens behind them, you want all of that to be in sync. This platform gives us that ability. "
Given the extent of those bandwidth demands, Lam asks, "How many streams can you you utilize before you saturate that one gig network?"
"The great thing is you can actually adjust the compression anyway," Button replies. "We give you the capability to do that. It basically goes from peanuts to 700, which some people want for the 4K signals. If you're doing HD, you might go lower. So it's going to vary a little bit. In terms of latency, that was really key, because with some of the other formats that are out there, latency works great for editing. But within the live world, you want as little as possible, and we're able to basically get sub-frame timings happening with Dante AV. So that's really key in terms of going from source to destination, and we think there's going to be a lot of interest and uptake here because you've just got that perfect combination of really good imagery and really important video audio sync in these live environments. And you can get by with a 1 GigE switch. Now if you're going to do a ton of like 4K 60P-type stuff, the chances are we'll swap out the switch for 10 gig. And those larger environments certainly have the budgets to do that. That's not too expensive. But you've got the flexibility here and then the majority of people are going to be just fine with one gig." 
Tranceiving
"From a hardware perspective," Lam asks, "in terms of the actual products that you're bringing to market here, you've got the transmitter and you've got the receiver. So for every send you need one transmitter and then you need a receiver to match each transmitter. Is that correct?" 
"Correct," Button says. "Within the business you can do transmit, receive; you can do what they call 'TR,' which is a transceiver. If you do a transceiver, it's harder to figure out your bandwidth realities because you could be going in two directions at the same time. Secondly, it costs you more money to implement that. And we also understood in terms of speaking to people, they're going to require a different balance. So let's say there are only three cameras. You might be buying three transmitters, but when it comes to the amount of displays around the facility, there could be 10 of them going on. In that case, you're going to want more receivers. So you've got the ability here to mix and match. It allows us to give you a really good price point at $2,495 US. So you can spend the money where you really want it to go. "Working with Other Protocols
Current focus on Dante notwithstanding, AJA continues to support other protocols and workflows, such as NDI. 
"We're committed to it all," Button says. "We make products for the retail market. We make products for the OEM market. We're Switzerland. We've never really tried to favor one group over another. We're much more interested in what benefits the entire industry and people are going to have different demands, different use cases. And so our philosophy is to do what we can for everyone. So when it comes to video over IP in general, that means we're a founding member of
AIMS
. For the high-end broadcast stuff–that uncompressed video–especially for very expensive sports events, Super Bowls, things like that, we need to be in place for that. NDI has done very well, almost in a guerilla manner, taking over a lot of the lower-end to mid-end video over IP needs. It's great for transporting stuff for post-production, all sorts of items."
Button points to the array of products AJA has developed that leverage NDI. "We've got stuff like the Bridge Live which is showing here," he says, "and in fact we've got a new codec that we announced for that which is JPEG XS. So within a box like that now you can literally transcode between MPEG-2, MPEG-4, HEVC, NDI. Obviously you can get two SDI signals in and out and now
JPEG XS
. So if you've been following what AIMS is trying to do, they've got the uncompressed version that broadcasters are using today, but it's more than likely that JPEG XS is going to be the codec that is utilized for the AV business. We're figuring out what it takes to do these different types of transcodes and working with a great partner there like
Comprimato
who've been doing this for years, we benefit, and our users benefit. The bottom line is, we will partner with anyone that really is interested in helping end users. It's the way we drive ourselves."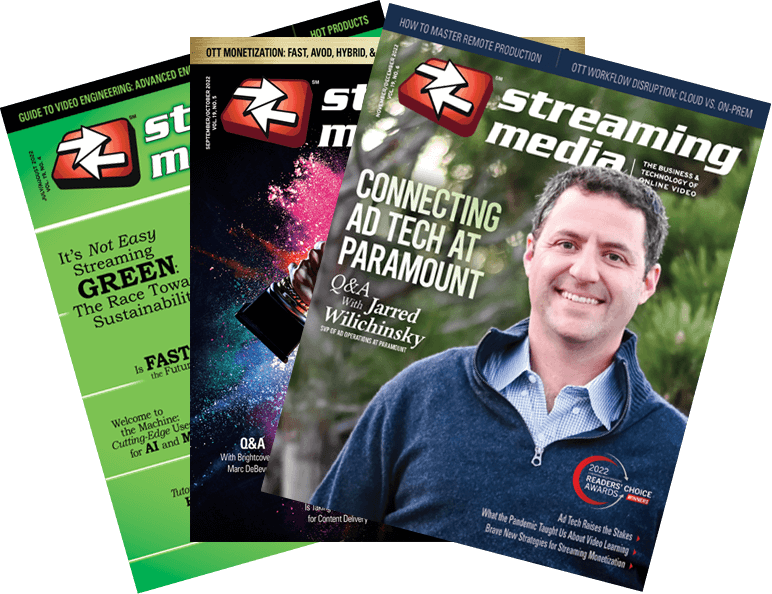 Related Articles
Magewell Director of Product Development Ryan Brenneman discusses the USB Fusion multi-input USB video capture device with integrated source switching and layout control switcher with Streaming Media's Shawn Lam in this interview from the Magewell booth at NAB 2023.

28 Apr 2023
A commonly used streaming media technology at schools, conference centers, and houses of worship is Dante (Digital Audio Network Through Ethernet). A Dante-enabled device can be plugged into a Dante network using a standard Category 5e or Category 6 network cable; the network connects devices using either 100Mbps or gigabit network switches, typically with Power over Ethernet (PoE) capabilities.

14 Oct 2022
Companies and Suppliers Mentioned