One of the premier pre-conference events at the upcoming Streaming Media East conference explores the readiness of the Versatile Video Codec (VVC) for deployment and implementation. Presented on Wednesday, May 17, 2023, from 9:00 AM to 12:00 PM at Boston's Westin Copley Place, the session includes multiple speakers, many from companies already shipping VVC-related products or services. 
The session is entitled, VVC: Ready for Action? A Comprehensive Guide to Deployment & Implementation, and is sponsored by Access Advance. It's part of the All Access pass or costs $95 for those who simply want to attend the session. 
Streaming Media's Jan Ozer assembled the speakers and will also present. We recently caught up with Jan in a phone interview where he discussed the details of the session and what it offers to attendees. Here's the interview. 
Streaming Media: Why VVC, Jan? It seems a bit early for many publishers.  
Jan Ozer: For some publishers, you're right. But these conferences serve product developers, service providers, and participants in the entire streaming media ecosystem. If you're in any of these categories, you need to be thinking about VVC right now. And for some publishers seeking to push the envelope with 8K and similar cases, VVC is an option worth considering right now. 
Streaming Media: Makes sense. How is this session different from a typical streaming media conference session? 
Ozer: It's mostly taught by actual practitioners or participants in the topics being discussed. The encoding picture is presented in part by Ateme, who are already shipping a VVC encoder; Dolby will talk about the HDR picture. Each speaker is an expert in their individual topic areas, so they can present a deep and nuanced picture of their slice of VVC technology, and answer the hard questions. 
Streaming Media: Sounds great, tell us about the speakers. 
Ozer: We start with Alan Stein, Vice President Of Technology at InterDigital, Inc., a major contributor of technology to the VVC standard. He'll discuss what VVC is, how it was formulated, how it's different from older codecs, and its key technology components, and contributors. He'll finish with a brief quality comparison with AV1, HEVC, and H.264. 
Next up is Robert Moore, an attorney with Volpe Koenig, who will discuss the VVC royalty picture, including the two pools (from Access Advance and MPEG LA), the royalty pricing structure, and what's subject to a royalty and what isn't. Anyone considering implementing VVC needs to know these details, and Robert is the best in the business on codec-related patent matters. 
Next, I'll discuss the VVC playback picture; where it plays today, and how soon it will appear in hardware clients like smartphones, tablets, smart TVs, dongles, and set-top boxes. I'll also discuss some interesting software trials that indicate that playing VVC in software on some mobile devices may be feasible sooner than you would think. 
Next up is encoding for VOD, which will be presented by Igor Oreper, chief architect at Bitmovin, a major cloud encoding vendor. He'll detail the available open-source software and identify available commercial encoders and cloud encoding facilities. Later in the session, Igor will also discuss the packaging options for VVC, which is obviously a critical element for how the codec is actually deployed. 
Live encoding will be covered by Jan Outters, Director of Technology & Standards, at Ateme, which has already produced several VVC publishing trials. He'll discuss options for live encoding (origination and transcoding), show product demos, and discuss what's possible now and what's coming. I'm looking forward to hearing about the trials Ateme has participated in, and those planned for 2023 and beyond. 
As mentioned, our final speaker is from Dolby, specifically Patrick Griffis, who is Vice President Technology, Standards and Industry. He'll detail how VVC handles HDR formats like HDR10, HDR10+, HLG, and, of course, Dolby Vision. 
Speakers will provide a broad overview of each topic, not a sales pitch for their individual products or services. With three hours, we should have plenty of time for interaction with the audience and questions and answers. 
Streaming Media: Nice; that's a comprehensive look at the new codec. Who do you expect to attend? 
Ozer: The groups we spoke about at the top, mostly infrastructure and similar providers who are looking to support VVC within their product or service and need to start now. A few larger publishers that are curious about when VVC will become viable for mainstream publishers. And streaming technology analysts who just want a cheap way to get up to speed on VVC fast. 
Streaming Media: Sounds great, see you in Boston.
Ozer: Looking forward to it.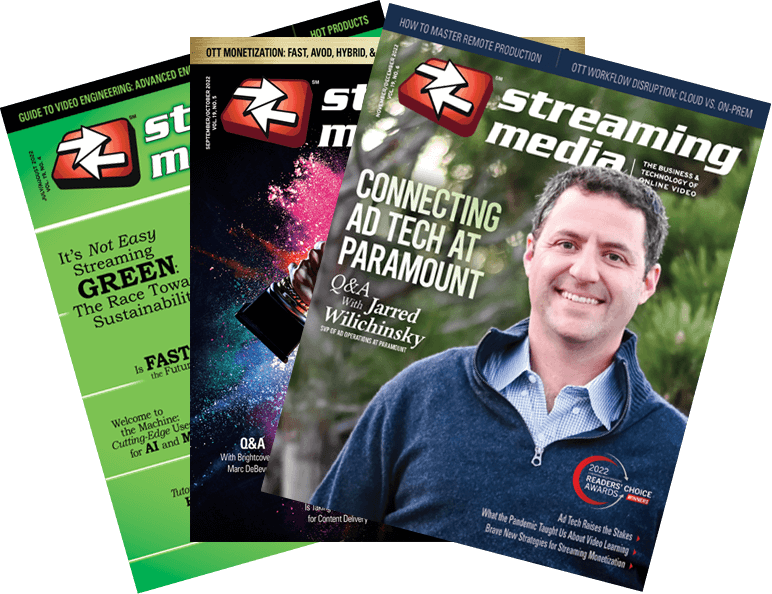 Related Articles