The media and entertainment industry faces a challenging economic landscape marked by reduced consumer spending, shrinking ad revenues, and declining budgets. In response, companies have pivoted to strategies they believe will drive growth, such as ad-supported models. Unfortunately, they are not commensurately investing in the technologies needed to understand what the data has to say about the effectiveness of those decisions.
Many companies are drowning in data but still struggling to find the right content mix across platforms, determine the optimal consumer price points, and maximize the value of their content library. They are also paying a high price for the resulting inaction.
It's become clear over the past two years that audience growth alone is not a viable long-term business strategy. Reactive decision-making based on that premise has led many media companies into oversaturated, intensely competitive markets without a clear plan for profitability.
But data can be gold if leaders make smart technology investments to make sense of the market and identify opportunities before their competition. Effective data operations help companies cut through the noise and make investments with confidence and clarity of purpose, especially during turbulent times in the media sector and the economy as a whole.
The price of procrastination
The wait-and-see approach to data may be tempting in a difficult economy, but it comes at a high cost. Executives under pressure to control spend, mitigate subscriber revenue loss, and launch new offerings (before viewers look the other way) often passively accumulate data with the best intentions — but fail to utilize it until an urgent problem arises.
To better navigate economic turbulence, organizations need to adopt monetization strategies that put data at the center of their decision-making process. They might consider converting their data into data-driven intelligence, an easy task if companies effectively integrate powerful AI tools into their workflow and business operations.
AI-powered tools can drive efficiency and deliver insight across organizations, from automating data ingest and normalization to ensuring financial reporting compliance and analyzing content performance trends. Firms don't need robust data science teams to stand up these customized solutions, either. They are accessible through sleek interfaces to all of your teams. Smart shoppers can easily find scalable AI platforms that quickly justify the investment.
FAST fallout
Across the streaming landscape, rapid growth has given way to a more cut-throat reality where a proliferation of companies are battling for a limited pie, where behemoths like Netflix are losing subscribers or reporting major losses in their direct-to-consumer offerings.
Rising demand and low investment barriers drove FAST hypergrowth through 2022, when as many as 1,400 were operating, according to Variety. Most streaming services offer ad-supported tiers, too. The very same companies that raced to get an edge in the FAST boom now face off in a saturated, sluggish market. Very few are equipped with the data analytics they need to sustain growth.
Declining original content budgets up the competitive stakes. After exploding by nearly 80 percent annually from 2019 to 2021, studio direct-to-consumer content spending is slowing down. Wells Fargo forecasts about 15 percent annual growth from 2022 to 2025. Companies are refocusing monetization efforts on existing catalogs. With fewer new original titles to buy and sell, companies are called to better understand content performance. Those that can assess content value based on performance data, not guesswork, can better capture its revenue potential.
A data-first approach is the only way for executives to make decisions that stabilize business and even spur growth (especially during a downturn). These dynamics help explain why companies that buy, sell, and hold content are beginning to guard their data more carefully.
Data's skyrocketing value
The formation of the U.S. Joint Industry Committee (JIC), announced in January 2023, exemplifies just how crucial data has become. In March, its members – media giants A+E Networks, AMC Networks, FOX, Hallmark Media, NBCUniversal, Paramount, TelevisaUnivision, Warner Bros. Discovery, and Roku – proposed industry-wide standards for cross-platform ad performance measurement. 
When rivals join forces to tackle an industry-wide problem, pay attention.
Leaders of these companies recognize that their businesses depend on reliable and transparent performance measurement for everything from ad sales to licensing deals and mergers and acquisitions.
They also pointed to the pressing need for measurements that "accurately reflect the way all people consume premium video content today – across multiple screens, connections, and devices."
While these efforts are likely to trickle down throughout the industry, it highlights the challenge facing companies of all sizes in an increasingly fragmented media universe. The reality is that many companies cannot properly evaluate the value of their content or audience right now.
But tools are available to change that, and companies will be rewarded for the transparency and reliability that comes with savvy data management.
The path forward
From FAST to SVOD and AVOD, companies in the streaming space will be rewarded for having the agility and ambition to make smart moves quickly. Opportunities abound for creative partnerships, cross-branding between platforms, improving user experience, and diversifying consumer options — even in a world of shrinking budgets.
It's still hard to tell whether a recession is ahead, how bad it might be, or how much it could impact audiences and investors. We've already seen serious cost-cutting. But media organizations can no longer afford to sit on data.
We can count on audiences continuing to consume content. The challenge for media executives is to understand what content, when and where, why it's desirable, how to strategically react to that knowledge, and, ideally, how to offer it. Media companies can use AI to find answers to those questions using their data. At best, a wait-and-see data strategy wastes the value of the content. At worst, it robs businesses and their investors of the insights that lead to more resilient monetization strategies.
Mark Moeder is Chief Executive Officer of SymphonyAI Media.
[Editor's note: This is a contributed article from SymphonyAI Media. Streaming Media accepts vendor bylines based solely on their value to our readers.]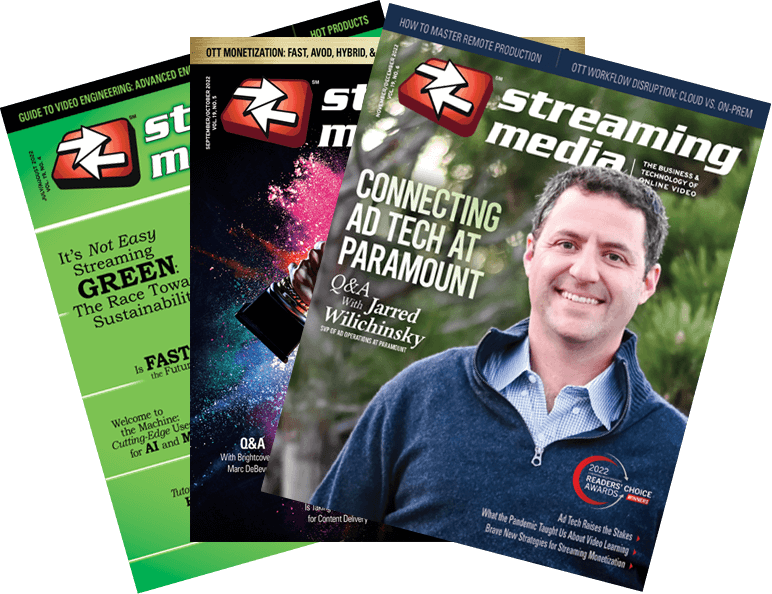 Related Articles