The internet fostered the ability to make changes on a continual basis, so how come national broadcast advertising is still being transacted in the upfronts (the same format that started in 1962), which require an annual dollar and audience-reach commitment in advance to buy and sell advertising?
"While some marketers continue to buy portions of their TV ad inventory in advance, what is notably different today is that many brands are allocating as much campaign investment for CTV as linear TV," states The Trade Desk in a report based on a survey conducted in December 2022. "Since 2019, upfront linear TV spend has remained relatively stagnant (up 0.15 percent), whereas CTV upfront spend has risen 195 percent, according to eMarketer."
If viewers are watching what is being called premium CTV inventory at scale, and they alter their viewing behavior continually throughout the year, shouldn't the television networks be selling inventory in a way that reflects this? If we can do just-in-time packaging to ensure we are able to insert whatever ad is sold programmatically or otherwise for an SSAI insertion, shouldn't we start to be nimbler about capturing ad value?
According to the report, "During a 2023 Variety panel at CES, President of Paramount Advertising John Halley noted, 'The upfront has evolved significantly, particularly over the last 10 years. … Digital never used to trade in the upfronts and it's now almost half of the money being agreed to. We deal with a product in a market of scarcity—futures are very important in those kinds of marketplaces.' "
Let's go a few steps further. Why shouldn't this marketplace be more dynamic? How will streaming companies become profitable if they can't get top dollar for their best inventory? And if that inventory becomes more valuable as the year progresses, why shouldn't they be able to increase prices? My local supermarket has increased prices many times over the last year for almost everything, and yet I keep buying food.
According to the report, 69% of respondents want the upfront deals to be in biddable channels or real-time bidding via a live auction. "When you ask marketers how they would prefer their 2023 upfront spending to be allocated, an average of 28 percent of respondents' spend is expected to be purchased publisher direct, [and] the other 72 percent of spend is expected to be purchased through programmatic guaranteed (PG) deals (28 percent), private marketplace (PMP) deals (23 percent), or open marketplace bidding via a demand side platform/ ad network (21 percent)," states the report.
The digital environment provides data, and that data is not only very valuable, but very proprietary. Agencies and brands want to know how data value fits into their whole advertising buy. "I think data is going to become more important across the industry for everyone—brands, agencies, content producers, publishers like ourselves, and distributors. The reason being is as the different data regulations get more severe and regulated, you really need to own that," says Lynette Kaylor, SVP and head of North American sales at fubo. Otherwise, you're not complying with privacy requirements, and that's a whole other major problem.
"We have great viewership data, and I know that everyone wants to be in front of Monday Night Football. They love that audience. It's an engaged audience, and that audience doesn't just watch Monday Night Football. They watch a lot of other things," says Kaylor. "You can follow this audience along, and I see that as beneficial to us, as it's another revenue stream, but it's beneficial to advertisers because they're staying in front of the right people."
fubo viewers are a very valuable segment. They aren't even a look-a-like audience; they are actual registered viewers who can be tracked via a clean room where some brands may even be able to see if the anonymous consumer who saw a car ad also bought that car (or another product where the brand has first-party data).
fubo positions itself as being nimble with its premium inventory because it's not owned by a bigger media company. "You can come to us and say, 'Hey, I have this budget, but I want to run it through my agency PMP,'" Kaylor says. The brand can also buy through PG or via a direct sale. "We're really open to anything," she notes.
Regardless of how the inventory is bought, the premise is that the inventory value is not static. If X number of viewers see an ad, and Y number actually buy something after seeing that ad while being tracked in a privacy-safe way, your inventory has become much more effective and efficient.
Because the upfronts are an old paradigm, they don't reflect the media environment anymore. Now, we have a valuable commodity being sold to brands—very precise targeting and an understanding that reaching that market is worth not only a premium, but the going rate an advertiser will buy. The old way of doing things, which is somewhat determined by pricing up front, will leave profits on the table. After all, streaming services can use all of the revenue they can get.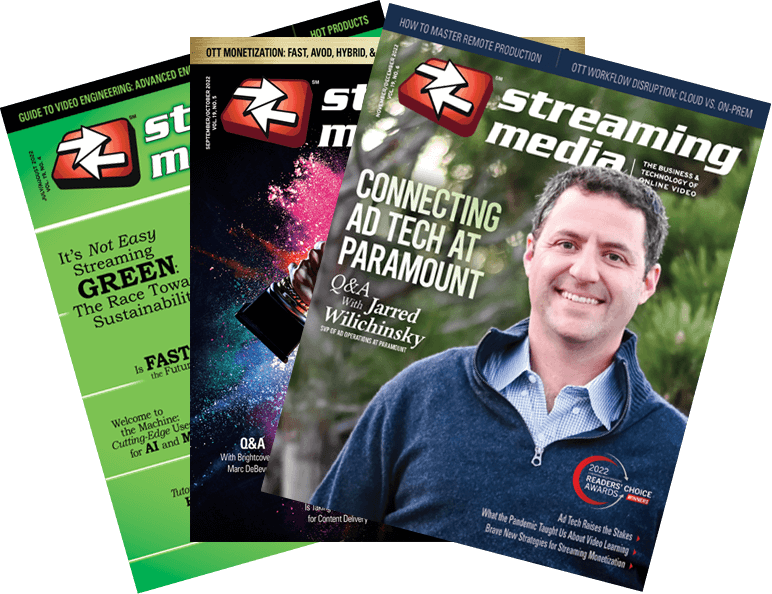 Related Articles