Free ad-supported television (FAST) has been a rapidly rising element of the streaming industry since the beginning of the pandemic. As Jason Thibeault noted in a Streaming Media Magazine article earlier this year, FAST is not necessarily a new business concept for the industry. However, these free services offer an audience increasingly burdened by inflationary pressures and higher costs of living an ideal option for a wide variety of programming.
From a discovery perspective, FAST resembles the traditional linear TV broadcasting model of flipping through channels but with the added bonus of watching a wide range of specific shows at any time. Another major element of FAST's consumer appeal is not having to sign up for yet another monthly-fee platform. As many industry insiders have noted in recent times, so-called "subscription fatigue" has taken its toll on users, and the ability to search for a specific program and immediately begin watching it without reaching for the wallet has become an enticing proposition for viewers.
Subsequently, these optimized market elements for FAST channels create an ideal opportunity for entrepreneurs to launch their own FAST platforms. The FAST channel model provides a lot of flexibility in terms of programming options, with a wide available range of opportunities for licensing existing films and TV shows from content networks with large pre-existing libraries to the potential for creating and delivering original and niche programming.
However, there are several key factors to consider in order to successfully launch a FAST channel. The approach you'll follow will largely depend on whether or not your business plan is to primarily draw from existing content libraries or if your focus will be more on original content creation. But let's begin with the essentials.
The FAST Channel Launch Quick Checklist
According to Jonathon Barbato of "digital TV synchronization studio" and FAST channel builder Best Ever Channels, there are immediate baseline factors to consider when developing your idea for a FAST channel and laying the groundwork for a successful launch. Barbato breaks down those factors into three distinct segments:
Operations

: "Make sure you have a team or partner who is well-versed in the intricacy of FAST channel programming and delivery."

Marketing

: "Pick content that can be curated into a brand with unique differentiation from all the content 'noise' out there. The more you can access and involve key influencers in your brand category to sense ownership of the brand and spread the word for you, the better. You'll need this brand leverage to even get launched by the platforms and you'll need it to get discovered and viewed by the audience."

Longevity via Dynamic and Niche Content

: "Make sure you have enough content and resources to bring in additional content to make it through the long haul. The only thing worse than a channel no one watches is a channel people stopped watching because it got stale. They'll never come back. You can repeat content blocks in a 24/7 period, but be sure you have enough content breadth to attract and keep regular viewership and use the usage data to program [your channel to match] who's watching when."
Elaborating further on the content question, Barbato says, "Audience tastes and hit programming never really vary that much from platform to platform. The basic formula for success still applies: Action, comedy, music, lifestyle, and sports will always be top performers. Classic programming can work if it's classic hits. Hits are hits, no matter how many times they play. Equally, a show that failed once will likely fail again and again. The primary viewing of FAST channels is from channel surfers, so the more professionally done the content is, the more movement and eye candy, the more likely it will grab a viewer's attention and get them to 'stick' to your channel."
Riches in the Niches and the Power of Freemium Content
Original niche programming also represents an exciting option with many possibilities for reaching targeted audiences. "Offering niche content is particularly crucial," says Pascal Birot of TV platforms, OTT, cloud, and content protection solutions provider Viaccess-Orca. "By doing so, you can create a strong value proposition for your FAST channel, better reach your intended audience, and increase advertising revenues."
Rob Gambino of streaming and broadband solutions provider Harmonic also notes, "The FAST market has evolved to the point where it's not enough to run old repeats of Friends episodes. Premium content is a necessity to be successful."
Premium content that also focuses on underserved audiences is particularly compelling. DeShuna Spencer, Founder of kweliTV, which celebrates global Black stories and amplifies Black storytellers, was compelled to create a platform that "was born out of my own frustration," she says. "I wanted to see less Black trauma and negative stereotypes and more Black history and culturally rich stories. Before we launched, I talked to at least 100 Black filmmakers from around the world. Many of the creators were fed up with the gatekeepers—the platforms that dismissed or undervalued their completed work and the studios that asked them to compromise their creative integrity during the development process. Then, I met with a few Black industry veterans who shared the frustration many of them faced when trying to get carriage during the heyday of cable. A number of Black media entrepreneurs were completely shut out."
The ways that Connected TV (CTV) has freed up the media landscape for groundbreaking programming presented Spencer with an opportunity. "kweliTV could dismantle the gatekeepers by giving indie Black creators the opportunity to showcase and make money off of their work on our own streaming platform."
However, as Barbato mentioned, "brand leverage" is still key to discoverability, and Spencer notes, "While we have been able to do as promised, the reality is that we still need distribution partners to reach customers faster, diversify our revenue, and scale."
Paul Kontonis, the Chief Marketing Officer for Revry, a streaming network launched in 2016 that focuses on queer content and creators, also emphasizes three key ideas that he says "we knew we needed to do when launching our FAST channel":
Be committed to your audience. Our audience is the LGBTQ community and its allies. Everything we program is dedicated to their entertainment needs that are unmet by mainstream media.

Have a purpose beyond tune-in. Our purpose is to inspire exploration of LGBTQ stories for the social and economic benefits of the community. Our original programming is for and by our community.

Representation in media matters. Telling diverse and inclusive stories has never been more critical. Revry celebrates the beauty of our queer community including the trans community and drag performers, offering a safe space to be seen and heard. 
Regarding the issues of discoverability and distribution challenges for niche FAST channels, Kontonis says, "Driving viewership is the most challenging. Hundreds of FAST channels are fighting for your viewers. This means that viewer acquisition costs can skyrocket at times. Without a clear and visible difference along with a true value proposition, you may be fighting a losing battle.
"Making it as easy as possible to find and watch your program on platform is important," Kontonis continues. "Equally important is off-platform marketing on social and owned media to drive awareness of your channel brand and programming. People like to watch what they know. Don't expect people to find your programming just because they were searching for generic keywords and start watching. Viewers are searching for movie and series names."
Revry UX screen menu. Click the image to see it at full size
The FAST Channel Challenges of Distribution and Scalability
As both Spencer and Kontonis note, finding distribution partners and driving viewership is an ongoing challenge—and for good reason.
"If you want to reach as many eyeballs as possible, you need to distribute your FAST channel to half a dozen platforms or more," says Harmonic's Gambino. Each platform has evolved organically, and there is no common standard for delivery, scheduling, and content metadata creation.
"Scalability is another common challenge," he says. "To be successful in the FAST environment, your video platform needs to scale to reach millions of concurrent viewers. With a video platform that leverages the public cloud, that is achievable."
Another key solution to this issue, according to Best Ever Channels' Barbato, is to "create channels which are easily differentiated; different from most or anything else out there; and are rich in graphics, brand-building, recognition, and appeal. Original, exclusive, and recognizable brands in the content are a huge plus today."
Furthermore, he says, a pragmatic and measured approach is necessary no matter how unique your programming may be. "Create economies of scale and the ability to test content and channels with a minimum of risk. Stack the marketing deck in your favor with influencers and category experts to tout your praises and spread word-of-mouth (and social media). Work with platform marketing teams to provide them with materials coinciding with their seasonal promotions and platform marketing priorities so your channel(s) are always featured as predominantly as possible. Use the data you are provided to see what programs are working, when they perform best, and engage your audience as often as possible on the channel, in social media, in your direct-to-consumer apps."
How the "Ad-Supported" Angle of FAST Can and Must Be Super-Optimized
Taking a targeted audience approach can only help with the absolute essential for succeeding with FAST: advertising! Since advertising is the core revenue source for all FAST channels, knowing how to optimize ads for audiences best while taking a flexible and dynamic approach to ad placements and integration is key.
"With the rise of FAST channels, content inventory is increasing, and operators need an efficient way to match the number of ad breaks with segments," Viaccess-Orca's Birot says. "Ads need to be relevant to the audience, or else viewers will become fatigued—which could lead to customer churn and revenue loss. With targeted advertising, you can address your viewers' demand for rich content while monetizing your service offering. Advertising is evolving for FAST channels, and we're starting to see ads become part of the actual content."
In this sense, it is similarly important for FAST channel creators to not only partner with distributors but also with well-matched marketing research audience-targeting firms. It is important, however, to consider the apprehension of audiences over viewing habits and personal data collected for marketing purposes. Jon Giegengack, Principal and Founder, Hub Entertainment Research, said in a Streaming Media Connect talk from 2022 (go2sm.com/betterads) that making customers feel comfortable and in control of their user experience largely depends on the question being framed in an empowering way.
"In one question we ask people: How do you feel about companies gathering your private information about your background and your behavior online?" Giegengack says. "The tolerance for that is low until you say, 'What if you would be willing to let companies gather information?' And we ask about a whole list of things from their demographics to their online behavior, to what shows they watch, in order to give you an ad experience where you're seeing fewer ads, or you're seeing ads that are more relevant to you. And a really high percentage of them say, 'Yes, I definitely would do that.' It's a transaction, and as long as both ends of the transaction are set up in a way that people feel like they're getting a good value for their time or for their money, and better yet, give them a choice of which one of those two things they want to spend, that's kind of the best of all worlds. It's better for the advertisers, it's better for the providers, and it's better for the people that are using them."
The Keys to Discoverability and an Engaging UX
No matter how effective your FAST channel discoverability, diverse programming, and targeted advertising may be, what ultimately counts is the seamlessness and quality of presentation for the user experience. When asked how a new FAST channel stands out from other channels in terms of user interface and programming discoverability, Best Ever Channels' Barbato breaks down all of the core elements into key components:
Use a short, one or two-syllable name

Choose a clear, bold brand mark that's easily read, no matter how small

Make unique use of color and style

Leave minimal imagery or "visual noise" in the background

Wherever content thumbnails are available, use varied and compelling art (also simple, bold, and unique imagery)

Be concise in descriptions

Use celebrities or recognizable brands

Whenever possible, close with a cliffhanger
At the end of the day, launching any new content platform is a challenging proposition in a content consumption landscape that is now saturated on all levels. But if you have a unique idea for a FAST channel and especially a good sense of an underserved audience or a particularly underrepresented market niche, using the FAST model can be the most flexible framework for delivering and monetizing your content. Partnering with established distributors, market researchers, and designers who can help a channel stand out through a distinct design and branding sensibility are the core ingredients that can turn a great FAST channel idea into a successful and profitable enterprise.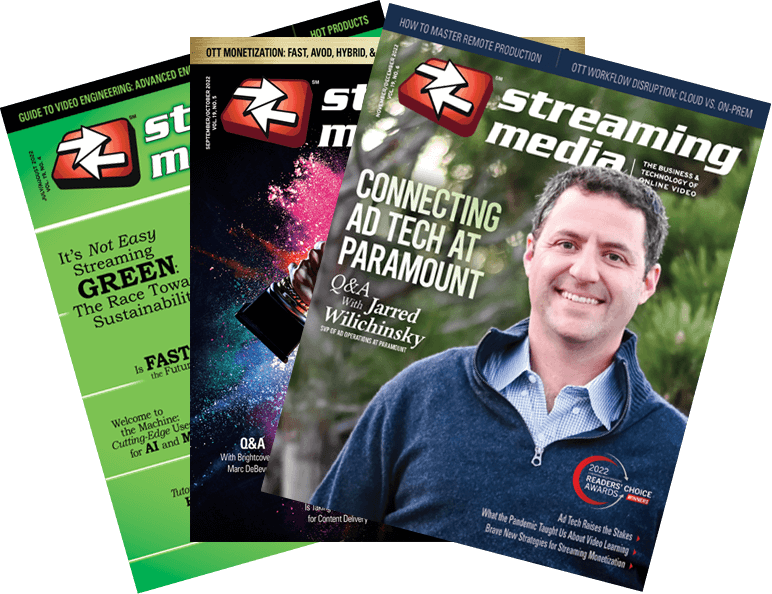 Related Articles