For media companies, launching OTT services quickly and easily is critical to business success. There are many reasons for this, including the need to be present in the market and build audiences. We've moved on from the landgrab that happened a few years ago when the likes of Amazon, Apple, and Disney first entered the market with what seemed like endless resources – now, the priority is to build audiences within a working business model.
Today, streaming is a critical focal point of a media company's business. Improving time-to-market, while delivering an exceptional experience that is reliable and robust, can have a huge impact on the bottom line. When launching a new streaming service, companies must decide on the best technology strategy. Generally, they have two options: build it themselves or buy from a vendor. This is a dilemma that Disney's CEO Bob Iger grappled with when he was planning Disney+, as explained at last year's Code Conference:
"We were intent on going into the streaming business. We needed a technology solution. We have all this great IP. We weren't a technology company. How do we get that IP to consumers around the world? … And we were kicking tires left and right. We thought about developing ourselves. Five years, $500 million. It wasn't the money, it was the time, because the world was changing fast."
Imagine if Iger had not gone on to spend $3.8bn on BAMtech. Disney+ would almost certainly not have launched as quickly as it did. It would have missed the pandemic and the resulting surge in streaming, and it would not have achieved the same degree of exceptional growth it demonstrated in its first year. Overnight, Disney became a tech company. At a similar time, tech giants like Apple, with Apple TV+, and Google, with YouTube TV, entered the streaming TV market. A trend had been set for streaming tech to be moved in-house.
Media companies as an SI
As Bob Iger recognized, media companies have great IP, but, with one or two exceptions, they are not tech companies. And owning tech does not automatically improve their business: share prices do not jump because you have the best encoders; they jump because your new series is a hit with viewers.
Nevertheless, there is a lot to be gained by having internal expertise when it comes to streaming technology. Streaming workflows are so complex – especially at scale – that they need constant management. Gone are the days of uploading your content library to a single vendor's black box. Media companies require best-in-breed solutions at every stage of the workflow that are suited to their specific needs, which means building in-house and owning streaming tech does make sense in some cases. However, such an approach should not automatically make companies a closed shop.
Media companies' owned tech will most likely be stronger in some areas than others – after all, there is a lot to think about: ingestion, encoding, SSAI, subscription, delivery, security-as-a-service…the list goes on. Larger firms with big engineering teams will act as a system integrator (SI) for the full end-to-end technical stack. Advantages exist for external thought leadership from trusted partners and SI's to help optimize not only 1st but 3rd party workflow and technical integrations based on all aspects of the technical and revenue equation.
Others need a larger relationship with a trusted partner to take on the SI role and provide a complete end-to-end solution based on existing upstream systems and workflow. In both cases, flexibility is essential to allow media companies to vary their offerings. The reality is that taking tech in-house rarely delivers the desired solution on time or on budget. There is simply too much complexity.
Streaming demands flexibility
Flexibility is essential in today's streaming world. Audiences may not be willing to pay for the multiple subscriptions that they were a couple of years ago, which places media companies in a state of experimentation to work out the best way to deliver and monetize their content. There's no one-size-fits-all approach: each company has its own distinct audience and priorities.
Some may need to offer tiered subscription/advertising models, for example. The landscape is evolving so quickly that they must have flexibility built into their tech stack from day one to enable them to adjust strategies at short notice.
Media companies need partners they can trust, that will sit in the room with them to help devise and deliver the best strategies. Partners must share a "cannot-fail at any cost" outlook, especially for live sports, and they must provide flexibility and operational robustness in equal measure. In short, media companies need effective and efficient technology that will support their goals, enhance their brand, and help them sleep at night.
Economic headwinds
The economic pressures that are being felt by many households are mirrored by business pressures within media companies. The cost of content is increasing at a significant rate, which means efficiencies must be found elsewhere if they are to compete on the content side. These circumstances have flipped the trend for taking tech in-house recently – coupled with the experience for many of having taken the in-house route only to be hit by inevitable delays and the increases in cost that come with developing such a complex workflow.
Media companies today need scalable technology within a workable economic infrastructure. They need ESPN-level quality without hundreds to thousands of people running it. And they need it up-and-running as soon as possible to satisfy their business demands.
For media companies, launching OTT services quickly and easily is critical to business success. They must also have the flexibility to adjust business strategies at short notice, while delivering a highly scalable and robust service. The days of endless resources for growth at any cost are gone. Streaming is a critical focal point of businesses, and technology decisions have the power to make or break a streaming platform's success – and in turn the success of the business itself. Whichever route company's take, it's important that they have the bandwidth to focus on the key ingredient that will drive their businesses forward: great content.
[Editor's note: This is a contributed article from Edgio. Streaming Media accepts vendor bylines based solely on their value to our readers.]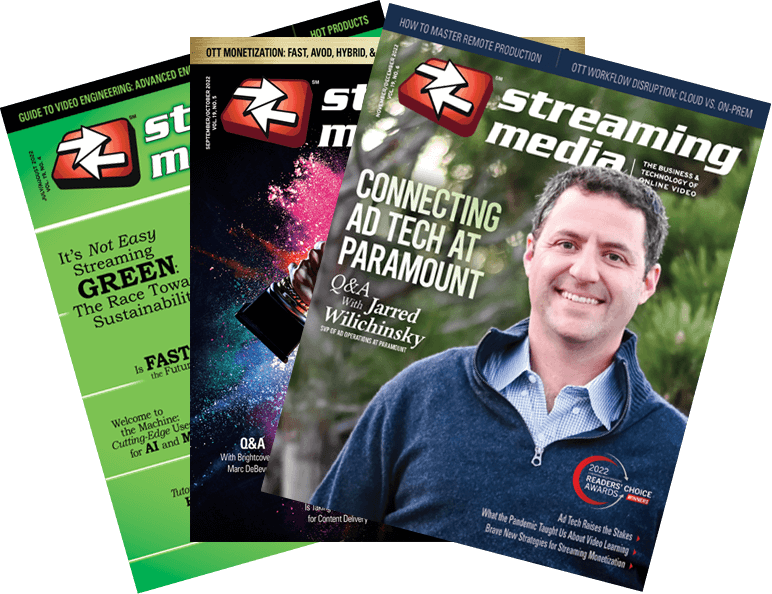 Related Articles
Brittany Powers, Head of Advanced TV at Alliant, discusses the issues with streaming and CTV advertising around who is in charge of dictating and executing audience targeting strategies, and she outlines a path forward for brands, agencies, and streaming platforms.

02 Jun 2023
If you're looking to start your own OTT platform, or improve your current one, picking the right vendor is the first step. Before signing on the dotted line, it's important to do your research, compare providers, and take key offerings into consideration.

19 Sep 2022
Advances in video codec technology driven by the explosion in video over IP are creating heated competition and a fragmented market. Will one winner emerge or is this the new normal?

04 Apr 2019