Streaming has profoundly changed how we consume media, ushering in an era where audiences control what, when and where they watch. This has led to the rise of dominant players like Netflix, who owe their market influence to the reliable, high-quality live video streaming they offer. Netflix was among the first major video streaming platforms, but many others have followed in their wake: Disney+, Max (formerly HBO Max), Paramount Plus and many more.
As Netflix prepares to venture into the realm of sports tournaments, a new set of challenges arises. While the company has already established itself as a leader in delivering on-demand movies and TV shows, the live streaming of sports content introduces a unique set of complexities. Netflix's previous encounters with technical issues during live streams have highlighted the need for innovative solutions to ensure seamless and immersive sports viewing experiences.
Still, Netflix is retaining its spot as the most-subscribed streaming platform. Overall, with the exception of live sports, emulating the traditional content distribution landscape online has largely resolved the complexities associated with scheduled programming. This is exemplified with the industry's current laser focus on FAST (free, ad-supported television) channels, such as Tubi and Pluto TV.
However, the industry as a whole is still grappling with the complexities of emulating traditional content distribution models online and challenges of large concurrent viewership. There's a pressing need to improve streaming technologies to provide viewers with a more synchronized and engaging experience. With more shows and movies on streaming services now more than ever, audiences have expectations that platforms deliver the highest quality to them as possible. Yet there are still ways they are technologically lagging.
Addressing Technology Gaps
When it comes to sports live streaming, one of the significant challenges that content providers like Netflix face is latency; both audience latency, which the delay in the viewer experience between the viewers of a live event, as well as the glass to glass latency, which measures from real-time at the origin.Unlike traditional television broadcasts, where all viewers watch the same content simultaneously, streaming services often struggle to deliver content with minimal latency, especially when catering to a large number of concurrent viewers.
In a live sports event, fans want to experience the game in real-time, feeling the thrill of each goal, basket, or touchdown as it happens. However, due to various factors such as encoding, network congestion and geographic distance, there can be a noticeable delay in the streaming signal reaching viewers around the world. This delay can vary from a few seconds to even minutes, creating a disparity in the viewing experience among different audience members.
A significant challenge is to recreate the real-time, bidirectional nature of traditional broadcasting in the online world. This involves ensuring that viewers are at the same point in the timeline and delivering sophisticated user experiences that are commonplace in linear distribution models. Today's technology often needs to catch up, creating hurdles to the seamless delivery of certain types of content and limiting user experiences.
Despite its robust streaming platform, a leading player like Netflix is not immune to these issues. Common complaints include buffering, audio-sync issues and occasional glitches during peak usage periods. Content Delivery Network (CDN) methods, once hailed as the solution for content distribution at scale, show their limitations regarding live-streaming video. They treat live video as a sophisticated file transfer with inherent limitations.
Cost and fear of adopting more modern architectures for real-time video delivery pose significant barriers for providers like Netflix. These challenges indicate an urgent need to invest in next-generation technologies to deliver enhanced user experiences. With how much profit Netflix and other streaming platforms rake in, there must be funding available for initiatives to enhance streaming technology.
Embracing Next-Gen Streaming Technology
Even as streaming platforms see themselves as competitors, fighting for a bigger audience, the streaming industry as a whole must collaborate and invest in research to develop and adapt to new technologies. If solutions are implemented across the industry as opposed to just on one platform, everyone will be better off. One such solution is to establish a low-latency and ultra-low-latency architecture that can address last-mile conditions at the network level. Implementing adaptive scene encoding, real-time optimized codecs and intelligent error correction can pave the way for richer, more interactive and synchronized viewing experiences.
The Future of Live Streaming
As the industry evolves, the focus on minimizing latency becomes more acute. Hearing your neighbor cheer for a hole-in-one while you're still 30 seconds behind in a live golf tournament stream illustrates the need for synchronization. While one person may watch a show or an event on a television channel, another may watch it on the channel's online player, and they may not be synced up. All broadcasts, regardless of platform, must be completely synchronized to provide as seamless a viewing experience as possible. Relying on outdated, decades-old technology, like that used by Netflix, poses challenges as it was never designed to handle real-time and interactive content at scale. This misalignment can significantly impact the sense of community and shared experience that live sports broadcasts aim to provide.
The future of live streaming is about providing seamless, real-time entertainment experiences. It's about overcoming current limitations by embracing advanced technologies and architectures. As providers adapt to these changes, they can enhance their offerings and create a more immersive and real-time streaming experience for their audiences. This ongoing commitment to improvement is the path to delivering on the promise of the streaming revolution: personalized, on-demand, high-quality content available anytime, anywhere.
[Editor's note: This is a contributed article from Agora. Streaming Media accepts vendor bylines based solely on their value to our readers.]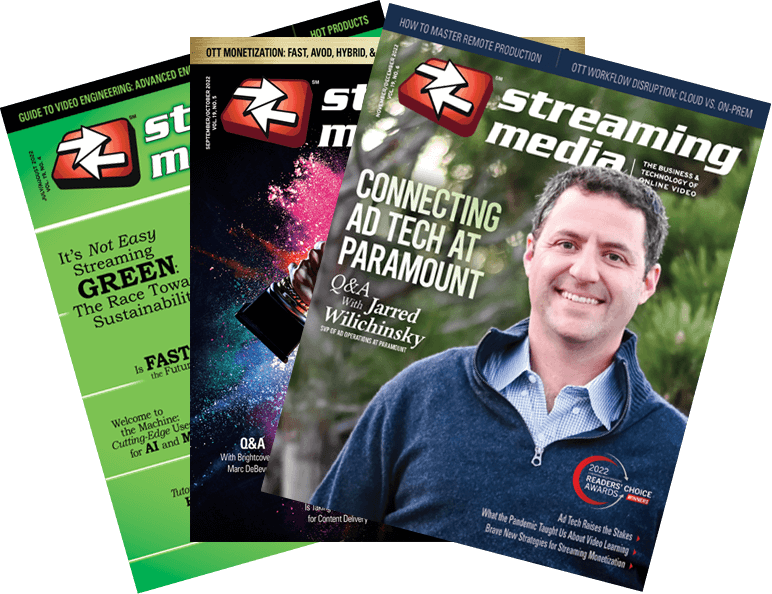 Related Articles
Companies and Suppliers Mentioned