Intro
No matter what kind of streamer you are, chances are you're spending a lot of time sitting down. You might also want a new chair for the office if you spend a lot of time working at a desk. You need a chair that's not only comfortable but also ergonomic and built to last. Plus, you want it to look kind of stylish too.
We asked the Restream community which gaming chairs they use and rounded up the nine best ones for live streamers. In this guide, we'll also go through the factors to consider when buying a new chair, including which features make a gaming chair more ergonomic.
What to look for in a gamer chair
Getting a desk chair, whether for work or play, is highly subjective. Sure, there are standards most chairs have but at the end of the day, the chair has to be comfortable for you to sit in. Before you start shopping, it helps to determine your preferences and identify what kind of customization features you might need to fit your body type.
Chair fabric
If you're investing in a gaming chair, you want it to be comfortable enough to sit on for a four-, five-, or six-hour streaming session. The fabric — leather, fake leather, vinyl, mesh, etc. — has a big impact on the comfort of your gaming chair.
Chair fabrics like vinyl and leather look nice and are easy to clean, but they can get hot in the summer. An alternative is ultraleather or artificial leather, which resembles real leather but is much more breathable. Mesh and woven fiber materials are the most comfortable to sit on, but they're harder to remove stains from.
Mobility
Are you on the move during your streams? Or maybe you have a multi-desk, multi-monitor setup that you navigate during pre- and post-production. You'll need a chair with wheels to move around easily.
Some rolling chairs are better than others, though. You might prioritize quiet rolling so your mic doesn't pick up the sound of your chair wheels on-stream. Maybe you prefer the most durable wheels because you move around a lot (or you plan to use it for chair racing…we won't judge). Check out the reviews before you buy a new chair to see what previous customers say about the wheels.
Ergonomic design
If you're going to spend hours sitting in this chair, it needs to support your back. Ergonomic design isn't just a fancy word manufacturers use to hike up the price of a chair. It's extremely important to have a chair that doesn't put stress on your spine and promotes good posture.
When choosing an ergonomic chair for streaming, keep these features in mind:
Seat height: The seat height should be adjustable. A range of 16-21 inches (40.6-53.3 cm) from the floor is ideal for most people.
Seat size: The seat of the chair should be between 17-20 inches (43.2-50.8 cm) wide (from side to side) and deep enough that you have your back against the chair and about 2-4 inches between the front of the seat and the back of your knees.
Lumbar support: Your chair should support your lower spine's inward curve. Without this, you'll slouch and end up straining your spine.
Back of the chair: The chair's backrest should be between 12-19 inches (30.5-48.3 cm) wide. Look for a backrest that is adjustable in height and angle to get the perfect fit for you.
Armrests: Look for a chair that has adjustable armrests so you can lightly rest your forearms and keep your shoulders relaxed. If your armrests are too high, it'll force your shoulders upward, which makes them sore after a while.
Style
The final component of your gaming chair is the style. You're going to be on camera when you stream and viewers will see your chair. The right chair can show off your personal style.
Chairs for content creators come in a wide variety of colors — you don't have to stick with boring black or gray if you don't want to. A popular choice for most streaming and gaming chairs is racing style, which have backrests resembling the seat in a racecar. Before you decide on the style you want, browse through the options to see what's available.
The 9 best gaming chairs for live streamers
Finding the best chair for your streaming setup will depend slightly on your preferences. These nine chairs are some of the most popular choices among streamers for their quality, durability and customization options.
1. Herman Miller Embody
The Herman Miller Embody is the ultimate live streamer's chair — if you don't mind shelling out a few extra bucks. The skinny backrest makes it look sleek and stylish, but it also has plenty of adjustable features that make it customizable for any body shape. The suspended, pixelated system makes the Embody flexible enough to let you to move, stretch and change positions however you want. You can recline without having to adjust the seat back too.
Although the Embody is an impressive chair used by video content creators and professionals alike, it has some downsides. The lumbar support is a little lacking and the armrests aren't easy to adjust. You also have limited options when it comes to the fabric upholstery and the chair is difficult to assemble out of the box.
This Herman Miller gaming chair is expensive but it's durable and nearly fully customizable. If you're willing to make the investment, it could be the right chair for your streaming setup.
Specs
Seat height: 16-20.5 inches (40.6-52 cm)
Weight capacity: 300 pounds (136 kg)
Seat width (side to side): 21.25 inches (54 cm)
Seat depth (front to back): 15-18 inches (38.1-45.7 cm)
Backrest: 14 inches (35.6 cm) wide x 23.5 inches (59.7 cm) high
Features
Suspended, pixelated system for comfort
Large seat
Adjustable armrests
Recline without adjusting seat back
Flexible chair materials for large range of motion
Adjustable seat height
Pros
Durable
Smooth recline
Large range of motion
Built with high-quality materials
12-year warranty
Cons
A bit noisy
Seat depth and armrest adjustments are clunky
No lumbar adjustment
Hard to assemble
Price
2. Secretlab Titan Evo 2022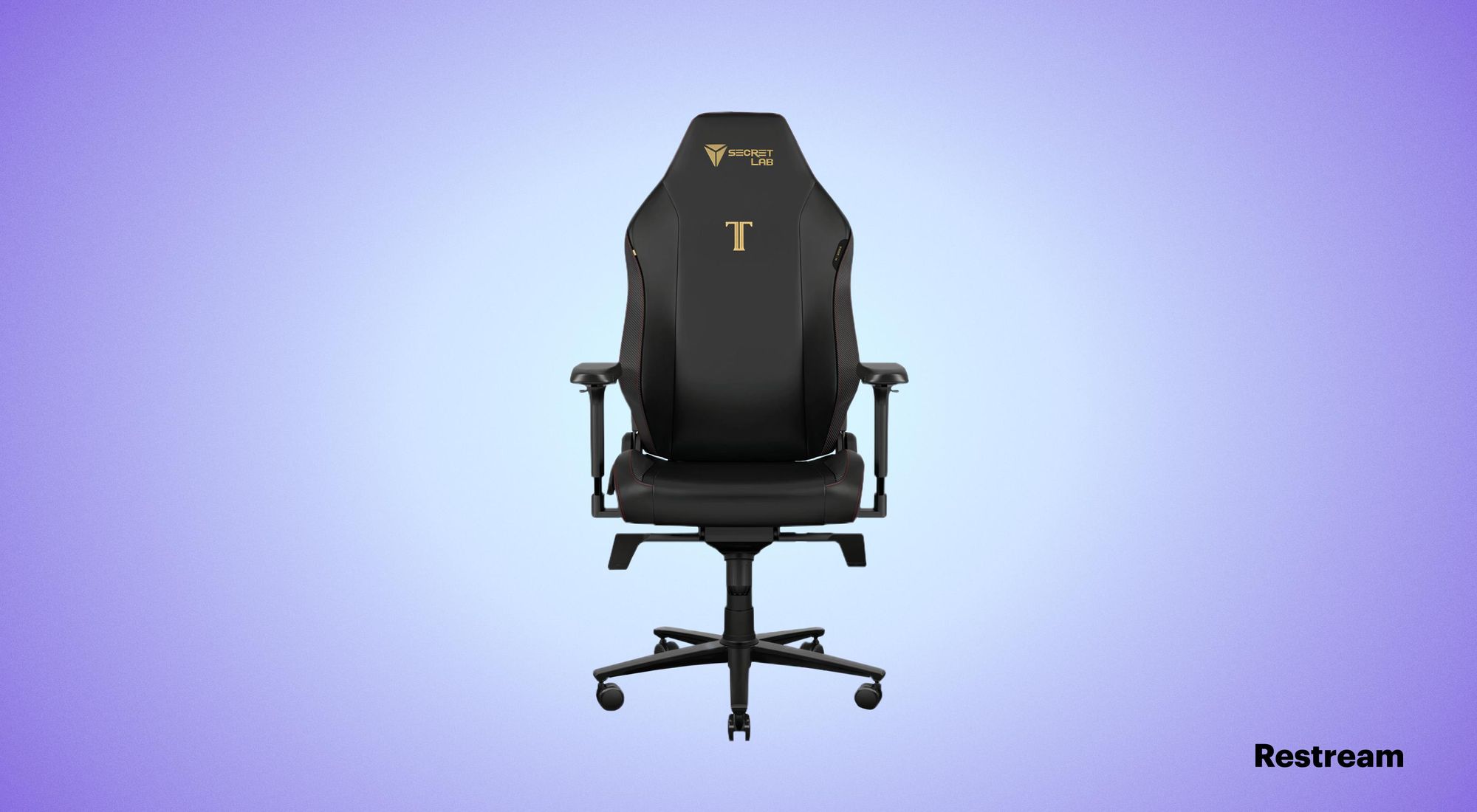 The Secretlab Titan Evo is one of the comfiest chairs on the market for gamers, streamers and content creators. With the pebble-seat design, cold-cure memory foam and a lumbar support system, you can adjust the chair to your posture and body size with no problem. The Titan Evo comes in three different sizes: Small, Regular and XL. You can reference your height and body weight to figure out which one is the best fit for you.
The backrest on the Titan Evo fully reclines and you can lock it in place to keep from reclining too far. The adjustable armrests are pretty sweet too, moving up and down, back and forth and side to side. Secretlab has upgraded their upholstery options for this chair, offering easy-to-clean faux leather or a breathable woven fabric. Most customers don't have a lot of bad things to say about the Titan Evo. It's comfortable, customizable and an all-around high-quality gaming chair.
Some streamers think this Secretlab gaming chair is too expensive. But for the value and durability you get, it may be well worth it. Plus, it's not even the most expensive chair on this list.
Specs
Seat height: 17.7-20.5 inches (45-52 cm) (Small); 17.7-20.5 inches (45-52 cm) (Regular); 18.1-21.9 inches (46-55.6 cm) (XL)
Weight capacity: 200 pounds (90 kg) (Small); 220 pounds (100 kg) (Regular); 175-395 pounds (80-180 kg) (XL)
Seat width (side to side): 17.7 inches (45 cm) (Small); 18.5 inches (47 cm) (Regular); 19.3 inches (49 cm) (XL)
Seat depth (front to back): 18.9 inches (48 cm) (Small); 19.3 inches (49 cm) (Regular); 19.7 inches (50 cm) (XL)
Backrest width: 20 inches (50.8 cm) (Small); 21 inches (53.3 cm) (Regular); 22 inches (55.9 cm) (XL)
Features
Available in three sizes: Small, Regular and XL
Upholstery options are faux leather and SoftWeave Plus fabric
Cold-cure memory foam
Hinge for reclining backrest
4D adjustable armrests
Magnetic headrest pillow
Three-year warranty
Pros
Easy to assemble
Cushioned backrest
Sturdy aluminum legs
Adjustable firmness for lumbar support
Huge selection of customization options and special edition chairs (Star Wars, Harry Potter, League of Legends, Overwatch, etc.)
Cons
Magnetic neck pillow sometimes falls off
It's a large chair that takes up a lot of space
Price
$549 (price varies based on size, upholstery and other customizable options)
3. Secretlab Omega 2020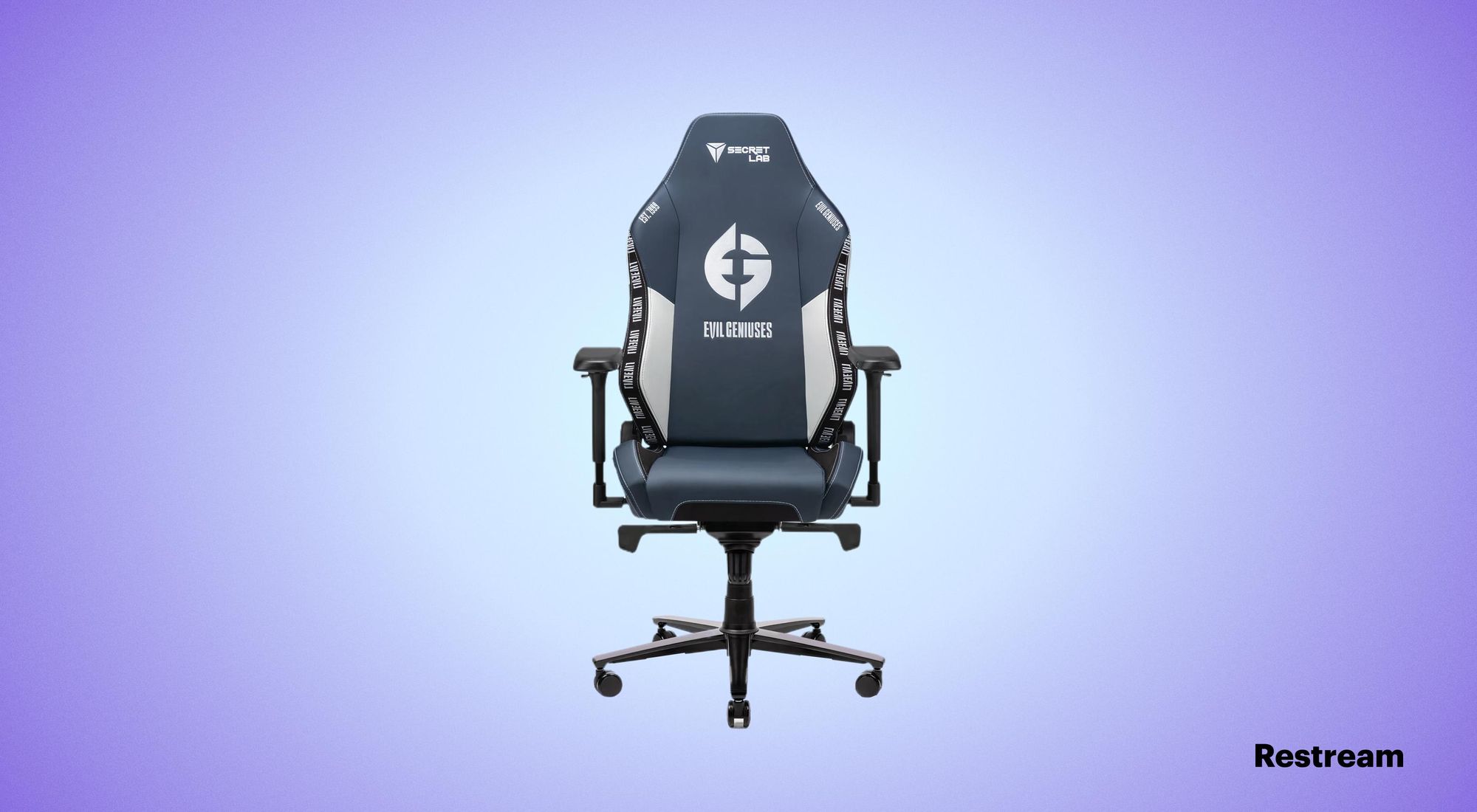 If Secretlab's Titan Evo is out of your price range, you could go with the 2020 model, the Omega. While not quite as comfortable as the Titan Evo, it's still solidly-built and well-designed for gamers, streamers and anyone else sitting in front of their computer for four hours or more. The leather upholstery is designed to withstand wear and tear, including spills. The memory foam that fills the chairs headrest and lumbar support pillows is pretty revolutionary as well (or at least it was, until the Titan Evo's cold-cure memory foam came along two years later).
The Omega comes with customization options to make the chair fit your body type and size better, but it's not available in three sizes like the Titan Evo. The Omega also has a bladed seat, meaning you lose about two inches of room to move your legs. The recline mode helps make up for it though, letting you tilt the backrest so you're almost laying down.
Although the Omega lacks some of the features of the Titan Evo, it's still a durable chair that you can use for work or play
Specs
Seat height: 18-21.5 inches (45.7-54.6 cm)
Weight capacity: 239 pounds (108.4 kg)
Seat width (side to side): 14 inches (35.6 cm)
Seat depth (front to back): 20 inches (50.8 cm)
Backrest: 32 inches (81.2 cm) high by 21 inches (53.3 cm) wide
Recline: 85-165 degrees
Features
Upholstery in PRIME 2.0 PU Leather or SoftWeave Fabric
4D armrests
Memory foam lumbar and head pillows with cooling gel
Multi-tilt mechanism
Class 4 hydraulics to raise and lower seat height
Aluminum wheel base
Three-year warranty
Pros
Good range of motion on backrest
Four adjustments for the armrests
Comfortable enough to sit for long periods
Wide selection of colors and editions
Quiet wheels
Cons
Chair is a bit firm
Armrest padding is hard
Price
4. AndaSeat Kaiser 3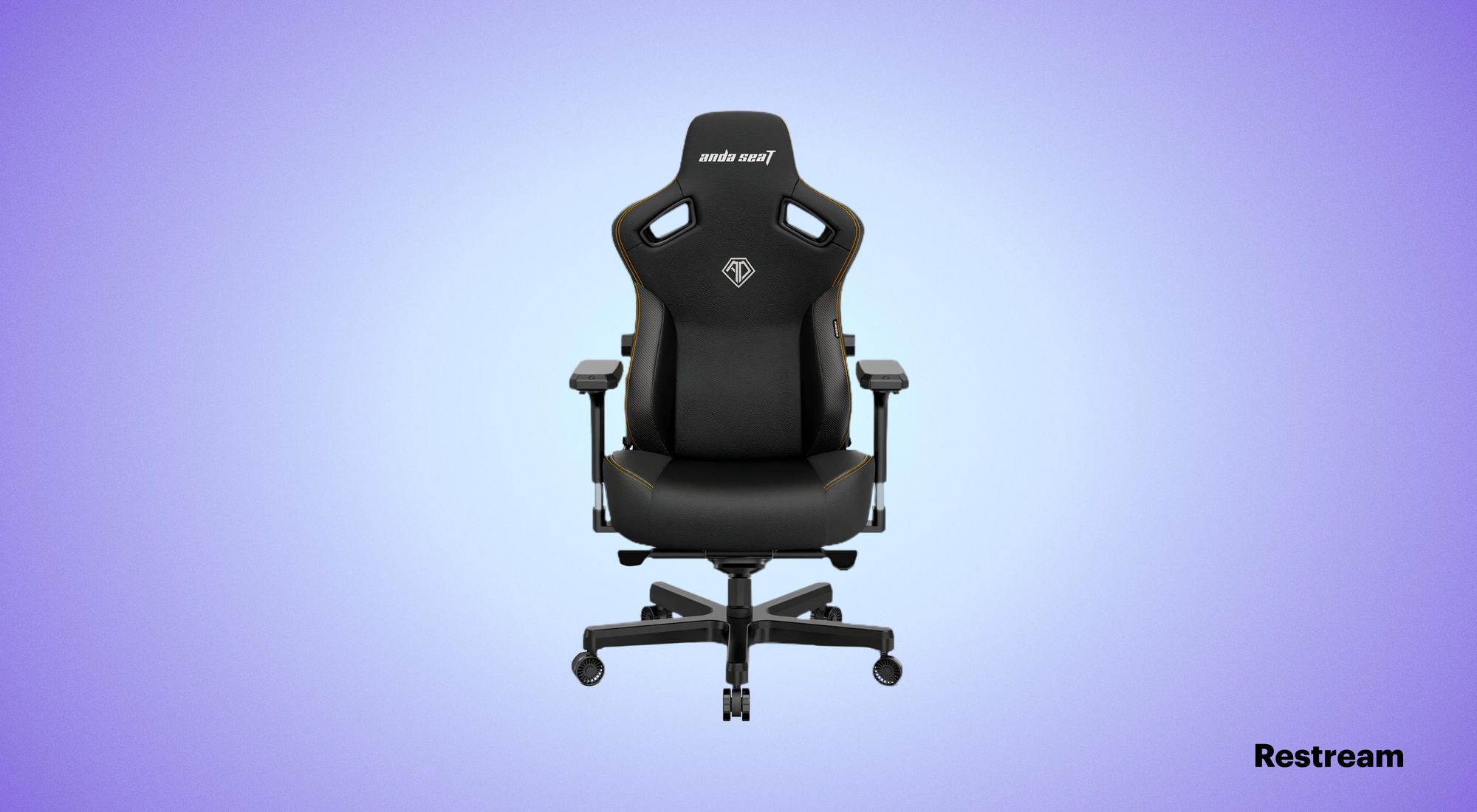 For a comfortable, adjustable chair that rivals the Secretlab models, look no further than the AndaSeat Kaiser 3. This chair has many of the same features as the Titan Evo, but the magnetic headrest pillow seems to stay in place a bit better. You can recline the Kaiser 3 up to 165 degrees, but you can't lean or swivel freely like you can with the Titan Evo. Still, the Kaiser 3 has plenty of adjustments and customizations to help you find the perfect position for your body.
The wide seat is ideal for larger people or those who simply want more room to more their legs around. The lumbar support is adjustable as well, with a knob on the side to move it inward or outward. Like many of its competitors, the Kaiser 3 also boasts 4D armrests. The armrest covers can be a bit flimsy however, and tend to fall off.
Overall, the AndaSeat Kaiser 3 is a good investment for a gaming chair. If you're bigger or taller than the average person, the Kaiser 3 will suit you better than some other similar chairs on the market.
Specs
Seat height: 17-20 inches (43.2-50.8 cm) (Large and Extra-large)
Weight capacity: 260 pounds (117.9 kg) (Large); 395 pounds (179.2 kg) (Extra-large)
Seat width (side to side): 20 inches (51 cm) (Large); 21 inches (53 cm) (Extra large)
Seat depth (front to back): 19.6 inches (50 cm) (Large); 22 inches (56 cm) (Extra-large)
Backrest: 33 inches high (84 cm) (Large and Extra-large)
Recline: 90-165 degrees (Large and Extra-large)
Features
Magnetic headrest pillow
4D armrests
Full recline and able to lock it into place
Two knobs to adjust lumbar support (inward and outward and up and down)
Available in Large and Extra-large (but the XL is only available in certain markets)
Gas cylinder to adjust chair height
Pros
Sturdy and well-built
Easy instruction manual and comes with toolkit
Solid padding
Designed for big and tall people
Cons
Seat and backrest are a bit firm at first
Magnetic armrest covers fall off kind of easily
Lumbar knobs aren't labeled
Price
5. Noblechairs Epic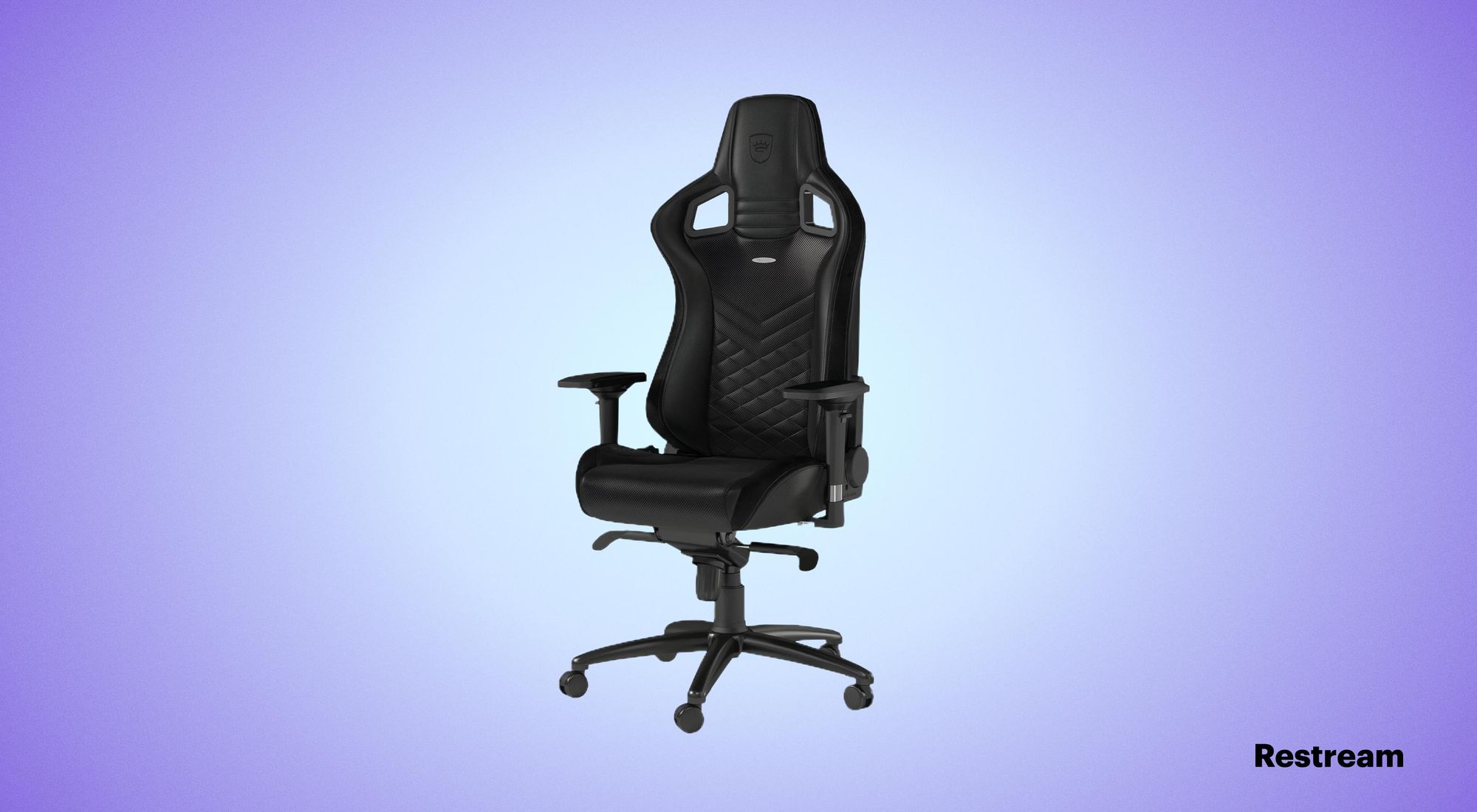 If you want a racing style chair that you can still use in the office, the understated Noblechairs Epic is for you. The chair crosses over nicely, if you get it in black faux leather. It has most of the features you'd expect from a premium gaming chair as well, like a backrest recline, four-dimensional armrests, headrest pillow and lumbar support pillow. It's built from solid materials, including the aluminum five-wheel base and the hydraulic seat adjuster.
Unlike other chairs in the same price range, the Epic does not have a knob to adjust lumbar support; you're stuck with the pillow. The pillow would be a fine substitute if it managed to stay in place but the straps are precariously attached, causing it to move up and down when you don't want it to. With a 265-pound weight limit, the Epic isn't the best choice if you're a big or tall person.
Choose the Noblechairs Epic if you want a classic, premium gaming chair. Just don't expect it to have the same all-around quality and attention to detail as the Secretlab Titan or Herman Miller Embody.
Specs
Seat height: 19-23 inches (48.2-58.4 cm)
Weight capacity: 265 pounds (120.2 kg)
Seat width (side to side): 21 inches (53.3 cm)
Seat depth (front to back): 18 inches (54.7 cm)
Backrest: 33 inches (83.8 cm) high by 30 inches (76.2 cm) wide
Recline: 80-135 degrees
Features
Head cushion and lumbar support pillow
4D armrests
Rocker feature
Aluminum wheel base
Available in synthetic or real leather
Tilting up to 11 degrees
Cold foam upholstery
Pros
Faux leather is breathable and comfortable
Sturdy build
Comfortable seat
More discreet for a gaming chair
Cons
Lumbar pillow straps come loose kind of easily
Head pillow is too firm
Price
6. Razer Iskur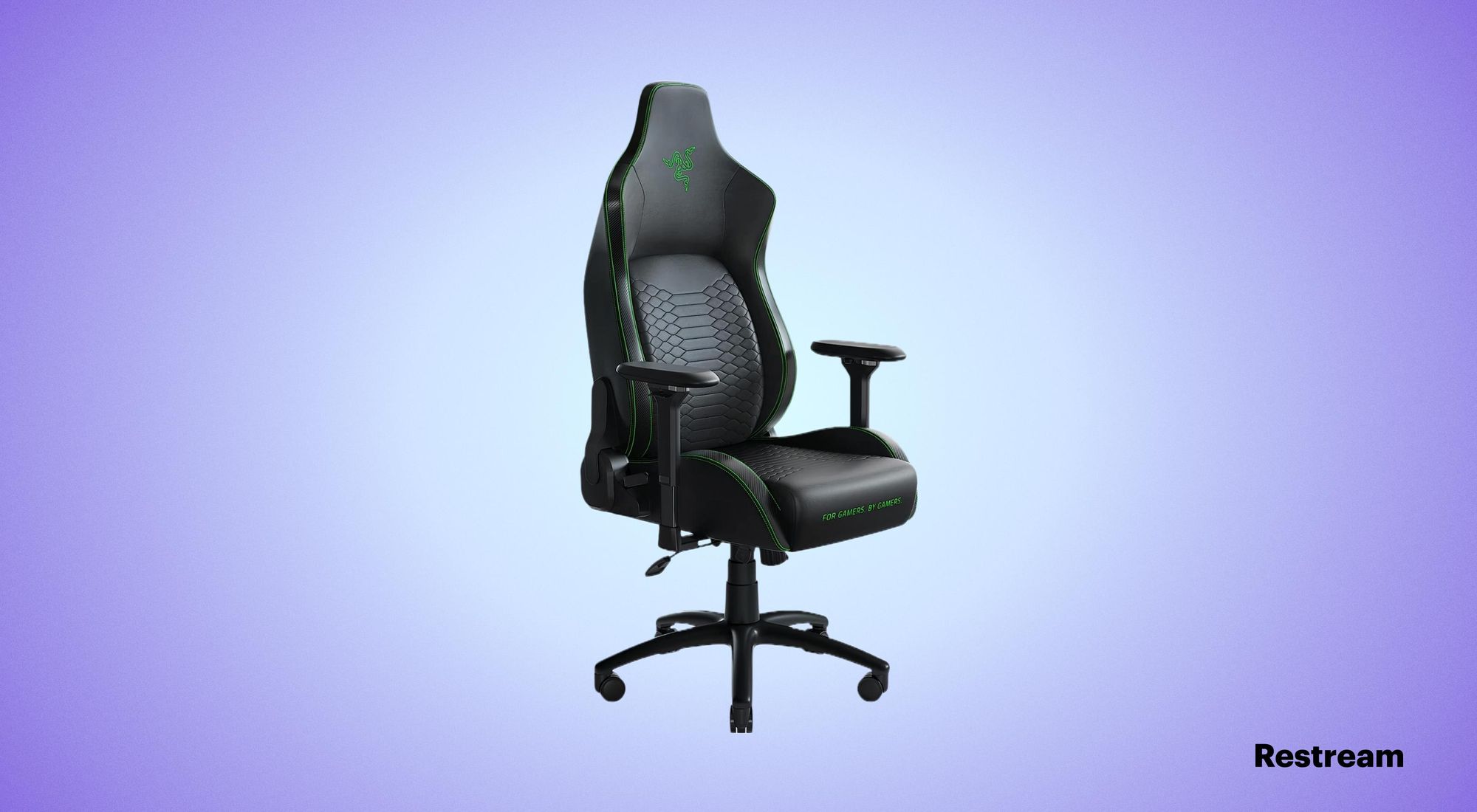 Razer is the company known for its gaming keyboards, mice, headsets and other accessories. Now with their line of gaming chairs, you can complete your streaming setup. The Razer Iskur is a solid chair that offers firm comfort and adjustability. It's made from quality materials and should hold up for a long time. It has everything you'd expect from a premium gaming chair, including four-directional armrests, a hydraulic piston to raise and lower the seat, and high-quality PVC leather upholstery.
Razer opted for the built-in lumbar support system rather than a lumbar pillow and it's one of the better built-in systems compared to other chairs in this range. One downside to this chair is that the armrests don't move outward and the blades on the sides of the seat prohibit movement a bit, especially if you're a wider person. Also, the lumbar support might not hit you in the right spot if you're taller.
This Razer gaming chair is a good chair to spend several hours in and sitting in it will make you feel like a gamer.
Specs
Seat height: 17.7-21.7 inches (45-55 cm) (Standard); 18-22.8 inches (45.7-58 cm) (XL)
Weight capacity: 300 pounds (136.1 kg)
Seat width (side to side): 15.5 inches (39.3 cm) (Standard); 17.7 inches (45 cm) (XL)
Seat depth (front to back): 17.3 inches (44 cm) (Standard); 19.8 inches (50.3 cm) (XL)
Backrest: 32.8 inches (83.3 cm) high by 18.1 inches wide (46 cm) (Standard); 34.2 inches (86.9 cm) high by 22.1 inches (56.1 cm) wide (XL)
Recline: up to 139 degrees (Standard and XL)
Features
4D armrests
Class 4 hydraulic gas piston
Adjustable, sculpted lumbar support
Comes in standard and XL sizes
Fabric or PVC leather
Pros
Lumbar support to rival the Titan Evo
Functional fabric option is breathable and scratch-resistant
Firm but still comfortable
Breathable PVC leather
Cons
Armrests don't expand outward
No plush cushioning
Seat isn't wide enough for all body types
Price
7. Corsair TC100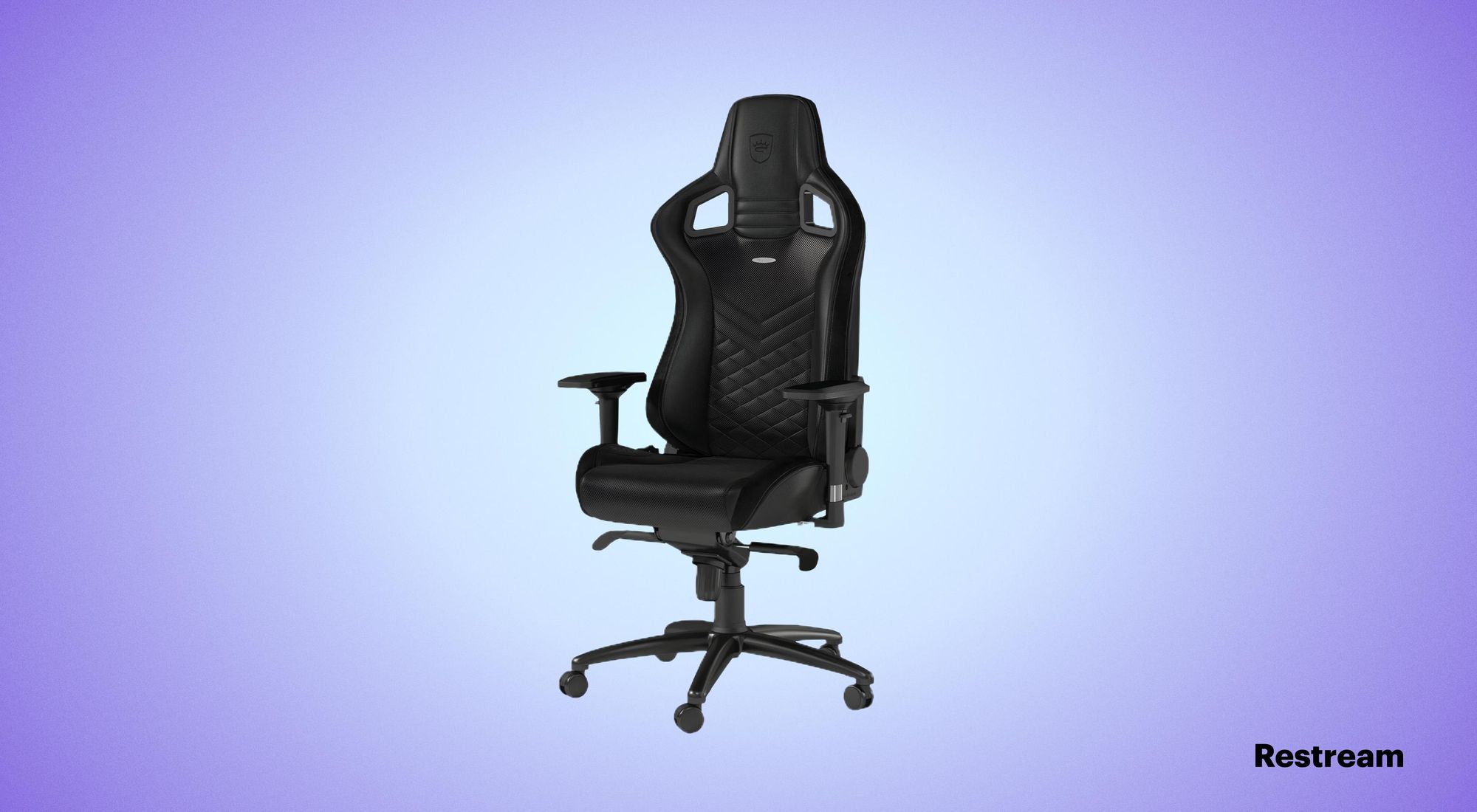 Streamers and content creators that want the look of a racing style gaming chair but the feel of a plush office chair will appreciate the Corsair TC100. It has the tall backrest you expect from a chair for streamers but with a wider, more comfortable seat. Although the TC100 lacks some of the details other chairs on this list have — the armrests are only two-directional and the headrest pillow isn't magnetic — it's still a top contender for streamers. With the TC100, you can get a decent chair for about half the price of most other chairs with similar features.
The TC100 isn't without its downsides. The wheels are supposed to be anti-roll to make the chair safer, but it mostly just makes it more difficult to move the chair around when you sit in it. It also has fewer customization options when it comes to the color and design.
If you're more interested in a plush seat and holding onto your cash than in having a chair that "looks" like a gaming chair, the Corsair TC100 is a great buy.
Specs
Seat height: 17.7-21.6 inches (45-54.9 cm)
Weight capacity: 264 pounds (119.7 kg)
Seat width (side to side): 14 inches (35.6 cm)
Seat depth (front to back): 15 inches (38.1 cm)
Backrest: 31.8 inches (80.8 cm) high by 23.4 inches (59.4 cm) wide
Recline: 90-160 degrees
Features
Available in leatherette or fabric
3.9-inch lift range
Steel seat frame
Optional headrest and lumbar support pillows
Rocker and recline features
Pros
Wide, comfortable seat
Breathable upholstery
Wide range of reclining angles
10 degrees of rocking motion to angle the seat before recline kicks in
Affordable for the details included
Cons
Armrests are only 2D
Chair isn't easy to move
Price
8. Respawn Spire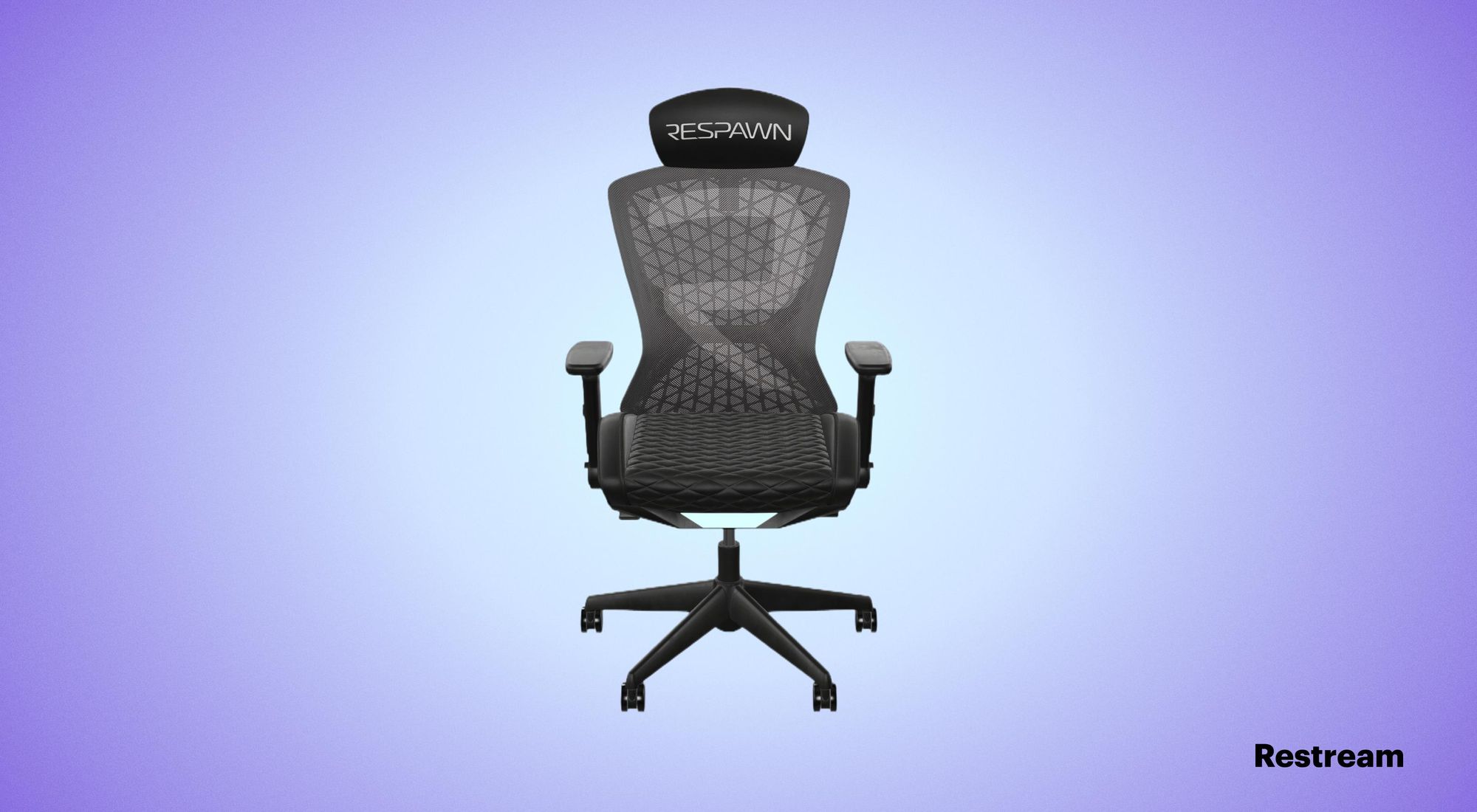 The Respawn Spire is one of the best chairs on the market that will meld to your body shape and support your back as you sit in it for several hours. The only other chair on this list that offers that kind of support is the Herman Miller Embody, and it's more than twice the price of the Spire. The design of the Spire makes it stand out from other gaming chairs — Respawn forgoed the racing style and opted for an adjustable headrest and minimalist backrest.
Apart from the headrest, other distinguishing features of the Respawn Spire are the comfortable seat, armrests that rotate 90 degrees, and the ability to move the seat forward or backward. Particularly short- or long-legged people will appreciate this feature, as you can adjust the seat depth a full two inches. A few drawbacks of the Spire are the lack of adjustability for lumbar support and the armrests that move out of place a bit too easily. It also lacks a rocking or tilt feature, but you can recline it up to 115 degrees.
If you're a streamer, gamer or content creator that wants a chair a bit different from the norm but still premium quality, check out this Respawn gaming chair. The minimalist design lets it fit into most office settings too.
Specs
Seat height: 17.9-21.7 inches (45.5-55.1 cm)
Weight capacity: 300 pounds (136 kg)
Seat width (side to side): 20.5 inches (52.1 cm)
Seat depth (front to back): 16.73-18.9 inches (42.5-48 cm)
Backrest: 20.67 inches (52.5 cm) wide by 22.44 (57 cm) inches high
Recline: 115 degrees
Features
Raise, lower and tilt attached headrest
Recline and lock-in-place recline feature
Seat can move forward and backward
Minimalist design
Mesh backrest and faux leather seat
Cooling gel in the seat padding
Pros
Soft, comfortable seat
Armrest can pushed down 90 degrees, out of the way
Adjustable seat depth
Faux leather stays cool
Smooth reclining motion
Cons
Armrests could be softer
Can't rotate armrests left or right or side to side
Price
9. Mavix M9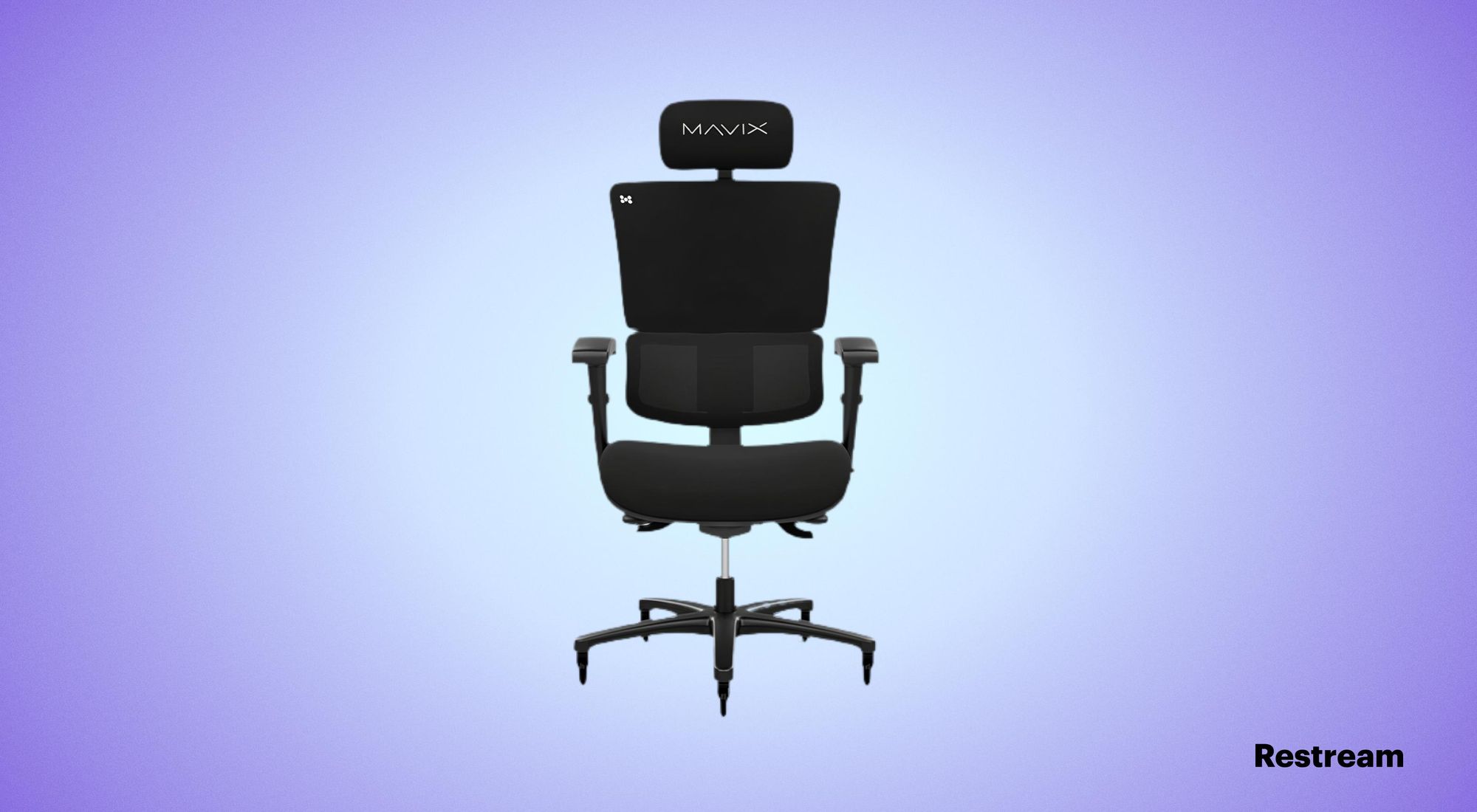 Mavix makes office chairs but is trying to cross over into the streaming and gaming chair space with their top-of-the-line M9. It's their most premium offering, with several customizable features to help fit nearly any body type. It's upholstered in mesh and Mavix's proprietary M-Breeze fabric which keeps you cool and comfortable. The seat's cooling gel forms to your body when you sit and you can move the backrest up or down into four different positions so it hits your back and shoulders in the right spot. You can also adjust the seat depth.
The neck and headrest is also adjustable, moving up and down and tilting forward and backward. Like most gaming chairs, the Mavix M9 lets you recline and has adjustable armrests. The M9's armrests probably have the widest range of motion of any of its competitors, however, going beyond four-directional adjustments and letting rotate them 360 degrees. Unfortunately, you have to pay an extra $300 to get those super customizable armrests
The M9 comes with some flashy add-ons and features that other chairs in this range don't have — but you pay for them. If you're willing to shell out the cash for a Mavix M9, you most likely will not be disappointed.
Specs
Seat height: 18.5-22.5 inches (47-57 cm)
Weight capacity: 275 pounds (124.7 kg)
Seat width (side to side): 21.75 inches (55.2 cm)
Seat depth (front to back): 19.5-22 inches (49.5-55.9 cm)
Recline: 127 degrees
Features
Adjustable head and neck support
Two-part back with proprietary M-Breeze fabric and nylon mesh
Backrest height is adjustable with four positions you can lock in
Optional cooling, heating, and vibration settings for backrest (battery-powered)
Seat slides forward and back
Cooling gel in seat
Adjustable tension in the recline
Armrest can lock into position
Lockable wheels
Pros
Seat's cooling gel molds to your body
Widely adjustable armrests (but they're an add-on)
Several ways to adjust the fit of the chair to your body type
Variable lumbar feature automatically adjusts to your back
Cons
4D armrests are a $300 add-on
Headrest isn't easy to adjust while sitting
Seat material can make you feel like you're sliding forward
Price
FAQs
Which gaming chair brand is best?
The Herman Miller Embody is the best overall gaming chair. Secretlab also makes excellent gaming chairs, including the Titan Evo 2022 and the Omega 2020. When it comes to choosing a gaming chair, however, you should consider other factors besides just the brand. Think about comfort, ergonomics, durability, style and budget. The chair you feel most comfortable in may not be one of the most well-known brands at all!
How do I choose a gaming chair?
Choose a gaming chair that is flexible and adjustable to your needs. If you're planning to sit in this chair for hours on end, it needs to support your back and promote good posture. An ergonomic gaming chair should have adjustable armrests, a lumbar system (or lumbar pillow) and an adjustable seat height. The seat of the chair should also be wide enough to fit your legs comfortably.
What is a comfy gaming chair?
One of the most comfortable gaming chairs available in 2023 is the Noblechairs Epic. It has a plush seat and breathable faux leather that a lot of gamers and streamers look for in a comfy chair. Keep in mind, however, that the most comfortable chair for your body might not be the same as someone else's. Choose a chair that has plenty of adjustability (such as the lumbar support, seat height, armrests, etc.) so that you can modify it to your height and posture.
Wrap-up
If you want to be comfortable while you broadcast live videos, you need a high-quality chair. The nine options on this list all provide comfort, style and customization, although some are kinder to your wallet than others. To choose the best chair, you have to decide what the most important factors are. Once you know what you're looking for, you can choose the ultimate streaming or gaming chair for your needs.
Best overall gaming chair: Herman Miller Embody
Best budget gaming chair: Corsair TC100
Most ergonomic gaming chair: Mavix M9
Most comfortable gaming chair: Noblechairs Epic
Most customizable gaming chair: Secretlab Titan Evo 2022
Best built-in lumbar support system: Razer Iskur
Most durable gaming chair: Secretlab Omega 2020
Best gaming chair for big and tall people: AndaSeat Kaiser 3
Best gaming chair that you can also use in an office: Respawn Spire