Many Big Tech giants like Meta, Amazon, and Google have announced commitments to achieving carbon neutrality by 2030. But how feasible is this goal, and where is the money spent towards it really going?
These companies generate hundreds of billions of dollars from advertising (80% of Google's revenue, 90% of Meta's)–however, these very same ads are contributing to climate change. Research by Sharethrough, an omnichannel supply-side programmatic advertising platform, shows that a single video or display ad impression represents an average of 1g of CO2 emissions–therefore, 1 million ad impressions represent a metric ton of CO2 emissions.
Organizations such as Greening of Streaming, with its Low Energy Sustainable Streaming (LESS) Accord, and Kibo121, a consultancy to help media technology companies on their sustainability paths, have emerged to address these issues directly. Sharethrough is working to build a "sustainable advertising ecosystem for journalists, content creators, and app developers." It has launched what it calls its first Green Media Product, GreenPMPs™, in coordination with Scope3, and earlier this year debuted the Green Media Summit, the advertising industry's first conference on sustainability.
Sharethrough's VP of Insights & Strategy, Frank Maguire, discusses the current state of sustainable streaming, the challenges faced at all stages of the streaming pipeline to achieve carbon neutrality, what actions are being taken by Sharethrough and other organizations to minimize streaming CO2 emissions, and much more in this exclusive interview with Streaming Media Magazine.  
Tyler Nesler: What are some innovative approaches that Big Tech companies are currently taking or can take to help alleviate the carbon emissions impact of their advertising activities?
Frank Maguire: It mainly boils down to a three-step approach: measure, reduce, and compensate.
Once an advertiser or adtech company can measure their emissions, they look for ways to reduce them as much as possible. For advertisers, some innovative approaches are combining the benefits of Supply Path Optimization (SPO) with carbon measurement not just to find the most direct path to supply but also to start cutting sites and partners with higher-than-average emissions. This approach is called Carbon Path Optimization (CPO).
The removal of high-emitting sites naturally includes Made-for-Advertising sites (MFAs), which are sites that are wasteful for both advertising performance and emissions since they arbitrage cheap traffic to sites with often stolen or AI-generated content with many above-the-fold ads. Sharethrough recently committed to removing MFA sites from all Deals by default.
Publishers are working to reduce their emissions by finding the sweet spot of removing unnecessary tags and bidders on their sites without reducing revenue. A number of publishers have proven this is not only possible but can even improve revenue.
Adtech companies like Sharethrough are taking this a step further by offering turnkey Low Emission PMPs and helping to compensate for the remaining emissions caused by the delivery of programmatic ad campaigns.
Nesler: At the current rate, what do you estimate is the probability of Big Tech reaching its public commitments to achieving carbon neutrality by 2030? Do you believe this is a realistic timeframe?
Maguire: I believe the adtech industry has a much better chance than most industries to reach carbon neutrality by 2030. Unlike, say, aviation or complex manufacturing industries, adtech has more control of the full supply chain and the servers used to deliver ads. However, even if the adtech industry has the potential to achieve carbon neutrality or net-zero emissions by 2030, our planet needs everyone in every industry to move fast, so we have no time to waste to take action.
The good news is the enthusiasm from events like the Green Media Summit and membership from across the adtech world in working groups like AdNetZero and the IAB Tech Lab's Sustainability Group are a testament to how seriously the industry is approaching this subject. The goal of reaching carbon neutrality or even net-zero emissions by 2030 can only be tackled through collaboration, and it is reassuring to see how far we've come in just a year or so since this topic has been prioritized.
Nesler: Could you discuss some of the unique challenges of predicting and measuring carbon emissions at each stage of the advertising supply chain?
Maguire: One of the largest challenges in predicting and measuring carbon emissions is all the unique variables at each part of the programmatic supply chain. It can be difficult to know how one organization is drawing power from the energy grid, or how efficient their servers are.
Publisher sites are also unique and have varying emissions depending on their ad slots, media players, content, and even back-end factors like scripts and plugins. Taking into consideration your partners' energy usage, which contributes to your own carbon footprint, there are many steps along the way with unknowns that can affect predicting and measuring emissions.
Even measuring the emissions required to film or develop creative assets can be quite complex. Particularly for video content, where you have to account for everything from travel to the shoot location, power from all the machinery and cameras, food for the set…the list goes on and on.
There's also the end-user device, which is unknown until the ad is delivered.
Nesler: Please describe the critical initiatives of Sharethrough's GreenPMPs project–how long has it been active, what are some primary benefits of partnering with Scope3, and what are the long-term goals of this project?
Maguire: Just over a year ago, we launched our first Green Media Product, GreenPMPs™, with Scope3. One of the main benefits of partnering with Scope3 is they have a sophisticated model to measure the emissions from the full path of an ad from advertiser to user. This enables us to measure the carbon emissions generated by the ad campaign and allocate a small portion of the ad spend towards neutralizing that same amount of carbon through high-quality carbon removal projects.
The goal of GreenPMPs™ is to enable brands and advertisers to compensate for the remaining, inevitable carbon emissions generated by running digital ad campaigns. Part of what contributes to those emissions is file sizes and data transfers. It is currently impossible to have weightless files, so there will always be some carbon waste.
We want to be transparent and educational in our approach so that other organizations in the space can learn and adapt. Part of that is launching greenpmp.io, which tracks in real-time the 8,000 and growing advertisers that have run on GreenPMPs and how many emissions have been compensated for to date.
Nesler: What are the types of carbon removal projects that GreenPMPs/Scope3 do to help minimize the carbon emissions from the programmatic supply chain?
Maguire: We partner with Carbon Direct, one of the most trusted organizations for carbon compensation. They invest in a number of compensation projects, including:
Biochar and Carbon Soil Storage: There's more carbon within the soil than anywhere else. With carbon soil storage, it's a safe place to store it where it can't easily escape and without affecting the growth of plant life.
Reforestation: Tree planting projects on and around small agricultural plots developed with local communities
Improved Forest Management: to improve forest growth and associated carbon removal development by local communities
Nesler: The Green Media Summit was hosted earlier this year by Sharethrough–as the advertising industry's first conference on sustainability, what were some of the primary takeaways from the event? Were there any particularly surprising or unexpected insights presented during the event's sessions?
Maguire: Based on the seven hours of standing-room-only attendance of about 300 attendees and speakers from brands, agencies, publishers, DSPs, SSPs, and other adtech companies, the first major takeaway was the industry is very enthusiastic about the topic of sustainability and eager to make a difference.
The passion for taking action was also apparent, but there were many calls for the industry to adopt carbon emission measurement standards so that everyone is measuring off the same data set. That said, throughout the day, the topic of action over perfection reiterated the need for the advertising community to stop wasting time and start making changes. On the IAB Tech Lab panel, Curt Larson, who sits on the board of the IAB Tech lab and is the Chief Product Officer at Sharethrough, used the analogy of fighting fires, "If the fire truck shows up at a house, they don't stop to analyze which rooms are on fire. They just start fighting fire and then they learn as they go."
The most surprising moment came during the agency panel, which included sustainability heads from most of the major agency holding companies. Their desire and commitment to work together, pre-competitively, to help set standards and use their buying power to prioritize more sustainable partners was inspiring for a group that can otherwise be very competitive.
Nesler: What do you think are some practical ways to incentivize consumers to reduce time spent online in order to lessen their online internet usage carbon footprint?
Maguire: Asking consumers to lower the amount of time they spend online is likely a lost cause since we are only more and more connected every day on more and more devices. The real question should be not how we spend less time online but how we make the Internet more sustainable.
(For further insights into streaming sustainability, watch the presentation Sustainability Beyond Greenwashing, given by Dom Robinson, founder of Greening of Streaming, from Streaming Media East 2023.)
(Image credit: Shutterstock/metamorworks)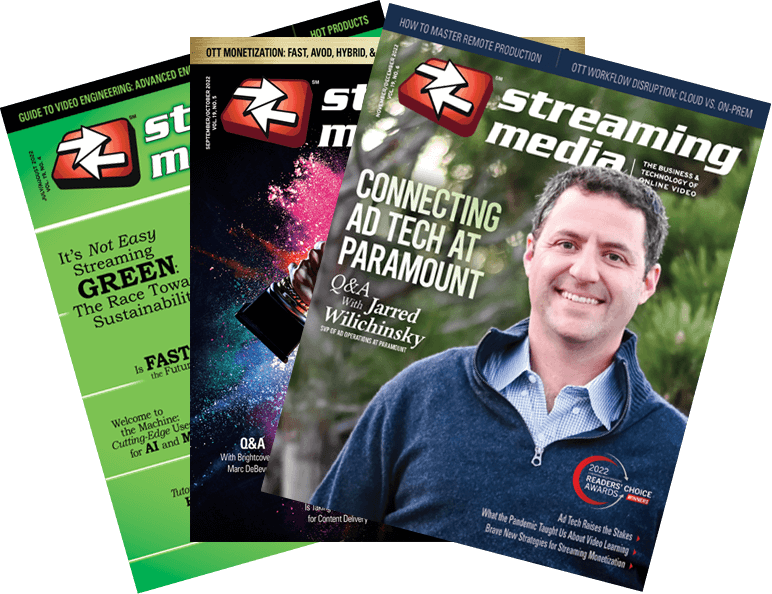 Related Articles