Netflix revealed its Q2 2023 earnings report on July 19 with a few hard numbers and an unsurprising share of spin. Remarkable mostly for its unremarkability, the slow-growth report revealed modest-at-best growth of the platform's still relatively new ad-supported subscription tier, and reflected the initial impact of the company's crackdown on password sharing. 
Quarterly value ran a bit ahead of analysts' projections ($3.29/share reported vs. $2.86/share predicted), and revenue fell slightly below ($8.9 billion reported vs. $8.3 billion projected, but up 3% from Q2 2022). Overall subs were up 5.89 million or 8%, with 25% of new subscribers (roughly 1.5 million) choosing the $6.99 ad tier over the $15.49 and $19.99 no ads tiers.
If it was arguably too soon to track any appreciable benefit or backlash of the password-sharing ban, the impact of Netflix's announcement just prior to the earnings report that it was cancelling all basic tier $9.99 subscriptions (most likely in an attempt to push "Basic" subscribers to the ad side, although it could conceivably work as an upsell for some), how that plays out will be a subject of scrutiny for future earnings reports.
All in all, 8 months in, the ad-tier numbers still account for a tiny percentage of Netflix's overall subscription base; as the shareholder level conceded, "current ad revenue isn't material" to the company's bottom line. Though Netflix says it remains bullish on the future prospect for ad-driven revenue—"Over time we can develop advertising into a multibillion-dollar incremental revenue stream"—the jury remains out on when or how that might happen. The more pressing question at this point seems to be, based on the early indicators we've seen so far, and the monetization strategy and structure they've put in place, are they on the right track?
Jason Fairchild, CEO of growth marketing CTV ad platform tvScientific, weighed in on the ad sales side of the Netflix report in a recent interview with Streaming Media. "I don't think anyone really knew what to expect, from a pure advertising point of view," said Fairchild. The reported 1.5 million new ad-supported tier subscribers, he continued, "probably represents a modest number relative to external expectations, even against the backdrop of them being very careful and deliberate about the rollout."
The key issue at this juncture, he contended, is reach. Netflix is unquestionably a top-tier, premium platform on the content side and the SVOD side, but its current reach in the ad tier is not likely to turn many heads without substantial increases in subscriber numbers.
"People can debate how fast it's gonna grow," Fairchild conceded. "But the whole value proposition–especially in TV–is massive reach and frequency. And 1.5 million subscribers, from a brand advertising point of view, is insignificant. You're not reaching a large enough audience, at least not yet."
But a single platform's reach is not the only factor in many ad-buying scenarios. "Programmatic advertising, if it's easy to buy, can absorb that 1.5 million users in a broader buy across multiple publishers or streaming services. But the way they have this set up, you have to buy it through Microsoft. So from a brand point of view, you actually have to do a lot of work–set up a new DSP [demand-side platform], buy Netflix differently than you would buy other programmatic streaming services. So I think that's problematic. Will advertisers go through that work to reach 1.5 million subscribers? It's hard to say."
Arguably, the slow-growing Netflix earnings picture and immediate prospects look a little better when cast in relative terms–at least they're doing better than tier-one competitors like Disney, Paramount, NBCUniversal, and Disney, who have also dramatically altered their monetization strategies over the last year to make their streaming platforms profitable, but all continue to suffer losses with little relief in sight before 2024. But are those companies better-positioned, structurally, to build ad revenue on their platforms as they progress however slowly toward higher ad-tier subscription levels without relying entirely on their own modest reach as a selling point? Are these other OTT giants, or even large-scale social platforms selling video ads making advertisers jump through similar hoops?
"The walled gardens are," Fairchild said. "You can only buy Facebook from Facebook. You can only buy Google from Google, and Roku, to a lesser extent. With the other big ones–let's say Paramount, Pluto, NBC Peacock–if you have a DSP that you want to use, you can use it. They're more agnostic, and that makes it easier to add them to the buying list, because you don't have to go set up another account and train someone to use their platform and all that. So I do think Netflix is moving in the direction of a walled garden in partnership with Microsoft. And that may be the right answer for them long-term, but in the short-term, it creates unusually high barriers of entry for marketers to come in."
For Netflix, it seems that the unique value proposition for ad sales at this point pivots not on reach or ease of access but on exclusivity, that there's a level of prestige associated with the platform that sets it apart, and overwhelms other concerns. And Disney and Max may well be banking on the same perception as they endure their slow ramp-up as viable ad-supported platforms. 
"One assumption is that it's an incredibly premium audience that you can't get elsewhere. Since there's so few of them, we don't really know if that's true," Fairchild said. "Do those same households also consume other forms of TV content from either cable or other streaming services? And there's some analytics out there that can help get at that, but it's not an easy question to answer. Their value prop to brands is, it's a premium-priced product, with not a lot of data around it," Fairchild continued, revealing the uphill battle ahead for all of these premium platforms essentially starting at square one when building an audience on the ad side. "I think they still have a lot of work to do around providing value to advertisers that those same advertisers can get elsewhere. But their premise is, 'We're Netflix, we've got this massive premium audience that you can't get elsewhere.' And I don't know if it's right or wrong or defensible. That's a question advertisers will have to answer."
What's more, he concluded, "The fact that you've got to go set up a separate buying experience is also non-trivial."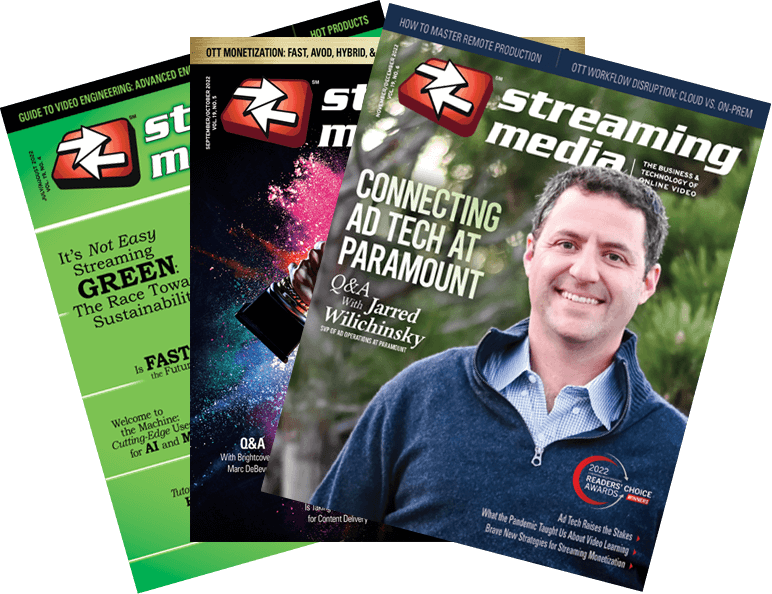 Related Articles
Companies and Suppliers Mentioned