Spurred by an ever-increasing demand for superior quality video streaming over the Internet and aided by the tailwind of exponential growth in high-resolution television/4K streaming, Versatile Video Coding (VVC), also known as H.266, is the latest in video coding technology. VVC is witnessing a steady adoption rate by international standards bodies such as DVB (Digital Video Broadcasting). Most promisingly, its efficient bitrates can deliver significant cost savings and reduce energy consumption for streaming, making it an even more attractive proposition for content broadcasters.
More standards bodies are embracing VVC
In terms of standardization, DVB has incorporated VVC in its latest Audio & Video Coding Blue Book, a technical specification document published by DVB that defines the audio and video coding standards used in digital television broadcasting, defining profiles for VVC-capable IRDs (Integrated Receiver Decoders) targeted at UHD HDR. In addition, DASH conformance points are also defined for streaming delivery.
Meanwhile, the Brazilian TV 3.0 standard defines VVC as the main video codec, primarily targeted at 8K resolutions, with some options for enhancement layer additions. And then, in the United States, there is the Advanced Television Systems Committee (ATSC), which has its own set of standards for digital television transmission over terrestrial, cable, and satellite networks. Although the ATSC has yet to decide, VVC decoders within smart TV SoCs make it a likely (but not certain) candidate for 8K. 
AV1 is a key codec for YouTube TV, Amazon, and Netflix in the media verticals. At the same time, Apple has generally chosen international standards approaches and currently uses H.265 – or High-Efficiency-Video-Coding (HEVC) as it's known by – for 4K content. However, the media verticals currently have no commercial 8K offerings, so the codec choice remains to be made. AV1 and VVC will likely be available in all devices, from Smart TVs and STBs to mobile phones. That's because the diversity of choices made by the streaming service verticals means restricting those options on a device could impact consumer preferences. However, VVC is differentiated by being the most bitrate efficient of the latest group of codecs.
Better screens, higher quality, more resolution
The increasing presence of 4K screens in the home will lead to an increase in the delivery of those higher resolutions. This, in turn, makes a strong case for more efficient compression than the HEVC standard that has been around for over a decade or so. The improved processing capability of decoders means that a step-change in complexity (and therefore efficiency) of video coding standards is now thoroughly practical and is already present in some consumer devices.
Real-world VVC encoders are at advanced stages of development and are expected to start getting market adoption at scale within the next 18 to 24 months. Embracing VVC can help streaming and linear service providers unlock new revenue streams and deliver better video experiences to their customers by making better quality video available at network-efficient bitrates. Over time, VVC is expected to change the streaming media industry, transforming how video is transmitted, stored, and consumed. The immediate benefit for the industry and media consumers would be far superior video quality. The technology offers significantly enhanced video quality at lower bitrates, enabling streaming platforms to deliver high-resolution content with enriched clarity and detail.
For instance, a 4K video encoded using VVC will offer even better quality than a 1080p video encoded using HEVC, providing a genuine value-add to the consumer with a smaller incremental bitrate than was previously possible. This means that viewers can enjoy sharper images, richer colors, and improved visual fidelity, creating a more immersive viewing experience. For media companies using VVC to deliver existing resolutions, the lower bit rates translate into a huge cost savings of nearly 40%, whether CDN cost or delivery infrastructure (e.g., fewer cable node splits or transponders).
Exploring new VVC capabilities
The availability of more powerful CPUs in servers has allowed the video research teams to exploit the new capabilities made possible by VVC. AI can perform well at inferring good decisions where complex data patterns complicate defining a conventional algorithm. AI doesn't solve all problems and brings a need for the right expertise, but used well, it can mitigate a large part of the increased processing needed for VVC compared to HEVC. 
AI can further help reduce energy consumption in streaming by optimizing the encoding process. Specifically, AI can analyze video content and adjust encoding parameters in real-time to achieve the best possible compression while maintaining video quality. This can result in smaller file sizes and reduced bandwidth requirements, which, in turn, reduces energy consumption. Additionally, AI can be used to predict future network conditions and adjust video quality accordingly, further reducing energy consumption by minimizing the need for retransmissions or buffering. Overall, AI has the potential to significantly enhance VVC's energy efficiency, making it an important tool for green streaming.
The insatiable need for efficiency going forward
We know that VVC standards can halve the file size of a 90-minute 4K video without losing quality. We also know that it delivers a persuasive business case for content broadcasters enabling them to improve the quality, efficiency, and security of their content delivery as video files continue to grow. As we're getting closer to the boundaries of what can be achieved with other codecs, future expectations for video compression will be met by VVC. An exciting space to watch!
[Editor's note: This is a contributed article from MediaKind. Streaming Media accepts vendor bylines based solely on their value to our readers.]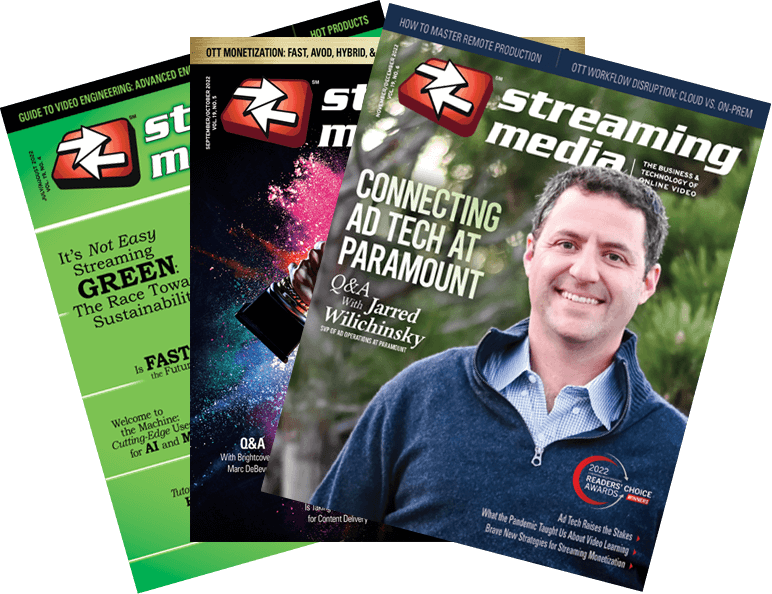 Related Articles
A study from Unified Patents suggests that VVC isn't likely to ever gain widespread adoption due to both royalty issues and technology changes

30 Sep 2021
AI-based Super Resolution can give viewers compelling UHD viewing experiences from a 1K-resolution source.

24 Sep 2020
TL;DR: The right way to think about VVC is to put off thinking about it at all until actual decoder deployments are announced on platforms that matter to you. Here's why.

23 Jul 2020