Michael Jordan, Kobe Bryant, LeBron James. Tom Brady, Peyton Manning, Joe Montana. Take whatever side you want in these GOAT debates, because none of them was the gamechanger that ESPN is.
Upon its launch in 1979, ESPN altered the face of cable television. As the first all-sports, nationwide cable network, the channel became destination television for millions of sports fans around the country seemingly overnight. Since then, it's evolved into a programming behemoth, one of the crown jewels of The Walt Disney Company's empire, and accordingly, has been able to re-write all the rules of cable subscriber fees.
Almost five decades later, the media landscape has changed, but the clout ESPN wields remains. And with the network toying with the idea of dipping their toe into the standalone streaming space, the cable TV space could be on the precipice of a tipping point.
How ESPN Got…En Fuego
To understand ESPN's leverage is to realize just how ingrained the network is into the fabric of a sports fan. Before ESPN, sports news and scores were relegated to a two-minute segment on the local evening news. Forget about following a superstar that played in another television market. Fans would have to wait until a national "Game of the Week," catch the latest episode of This Week in Baseball, or stay glued to Monday Night Football for anything beyond a brief recap of what their local teams did.
ESPN changed all that, and sports fans responded in droves. On the back of their eventual flagship show SportsCenter, ESPN became not just a profitable cable network, its anchors, their catch phrases, even their show's intro jingles, became pop culture catnip and a permanent part of the cultural zeitgeist. Suddenly, every Air Jordan slam dunk was in every living room from Sacramento to Miami. In 1983, the network established a foothold when it became the official network of the United States Football League, the springtime league that featured Herschel Walker, Steve Young, Jim Kelly and dozens of others who would eventually play in the National Football League.
The Big Four sports leagues took note. Major League Baseball sold ESPN its Sunday Night Baseball package, and ESPN proved it could deliver a live, weekly broadcast for a Top-4 sport.
ESPN and sports were one and the same, and the NBA and NHL (and eventually, the NFL) would follow suit in the coming years by selling part or all their national TV packages to ESPN. A sports fan couldn't live without ESPN, and ESPN knew it. And they took that leverage and cashed it in with multi-service operators (MSOs).
ESPN Dunks on Cable…With Authority!
ESPN has long been the hammer with which MSOs could force customers into channel bundle tiers. For Disney to ensure carriage at high dollars on a per subscriber, per month basis for its properties, ESPN was bundled with ancillary offerings from offshoot sports networks like ESPN 2, ESPNEWS, ESPNU to other properties like ABC Family (now Freeform), Disney Channel etc., all for an inflated price per month per sub.
The message: Want ESPN and the rabid subscriber base that comes with it? You have to take all our distribution and pay us handsomely for it. And if you don't, ESPN viewers have a much bigger loyalty to ESPN than to their cable or satellite provider.
To a lesser extent, regional sports networks (RSNs) were capable of doing the same. For example, New York Yankees-owned YES Network went through multiple fee battles with MSOs for years, many of which the network won due to the allure of Yankees broadcasts. But in recent years, YES has branched out to streaming platforms like YouTube TV and Fubo TV, and finally this spring, launched its own direct-to-consumer standalone platform.
That's what makes the prospect of an ESPN standalone streaming project – code named "The Flagship," according to the Wall Street Journal – so intriguing. ESPN's current streaming service – ESPN+, which was launched in 2018 – offers some, but not all ESPN content (most notably Monday Night Football). So even though it has over 25 million subscribers, it hasn't eliminated the need for a cable subscription. If ESPN offers the full product without the tether to cable, just like the YES Network has chosen to do to fans that just want to watch the Yankees, then that pressure is removed, and cable bundles may begin to fall apart.
The Beginning of the End?
Some analysts have blanched at ESPN's ability to still move the needle so significantly, and an ESPN streaming service wouldn't be an industry first. However, it would be the next in a long line of body blows for MSOs.
Live TV sports viewers, many of whom skew older, have already grown accustomed to streaming. MLB has done deals with Facebook Watch in the past and currently boasts active agreements Peacock and Apple TV. Amazon Prime exclusively carries the NFL's Thursday Night Football, and starting this season, their popular Sunday Ticket package is now only available on YouTube TV.  ESPN and Hulu carry national broadcasts of the NHL. Sports streaming isn't just for younger viewers, a fact of which Disney executives are acutely aware.
So, a potential ESPN foray into the standalone streaming market could disrupt the entire industry, from MSOs to advertisers to even its own programming (Are talking head debates that populate ESPN's daytime airwaves captivating enough for streaming viewers?). Live sports is streaming's final frontier. Once streaming conquers it, the cable model could fall apart. A move by ESPN may not be cable's death knell, but it certainly puts their backs against the wall. And if stakeholders across the industry fail to recognize this move for the potential game changer it is, they'll risk getting left behind.
Ian Greenblatt is managing director of the Technology, Media and Telecommunications Intelligence practice at J.D. Power. With in-depth industry expertise, Ian drives market strategy across the rapidly converging landscape, which encompasses the entire communications sector.
[Editor's note: This is a contributed article from J.D. Power. Streaming Media accepts vendor bylines based solely on their value to our readers.]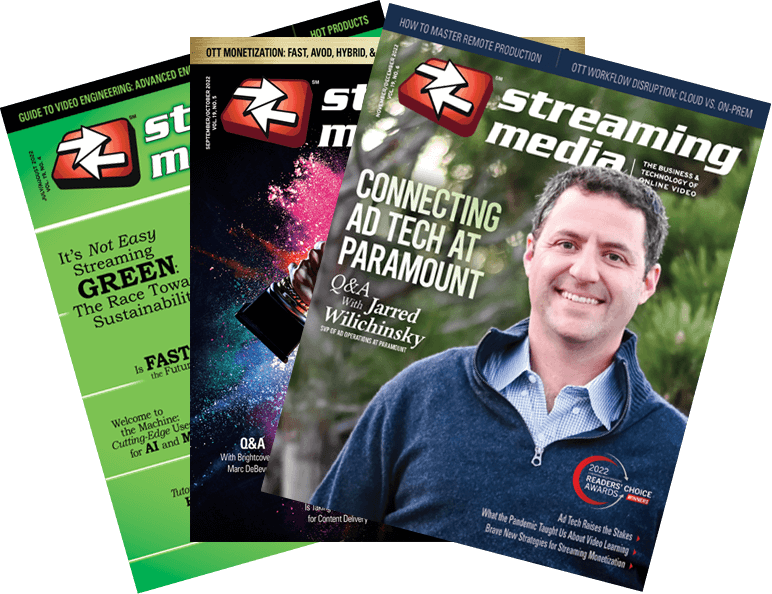 Related Articles
Rekha Aramuthu Carriere of Amagi writes about the ways that launching a FAST channel can help sports teams achieve better engagement with fans and help monetize new opportunities

03 Feb 2023
As audiences continue to increase their streaming consumption, sports are ready to join the ranks of hit programs like Stranger Things, Only Murders in the Building, and Obi-Wan Kenobi. And with new streaming-exclusive deals involving the NFL and MLS in play, fans are ready, as more than one-third of U.S. homes now access TV programming strictly through an internet connection.

07 Oct 2022
Sports OTT services look to enhanced user experiences, more customization, and streamlined workflows to stand out from the competition

28 Apr 2021