Content is king, but delivering a smooth, reliable, and appealing user experience (UX) across a range of devices in the OTT world is just as critical, both in terms of customer retention and product differentiation in a crowded and competitive media ecosystem when churn is always a few easy clicks away.
Recently I caught up with Scripps Networks Senior Director of Product Yazmin Wickham to get a better sense of the role a Director of Product plays in designing, developing, and managing UX at a diversified media company in the OTT and CTV universe. I learned how Scripps approaches the viewer experience, both in AVOD and SVOD models, and attempts to deliver as consistent an experience as possible across a wide array of platforms, and the challenges and advantages of maintaining a unified (or nearly unified) text stack across the board.
Nadine Krefetz: What is your role at Scripps?
Yazmin Wickham: I am the Senior Director of product for Scripps Networks, a division of the EW Scripps Corporation. I manage product for 13 national television stations or television brands like Ion, CourtTV, and Scripps News. Across those 13 brands, we have 35-plus products that span web, mobile, and connected TV devices.
Nadine Krefetz: How did you get into this role?
Yazmin Wickham: I actually started as a PHP developer for BounceTV, which was part of Katz Broadcasting. They were acquired in 2017 by the E.W. Scripps Corporation. Throughout the years, I gravitated towards the things that were really the product management of either our development platforms or eventually our actual products until I was eventually moved into a position of product management.
Nadine Krefetz: Has product management changed during your time doing this kind of work?
Yazmin Wickham: I wouldn't necessarily say that product management has changed; it's just becoming more mature as a discipline. More people are starting to understand what it actually is, and the value it brings to a company—somebody who's really focused on the consumer, but also has a vested interest in moving the bottom line forward for the business. I'm trying to make sure that the health of the whole business is what it should be while keeping those two tenets—consumer and business—in mind.
Nadine Krefetz: What kind of teams do you work with in your organization?
Yazmin Wickham: I work across all teams, so I work with legal teams, editorial teams, marketing teams obviously development teams, design teams, QA teams. My daily process involves constant contact with design, QA and development teams.
I don't necessarily think that a product manager needs to be technical; that isn't what we focus on. The technical part for me helps in this industry because it makes it clearer for me about what may need to be done.
Nadine Krefetz: What is your most popular product at Scripps?
Yazmin Wickham: CourtTV, Roku. When we relaunched CourtTV in 2019, the brand already had a history and a loyal following from its original days. For fans, this brand never lost a place in their hearts. I know our focus on value-driven content really feeds the true crime obsession. It also powers the brand nostalgia and a new resurgence of fans from places like TikTok and YouTube has helped growth.
Scripps' current portfolio of brands
Nadine Krefetz: What does it take to develop good video products?
Yazmin Wickham: You start with the customer. You need to have a good understanding of who your customer base is, and where you're going to be meeting them. Once you have that understanding of who your customer is, what their potential is really speaks to what kind of product you can build for them.
Let's say somebody is constantly on the move. The video product that you need to build will need to have super-low latency and be easily accessible. Also, it probably needs to be shortform content from 30 seconds to 30 minutes. Your UX needs to lean towards the larger side, even though it's in a mobile product.
But if you were building a product for a group of people who are planning on sitting down on their couch to watch, that's a completely different story. You'd want familiar elements of what it would be like to watch old-school television.
Nadine Krefetz: What business models do your apps support?
Yazmin Wickham: AVOD and SVOD.
Nadine Krefetz: Which business model is the most popular in the products?
Yazmin Wickham: SVOD services were really popular a couple of years ago, but if you're looking at the environment right now, you'll notice that there is a big rise to the AVOD product. It's a lot easier to show value in providing free TV versus asking somebody to pay you for a service of curated content.
With all of the large content distributors pulling in their content to enlarge their base for their products, it's been made a little bit harder for smaller for niche players to actually acquire content that will drive people to their service.
Nadine Krefetz: What is the price range for subscriptions?
Yazmin Wickham: For the Brown Sugar SVOD, we run two subscription plans: a monthly, which is $3.99 a month; or an annual, which is $42/year. If you're asking about SVODs in general, we're actually the lowest I've seen, but that's expected from a niche service. Most SVODs range from $4.99–17.99 a month.
Nadine Krefetz: What are the primary features you think about in your apps for those different monetization models?
Yazmin Wickham: Things I love to see in an app to support those business models is search features. Discovery is really important. Being able to help the consumer find what they want within a short period of time is immensely important and adds to the stickiness of your product.
Other helpful features that increase engagement include swim lanes that show you things like "Continue watching this series" or "Pick up where you left off." I love the concept of true personalization based on my account. If you see that I keep watching history or documentaries, enable the video product to respond to the choices that I am making on a regular basis. Maybe take a documentary lane that for everybody else is way down at the bottom and just bring that up to the top for me and say, "Hey, we noticed you're watching documentaries. Have you checked out all of these?"
Ease of contacting customer support. I find this more supported in an SVOD model. If I'm paying you money for a product, and it's not working you must believe that. I want you to resolve my problem as soon as possible because I'm paying you for something that's not working.
As a consumer, whether an app is broken because I am misunderstanding how to use a feature or whether it's broken because there's something wrong, I don't care. I just want it fixed. And I want it fixed as fast as possible. SVOD consumers are super-quick to judge and flame a service based on the experience that they're having.
Nadine Krefetz: What other problems do viewers experience?
Yazmin Wickham: We have consumers that will reach out to us saying, "Hey, I'm having a problem with this platform." Once we start digging into that, we realize it's not necessarily a problem with our product—it really is the platform. But the consumers use just the first email address that they can find, and sometimes it happens to be ours. So one of the things that we've been talking about experimenting with is how to provide a clear direction of who you contact when you need support with the product vs. when you need support with the platform.
Nadine Krefetz: What features do customers prefer in the video product?
Yazmin Wickham: Two come to mind for me. We focus on user-friendly interfaces and smooth playback. Giving users easy access to the content via editorial placement or effortless discovery, and making sure they can watch it without buffering, is so important to ensuring a great experience with the product and increased engagement and loyalty.
There are trends showing that customers also want high-quality video; customizable settings like video quality, subtitles, audio tracks (which in my opinion should be standard for all video products now); multi-device compatibility (being able to continue watching content from one device to another); and of course, the selection of ad-free tiers as top of mind.
Nadine Krefetz: What features get limited use?
Yazmin Wickham: I see offline viewing and social interaction lower on the list of wants. Offline viewing tends to be more beneficial for frequent commuters/travelers or viewers who experience intermittent internet access issues. Internet access has improved so much that is becoming less and less of an issue. For social interaction, not everyone wants to broadcast their viewing habits or experiences publicly. That, of course, varies across generational divides, so it varies by products and target audiences.
Nadine Krefetz: What happens when you add a new feature into a product?
Yazmin Wickham: If you're simply talking about changing the style of the buttons, it's probably not a big deal. But if you are talking about changing the specific flow of a feature that's already been there for a while, that's a little bit different. I would definitely collaborate with our marketing team, basically try to get ahead of the change and maybe start making announcements through our email newsletter and say, "Coming soon we have this new feature that's going to get modified."
If I knew it was a change that could have the potential to have a negative impact on our consumer base, then that's something that I would start communicating with that consumer base months in advance.
We actually did that for the Roku app for Scripps News, which at the time was Newsy. We had a very drastic change happening with how it was going to be available and a completely different code base that was coming out. So we started the messaging on that months in advance.
Nadine Krefetz: Is there any specific feature which you don't have that you admire in another company's products?
Yazmin Wickham: I'm a hands-down fan of Amazon's X-ray feature and Peacock's interactive ads.
Nadine Krefetz: How do you keep all of your brands straight?
Yazmin Wickham: Our product managers are assigned by brand. We connect weekly to share with the whole team anything that might be pressing or of future importance to the other brands. Just because their focus is one brand doesn't mean we don't expect them to be aware—at a high-level—of what is going on elsewhere in the business. Transparency and collaboration go a long way here in helping us ensure all the brands are grown well. And there are also agile processes in place to help all this move along well. The brands are all at different levels of maturity, so some require a lot more time and effort and deep-dive thinking.
Nadine Krefetz: What are some of the specific things your product managers think about when designing for different TV environments?
Yazmin Wickham: We want users to have the same experience, regardless of whether they're using a Samsung or a Vizio TV. We strive for consistency across these environments while keeping user experience top of mind. That means we approach everything with assessing how intuitive the navigation is, and if it's compatible across different TVs and remote controls. We'll work with our UX designer on things like making sure fonts and graphics are appropriately sized and optimized to work well across different screen sizes, and with our marketing teams to maintain visual consistency for the brand and generally ensuring the user flow is as similar as possible across all TVs.
Having said that, different TV platforms have variations in their design guidelines, requirements, and TV-specific features to play with, such as voice assistants and picture-in-picture mode. That's the tricky part of designing for multiple TV environments: keeping those differences in the back of your mind while making sure implementing them doesn't change how the app serves our users at its core.
Scripps News is one Scripps brand that appears on a vast array of video, streaming, and CTV platforms. One challenge the product team faces is keeping the user experience with the app as consistent as possible across all of those platforms, despite variations in guidelines and such.
Nadine Krefetz: Are there a lot of commonalities in feature sets between products?
Yazmin Wickham: Yes. The need for solid video playback, user-friendly navigation, ease of discoverability, intuitive controls, etc., are all important commonalities. However, those deviate at a certain point. For example, you must think of responsive design when it comes to Web products, but not so much for mobile or CTV. Another example is push notifications, which make sense on mobile products, but not so much on web and CTV. Or, my favorite deviation—asking a viewer to submit feedback using the keypad on their TV remote. That's torture by individual button clicks.
We have what I like to consider two silos. We have entertainment brands and news brands. Our entertainment brands have similar functionality across products. For the news side of the house it's a little different within each of the news brands.
Entertainment brands carry standard features like favorites, history, and reminders to watch. News feature sets focus on helping you consume daily videos as easily as possible and the packaging the content to share the full story on an event or a trial.
We keep the tech stacks as similar as possible across those products, but they're slightly different. One of the things that we've been working towards is consolidating our tech stacks to add that additional level of simplicity when it comes to developing these products.
Nadine Krefetz: Is your workflow best of breed or an end-to-end solution? How much development custom work have you had to do?
Yazmin Wickham: All of it is custom! White-label solutions didn't exist for the products we wanted to make when we made them. At the time we stood up the Brown Sugar SVOD, there weren't many subscription management services out on the market. We ended up rolling our own subscription management system.
Nadine Krefetz: Which functionality do you spend the most time on?
Yazmin Wickham: User experience improvements. If we can delight and entertain our viewers with great content and outstanding experiences, this encourages them to engage with our products more. It's a win for everyone.
Nadine Krefetz: How do you work with a new product brought in under an acquisition or a reorganization?
Yazmin Wickham: I think every development team needs to evaluate what's best for them based on the people that they have. There's two ways we can look at this. You can build out native apps internally and have developers who are specifically assigned to certain platforms, like you'll have a Roku developer, an Apple developer, and web developers. Or you can try to create a unified tech stack that encompasses all of those products.
Nadine Krefetz: Each platform has features and requirements that are specific to it. Does it really work to have a unified tech stack?
Yazmin Wickham: I've found it depends on the product. Some of our products are easier to keep consistent across platforms with a unified tech stack. With other products, it's just a nightmare. But how a product is developed makes just as big a difference in whether or not you can successfully run with a unified tech stack. Suffice to say, it's not for the faint of heart!
Nadine Krefetz: How might AI impact how you build products?
Yazmin Wickham: I'd love to dive in more on contextual second-screen experiences and mix that with gamification of content. This might include leveraging AI to synchronize a second screen with additional info or some other form of interactive content related to the content being viewed.
Nadine Krefetz: Are you using in-house or off-the-shelf analytics?
Yazmin Wickham: Off-the-shelf. We believe it makes more sense to let companies do what they do best and leverage their knowledge. Reinventing the wheel is not always the cheapest or most advantageous solution.
Nadine Krefetz: What kind of product analytics are important to you for the different product lines you work on?
Yazmin Wickham: We look at reach, frequency, engagement. We look at hours of viewing. We also take a look at our products and see whether or not they're performing the way we expect them to.
Nadine Krefetz: Do you think viewers' consumption patterns are changing? How do you expect them to change in the future?
Yazmin Wickham: Viewers are constantly changing their consumption patterns. We all saw how COVID changed our consumption patterns. I don't think any of us were thinking about how streaming services were going to boom at the beginning of COVID. With an abundance of time on our hands, everyone was viewing enormous amounts of content on a scale never seen before.
Over time, as each generation has matured, we've already had to adapt to how new generations of viewers consume their shows and news. It's why we are constantly innovating and improving our TVs and the associated experiences, since behaviors are influenced by a complexity of time constraints, available content, and social factors.
Yazmin Wickham: Speed Round
Because everybody likes lists, which are
short
succinct
and to the point,
Yazmin and I closed out our interview with a sort of speed round, where I asked her to list her highest-priority features for D2C streaming apps. Here's what I found out.
What are the table-stakes features that every video-centric app must have?
User-friendly interface
Content curation through categorization
Video quality and streaming performance
Accessibility features: subtitles, captions, and audio descriptions
When it comes to specific Scripps brands, do you have different priorities for different apps?
Scripps News:
Breaking news push notifications
In-app search
Sharing and social integrations
Bookmarking and watch later
Court TV:
Interactivity and engagement options: comments, polls, and other ways for users to provide feedback
Sharing and social integrations
Breaking news push notifications
In-app search
Bookmarking and watch later
Other entertainment brands:
Continue watching
Watch next
Bookmarking and watch later
Sharing and social integrations
In-app search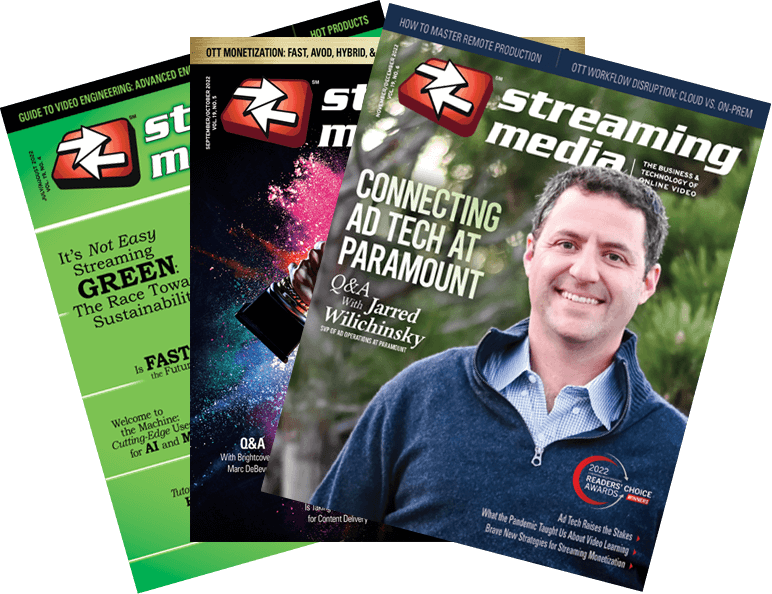 Related Articles
Building a sound app development strategy well-matched to brand and content is critical to creating a CTV experience that sticks. Scripps Networks' Yazmin Wickham, Norigin Media's Ajey Anand, Atmosphere.TV's Zach Hobbs, and Reality Software's Nadine Krefetz discuss what works and what doesn't as well as the ongoing work involved in this clip from their panel at Streaming Media East 2023.

31 Jul 2023
Streaming Media's Tim Siglin sits down with Yazmin Wickham of Scripps' Network to discuss OTT app development and content strategies in this exclusive interview from Streaming Media East 2023.

30 Jun 2023
Katz Networks' Yazmin Wickham, Optus' Jeremy Brown, CBS Interactive's Jarred Willichinsky, and Comcast's Larry Allen make the case for server-side ad insertion in this clip from their panel at Streaming Media West Connect.

09 Nov 2020