From FAST to SVOD to hybrid and beyond, CTV, OTT, and streaming monetization models and strategies abound. What's working and what isn't in 2023? Jonathan Hurd, Partner, Altman Solon, discusses this topic with Sabrina Alimi, Executive Director of Advisory Services, FreeWheel, James Lauzun, VP of Product, MagellanTV, and Christina Chung, VP Business Operations, Estrella Media, in this clip from their panel at Streaming Media Connect 2023.
Hurd begins by asking the group, "What are the different ways that you've seen monetization happening? And obviously, there's a broad number of different monetization models. What have you all seen out there? Just to remind everyone how many different ways there are of monetizing content."
Alimi agrees that there are numerous monetization models, but she says that the key to success is understanding customer expectations. "You're getting a lot more different types of distribution models out there," she says. "You're getting tiers of paid subscriptions, maybe without ads, full ad loads, light ad loads. We're seeing our clients playing around with what that looks like…we talk about a light ad load. What does that mean? What does the consumer think 'light' is? Because you might not be on the same page. Sometimes you hear no ads at all, but there's promos. Does a consumer think a promo is an ad? There's definitely some playing around with different business models, but make sure it matches with what the consumers are actually expecting."
Hurd asks Lauzun, "You have a mix of both paid subscribers as well as FAST, or, totally free. What are you seeing there in terms of any lessons learned? Are there different audiences that go for the free version versus the ads support or no ads version?"
Lauzun says that Magellan viewers watch their platform from the same place of core motivations, as they all identify as lifelong learners. What it comes down to is different value propositions for different subscription tiers. "We think that the FAST and SVOD pairing is actually a wonderfully synergistic combo because it allows us to really emphasize the value of the subscription service because FAST is going to be no control," he says. "You're just going to watch what it is. There's also no choice, which in its own way is kind of a benefit [because] you completely remove choice paralysis…but then when we can present a related title…then that then puts the value of that subscription into a really nice light because you're not paying to remove the pain of the ads, you're paying to gain choice."
Hurd says, "So it may not be different audiences, in that you might be able to use it as part of your marketing funnel to FAST make people aware and then bring them in to be subscribers after that?"
Lauzun says yes, but he emphasizes that it is not enough to create a FAST channel. For maximum effectiveness, there must be deep data analytics in order to truly use FAST in a way that can help develop programming that fits your audience and create subscription conversations. "You just have to really get into those numbers," he says. "Access to data is a huge concern for us. Samsung TV Plus and the current way that their contracts are structured, the changes they're thinking about making. [And] Roku has an entirely different data set. That's actually a huge challenge for us…how can we create a unified view of our analytics when we have very different data sources?"
Chung says, "I totally wholeheartedly agree with you! There's a need to democratize data. If we don't have sound access to data, we can't make sound decisions as to how to engage our audience better. We need to unlock these walled gardens and be able to have the data so we can produce the best content possible for our consumers."
Alimi provides further examples of why collecting accurate data has become so complicated, considering the variety of sources. "All these other distributions have popped up, from OEMs launching streaming services to virtual MVPDs to aggregators. And so now it's gotten so fragmented. And so then that's what we saw a couple of years ago, the direct-to-consumer apps coming up. Everyone was trying to gain access back to that subscriber information that's worked in certain areas, but we're now seeing FAST become a thing and more streaming services. And so that data aggregation, even if you have access, how do you make sure you're getting it in that same way that you can merge it all together and have a real story? And it's pretty interesting to see how different people are trying to solve that."
Learn more about a wide range of streaming industry topics at Streaming Media Connect 2023.
Related Articles
Effective streaming content monetization is an ever-changing thing, and even industry giants like NBCUniversal and Chicken Soup for the Soul are constantly revising and refining their approach in pursuit of the perfect monetization mix. Learn more about the latest strategic innovations in this clip from Streaming Media Connect 2023.

03 May 2023
Fourthwall's Will Baumann discusses strategies for building brands, following, and engagement to scale up and monetize podcast and OTT content in this clip from Streaming Media West 2022.

13 Jan 2023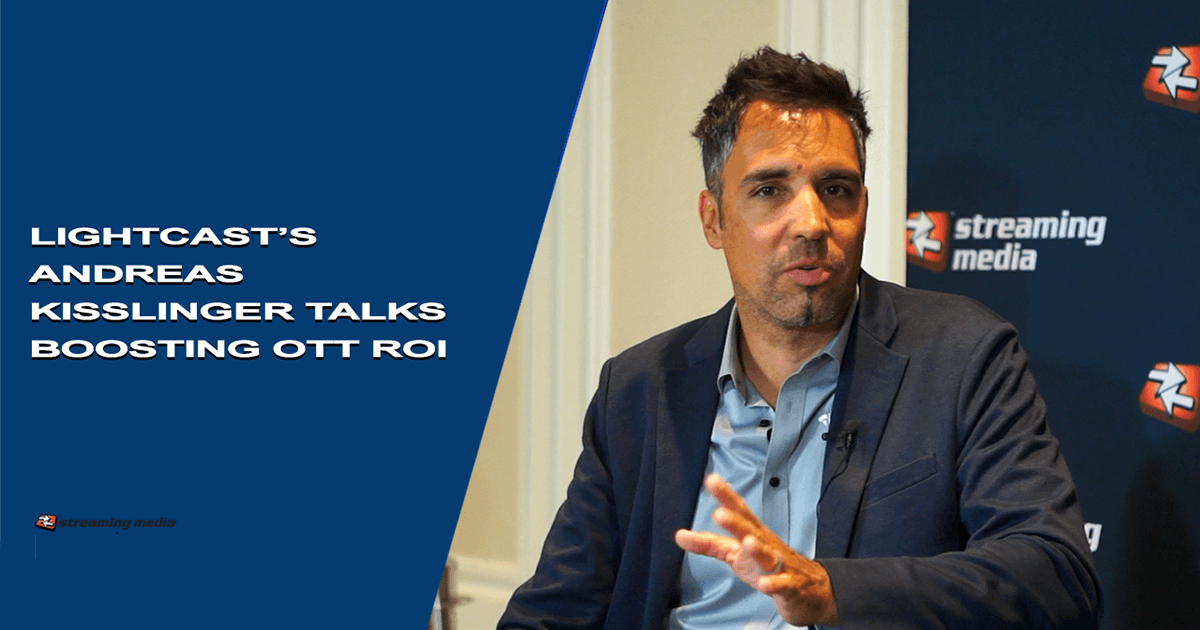 Lightcast CEO Andreas Kisslinger explains how OTT publishers can pursue "beyond the beaten path" strategies for boosting ROI and how Lightcast can help in this interview with Streaming Media's Tim Siglin at Streaming Media East 2022.

05 Jul 2022