The rapid growth of streaming has transformed the status quo of television. Media companies can no longer rely solely on traditional distribution models and need to explore new digital strategies to achieve reliable business growth in the long run. Adapting to shifting consumer behaviors and increased platform fragmentation is complex enough already, without even considering the macroeconomic challenges and rising costs forcing all content providers to do more with less.
As media leaders tackle surging complexities and look for ways to navigate uncertain futures, forward-thinking service provider partnerships have never been more important. Best-in-class technology partnerships lay the foundations for media businesses to scale their operations and maximize ROI. The role of the service provider has evolved in today's digital era – but what do media companies need to look out for to ensure they can forge bulletproof partnerships with technology vendors?
New business realities
Disruptive technologies and consumer shifts are driving the adoption of business models such as AVOD and FAST as viewers look for intuitive, accessible television experiences. Media companies need to cater for the widest audience possible by delivering content across multiple price points, with different subscription models, direct-to-consumer offerings, and across newer digital platforms.
Business model experimentation and scaling distribution across emerging platforms rides massive complexities for content owners. Media brands need the flexibility to trial new service offerings and expand into new distribution platforms — and they need to do this quickly and cost-efficiently. This redefined content consumption landscape is driving many media companies to make bold business decisions, evaluating strategies to scale their operations without incurring upfront costs. Partnerships that enable organizations to harness economies of scale while driving profitability should be top of the agenda for forward-thinking media companies today.
Navigating the digital marketplace

Major media companies must focus on creativity and content strategy in 2023 to stay ahead of the competition, and they're battling hard for the best rights and licensing deals as a result. Content providers need as much time, headspace, and financial backing available to create and secure high-quality content. And, let's face it – in the boardroom, creative media leaders don't want to spend time thinking about complex technology headaches. 
Shifting towards an OpEx-focused technology model with a managed service layer frees up resources for creative tasks and empowers businesses to focus on their audiences while entrusting technology with proven experts. Simple off-the-shelf products and services without managed expertise and dedicated support don't cut it in today's complex market. Media brands that leverage partnerships with robust technology and expert service layers can fast-track their time to market, futureproof their operations, and secure sustainable business growth.
The importance of trust
Perhaps the most fundamental factor any media company should consider is trust and accountability in their technology partners. It's a big deal. When it comes to managing and distributing high-value, mission-critical content, service providers must offer, at the very least, the same, or better still, an even greater level of care than an in-house operations team would provide.
Content owners need to know they'll get a good night's sleep. They need to know that their technology partners will always be there when it matters, while constantly innovating to take their operations to the next level. Managed service providers should strive to foster closer collaboration with clients, garnering a deep understanding of their specific needs, and delivering a bulletproof service layer tailored to each partnership.
Partnerships fuel innovation
The media industry is more exciting today than at any point in its history. Business models enabled by constant innovation in streaming technology is reshaping how organizations function, while unlocking a sea of new opportunities across the content value chain.
However, media brands can't go it alone; they need technology partners to help them navigate a tough and ever-changing landscape while balancing their budget sheets. Today, service partnerships are about far more than just outsourcing operations and technology. They are about trust, accountability, and collaboration that give media customers the reliable backbone to explore new opportunities with total confidence. That's what matters most — and it's what media organizations should be looking for in any technology partnership.
[Editor's note: This is a contributed article from LTN. Streaming Media accepts vendor bylines based solely on their value to our readers.]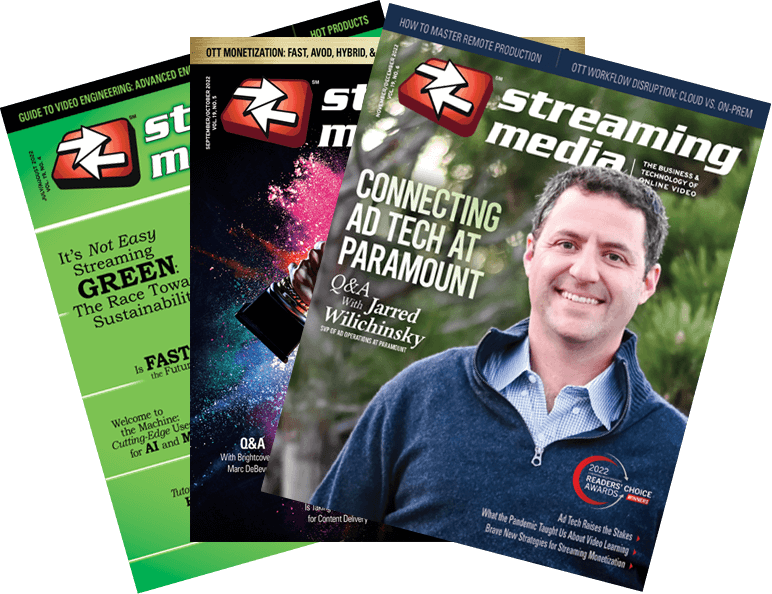 Related Articles
In time, we're going to see standardization come to the addressable TV space, just as it has to the many digital advertising opportunities that came before it. Connecting the dots across screens, regions and inventory types will become easier, as companies continue to partner smartly for enhanced efficiencies and outcomes.

08 Mar 2022
Looking forward, the media industry will need to create a new "norm" where diversity is key to connecting with all groups and where all people and stories are represented. However, this will need to be done with authenticity. For brand marketers and advertisers looking to grow with the industry, now is the time to re-evaluate core values and prioritize diversity in your creative, content, targeting, and overall strategy.

03 Jan 2022
Companies and Suppliers Mentioned