Whether you're starting your streaming career or simply wanting to update your gear, choosing the right webcam is crucial when it comes to viewer experience and, ultimately, your number of followers and subscribers. If you're thinking about investing in a new webcam, we've prepared a list of the 12 best webcams for streaming.
1. Logitech BRIO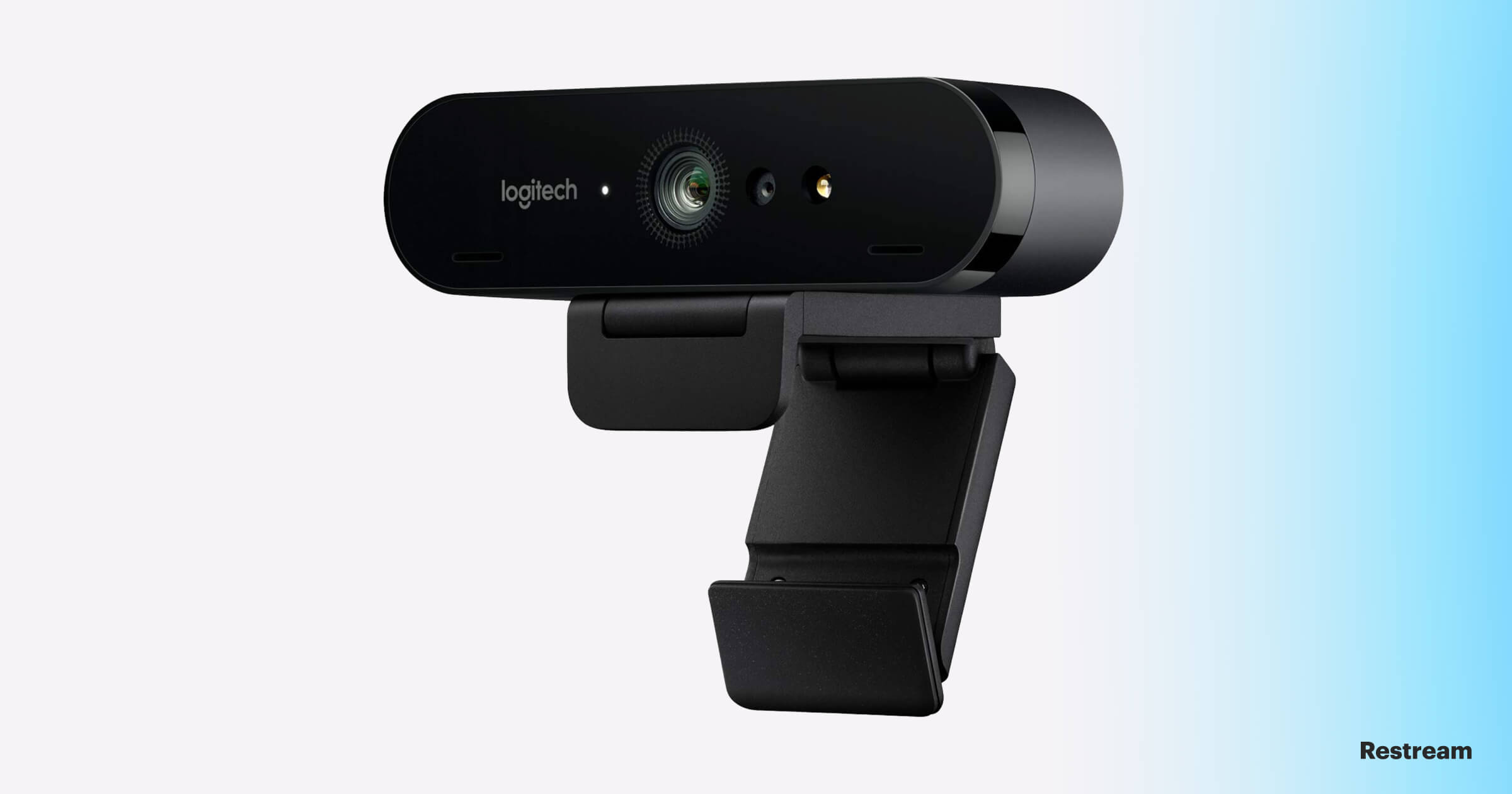 The Logitech BRIO is a 4K HDR webcam that supports streaming, recording and video calling in full quality. For 4K streaming, you get a maximum of 30 frames per second. But if you're willing to downgrade to 1080p, you can stream at 60 frames per second, which is no mean feat. Add the stereo mic and a 90-degree-wide field of view and you've got a super high-quality webcam for your super high-quality streams.
The Brio is so good that it has no real downside. It is more expensive than your regular 1080p webcam, but that's expected given that it's a streaming beast.
Resolution: 4K/30fps; 1080p/60fps
Focus: Autofocus
Built-in mic: Stereo
Connection: USB A plug-and-play; USB-C (adapter required)
Pros
Film and stream in 4K
90-degree-wide and adjustable field of view
Facial recognition
Focus shift based on movement
Cons
Mounting clip is a bit awkward
Price
2. Logitech StreamCam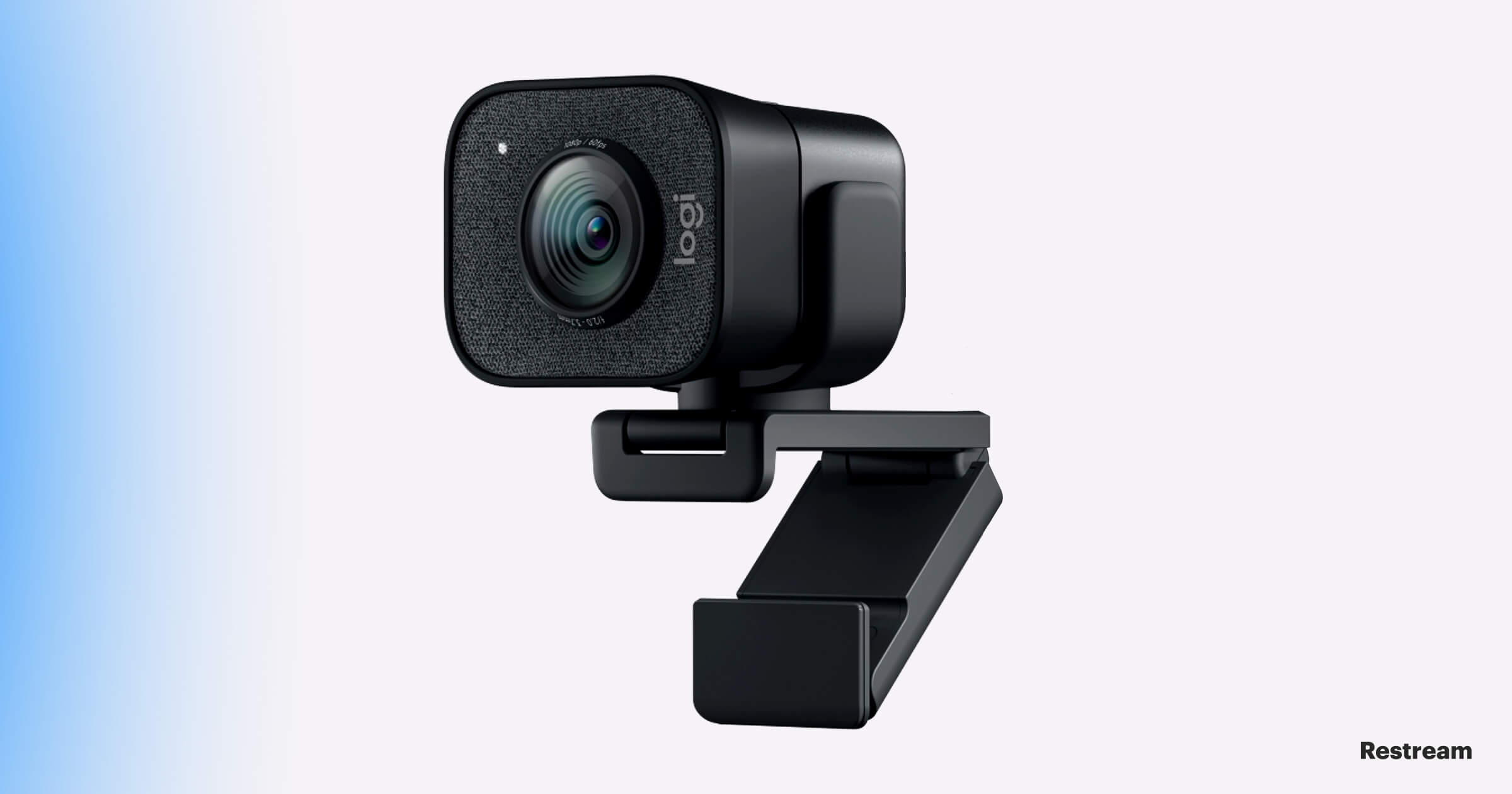 The Logitech StreamCam was built with streamers in mind. It has good video resolution with 1080p streaming and a frame rate of 60 frames per second. There's also the face-tracking feature that works well, and the awesome low-light performance with smart exposure. Everything about this webcam is smart, including the ability to switch between portrait and landscape modes by simply turning the webcam.
It's not the cheapest webcam out there, but its focus on live streamers makes it money well spent. The StreamCam is simply one of the best webcams for Twitch, YouTube, Facebook and other streaming platforms.
Resolution: Up to 1080p/60fps
Focus: Autofocus
Built-in mic: Dual omnidirectional; stereo or dual mono channel
Connection: USB 3.1 Gen 1 Type-C
Pros
Face-tracking feature
Superior low-light performance
Easily switch between portrait and landscape modes
Cons
The USB-C cable is a little short
Price
3. Elgato Facecam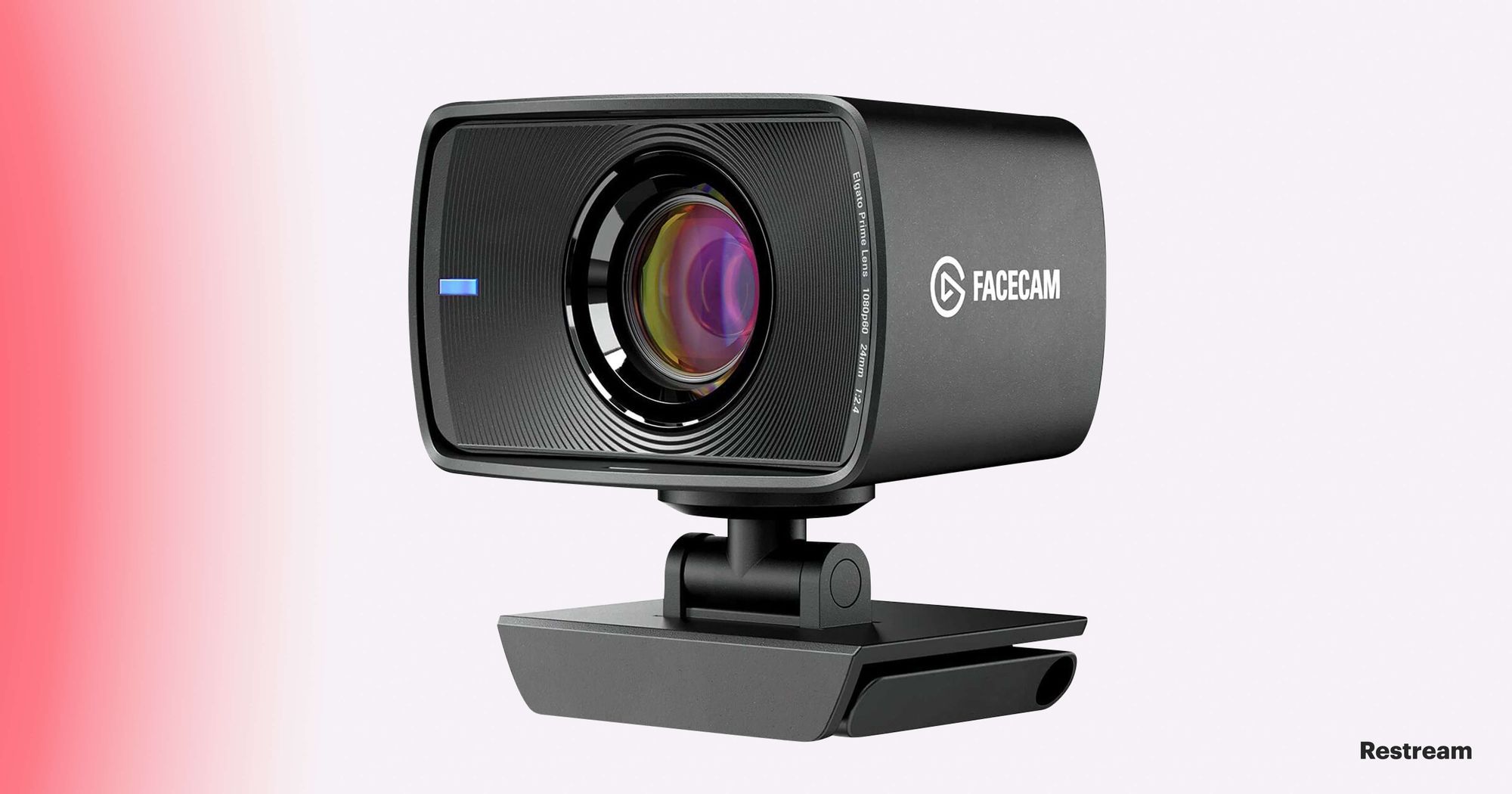 The Elgato Facecam is a more niche choice, catering very specifically to live streamers and YouTubers. It doesn't come with a built-in microphone or autofocus, as video content creators usually have no need for these features.
It has gorgeous, user-friendly webcam software as well, making recording and editing videos that much easier. With the Epocam mobile app, you can also turn your phone into a second webcam.
Resolution: 1080p/60fps
Focus: Fixed
Built-in mic: None
Connection: USB-A 3.0 type C
Pros
Intuitive software
Integrates with other Elgato products
Adjustable claw-type mount
Cons
Price
4. Razer Kiyo Pro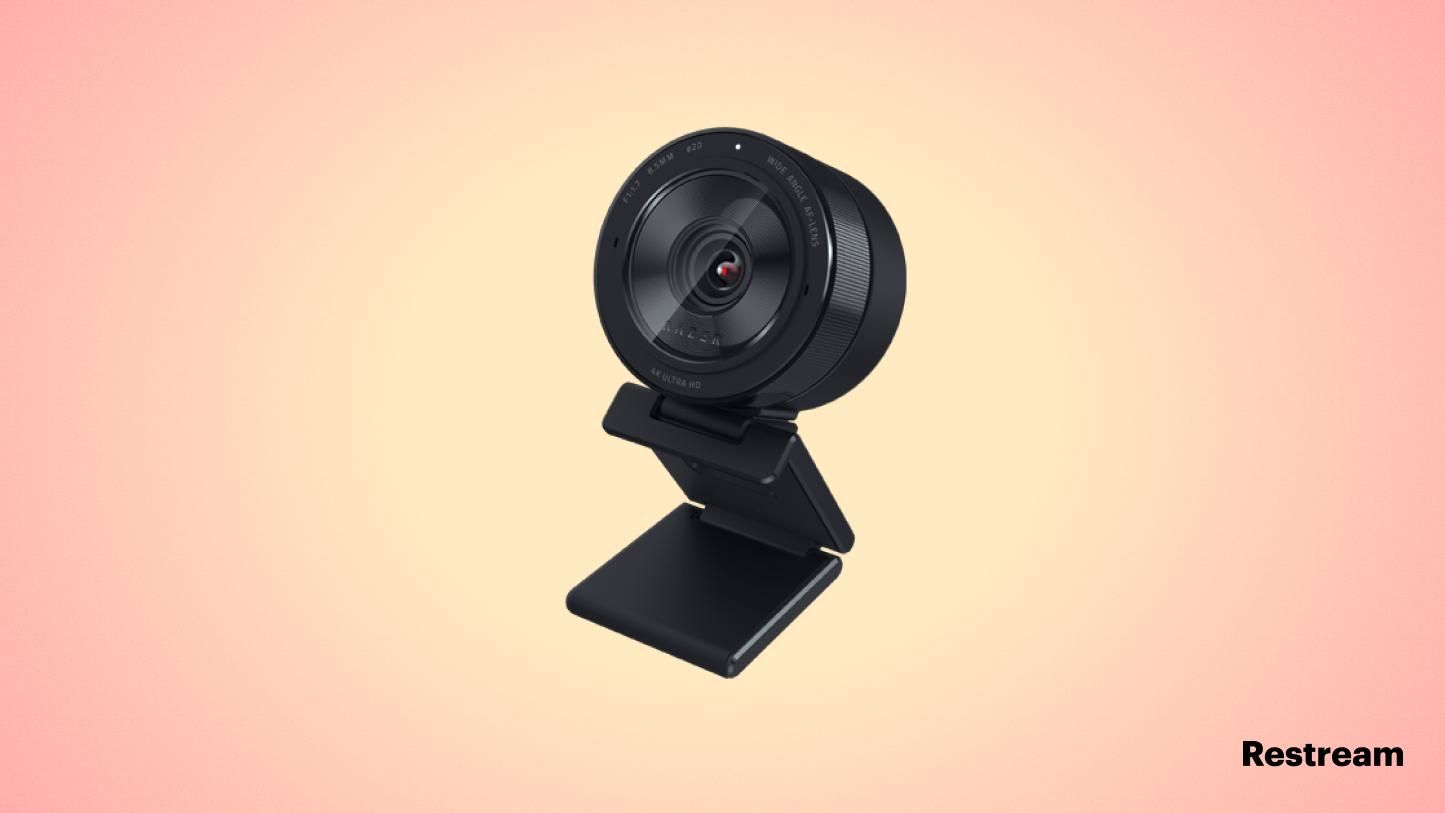 The Razer Kiyo Pro has been praised for its adaptive light sensor and ability to deliver clear, well-exposed video even in low-light conditions. It doesn't come with a ring light like its predecessor the Razer Kiyo, but the lighting sensors have been improved so much it doesn't really need one (and you can buy a cheap ring light separately). The Razer Kiyo Pro can record in 1080p at 60 fps, or in HDR at 30 fps. The built-in mic is also a big improvement over the original Razer Kiyo.
Don't get us wrong — the original Razer Kiyo is still an excellent choice for a webcam and it even made it onto our list. But if you want an improved version and don't mind shelling out more cash, then the Kiyo Pro could be the better choice for you.
While the Razer Kiyo Pro is a versatile webcam that streamers and professionals of all kinds can use, it does come with a high price tag. Also, the Razer Synapse software that comes with it could be a bit sleeker.
Resolution: 1080p
Focus: Autofocus
Built-in mic: Omnidirectional
Connection type: USB A-to-C cable
Pros
Sharp 1080p video
Good low-light exposure
Optional HDR
Cons
Not-so-sleek UI on Synapse software
No 4K
Price
5. Logitech C922 Pro Stream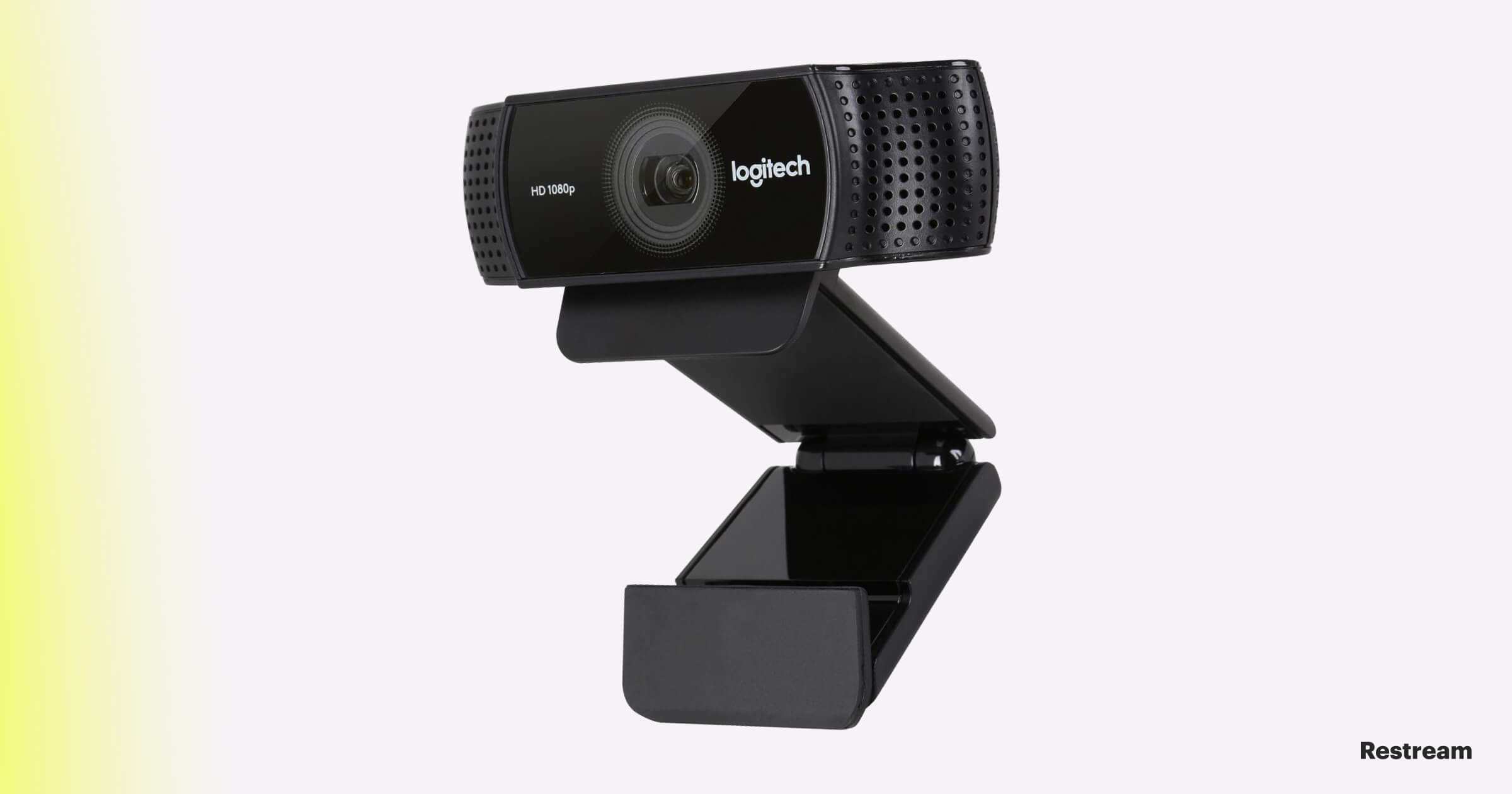 As a leading webcam manufacturer, Logitech continues to be a staple on "best webcam" lists year after year. When you look at their C922 Pro Stream model, you can easily understand why. You can stream in 1080p at 30 frames per second or in 720p at 60 frames per second. The camera is equipped with two microphones for stereo recording, has good low-light performance, and comes with the versatile Logitech stand.
The C922 isn't a flawless webcam, however. It doesn't have a privacy shutter to physically block the lens. The background-removal feature requires third-party software to use (so you're better off using a green screen).
Resolution: 1080p/30fps; 720p/60fps
Focus: Autofocus
Built-in mic: Dual omnidirectional
Connection type: USB A
Pros
Comes with a tripod
Has automatic light correction
Two built-in mics
Cons
No privacy shutter
Background removal requires third-party software
Price
6. Dell UltraSharp WB7022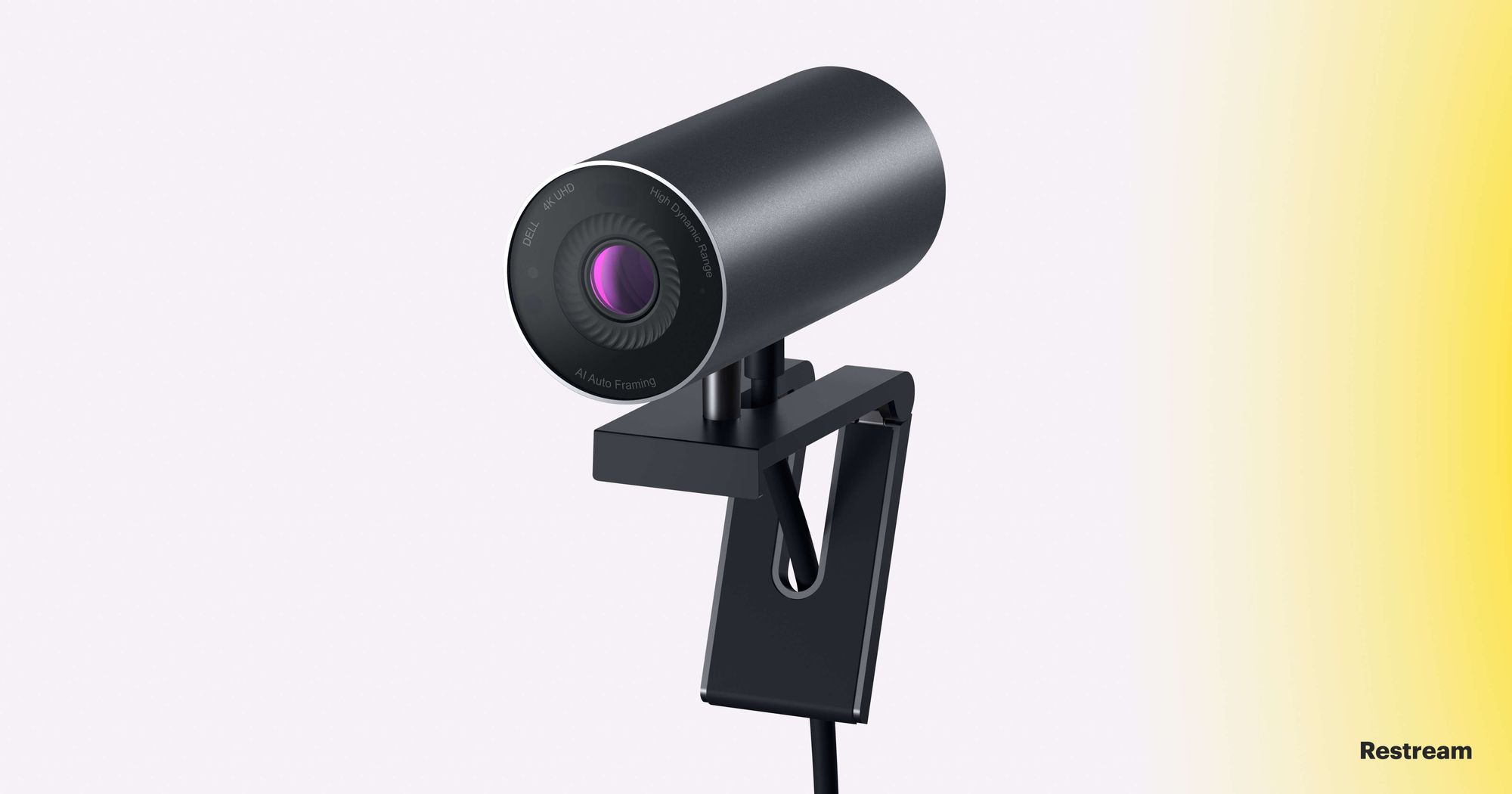 The Dell UltraSharp WB7022 competes with the Logitech BRIO as one of the best 4K webcams on the market. In addition to 4K streaming, you also get HDR support and AI-powered auto framing. With an adjustable field of view that goes up to 90 degrees, you can capture as much or as little as you want.
What you gain in video quality you lose in audio with the Dell UltraSharp — there's no built-in mic. That's good news for content creators who usually have an external mic, but less so for those who want a nice webcam for conference calls.
Resolution: 4K/30fps; 1080p/60fps
Focus: Autofocus
Built-in mic: None
Connection: USB-C to USB-A
Pros
4K streaming
HDR recording
Good performance for poorly lit rooms
Cons
Starts getting hot after 20 minutes of use
Awkward stand
Price
7. Razer Kiyo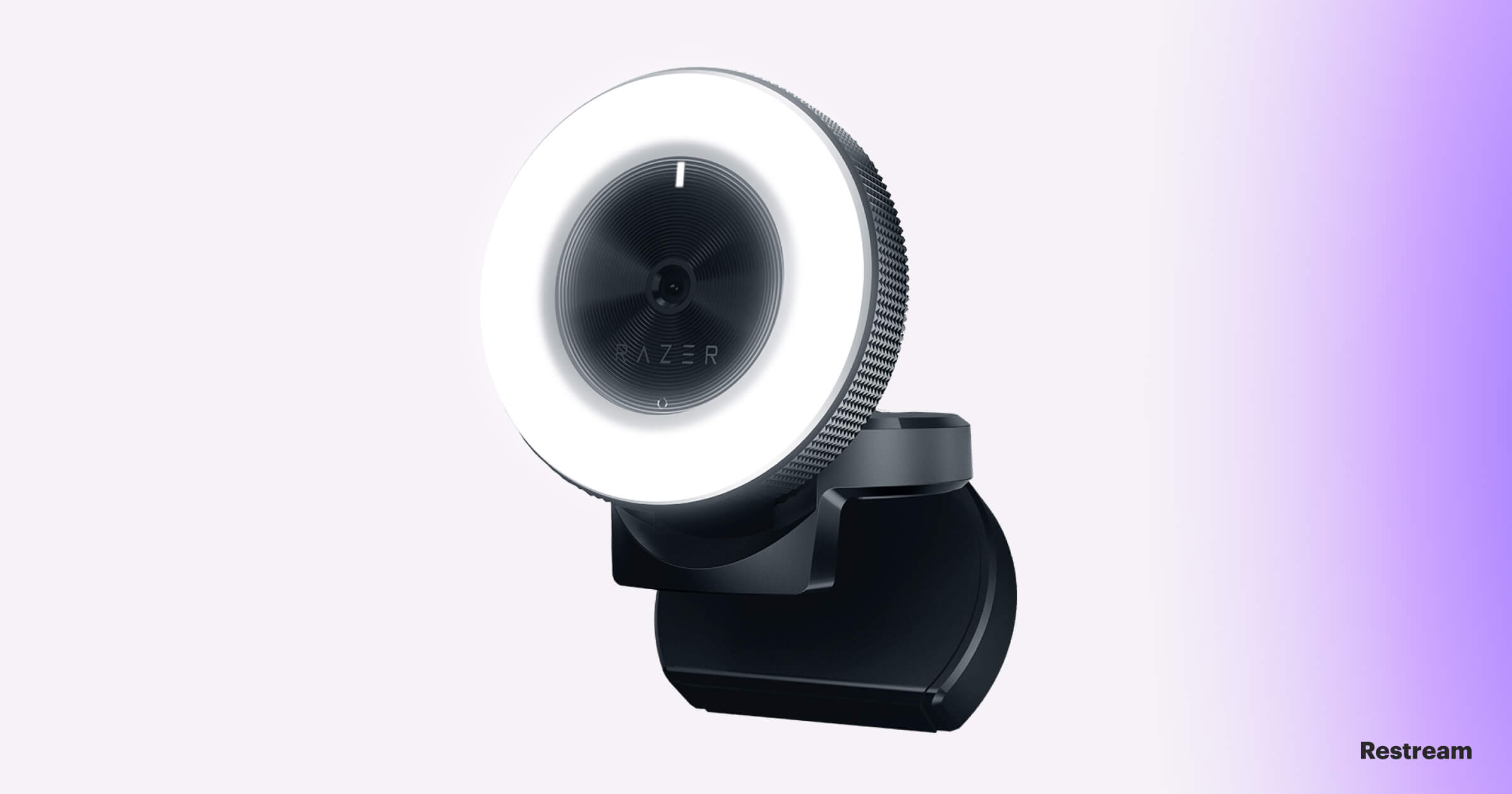 The most prominent selling point of the Razer Kiyo is, of course, the light ring. The Kiyo is a streaming camera through and through, on par with the Logitech C922 in many ways. It also offers 1080p streaming at 30 frames per second and 720p streaming at 60 frames per second. But the fact that it includes an adjustable light that can be bright enough to make a noticeable difference when streaming is a great bonus for the Kiyo.
However, this webcam is also on the more expensive end of the spectrum for what it is, and there have been some reports of issues when used with OBS Studio.
Resolution: 1080p/60fps; 1080p/30fps with HDR
Focus: Autofocus
Built-in mic: Omnidirectional
Connection type: USB 2.0
Pros
Smooth video at 1080p/60fps
Optional HDR setting
Works well in low light
Cons
Pricey compared to other webcams in the same range
May have issues when used with OBS Studio
Price
8. Anker PowerConf C300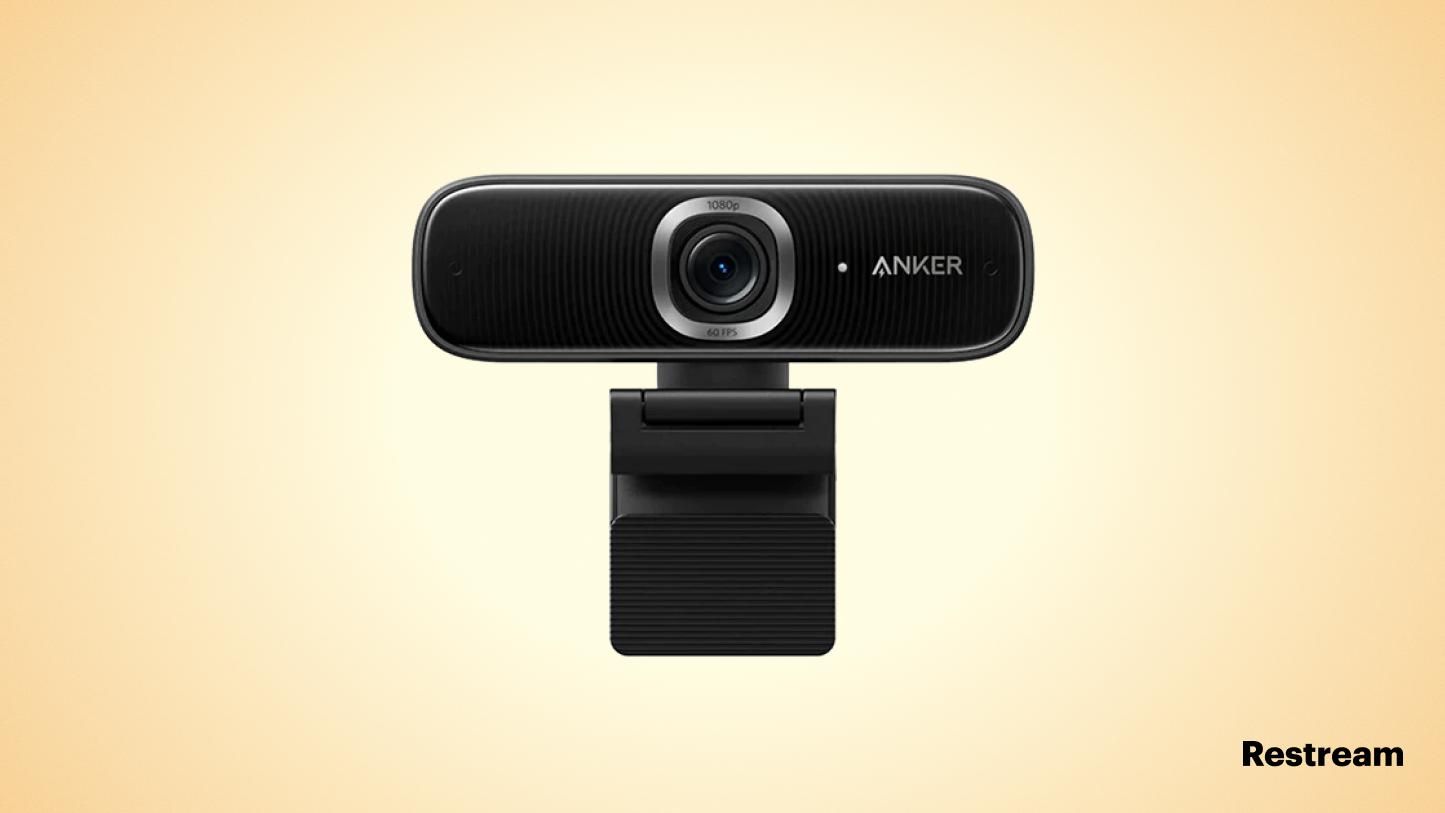 The Anker PowerConf C300 is designed for high-quality video conferencing and has one of the widest fields of view available on the market at 115 degrees. It offers a clear picture in a well-lit room, although the video isn't as crisp as some other webcams in the same price range, like the Razer Kiyo. It excels at low-light capture, though, with its AI-powered light and color correction.
The wide field of view is great for group video calls and streams, but it might be a tad too wide for a single person. The software that comes with it, AnkerWork, lets you adjust the C300's settings but you can't use it for recording or streaming. You'll need to connect the webcam to another software for that.
Resolution: 1080p
Focus: AI autofocus
Built-in mic: Dual mic
Connection type: USB-C but comes with USB-C-to-USB-A adapter
Pros
Wide angle is good for more than one person in frame
AI-powered light adjustment
Face tracking
Cons
Angle a bit wide for one person
Pricey
Price
9. Insta360 Link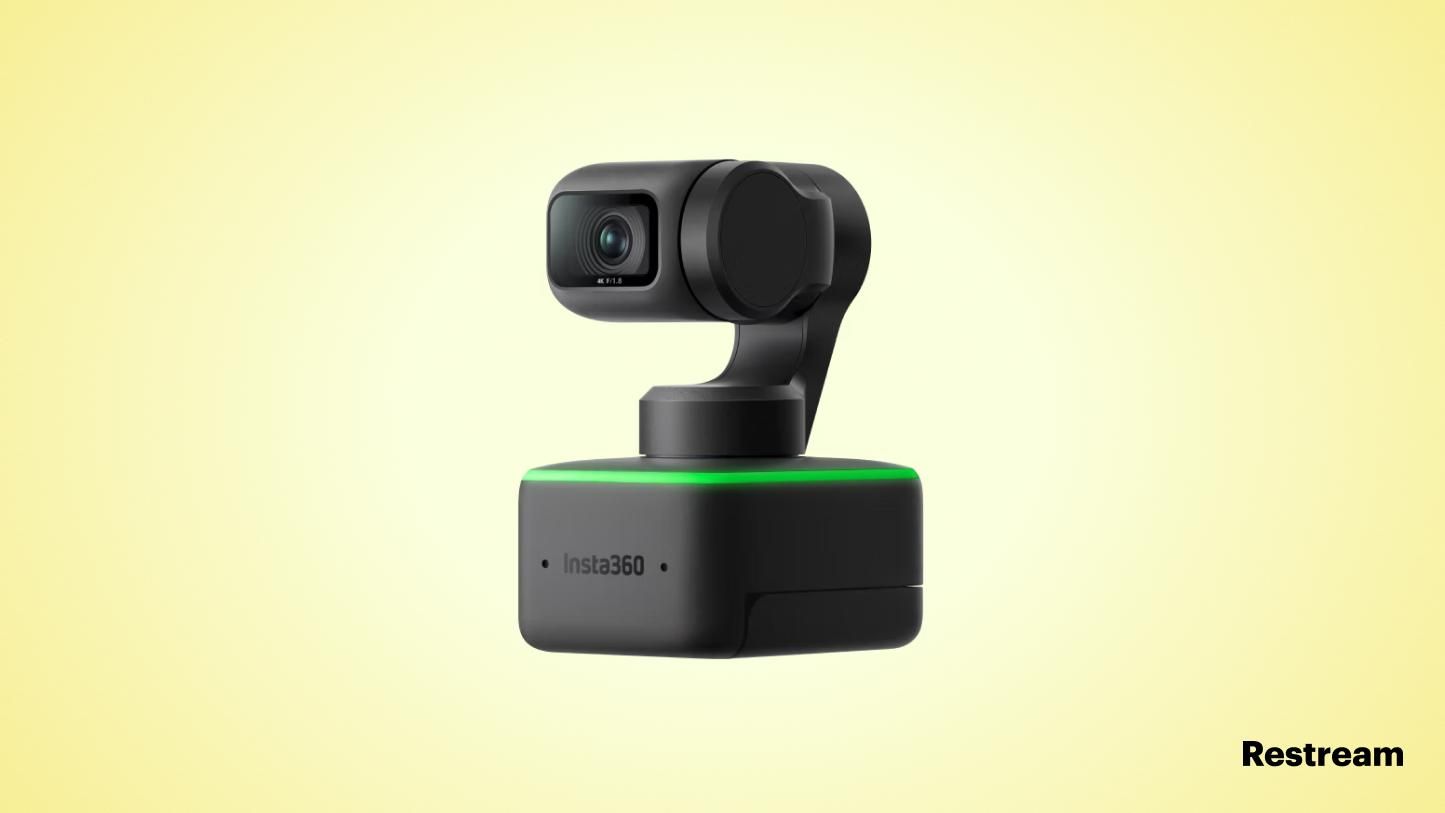 Insta360 is known for its action cameras, so it should come as no surprise that the Insta360 Link webcam is fully motorized with nearly 360 degrees of swivel. Feel free to get up and move around as much as you want — the Link will keep up with you. You can even use hand gestures to change settings and modes on the webcam. The large image sensor also lends it a higher-quality picture and better exposure in low-light settings.
The only major downside to the Insta360 Link is the price. It's the most expensive on this list and you can get comparable video quality for less, just without the automatic tracking. If you're someone who does a lot of moving around during your broadcasts, and you value high-quality video, then the Link could be a good choice for you.
Resolution: 4K/30fps; 1080p/60fps
Focus: Autofocus up to four inches away from the lens
Built-in mic: Dual noise-canceling microphones
Connection type: USB-C (with USB-A adapter included)
Pros
Excellent color, sharpness and low-light performance
Fully motorized with near-360-degree swivel
Intuitive companion app
Cons
Expensive
AI zoom can be jumpy at times
Price
10. OBSBOT Tiny 4K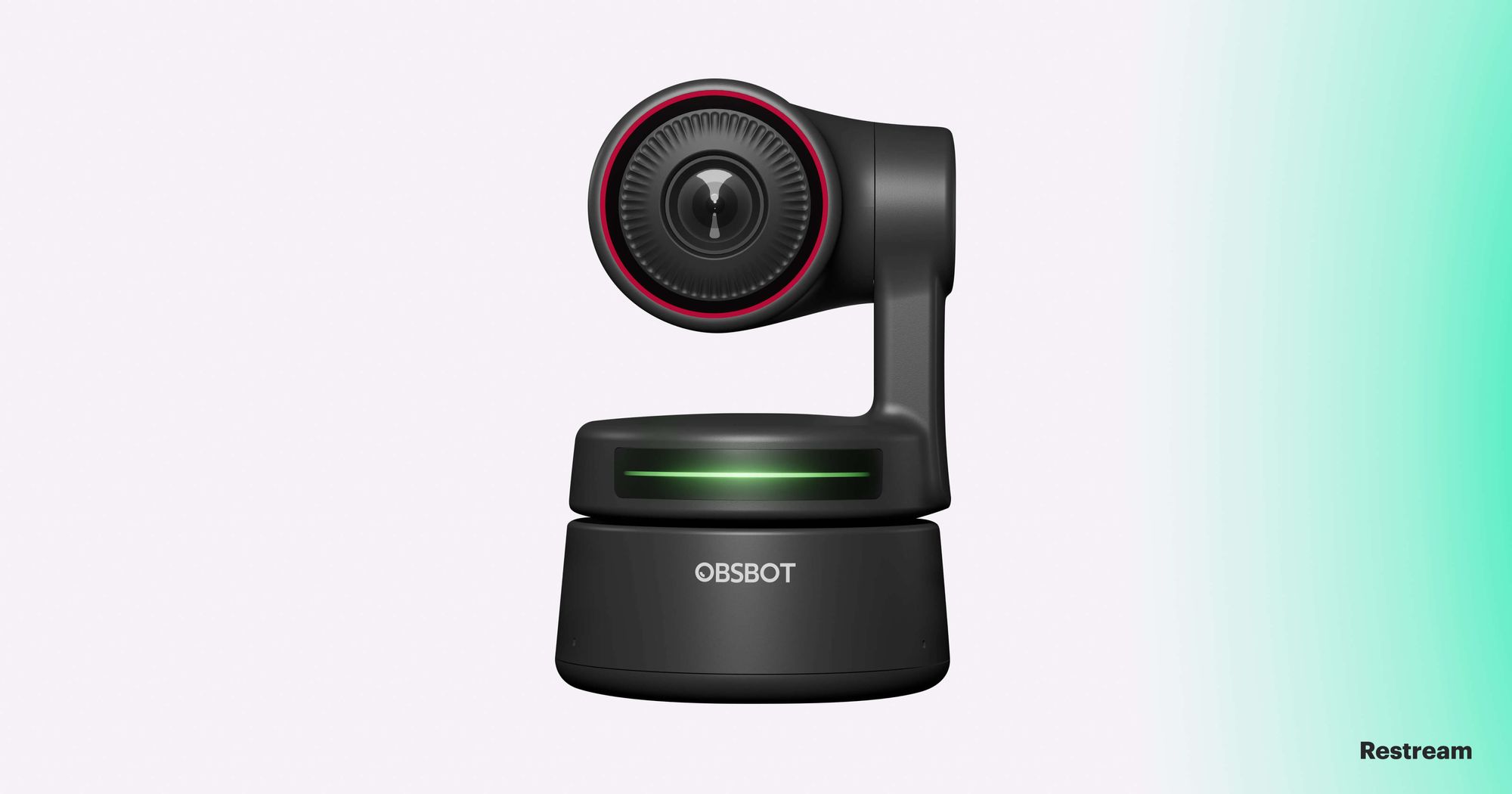 With its AI motion tracking, the OBSBOT Tiny 4K keeps you in frame no matter how much you move around, and it does so in 4K. This little webcam is exactly what you need if high image quality is important to you and you don't mind paying a little extra. Even the built-in microphone has decent audio, so you can sound good without needing an external mic.
The software bundled with the OBSBOT is a little basic, and you can only stream in 4K at 30 frames per second.
Resolution: 4K/30fps; 1080p/60fps
Focus: Autofocus
Built-in mic: Dual omnidirectional
Connection: USB Type-C to Type-A
Pros
Awesome AI motion tracking
High-quality built-in mic
Cons
Price
11. Elgato Facecam Pro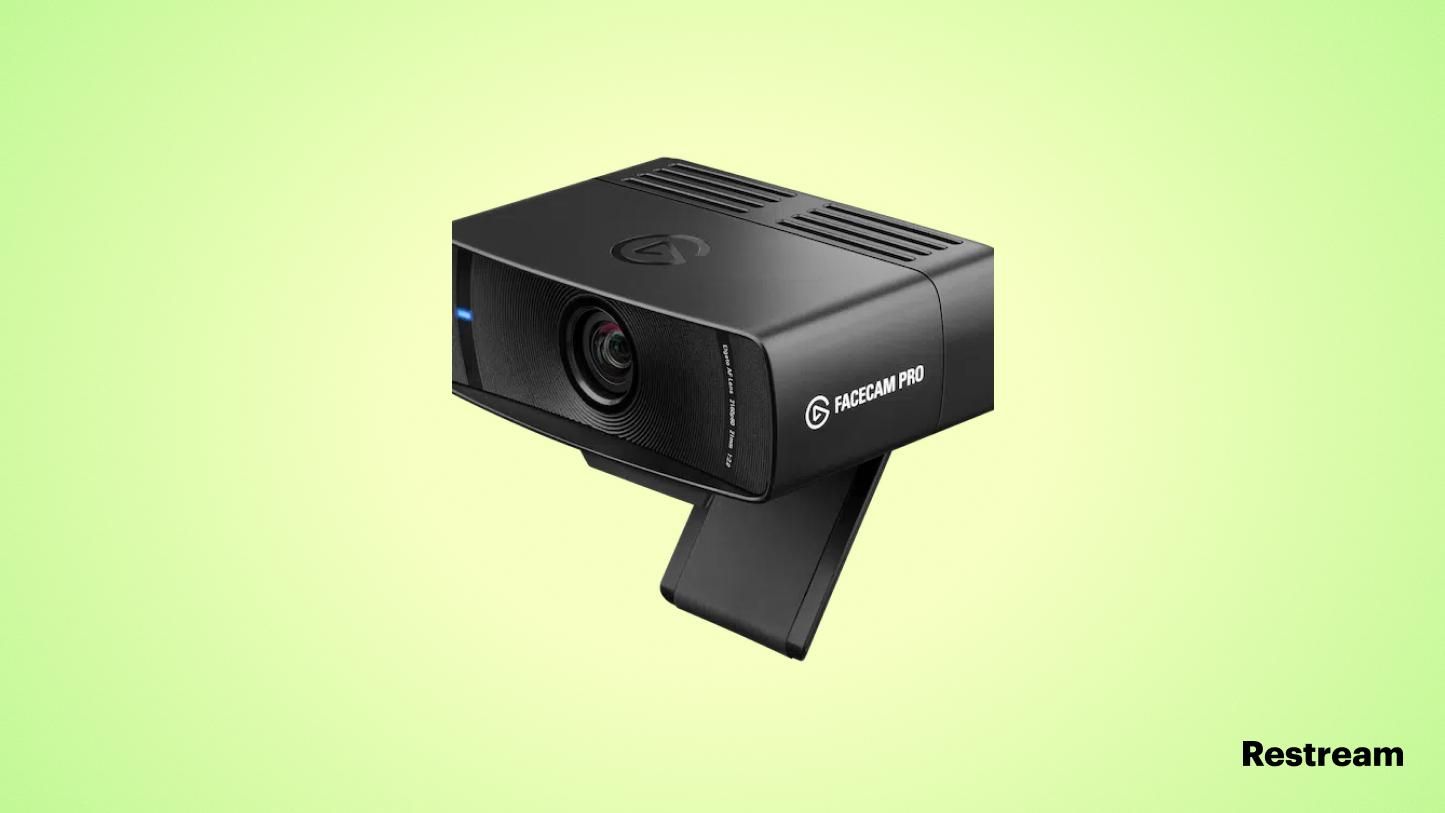 Not many other webcams stream in 4K at 60 fps like the Elgato Facecam Pro — but most people don't need video that looks that good. It's a powerful webcam for serious content creators. It also has a 90-degree field of view and autofocus lens. The Camera Hub software that comes with it also lets you make a lot of adjustments to your settings.
With all that power, though, comes a hefty price tag and a hefty webcam. The Facecam Pro is larger than you expect a webcam to be, even larger than the original Facecam. Elgato definitely upgraded the Pro webcam, but if you're not a professional streamer or content creator, you can find a webcam of mostly comparable quality for less than half the price.
Resolution: 4K/60fps
Focus: Autofocus up to four inches away from the lens
Built-in mic: None
Connection type: USB-C
Pros
Wide lens
Sharp picture
4K and 60 fps video
Cons
No built-in microphone
Requires a lot of setting adjustments for best performance
Price
12. Logitech C920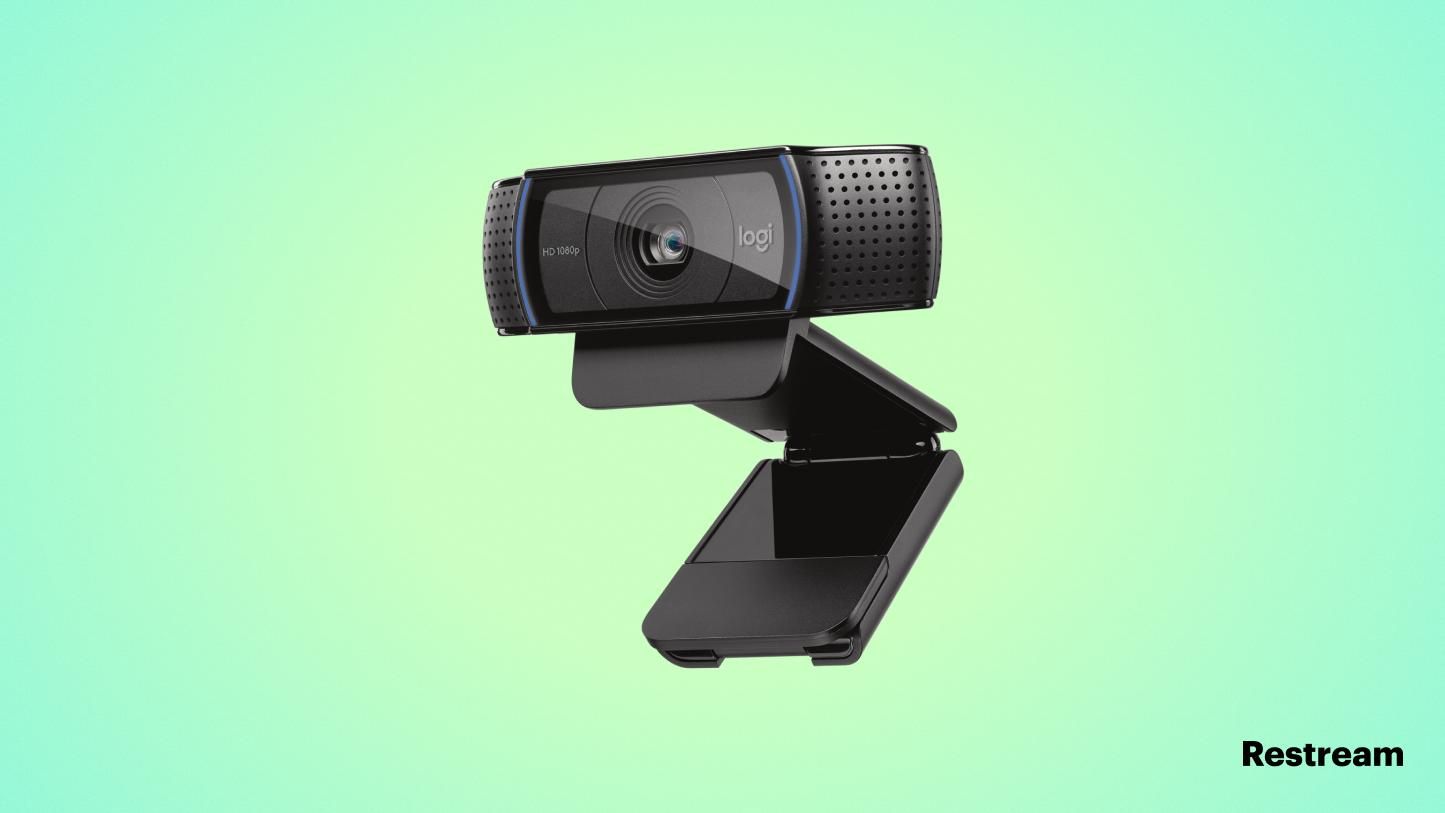 If you want an affordable, reliable webcam, then check out the Logitech C920. It's been around for several years but it's still one of the best values you can get on a webcam and huge step up from your laptop's built-in webcam. It can stream and record in 1080p at 30 fps, has a decent 78-degree field of view and an autofocus that easily tracks you if you shift around a bit.
The Logitech C920 is a little bulky and lacks a privacy cover — you'll have to upgrade to the C920S for that. It also doesn't stream in 4K but for most streamers and everyday video calls, 4K isn't a necessity anyway.
Resolution: 1080p/30fps
Focus: Autofocus
Built-in mic: Stereo
Connection type: USB-A
Pros
Affordable
Reliable autofocus
Sharp image quality for the price
Cons
Microphone isn't great
No privacy cover
Price
More interesting options
The webcam market is full of amazing, reasonably priced devices, so anyone can find one suited to their needs. If you aren't fully satisfied with the options above, consider the following webcams:
These webcams vary in price range and quality so you're sure to find one that suits your needs and your budget.
Pro hint:
When you think about video quality, you should add
lighting
to the equation. You can still have outstanding quality with a mediocre webcam if your lighting is properly set. Remember, purchasing an expensive webcam doesn't guarantee you an amazing picture — lighting does.
Wrap-up
There you have it — the mostly undisputed champions in the field of webcams. Although any one of them would work well for streaming, you should still invest some time into determining the best webcam for your situation.
To wrap up, we have:
The best all-purpose webcam: Logitech BRIO
The content creator's webcam: Logitech StreamCam
The webcam with streamer-specific features: Elgato Facecam
The best webcam with image correction: Razer Kiyo Pro
The high-res webcam: Logitech C922 Pro Stream
The best webcam for HDR recording: Dell UltraSharp WB7022
The best built-in lighting: Razer Kiyo
The best webcam for business streamers: Anker PowerConf C300
The best webcam for events and classes: Insta360 Link
The best webcam with AI motion tracking: OBSBOT Tiny 4K
The best 4K webcam: Elgato Facecam Pro
The most affordable webcam for any type of streamer: Logitech C920
Some webcams will have price-driving features you simply don't need, while others will have features you find necessary. If you stream your content to multiple websites, you'll have to consider the requirements and limitations of all the platforms you use. Take your time, shop around, and make sure you're always streaming the best quality content you can, looks included.