Immovable object meets unstoppable force in Disney vs. Charter, which is another feud in the wider the battle to reshape pay TV into its inevitable streaming future.
Though both companies published counter-public relations material over the weekend, a deal will be struck, since the cost of not doing so is too great for either to bear–right now. That will change as cable companies manage the irrevocable decline of their video business and studios face the reality of losing billions of dollars in carriage revenue.
At the center of the dispute is the TV viewing audience which continues to cut the cord, forcing change in the traditional business model, but not yet at the numbers or rate that make streaming the only option in town. There will be an awkward truce between cable and streamer until that debate is settled.
Charter knows the writing is on the wall. "We're on the edge of a precipice… The video ecosystem is broken," said CEO Chris Winfrey in a conference call.
Disney boss Bob Iger has already indicated he's considering exiting the pay TV business entirely, including selling ABC and other networks, as viewers shift to DTC. Having pulled its content from Charter over the weekend, Disney would stand to lose more than $2 billion in annual revenue from that cable company alone.
Charter meanwhile believes the content it receives from Disney has been devalued and not worth the hike in fees that Disney was demanding. It accused the Mouse House of forcing "MVPDs and consumers to pay higher rates with the same packaging restrictions with no additional customer value, despite destruction of the multichannel video marketplace.
It also described the pricing and packaging restrictions proposed by Disney as "actively driving" consumers out of the market, "accelerating the vicious cycle and further destroying the video business."
Instead, Charter wants Disney to make ad-supported versions of Disney+ and Hulu available for free for the 15 million customers of its Spectrum cable service and in return would agree to price rises for Disney channels, including ESPN. Disney+ and Hulu currently cost customers $7.99 each per month. Charter also argues that there is not sufficient exclusivity in programming on Disney channels versus Disney+.
"We're either moving forward with a new collaborative video model, or we're moving on," Winfrey said.
Charter CFO Jessica Fisher doubled down on this in a call with investors, saying margins have become so bad on video compared to broadband that they are prepared to ditch video entirely. "If we're unable to come to a deal, and ultimately move on from the traditional video business, the margin profile of our business should improve and its capital needs should decline," she said.
In doing so, Charter could see as many as 1.8 million subscribers exit if Disney fans vacated to find its programming elsewhere, according to Wells Fargo media analyst Steven Cahall. He estimates such a dynamic could affect $3.7 billion of revenue. The conflict with Disney could also affect future plans, speculates Cahall. Launching Xumo, Charter's joint venture streaming platform with Comcast, might be more difficult if Charter is at odds with many of the companies that operate streaming hubs.
Disney countered that its linear channels and DTC services are not one and the same, but rather complementary products. Adding that it continued to invest in original content that premieres exclusively on our linear networks, including live sports, news, and appointment-viewing programming. "Likewise, on our direct-to-consumer services, we make multi-billion-dollar investments in exclusive content, which is incremental to our linear networks."
While Disney would wave goodbye to $2 billion, it also risks accelerating the migration from pay TV to SVOD. That is likely its long-term play, but it would probably wish for a more managed, less volatile, transition. That's because Charter's demands are likely to be echoed elsewhere. "If others follow, this increases the risk of future carriage disputes, blackouts, and less affiliate growth," said Cahall.
"The future of this Charter/Disney negotiation has dramatic ramifications on the rest of the industry aside from Disney," said analysts at MoffettNathanson.
In the past few years the streaming business model has moved away from single genre content (news, scripted, sports) toward more of a bundled package–much like the multichannel business of old. Warner Bros. Discovery for example plans to mix and match sports, news, and documentary programming products focused on one uber Max destination. Like Disney, it is trying to do so while not critically endangering the still-important revenue it gets from cable distribution.
Other scenarios are possible. Fox CEO Lachlan Murdoch has told investors that Fox is due to negotiate renewal of about a third of its carriage contracts over the next year. "Imagine if Charter or one of its rivals insisted that its customers not be forced to pay for Fox News Channel, which is the linchpin of Fox's finances," suggests consultant Derek Bain. "That network is expected by S&P Global Intelligence to generate more than $1.95 billion in affiliate fees in 2024."
In its own version of The Future of Multichannel Video published as negotiations broke down, Charter said it believed content is valuable and that Disney is an excellent content creator but "we have already reached the point of economic indifference with the current model." Instead, it proposed a "hybrid, customer-centric mode" which maintains a symbiotic relationship between the trend to DTC and cable's proven reach and reward.
It said, "distributors and programmers need to work together to entice and reward customers to utilize bundled subscription products-–most programmers simply will not be able to profit/survive solely on a-la-carte streaming revenue."
In this PowerPoint presentation Charter puts great emphasis on ESPN, the jewel in the crown when it comes to distribution on cable TV. Live TV has for decades been the exclusive and most lucrative part of the TV landscape with pay TV forced to pay ever higher rights for sports content and the real threat of more content being hived off to streaming services, key sports and brands like ESPN have become the ultimate battleground.
Charter claims that Disney acknowledged that the most sensible financial outcome for ESPN is a hybrid approach, retaining a sizeable portion of its linear television revenue while incrementally exploiting streaming options. "ESPN is widely seen as the linchpin for the evolution of the video ecosystem and this model paves the way for a ESPN DTC product," the cable company outlined.
Disney is reportedly in talks with major sports leagues about launching an online version of ESPN with the leagues having an equity stake. According to Bain, this may allow them to have early renegotiations on their sports rights packages and expand their rights to enable them to air more games in an online DTC product.
Disney has also been in talks with Amazon to be a partner in a new ESPN online offering priced between $20 and $35 per month. Bain says, "If ESPN were to partner with Amazon and the major sports leagues to launch a powerful online offering of ESPN, the results would be devastating for multichannel operators like Charter Communications. Therefore, it wouldn't be surprising if much of the root of the dispute between Charter and Disney are over the terms of online rights for the channel."
With so much uncertainty it's unsurprising that Disney stock fell–but so too in the washback did the price for Paramount, WBD, and Comcast as did local TV station owners Sinclair and Nexstar. The latter LA station has been in dispute with DirecTV for weeks. Increasing fees increases by programmers are the reason subscribers are fleeing, said Rob Thun, DirecTV's chief content officer.
"We have a symbiotic relationship where we both should benefit," Thun said. "But they are killing the host."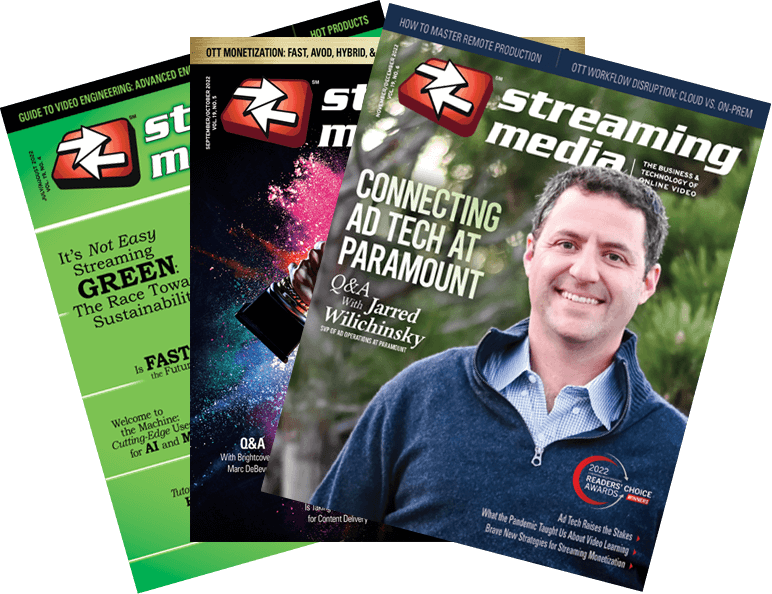 Related Articles
WBD hopes CNN Max, its latest attempt to solve news streaming, will finally crack the code. But it has its work cut out since the platform, launching September 27, is behind the curve of its competitors.

25 Aug 2023