At one of the first Streaming Media Connect events in 2020, Damian Pelliccione, co-founder of Revry—the industry's leading free streaming platform focused on telling queer stories and offering programming for the LGBTQ+ community—declared, "There are riches in the niches." At a panel the following year that adopted that phrase as its name, Pelliccione insisted that Revry was not a niche network, citing the tremendous global spending power of its target audience. And the company's ever-expanding list of lucrative brand partnerships—including with McDonald's, Disney, Lexus, Cadillac, and the city of Las Vegas, according to a May 2023 Forbes article about the splash they made at the upfronts—underscores its burgeoning beyond-nicheness.
So, what's it like being CPO at a streaming network that's carving out a unique don't-call-it-a-niche position in the global media and entertainment universe and managing an expanding array of ad-supported channels and a high-visibility roster of brand partners? To find out what that role entails, what drives the tech stack that keeps such a network humming, and how Revry develops, sources, licenses, and curates its diverse content offerings, I spoke with LaShawn McGhee, Revry's CPO and one of the company's four co-founders.
Nadine Krefetz: As CPO at Revry, what is the scope of what you do?
LaShawn McGhee: I oversee all of our channel launches, app development, app maintenance, and media management. I have a background in editing and postproduction, so it was natural for me to go into the technical aspect of the business.
Krefetz: What is Revry's business model?
McGhee: FAST, AVOD, and app.
Krefetz: Can you supply a breakdown where your content is being consumed?
McGhee: Revry is a global network in over 130 countries and across all of the major content streaming platforms. On average, 4.9 million people watch Revry programming each month.
Krefetz: Do you use any broadcast capabilities, or are you a digital native company?
McGhee: It's all digital native. The closest we get to broadcast is we have a channel on DirectTV. We're on their satellite product, but outside of that, it's all digital.
Krefetz: What about the internal tech stack?
McGhee: Brightcove is our developer, and we have a templatized solution through them—their Beacon product (beacon.support.brightcove.com). They power all of our owned-and-operated direct-to-consumer apps.
Krefetz: Do you build anything in-house?
McGhee: We look at features, we oversee functionality, and we do all of the QA on all of the development. We approve all of the development, but we don't actually go in and do any of the coding.
Krefetz: Has the tech stack changed a lot as you've grown?
McGhee: Originally, we were a VHX customer (dev.vhx.tv). They built the first version of our apps prior to their acquisition by Vimeo. I think we were with them at least a year, then we rebuilt the app with dotstudioPRO (dotstudiopro.com). Our changes in development had to do with features.
Every time a contract comes up for negotiation, I look at that service to see if it fits with what we're doing as we scale. There are different things that we would want to do with functionality. We ended up with Brightcove because we were really interested in their multichannel EPG. We have six FAST channels—[including] Revry One (global, N.A.), Revry Her, Revry LatinX, Revry News—and we do pop-up channels. Once, we did a 27-hour live stream for Global Pride.
Revry's six FAST channels
Krefetz: What was compelling about Brightcove's EPG that caused you to switch to that?
McGhee: We only had one channel at the time, but we were talking about having multiple channels.
Krefetz: Can you sell advertising directly on top of the EPG?
McGhee: We call them "EPG takeovers." We're able to put an image there that's basically a banner that goes above the channel listings. worked with a few companies that have done those takeovers, like Marvel for Black Panther.
Takeovers are also good for content announcements. We have one up right now for Pride Ball, which is sponsored by Nike. It's a very visible place for people to be able to see what's happening.
Revry Drag Latina EPG takeover
Krefetz: Do your viewers complain about advertising at all?
McGhee: No. I think users understand that this is the way to enjoy content for free.
Krefetz: What types of ad formats or sponsorship do you sell?
McGhee: Direct deals, programmatic, branded content deals, and experiential or IRL events.
Krefetz: What do you use in terms of ad tech?
McGhee: I think that ad tech is a really interesting beast because, to be honest, it's all off the shelf. What really defines what your ad tech product can do for you is the macros. It's the little things that you put inside of the parameters for those tags that set your stack apart. [Off-the-shelf solutions] are standard until you go in and get device IDs and content IDs. Once we know this, I can actually get an advertiser to advertise against [a specific] piece of content.
There are ways to really make it work for you, and we're digging in and experimenting with this right now.
Krefetz: What about analytics and targeting for ad-serving?
McGhee: The targeting is within the tools. What's more important about our ability to target isn't so much the tool we're using, it's the team. Because we're minority business-certified and we're NGLCC [National LGBT Chamber of Commerce]-certified, you're actually able to spend your LGBTQ dollars with us, which is a very unique thing. That speaks to the analytics even more than the tool does, because our audience, by its nature, is already going to be covering all of these analytical demographics. It's a matter of messing around with those macros to get them to the people that need to see them.
Krefetz: When you're targeting on a device ID, are you just looking at the kind of ad that you're serving?
McGhee: Not really. I think a device ID is kind of generic. There are some things that people who watch our channel can generally assume. "Community-friendly" is the easiest way to explain it. That doesn't mean that you're a part of the LGBTQ community specifically, because you can also be an ally.
Krefetz: What are the most important analytics for you? 
McGhee: Watch times are a critical number to determine how well content is received by viewers. I also pay close attention to page views so I know which pages are the most effective.
Krefetz: What is the biggest benefit you've gotten from your analytics?
McGhee: Number one, Wicket Labs [now Brightcove Audience Insights] has a really clean interface. We can drill down and look at countries that are consuming content, and it's just a good, robust tool for our data team to pull from
Krefetz: What are your thoughts on how AI will impact networks like Revry, in terms of tech or UX?
McGhee: I think that search is where AI really comes into play, because this will allow you to be able to find what you're actually trying to watch. "I didn't know this movie existed, but it is now my favorite movie." I think we're going to see some really great impact on that front.
Krefetz: Revry shows a mix of original and licensed content. What does the curation process look like when you're sourcing content?
McGhee: It's everything from the way we think about original and unscripted programming. Our goal from the very beginning has been to be inclusive, and inclusivity for all parts of the community is something that's really important to us.
One of the approaches that we use for original programming is we definitely want to try to find unique stories as much as possible. We go to film festivals. I have friends who are filmmakers. We have interns that will source content for us. We have relationships with different people that we can lean on for things, and we also have a submissions portal that people can go to and submit content.
Krefetz: You have a creative studio, don't you?
McGhee: We have a production studio where we shoot our news show Culture Q and other assorted interviews or single-host content like Queer Classix.
Revry's content submissions portal
Krefetz: Are you getting your content from distributors or from a lot of independent producers?
McGhee: We do both of those things. It's more convenient for us to go to a distributor who has multiple titles, because we're negotiating just one license. But we also negotiate with individual filmmakers and music artists.
Krefetz: I assume licensing is pretty straightforward when you're working with distributors, but is it significantly different for independent artists?
McGhee: We have been able to do distributor deals with revenue sharing. The deals vary. If something is unreleased, we can do some level of exclusivity window with it. There are a lot of really creative ways to offset the cost of licensing and to get the filmmakers what they're trying to achieve.
Krefetz: When you're delivering channels out to partners, are there technical or other elements that are different from distributing through your owned-and-operated property?
McGhee: There are variations like, do they want something in Zixi, a regular HLS feed, or SRT? Are they taking 720p,1080p, or something higher than 1080?
These are the individual specs that we have to adhere to when we're delivering these channels to partners. There are those types of nuances. After that, for the most part, it's pretty standard. Some distributors will want at least 2 weeks of programming in the schedule or more so that they can make sure they have the EPG information in plenty of time.
One of the things that people are trying to do more with is accessibility, like with additional audio tracks. But that's platform by platform.
Krefetz: Is there a particular platform that you want to talk about that gets more traffic than others?
McGhee: I am a huge fan of Samsung. They are definitely one of the better companies to work with. They are helpful in what we're trying to build and what we're trying to grow. Samsung is one of our largest platforms, and it's one we have a great partnership with.
They have advertising solutions and are very flexible because we're a smaller business, as opposed to saying, "Here's our deal." We can come in and do smaller ad buys than obviously a lot of other companies are doing and still actually grow and scale the business through that. And the system gets the opportunity to learn our audience so that we can target better.
Krefetz: Over the period of time that you've been developing the product, what have been some of the challenges?
McGhee: One of the biggest things is the learning curve on language, because engineers and developers speak a different language than I was speaking. You run into challenges where it takes longer for certain platforms to approve your app. Staying on top of when new features are going to be released is one of the biggest things that I have to do.
Krefetz: Do you have a lot of competition in terms of other media companies or other channels that focus on your market?
McGhee: Yes and no. If Tubi is my favorite platform, then I'm going try to find every single solitary thing I want to watch on Tubi. I'm not going to go to another platform necessarily, which is another reason why we do channel partnerships with different platforms, because people like to watch where they like to watch.
Krefetz: Are there other LGBTQ channels?
McGhee: There are channels that cater more toward gay men, and there are channels that cater more toward women, but not necessarily channels that cater to the entire community.
Krefetz: Earlier this summer, we heard about the formation of the Independent Streaming Alliance (ISA). Can you talk about what that is and Revry's role in it?
McGhee: We're one of the founding members of the Independent Streaming Alliance. One of the things that I've been talking about for a while is that we need a regulatory body for streaming. Major platforms and networks are able to set standards because of their revenue and overall footprint. The intention behind the ISA is to level that playing field by advocating for common metrics and standards that are more inclusive to independent and smaller streamers.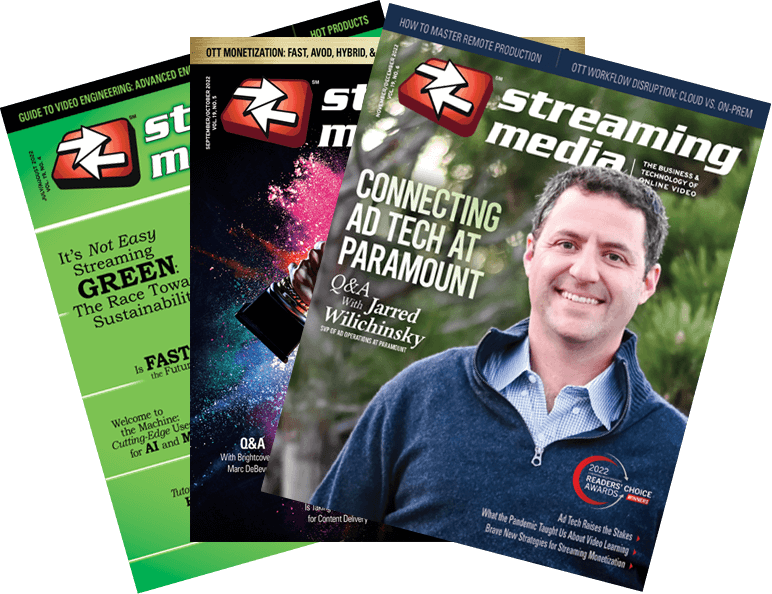 Related Articles
The internet fostered the ability to make changes on a continual basis, so how come national broadcast advertising is still being transacted in the upfronts (the same format that started in 1962), which require an annual dollar and audience-reach commitment in advance to buy and sell advertising?

12 May 2023
Revry CEO & Co-Founder Damian Pelliccione provides a capsule history of Revry's evolution and growth as a leading OTT niche vertical and the largest global aggregator and distributor of LGBTQ+ content, from its beginnings as a subscription-based service to a mostly ad-supported tribrid offering–with major partners in the Smart TV space and also global brands like McDonald's.

27 Jun 2022
Revry's Damian Pelliccione and Cinedigm's Erick Opeka offer strategic advice to OTT channels trying to attract an audience and build a brand in this clip from Streaming Media West Connect.

13 Nov 2020