Ten of the leading independent streaming platforms, including Revry, kweliTV, Vevo, Tastemade, Trusted Media Brands, and Chicken Soup for the Soul Entertainment, have recently joined forces to create the Independent Streaming Alliance (ISA) to promote the value of independent streaming channels, provide in-depth research of their audiences for the advertising industry, develop best practices for independent streaming promotion and development, and find ways to partner with key members of the CTV landscape.
Damian Pelliccione, CEO and Co-Founder of Revry, a global streaming network launched in 2016 that focuses on queer content and creators, discussed the formation of the alliance while on the panel "FAST Times: Keeping Up With the Evolving FAST Ecosystem" during the most recent Streaming Media Connect. "Revry was one of the founding members," Pelliccione says. In addition to the ten founding channels, they say, "We've signed on over 35 different publishers." To become a part of the ISA, "You cannot be owned by the major eight. When we did a test with iSpot, we saw that almost 60% of all inventory and 60% of all viewership were coming from just the folks in this group alone. So there is going to be a collective bargaining."
Why Collaboration is Essential for Independent Channels to Thrive
Independent streamers face a unique set of challenges in the current CTV market that large media companies primarily do not have to contend with. "As the industry has grown and consolidated, it has resulted in less of an even field for independent players in terms of distribution, data access, etc.," says Cameron Saless, Chief Business Officer, Trusted Media Brands. "So while the growth is exciting and we welcome larger media companies entering and validating the space, we want to make sure we don't replicate what happened with cable–we want people to understand why independent streamers are valuable and why we should and can play an important role in shaping the future of this industry."
With the recent ascent of ad-supported streaming channels, the need for a standardized system of tracking user metrics has become especially important for independent platforms that rely heavily on advertising revenue. While this lack of standardization is a "gray area" for all of CTV, "As indie streamers, we tend to face very similar 'macro level' pain points," Pelliccione says. "CTV/FAST distributors all use very different metrics to measure the success of their channel publishers. Without having unified measurement, it becomes a challenge for us to ascertain the success of our channel. I believe as an alliance of channel publishers, we can come together and creatively/collectively help identify potential solutions on this issue of measurement that will aid in the future growth and success of our business."
Evan Bregman, General Manager, Streaming at Tastemade, echoes these sentiments. "We all operate inside an ecosystem dominated by a few major companies who control a significant market share in their industry," he says. "The ISA is a way for independent companies who have significant knowledge and experience in this ecosystem to meaningfully engage with all of the participants to shape the future of the ecosystem in a way that benefits all of its participants. Most importantly, that includes the customers."
In terms of programming, independent channels also have some critical advantages over major media companies. They can offer a broader range of diverse programming, but the challenge for the indies is ensuring this diversity gets a fair shot at discovery and distribution. "As opposed to large media groups who mostly monetize long tail libraries and old shows on FAST platforms and rely on old legacy businesses, independent streamers are nimble and creative original content makers and programmers, often focused on serving diverse and minority audiences," says Philippe Guelton, Chief Revenue Officer, Chicken Soup for the Soul Entertainment (CSSE). "Protecting their voice by ensuring they enjoy fair access to distribution, technology, and advertising should be everyone's priority. By joining forces to solve for lack of scale, they can more effectively get their voice heard and create solutions in partnership with other players of the eco-system."
How the ISA Formed and the Chief Aims of its Founding Companies
Ideas for collaboration had percolated amongst independent channels for some time before the ISA was formally organized. "Prior to the ISA, the Revry co-founders [Christopher Rodriguez, Alia J. Daniels, and LaShawn McGhee] had been hosting a monthly 'mastermind' meetup with other indie streaming startups," Pelliccione says. "We started in 2017 in our board room with a group of other C-Level Execs and would meet once a quarter for some pizza, beer, and an agenda of hot topics for the group to have an open forum around. The group grew to around 12 different companies at its height (pre-pandemic). It was never an official organization, it was really just a place for like-minded, motivated individuals to talk shop. The only rule was everyone had to sign a master NDA, to help create a safe space to share ideas and advice. Cut to 2023, Phillipe Guelton [of CSSE] invited me to join a preliminary conversation about forming a big national group and asked if Revry would like to be one of the founding members. We, of course, jumped at the opportunity and invited many of the same players from our OG Mastermind group. As a company founded on the mission that representation matters, we wanted our participation to reflect Diversity, Equity, Inclusion, and Belonging. I now lead the DEIB Committee at the ISA and have been evangelizing other minority lead indie streamers to join."
"ISA companies are very entrepreneurial by nature and passionate about their audience relationship," Guelton says. "We quickly came together to identify common goals. CSSE is involved across all initiatives and dedicates time and internal resources to support the organization."
Saless discusses similar collective goals. "Over time, we all realized that we needed a forum to help discuss ways to solve some of the issues that have come with growth and consolidation," he says. "The ISA came out of these discussions, and the organization is focused on four key areas right now: demand, measurement, distribution, and diversity, equity, and inclusion."
ISA's Criteria for Recruiting New Members
The ISA has a steering committee that includes one representative from each company to help recruit new members to the organization. When asked about Revry's approach to evaluating new members, Pelliccione says that they ask the same six questions to each new company who wants to join the group:
Is your channel ad-supported? If so, do you sell direct, programmatically, or both?
Do you program and produce your own programming, or is it primarily from 3rd party licensed libraries?
Can you give us a sense of the size of your audience (ideally monthly time watched)?
Can you give us a sense of who your shareholders are? Any large media companies?
Guelton adds, "Some basic requirements are that they need to be independent from any mega-media or tech company, be active in the production and/or programming of AVOD/FAST content, and they need to [adhere to] our charter and support the Alliance goals and objectives." Saless also says, "We look at the size, their ownership structure, and what they want to achieve in being a member in the organization." Bregman emphasized that they also take the scale of the channel into account.
How Subcommittees Help Bring the ISA's Aims to Fruition 
The ISA has several subcommittees focused on essential topics in the CTV space, including Pelliccione's critical areas of "Measurement, demand, distribution, and diversity, equity, and inclusion."
"As a company founded on the mission that representation matters, we wanted our participation to reflect Diversity, Equity, Inclusion, and Belonging," Pelliccione says. "I now lead the DEIB Committee at the ISA and have been evangelizing other minority lead indie streamers to join."
While Revry focuses on the DEIB Committee, other founding companies share work and aims across other subcommittees in the organization. "We are an active member of all the committees," Saless says. "We meet regularly, attend panels, share notes, and conduct some of our own research. Each committee is focused on identifying key challenges in their particular areas that they want to address and then working as a group to come up with a consensus around how best to address the issue. It could be through research, industry panels, and even partnering with other folks in the ecosystem (e.g., a platform, vendor, etc.)."
Bregman says that Tastemade is also active on all of the subcommittees, while his individual focus is on distribution. "As co-chair of the distribution subcommittee, our goal is to establish a documented best practice in dealing with distribution companies that consider the concerns of all the subcommittees and make for a thriving ecosystem for all of us. We're doing this by sharing notes, finding areas where we think we can make a difference, providing thought leadership, and eventually putting that into our conversations with distribution partners."
How the ISA Effectively Engages With Key Industry Players
The ISA actively works with third-party platforms, agencies, analytics companies, ad tech solutions, and regulatory bodies to find solutions to industry problems.
Pelliccione underscores how the untested and lower-stakes origins of independent channels abundantly fostered innovative approaches to solving ongoing industry issues. "Over the past eight years, Revry has always been innovative in creating solutions to industry-wide problems," they say. "Revry has helped to develop, test, advise, beta, speak, or volunteer for multiple platforms, agencies, industry events, tech vendors, and professional organizations. We knew when we decided to start this company back in 2015 that there was no playbook, no gatekeepers, no data, no history. It was the wild wild West! This, of course, gave us a lot of freedom to color outside the lines and invent and test new strategies and ideas on what a media company of the future can look like. I believe disruption fuels innovation, and that can be scary for a lot of legacy companies who have been practicing business the same way for decades."
Why ISA Is a "Safe Space" for Productive Collaboration and will Benefit the FAST CTV Future
Now that independent channels have proliferated while simultaneously developing their own pioneering ways of managing the hurdles of launching, distribution, and production, pooling these resources and tactics can only strengthen their collective disruptive push.
"We've worked with everyone in the ecosystem on an individual basis on the various issues important to the development of the ecosystem," Bregman says. "But since we are just one voice, it's easy for a partner to make decisions that are in their best interest without seeing 'the forest for the trees.' All the members of the ISA see the forest, which is why we're working together on these challenges."
Saless mentions ISA's first connections with a major TV advertisement measurer to highlight the ways that the Alliance works with larger vendors and how that will ultimately help to benefit the evolving FAST CTV landscape. "We announced one of our first partnerships with iSpot, which is helping us get a baseline of what the collective ISA audience looks like," he says. "It's a first step that will lead to having these collaborative discussions."
Pelliccione sums up the great potential of the ISA for the CTV industry as a whole while strengthening the scope and influence of independent platforms. "Every company that joins the ISA signs the same Charter," they explain. "This creates a safe space for collaboration and the sharing of information. Since we all share the same 'pain points' there is a sense of instant camaraderie among the group. It's like being in a fellowship. We all believe in this business and want to celebrate our success. The more we share, the more we all succeed. I believe the ISA will become an essential voice in helping drive brands and agencies into the new 'FAST' evolving future of television."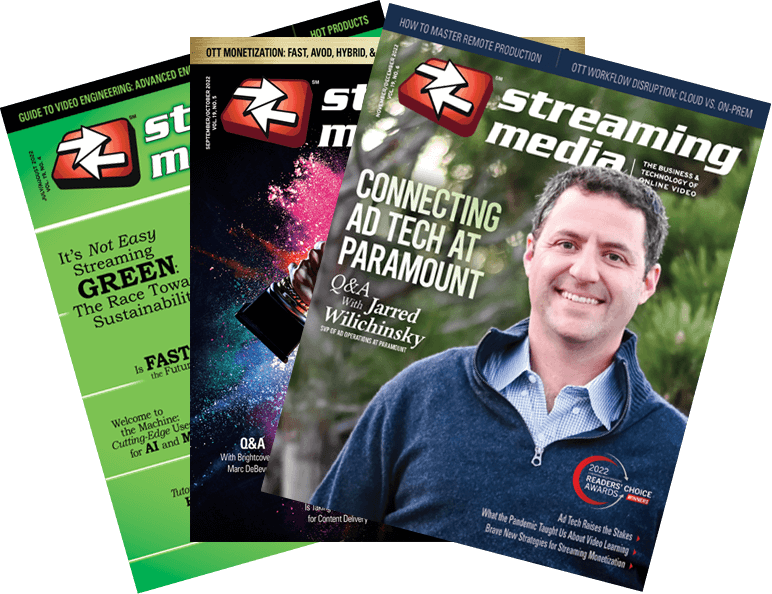 Related Articles