Twitch has been the dominant live streaming platform for years, repeatedly blowing smaller competitors out of the water, including the Microsoft-backed Mixer, which shut down in 2020. The only viable alternative to Twitch that has hung around is YouTube Gaming — and it got folded into YouTube Live.
Once Twitch was acquired by Amazon in 2014, it saw massive growth, reaching over 2 million average concurrent viewers by 2021. In 2022, the platform made an estimated $2.8 billion in revenue and had 22.4 billion hours of content consumed.
Twitch is certainly a force to be reckoned with, but it has a new challenger: Kick. What has made Kick.com so enticing for streamers? And will it truly become a lasting Twitch competitor or will it simply become another Mixer?
What is Kick.com?
Kick.com is a live video streaming platform founded in 2022 that is backed by the founder of Stake.com, a crypto gambling site. The format on Kick is very similar to Twitch — streaming channels are categorized by video game or topic. Users can browse these categories and look for a stream to watch when they're on the Kick home page.
The new platform has been making waves because of its 95/5 split for content creators. Streamers get to keep 95% of earnings from subscriptions. By contrast, Twitch creators get to keep 50% and YouTube Live creators can keep 70%.
Kick is also less strict about content that Twitch has traditionally clamped down on, like gambling content and Pools Hot Tubs & Bikinis. Kick's owners have said their aim is to be more transparent with the community guidelines; Twitch has been known to apply its rules unevenly and unfairly.
Who owns Kick?
When Kick's extremely creator-friendly platform and features came out, people started asking questions about ownership — how can Kick possibly make money with a 95/5 subscription model and virtually no ads? Many think Kick is owned by the gambling site Stake.com. There's a heavy link between the two but technically, Kick isn't owned by Stake.
In March 2023, it came out that Kick is a company registered in Australia, owned by Bijan Tehrani (one of the founders of Stake) and a holding company. The owner of the holding company? Stake's other co-founder, Ed Craven. Although Stake doesn't legally own Kick, the gambling site is heavily promoted on Kick, leading some in the streaming community to wonder if Kick is just a front for Stake.
Why did Kick become popular?
Kick's revenue split undoubtedly has a lot to do with its popularity, but big-name streamers have also been moving to the platform — and taking their viewers with them. Some streamers are refusing to stream on Kick for ethical reasons and concerns about ownership (Inman "Pokimane" Anys stated she would never compromise her morals to join Kick), but
Kick has managed to attract some big streamers away from Twitch. The first major streamer to jump ship was Tyler "Trainwreck" Faraz Niknam, who ran into issues streaming gambling content on Twitch.
Other Twitch streamers that have switched to Kick are:
Felix "xQc" Lengyel
Adin Ross
Kaitlyn "Amouranth" Siragusa
Hikaru Nakamura
Corinna Kopf
Roshtein
Kick growth stats
Just how popular is Kick? Let's look at some stats on Kick's growth:
Between January and April 2023, Kick viewership grew by 404%.
Kick had 12.8 million hours of viewed content in January 2023; by April it jumped to 51.8 million hours.
Kick had 9,000 active channels by the end of January 2023 and 67,000 active channels by the end of April.
Hours watched increased by 44% from May to June 2023, reaching 84.1 million.
In June 2023, the most popular streaming category on Kick was Just Chatting, with 27.7 million hours watched. The second most popular was Slots and Casinos, with over 15 million hours watched.
The number of active streamers on Kick went from 5 million to 12 million in one month.
With big-name streamers Amouranth and xQc joining Kick in June, viewership numbers skyrocketed.
Twitch vs. Kick: Is Kick better than Twitch?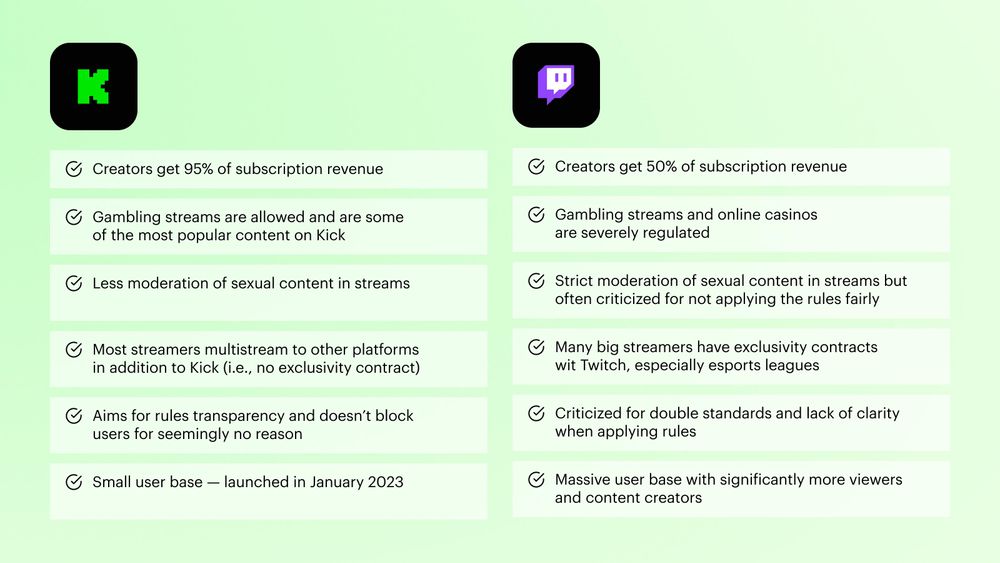 Kick has some advantages over Twitch, but is it the better place to stream? Let's compare the two platforms in more detail.
Kick vs. Twitch: Audience
It's undeniable that Twitch has more viewers than Kick. Twitch is an established live streaming platform that's been around for over a decade; Kick isn't even one year old yet. At the beginning of 2023, Kick hit 1 million users; at that same time Twitch was reported to have about 140 million active monthly users.
But Twitch doesn't just have more viewers than Kick, it also has more streamers. You might have a shot at a bigger audience on Twitch, but you have more channels to compete with for viewing time.
Kick also tends to have more of a niche audience than Twitch, which has tried to make its platform more family-friendly. It's due to Twitch's larger base of young viewers that gambling content was so restricted.
Kick vs. Twitch: Ease of use
Both Kick and Twitch are easy to use whether you're new to streaming or have been at it a while. Twitch has its own live streaming studio software you can go live with on desktop; Kick doesn't. Also, if you want to stream using a gaming console like a PS5 or Xbox, Twitch has an app for PS5 and you can stream directly to Twitch with your Xbox. As of September 2023, Kick doesn't have its own console streaming solution.
Level up your Kick streaming with Restream Studio
Of course, there are ways to stream on Kick even if it doesn't have its own software or integration apps. To go live on desktop, you can use streaming software like Restream Studio or OBS Studio. When you stream on Kick with Restream, you can:
Add custom graphics, overlays and backgrounds
Have up to nine guests join your live stream remotely
Change your screen layout
Have your Kick chat show up on your Restream dashboard
Display your Kick chat as an overlay
Stream in Full HD
Play local video files during the stream
Add affiliate or donation links via QR codes
Get stats on your live streams with streaming performance analytics
Connect your Kick channel to Restream to get started. If you need more info about Kick, you can also check out our Kick streaming guide.
Kick vs. Twitch: Affiliate and Partner status
Both Kick and Twitch have monetization programs that let you earn revenue and get other perks with streaming. In order to unlock some of these features, however, you have to meet certain requirements.
For Twitch Affiliate status, you need:
At least 50 followers
At least 8 hours of live streams
Streams that took place on at least 7 different days
An average of 3 viewers
For Kick Affiliate status, you need:
To stream for more than 5 hours
75 or more followers
Joining Kick's Affiliate program is generally easier than joining Twitch's Affiliate program. The threshold requirements are lower on Kick. On both platforms, you have to be an Affiliate if you want to be eligible for paying subscribers to your channel
One step up from Affiliate status is Partner status on Twitch and Verified status on Kick.
For Twitch Partner status, you need:
To stream for 25 hours
To stream on 12 different days
An average of 75 viewers
For Kick Verified status, you need:
To have streamed for 30 hours in the past 30 days
To have streamed on 12 unique days in the past 30 days
A minimum average of 75 live concurrent viewers in the past 30 days
300 unique chatters in the past 30 days
A minimum of 20 active subscribers in the past 30 days
Kick vs. Twitch: Monetization
On both Kick and Twitch, there are several ways to make money with live streaming.
Subscriptions
It's hard to deny the appeal of Kick's 95/5 split. In June 2023, Twitch announced a new Partner Plus program that will offer some eligible streamers a 70/30 split, allowing them to keep 70% of subscription revenue. For most streamers on Twitch however, the standard 50/50 split is still in place.
Donations
Both Twitch and Kick have in-platform donations — streamers keep 100% of donations they receive from viewers on both Twitch and Kick.
Ads
On Twitch, streamers can sign up for the ads incentive program and earn revenue from showing ads during streams. Kick has said it prefers to have sponsors work directly with streamers rather than roll ads during streams, so currently there's no way for Kick streamers to make money from ad revenue (unless they join the Kick Creator Incentive Program).
Other methods
On Twitch, you can also earn a small percentage of sales of video games if a buyer purchased from your Twitch channel; Kick doesn't have a similar program yet.
Kick has a Creator Incentive Program, which focuses on paying streamers for their time rather than their viewers. Streamers who qualify will be able to earn an hourly wage of $16.
For now, the average streamer can probably make more money streaming on Kick than on Twitch. As time goes on and each platform reforms its features and monetization policies, that might change. Kick has already shaken up the streaming world quite a bit in 2023 — there could be even more drastic changes yet to come.
Kick vs. Twitch: Rules
Kick's goal is to be more open about its rules and community guidelines than Twitch, which is known for banning people seemingly without a legitimate reason. The biggest difference between the two platforms is the prominence of gambling content on Kick. Twitch still has the "Slots" category but it's not one of the platform's highlighted categories like "Gambling and Casinos" is on Kick.
Apart from the gambling rules, both platforms have standard community guidelines that prohibit harmful, deceptive, or illegal activities as well as hate speech and sexually explicit content. They both have rules about copyrighted material too.
Kick vs. Twitch: Simulcasting
Twitch is notorious for not allowing simulcasting, or the broadcast of the same live stream on its platform and other platforms simultaneously. Twitch streams can go live on mobile-first platforms like TikTok and Instagram at the same time, but they can't stream on Facebook, YouTube or Kick simultaneously.
Currently, Kick's community guidelines and Terms of Service don't mention simulcasting, so streamers are seemingly allowed to do it. Twitch received a lot of criticism when it announced its latest simulcasting rule, making it apply to all streamers instead of just Affiliates and Partners. As a result, Kick may not impose restrictions on simulcasting if it's trying to stay competitive with Kick, but only time will tell.
If you do want to go live on several platforms at the same time, you can use a multistreaming service like Restream. Adding your favorite channels like YouTube, Facebook, X (Twitter), TikTok, Instagram and more only takes a few minutes. You can either stream from our browser-based live streaming studio or use Restream's multistreaming add-on with OBS Studio.
Wrap up
Should you stream on Twitch or Kick? It ultimately depends on what your goals are. If you want to make more money from streaming, choose Kick. If you're looking to build a big following around your content, choose Twitch. You can experiment with streaming on both to see how you like it and figure out if you have a preference for one platform or another.
Remember, you don't have to limit yourself to one platform either. You can live stream on both Twitch and Kick (although not at the same time) to try and expand your audience. You can add other platforms to the mix too and go live on YouTube, Facebook, Instagram, TikTok, LinkedIn and more. Restream makes multistreaming easy.