The emergence of streaming has had a transformative effect on the media and entertainment sector. Streaming service providers are now producing and making available more content than ever before, while traditional TV providers are also adding streaming services to their channel bundles to stay competitive. But as the market matures, global brands are using M&A as a not-so-secret way to remain competitive, giving rise to new monetization models and measurement tactics. OTT and FAST markets have already gone through a heavy period of business and technology consolidation.
To highlight just a few: Fox acquired ad-supported streaming platform Tubi for $440 million to bring more than 20,000 movies and shows to the platform; AT&T and Discovery completed a $43 billion merger to create the mega-media conglomerate Warner Bros Discovery; and Viacom acquired Pluto TV's FAST streaming service for $340 million to attract a younger audience and monetize old content. These deals are about capitalizing on direct access to millions of viewers used to consuming cheaper and more accessible content, as well as creating new value for users via smart TV platforms and mobile apps. However, this era of market consolidation is propelling opportunities to engage with new subscribers and explore new ways to retain them.  
Integrating FAST channels
The popularity of FAST channels is paving the way toward new developments and a superior streaming experience. Video service providers looking to attract more consumers and monetize their content are looking at FAST channels as a strong way to enhance direct-to-consumer digital reach and engagement. According to OMDIA research, as of 2023, households in the US alone had access to over 1,500 FAST channels, predicting global revenues to hit US$13 billion by 2028. Yet, as of today, global FAST revenues sit at around US$6 billion, suggesting operators will need to adopt inventive monetization strategies to truly capitalize on the potential this model offers. An efficient way to do so is by integrating FAST into a more unified offering that leverages the strengths of the larger consolidated brands. This encompasses access to additional content, existing subscriber relationships, and, most importantly, user data. Data around consumer habits is vital to tailor FAST channel lineups and content and to enable targeted advertising that underpins the model. For brands such as Viacom, with diverse interests from radio to local TV stations across the US, having the biggest FAST channel provides an opportunity to aggregate content and cross-pollinate audiences in exciting new ways.
Taking advantage of hyper-personalization
To truly capitalize on this vertical integration and consolidation, however, OTT and FAST players should adopt another crucial strategy: hyper-personalization. Although Pluto is often credited as the poster child for FAST, some argue that TikTok, with its continual stream of hyper-personalized content, is a better representation of what FAST, whendone well, can deliver in terms of audience. TikTok has over 1.677 billion users globally, of which 1.1 billion are its monthly active users as of 2023. According to the latest data from WARC, TikTok's ad revenues are set to hit $13.2 billion in 2023, a 33% increase from the previous year. Although an inexact comparison to FAST, its hyper-personalization model highlights the potential of an algorithmic and data-driven approach to streaming content that could deliver real value for FAST and act as a critical differentiator. For example, a sports-themed FAST channel with a personalized lineup based on a subscriber's stated preferences – and suggested content based on demography or region – could prove an exciting prospect. Streaming operators can tap into new customer territories by understanding specific user needs and achieve scalability with customer acquisition and retention.
Prioritizing active engagement
Another strategy that operators looking to consolidate their services could consider is active engagement. That means adopting some of the strategies traditional pay TV operators have embraced to convert, retain, and keep viewers fixed on their services. Understanding how to track consumption and engage with subscribers through smart device apps is a powerful tool for understanding user behavior. Automated systems that inform viewers when a new program or channel that matches their desired profile is added to a FAST service is a simple but effective mechanism to drive engagement. Embedding links to FAST channels across relevant social media, based on interest groups, is another. This has the potential to engage and add value to audiences – especially younger audiences centered on digital media – as this isstill an underutilized model with plenty of growth potential.
Tapping into intelligent real-time data insights
Future market consolidation will allow OTT and FAST players to have a front-row seat when it comes to all the rich data that their viewers provide. Consider Fox's content portfolio, which includes sports, news, entertainment, local TV, and its TUBI FAST service. Designing a FAST channel lineup that compliments and potentially cross-sells its other business interests is a viable option that unlocks new user data and monetization options. Platforms like these can tap into real-time, user-generated analytics and enable new ways to measure and systematically manage subscribers across their ecosystem. The right solution can leverage more user data, such as viewing habits and platform transactions, to better predict behavior, improve platform performance, and enhance the customer experience.
It's worth noting, though, that much of the FAST consolidation hype is still focused on North America, which accounts for 90% of revenues. Companies will eventually venture internationally to hit their forecasted US$13 billion global reach. This is the last area where intelligent engagement can adapt to local conditions for content and personalization. It's also where outreach will be vital. Operators can start laying the groundwork for monetization now to be ready to embrace global consolidation in the future.
[Editor's note: This is a contributed article from Evergent. Streaming Media accepts vendor bylines based solely on their value to our readers.]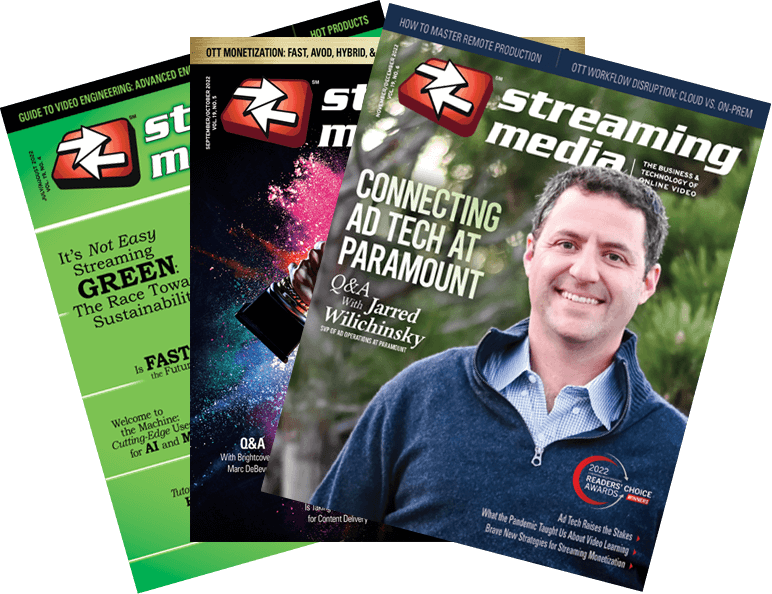 Related Articles