The Streaming Media 100 is back—welcome once again to Streaming Media's annual list that foregrounds the industry's most innovative and influential technology suppliers, service providers, platforms, and media and content companies, as acclaimed by our editorial team. Some are large and established industry standard-bearers, while others are comparably small and relatively new arrivals that are just beginning to make a splash. All set themselves apart from the crowd with their innovative approach and their contribution to the expansion and maturation of the streaming media universe.
In past years, we've focused exclusively on technology vendors, rather than content companies. This list has traditionally been entirely about recognizing the companies that enable video services to deliver great content to consumers reliably at the highest possible quality on every device and hopefully to make money from it.
Back in 2018—a pre-pandemic previous lifetime for most of this industry—we narrowed the list to 50 worthy honorees drawn entirely from the ranks of companies supplying products and services on the technological side of the aisle. But when we speak of the streaming media universe (it's not quite a multiverse yet for most of us, but it's getting there), content companies inevitably come into play. Is there really a streaming universe without Netflix, Warner Bros. Discovery, Apple, Amazon, Disney, Paramount, NBCUniversal, or the dozens or hundreds of next-tier, independent, and niche platform and channel suppliers that flood that universe with the content that all of the tech companies combine to ingest and transcode and monitor and secure and support and deliver at innumerable stages of the journey from source to destination? The picture is, arguably, far from complete without including the providers of the content that fills our screens.
So we've expanded the list back to 100 to include two dozen or so companies from the content side of the equation (recognizing the best of the best from the elephants in the room almost down to the roaring mice that are giving them a good scare) and to make extra room for a number of great tech innovators that got squeezed out when the list was scaled down to 50 (including, of course, quite a few innovative up-and-corners that hadn't appeared on the scene or shown up on our radar the last time we published a triple-digit list). A lot of more-than-worthy companies have failed to make the list in recent years as we trimmed it to a lean and mean 50, and this year's re-expansion gives us a chance to recognize a number of deserving honorees that might have just missed the cut in recent lists.
Once again, this year, we largely excluded the video production segment of the market (with the exception of a few companies whose technology innovations transcend the product-specific and wield their influence in the broader streaming scene), the one covered by Streaming Media Producer, with an eye to giving that genre its own list. Look for the 2024 Streaming Producer 25 to make its triumphant return next spring.
Also, the Streaming Media 100 focuses exclusively on companies with headquarters in North America. In March of this year, we published a similar list, the Streaming Media Europe 51 (go2sm.com/sme51), focusing on companies with headquarters in Europe. Of course, some companies have headquarters in both the U.S. and abroad; in those cases, we ask the company (or they forthrightly tell us) which list they want to be considered for.
So how do we arrive at the list? We invite members of the magazine's editorial inner circle to look at a master list of all of the vendors in the online video marketplace and assess their importance in the industry. We pool and average out the results, and the top 100 make the list.
Without further ado, here's the 2023 Streaming Media 100. Congratulations to all.
Agora
Chief Officer: Tony Zhao, Co-Founder and CEO

AiBUY
Chief Officer: Randy Bapst, CEO

AI-Media
Chief Officer: Tony Abrahams, Co-Founder, Director, and CEO
Akamai
Chief Officer: Frank Thomson Leighton, Co-Founder and CEO

Amagi

Chief Officer: Baskar Subramanian, Co-Founder & CEO

Amazon

Chief Officer: Andy Jassy, CEO

AMD
Chief Officer: Lisa Su, CEO

Apple
Chief Officer: Tim Cook, CEO

Applicaster
Chief Officer: Jonathan Laor, CEO and Co-Founder

Ateliere
Chief Officer: Dan Goman, Founder and CEO

Backlight

Chief Officer: Ben Kaplan, CEO
Bitcentral

Chief Officer: Steve Petilli, CEO

Bitmovin

Chief Officer: Stefan Lederer, Co-Founder and CEO
Brightcove

Chief Officer: Marc DeBevoise, CEO
BuyDRM

Chief Officer: Christopher Levy, CEO
Castr

Chief Officer: Govinda Sunil, CEO
CBS-Paramount

Chief Officer: Tom Ryan, CEO
Comcast Technology Solutions

Chief Officer: Ken Klaer, President
comcasttechnologysolutions.com
Conviva

Chief Officer: Keith Zubchevich, President and CEO

Crackle

Chief Officer: Philippe Guelton, Chief Revenue Officer

Datazoom

Chief Officer: Diane Strutner, CEO and Founder
Digital Element

Chief Officer: Rob Friedman, Co-Founder, Vice Chairman, and EVP

Disney Streaming

Chief Officer: Robert Iger, CEO
Dolby Laboratories

Chief Officer: Kevin Yeaman, President and CEO

Dropp

Chief Officer: Sushil Prabhu. Chairman and CEO

EdgeNext

Chief Officer: Robert Sha, CEO
Edgio

Chief Officer: Bob Lyons, CEO

Eluvio

Chief Officer: Michelle Munson, CEO and Founder

Endeavor Streaming

Chief Officer: Fred Santarpia, President

Evergent

Chief Officer: Vijay Sajja, Founder and CEO

EZDRM

Chief Officer: Olga Kornienko, Co-Founder and COO

FASTchannels.tv

Chief Officer: Russell Foy, CEO
Fastly

Chief Officer: Todd Nightingale, CEO

Float Left

Chief Officer: Tom Schaeffer, CEO

FreeWheel

Chief Officer: Katy Loria, Chief Revenue Officer, U.S.
Frequency

Chief Officer: Blair Harrison, CEO

FuboTV

Chief Officer: David Gandler, Co-Founder and CEO

Furtree Systems

Chief Officer: Yury Udovichenko, Co-Founder
Google

Chief Officer: Sundar Pichai, CEO

Gracenote—A Nielsen Company

Haivision

Chief Officer: Miroslav Wicha, President, CEO, and Chairman

Harmonic

Chief Officer: Patrick Harshman, President and CEO
IBM Weather Company

Chief Officer: Arvind Krishna, Chairman and CEO
id3as

Chief Officer: Adrian Roe, CEO

Interra Systems

Chief Officer: Sunil Jain, President and CEO

JW Player

Chief Officer: Dave Otten, Co-Founder and CEO

Kaltura

Chief Officer: Ron Yekutiel, Co-Founder, Chairman, and CEO

LG Ad Solutions

Chief Officer: Michael Hudes, President and CEO

Lightcast

Chief Officer: Chris Kibarian, CEO
LiveU

Chief Officer: Shmulik Wasserman, Co-Founder and CEO

Lumen Technologies

Chief Officer: Kate Johnson, President and CEO

LTN Global

Chief Officer: Yousef Javadi, President, CEO, and Co-Founder

Magnite

Chief Officer: Michael Barrett, President and CEO

MediaKind

Chief Officer: Allen Broome, CEO

MediaMelon

Chief Officer: Kumar Subramanian, CEO

Meta

Chief Officer: Mark Zuckerberg, Founder, Chairman, and CEO

Microsoft

Chief Officer: Satya Nadella, Chairman and CEO
Muvi

Chief Officer: Anshuman Das, Founder and CEO

Mux

Chief Officer: Jon Dahl, Co-Founder and CEO

MuxIP

Chief Officer: Thomas H. Link, Founder and CEO

NBCUniversal

Chief Officer: Frances Berwick, Chairman

Netflix

Chief Officer: Greg Peters, CEO

NETINT

Chief Officer: Joshua Zhu, CEO

PallyCon

Chief Officer: James Ahn, CEO

Panopto

Chief Officer: Jason Beem, CEO

Penthera

Chief Officer: Michael Willner, CEO and Chairman

Phenix Real Time Solutions

Chief Officer: Roy Reichbach, CEO

More about Phenix Real Time Solutions
Philo

Chief Officer: Andrew McCollum, CEO

Plex

Chief Officer: Keith Valory, CEO

Quickplay

Chief Officer: André Christensen, CEO

Qwilt

Chief Officer: Alon Maor, CEO

Recurly

Chief Officer: Dan Burkhart, CEO and Co-Founder
Revry
Chief Officer: Damian Pelliccione, Co-Founder and CEO
Roku

Chief Officer: Anthony Wood, Founder and CEO

Samba TV

Chief Officer: Ashwin Navin, Co-Founder and CEO

Scripps Networks

Chief Officer: Adam Symson, President and CEO

Signiant

Chief Officer: Margaret Craig, CEO

Simpli.fi

Chief Officer: Frost Prioleau, Co-Founder and CEO
Sling TV

Chief Officer: W. Erik Carlson, President and CEO

SSIMWAVE, an IMAX Company

Chief Officer: Abdul Rehman, CEO and Co-Founder

STARZ

Chief Officer: Jeffrey A. Hirsch, President and CEO

SymphonyAI

Chief Officer: Sanjay Dhawan, CEO

TAG Video Systems

Chief Officer: Tomer Schechter, CEO
Telestream

Chief Officer: Rhonda Bassett-Spiers, CEO

TikTok

Chief Officer: Shou Zi Chew, CEO

Trusted Media Brands (TMB)

Chief Officer: Bonnie Kintzer, President and CEO

Tubi

Chief Officer: Anjali Sud, CEO

Tulix

Chief Officer: George Bokuchava, CEO

Videolinq

Chief Officer: Eyal Menin, CEO

ViewLift

Chief Officer: Ted Leonsis, Founder and Chairman

Vimeo

Chief Officer: Adam Gross, Interim CEO

Vizrt

Chief Officer: Michael Hallén, CEO

Warner Bros. Discovery

Chief Officer: David Zaslav, CEO and President

Whip Media

Chief Officer: Carol Hanley, CEO

Wowza Media Systems

Chief Officer: David Stubenvoll, CEO

Wurl

Chief Officer: Ron Gutman, CEO

Xumo

Chief Officer: Colin Petrie-Norris, CEO

Zenlayer

Chief Officer: Joe Zhu, Founder and CEO

Zixi

Chief Officer: Gordon Brooks, Executive Chairman and CEO

Zoom

Chief Officer: Eric Yuan, CEO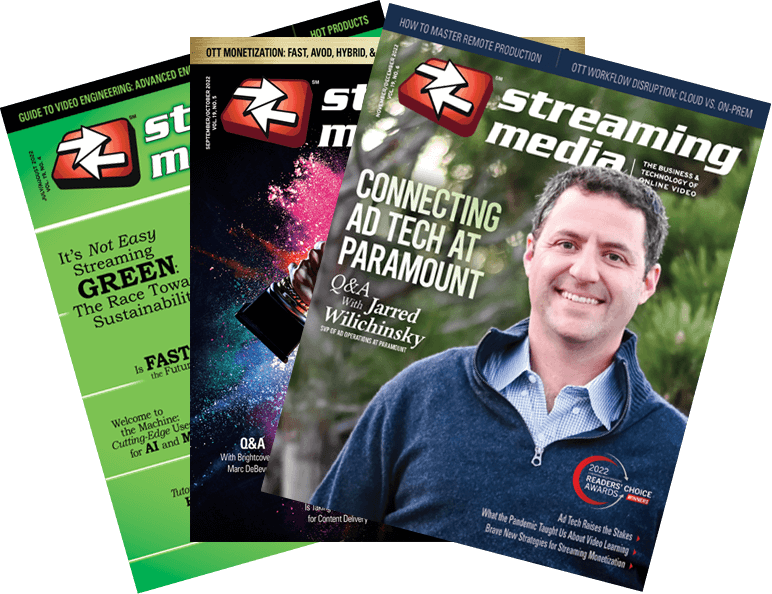 Related Articles
Companies and Suppliers Mentioned