After a dismal start to the year, Netflix has surprised investors with its positive Q3 reportings. NASDAQ announced that the streamer shows "third-quarter 2023 earnings of $3.73 per share, which beat the Zacks Consensus Estimate by 7.8% and increased 20.3% year over year. Total revenues are anticipated to be $8.69 billion, suggesting growth of 10.7% year over year or 12% on a foreign-exchange neutral basis."
Despite rapidly rising living costs, Netflix has managed to reduce churn and gain new subscribers by not only cracking down on password sharing and the introduction of its recently launched advertising tier, but also by making it easy for users to pause their subscriptions rather than cancel, along with adding more diversified and personalized programming options. The streamer will also launch a brick-and-mortar presence with its Netflix House retail stores, set to open in 2025. These moves capitalize on trends that are also showing positive results for other streaming services.
Amanda Mesler, Chair and CEO of Minna Technologies, offers several key points of insight into Netflix's success and continued stance as a dominant player in OTT. "Given that we've all become so accustomed to convenient, cost-effective subscription services, businesses have had to significantly change their approach to how they engage with customers," she says. "Moving to a more consumption-based model, ongoing value exchanges and deeper multi-channel content and engagement has become the norm."
"Churn and Return" – Why Users Love Flexible Subscription Options
Subscription option flexibility is the key for streamers to remain profitable and relevant in these challenging economic times. "Despite the financial pressures on households, many consumers opt to return to paid subscriptions just a few months after quitting, known as the 'churn and return' phenomenon," Mesler says. "Six in ten (60%) subscription businesses say that up to a fifth of their users cancel and resubscribe within six months. Therefore, enabling seamless cancellation and resubscription is essential."
Mesler emphasizes the importance of subscription pausing options as another key retention strategy. "The ability to pause a subscription is a relatively new feature, designed to provide more flexibility and choice to subscribers," she says. "This has led to the emergence of new channels to manage subscriptions, such as banking apps and aggregators. In this landscape, it's important that subscription businesses offer flexible features, including pausing functionality, across all channels to protect recurring revenues."
Why Diversification on Many Fronts Is Key  
Providing customers with more value through diversification is now vital in the current streaming ecosystem. This includes more diverse programming and a move out of the online space entirely with brick-and-mortar product offerings and branded retail locations.
"Our research shows that half of subscription businesses prefer diversifying product and service offerings over cost-cutting to mitigate against economic volatility and change in the coming year," Mesler says. "We've recently seen great examples of this from Netflix with its move into live content – with the upcoming Netflix Cup, its first live sports event, and the scheduled opening of new retail and dining outlets in 2025. Netflix has also previously dipped its toe into the retail market as part of promotional campaigns for hit shows, including an ice cream line inspired by Stranger Things, sold exclusively at Walmart."
Netflix is even making moves into the video game space as yet another path of diversification for its users. "The platform has partnered with developer Ubisoft to work on several big-name titles and is planning the launch of cloud-streamed games as this approach seems to have been identified as an area of potential growth," Mesler says.
How Users Are Empowered Through Enhanced Personalization
Enhanced personalization is necessary for any service to maintain an edge over the competition.
"Leveraging user data and AI are now necessary for subscription businesses looking to boost personalization. In fact, our research showed that almost all companies (94%) use first-party data collection to enhance their service for their customers," Mesler says. "With third-party cookies being phased out, media businesses are looking to establish more comprehensive first-party data strategies to boost both advertising and subscription revenues."
Giving subscribers a sense of control of their viewing habits is important to retaining loyalty to a service. "Leveraging data also allows for enhanced personalization across the full subscriber lifecycle, including subscription packaging, pricing, promotions, and recommendations based on subscribers' viewing history and analytics," Mesler says. "Ultimately, this enables businesses to empower subscribers with the control, choice, and convenience that they demand and deliver a seamless, omnichannel customer experience."
By quickly adapting to the shifting streaming post-pandemic landscape, Netflix has rebounded back to its previous dominant stance in the marketplace by using the tactics outlined by Minna Technologies. In order to survive and thrive in the ever-changing streaming marketplace, all services should take note of Netflix's litheness and willingness to grow beyond the past streaming programming models and into retail, gaming, and live entertainment spaces.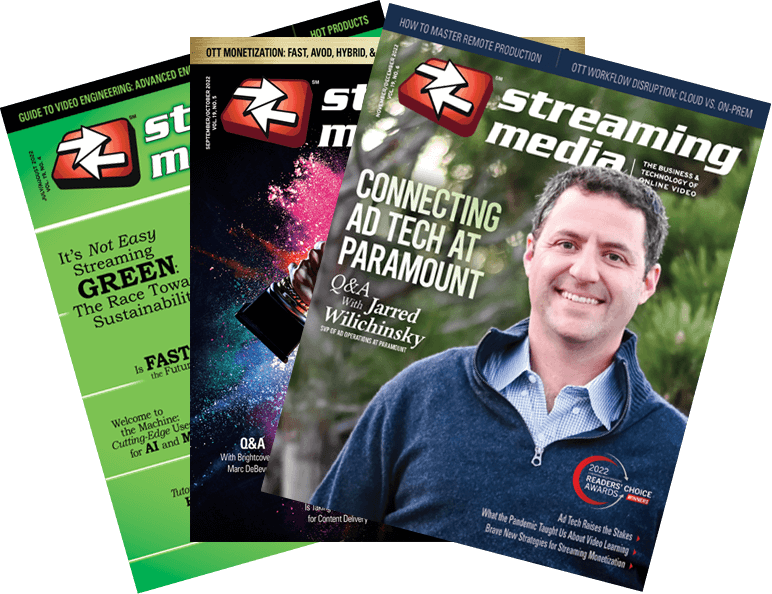 Related Articles
Jason Fairchild, CEO of growth marketing CTV ad platform tvScientific, weighs in on the Netflix Q2 earnings report and the challenges the premium OTT platform faces in growing ad revenue in the near- and long-term

25 Jul 2023
Being indispensable has its advantages

14 Mar 2023
With Netflix' new ad-supported service included for the first time in its earnings results, there were encouraging signs that the streamer has stemmed the crisis that had seemed to engulf it after losing customers in the first half of 2022.

23 Jan 2023