The community-driven entertainment company Trusted Media Brands (TMB) recently made its popular FAST channel, "At Home with Family Handyman," available on Samsung TV Plus. Additionally, two new series were added to the programming slate of the DIY brand, Pet Palaces and Workshop It.
The channel airs a range of home improvement hit shows, including Worst to First, Leave It To Bryan, Save my Reno, Backyard Builds, and Mr. Build It, starring Bryan Baeumler, Sebastian Clovis, Samantha Pynn, and YouTuber Alex Mazukhin.
Now a year old, the "At Home with Family Handyman" channel has seen a 129% increase in minutes watched over the last six months, averaging more than 90 minutes of daily watch time.
Describing the unique strategic gains for TMB with its addition of "At Home with Family Handyman" onto Samsung TV Plus, Jill Goldfarb, SVP of streaming at TMB, says, "As we continue to grow our 'At Home with Family Handyman' audience, what gives us an advantage against all of the other home and DIY channels is our 70+ years of expertise in the home and DIY genres, not to mention our highly engaged community. Our Family Handyman fans not only follow us across platforms, but their feedback and interests also inform our series and program creation. For instance, coming out of the pandemic, Family Handyman's audience wanted to create more outdoor spaces. Now, we have two series that address building great outdoor spaces: our original series, aptly named The Outdoor Show, and Backyard Builds, a licensed series hosted by well-known Canadian HGTV home renovation experts, Sarah Keenlyside and Brian McCourt. Another example is our upcoming season of Saturday Morning Projects. These demos come directly from our viewers' requests and become available on our social media and websites for audiences to tackle at home."
One possible challenge for TMB in the home improvement category is YouTube, a destination many people immediately consider when searching for DIY and home improvement videos. However, Goldfarb says that they do not view YouTube as a competitor but instead as more of a strategic partner. "We see [YouTube] as the opposite of competitive," she says. "For us at TMB, it is very complementary and is, in fact, our strategic advantage. Our goal is to build strong brands with engaged communities and to meet our audiences everywhere they are. The strength of our brands comes from our ability to engage with, learn from, and move with them across all of our platforms: digital, print, social, and streaming. The key for us is that we don't treat our content as a 'one size fits all' model but instead tailor it to fit the needs of each platform. For instance, all of our programming for our streaming and FAST channels is a combination of originally produced and licensed television programming. Our original programming is produced specifically for linear TV viewing by our television production team (which is the same team that produces such hits as Neighborhood Wars for A&E). Series like Pet Palaces, Mr. Build It, and Workshop It are all great examples. Additionally, the latter two series feature YouTube creators."
Goldfarb also discusses the importance of personalization for their audiences and how TMB best optimizes user data to deliver exceptionally tailored viewing experiences. "At TMB, data is very important to us and informs strategies across all areas of our business," she says. "FAST platforms are still reluctant to share all of the metrics across brands and platforms; however, our team makes the most of the data we do receive. Our data team does an amazing job of bringing in unique data from the many individual platforms and normalizing it so we can optimize our audience engagement and channels. Another advantage is having data from other Family Handyman platforms, which we can apply to our streaming audience."
In addition to Samsung TV Plus, DIYers and home enthusiasts can also stream "At Home with Family Handyman" on FuboTV, LG Channels, Plex, The Roku Channel, Sling, XUMO, and the At Home with Family Handyman app.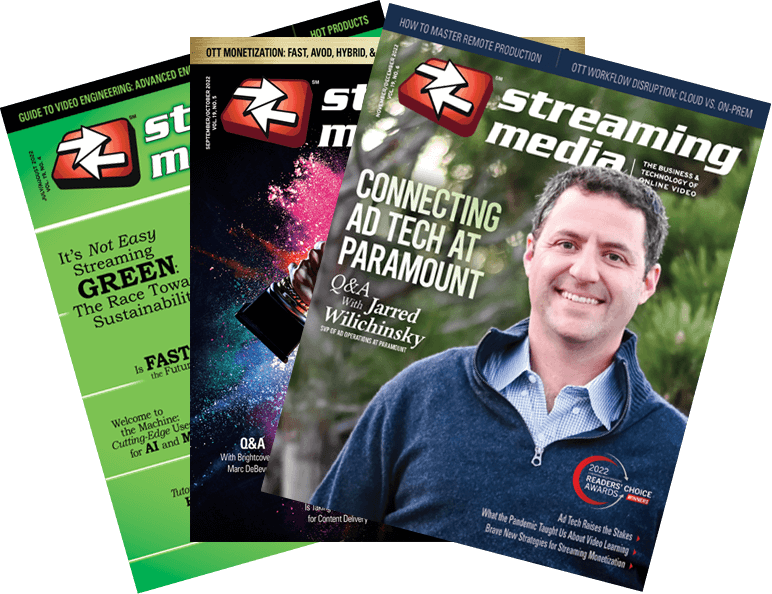 Related Articles
When it comes to leveraging and building an audience for premium OTT content, how do strategies differ for premium ad-supported content and subscription-based content? Roku VP Jenn Vaux and ESHAP's Evan Shapiro discuss how and why these strategic approaches differ in this clip from Streaming Media Connect 2023.

18 Oct 2023
How are studios leveraging scene-by-scene content analysis to improve ad specificity and targeting, and how effective are current implementations? WarnerMedia former VP Byron Saltysiak, Play Anywhere's Pete Scott, Qonset's Jesse Redniss, and MagellanTV's James Lauzun discuss in this clip from Streaming Media East 2023.

16 Aug 2023
Free ad-supported television (FAST) has been a rapidly rising element of the streaming industry since the beginning of the pandemic. This article covers the best practices for launching a FAST channel and how to handle the challenges faced, including insights from key industry leaders such as Jonathon Barbato of Best Ever Channels, DeShuna Spencer of kweliTV, and Paul Kontonis of Revry.

06 Jun 2023