Evan Shapiro, CEO, ESHAP, known as Media's "official Cartographer," charted out the next media era for his keynote on Wednesday, November 25, at NAB New York. Shapiro will be presenting the opening keynote for the upcoming Streaming Media Connect event, "No Quarter—Separating Fact From Fiction in M&E Third Quarter Earnings Reports," on Monday, November 13 at 1:00 p.m. – 2:00 p.m. (ET) / 10:00 a.m. – 11:00 a.m. (PT). Click here for the full program listing, and click here to register.
During his NAB New York keynote, Shapiro emphasized that what people may think is "coming next" for Media has actually already happened. "What's next is already here," he said. "It started a few years ago when Disney went direct to consumer, picked up 10 million subscribers in its first month, surpassed Netflix in total worldwide subscribers less than three years, and then fired their CEO 90 days later. We are now in a different era."
This is Part One of an article that breaks down the key points Shapiro made during his NAB New York keynote. 
The Media Universe in 2023
Shapiro displayed his map of the Media Universe in 2023, an overview of the media universe he creates a couple of times a month. "You can see here I've put the big tech Death Stars next to the traditional media players sized by their valuation, and I did this because math is important, but also to show the unfairness of the current ecosystem that we live in," he said. "Yes, Apple is in the media ecosystem. They are a media player, and they're competing with Disney, Netflix, Paramount Plus, and the 'Disco Brothers' [Warner Bros. Discovery] using the revenues they get from their iPhones to invest in television and audio and news at a major loss just so that they can take over big chunks. I first made this map about four years ago. It was meant not to be a prognostication that big tech would take over media. It was meant to be a pronouncement that it had already happened."
Click the image to see full-size
The User-Centric Era of Media Has Begun
Shapiro emphasized that we are now in a fully "user-centric" media era, but many executives in the industry still do not fully grasp this. Now, he said, "The user has all of the power. We've been ceding them this power for 25 years, so it's confounding in earnings reports to hear the old white men from Hollywood continually be confused about how the consumer got so much power. Well, we gave it to them, now they have it, they're in control." He pointed out that two-thirds of the global population is now under 40. "So if we're sitting in board rooms in ivory towers making decisions about our media companies with only people over 40 in the room, and we seem not to be able to land with our consumers, this is one of the reasons why."
He displayed an infographic from a Publishers Clearinghouse poll of 27,000 people about what they plan to do with their suite of subscriptions in the year ahead. "What you can see here is they said many different things, but only 7% of the consumers said that they plan to stick with the current suite of subscriptions that they have right now, just 7%," he said. "That means that the majority of consumers are rethinking some or parts or all of the subscriptions they have in their home on a month-to-month basis ready to cancel. When you think about consumers and how they buy things, I think there's this misperception that younger consumers are not willing to pay for content. That is actually the opposite of the truth."
Relevant Content Matters to All Age Groups
Shapiro displayed an infographic from Hub Research, which polled 3,000 users about what they consider a "must-have" for their media. "Content and the relevancy of the content to your consumers will always matter more than anything else," he said. "What you can see here is that there's actually a lot of similarities between people over 35 and under 35. Number one, for both constituencies: social media. Social media is usually the first piece of media any consumer checks out on any given day."
Beyond that, Shapiro noted many other details and highlighted the rising importance of Virtual Multichannel Video Programming Distributors (vMVPDs). "You can see for younger people under the age of 35, the YouTube TV Spectrum Reach, Hulu Live, is gaining tremendous importance. There are a lot of millennials who are finding that they miss the television experience of their youth. So, you will see the rise of the vMVPD as the MVPD declines. It will become more important, especially as companies like Charter and Comcast can bundle virtual cable with streaming services and mobile and broadband."
Maslow's "Hierarchy of Feeds"
Shapiro showed what he called the Maslow's "Hierarchy of Feeds." "This is the set of itches [users] are looking to scratch when they wake up and pick up that first piece of glass every morning. When you think about your intellectual property, when you think about your publishing business, when you think about your media business, you have to ask yourself, am I in all these areas? Do I touch all these needs? If not, there are plenty of companies who do, and if not, consumers are going to be spending time with other forms of media while they're not paying attention to you."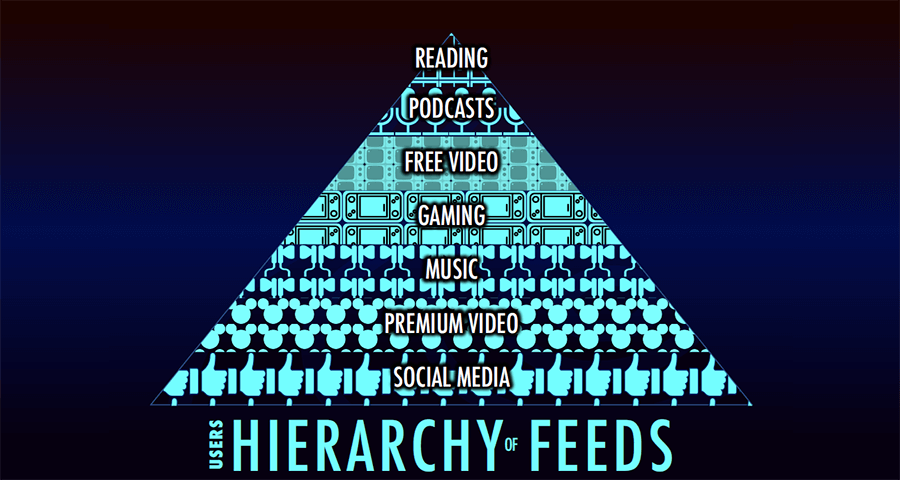 The CTV Wars
Shapiro showed the highly fragmented universe of the current television landscape. "This is what the television landscape looks like right now. These are the OEMs, the manufacturers, the publishers on a global basis. The largest television manufacturer on Earth only has a 15% market share. Samsung, however, not only do they now make TVs, but they're also publishers. They also put content out on a regular basis. Samsung TV plus Roku, not just a manufacturer of televisions and an operating system, but also a channel business. Google, not just a platform with video and audio, but also the maker of the fastest-growing, connected television operating system on the face of the planet. Amazon, not just Prime and Freebie and Twitch, but also the manufacturer of Fire.
"This is a major battle for the eyes and hearts and minds of television consumers around the world, and it is incredibly fragmented, and it's going to be a very, very tough battle looming over the next five years. So, if you are a media publisher or provider of content to the world, if you want to get to your best consumers, the gatekeepers have changed. It's no longer just the Comcasts of the world, but increasingly it's going to be these big tech companies, Google, Samsung, Microsoft, LG, Amazon, Apple, and Roku."
Click the image to see full-size
Frenemies and "Collabor-gators"
Shapiro emphasized that the old models of working to beat "competitors" are no longer relevant. Due to the complexity of the new media landscape, he said, "You have to understand your leverage as a content provider and then also understand their leverage as a gatekeeper to the planet Earth. That's why we used to call them frenemies. I like to call them 'collabor-gators.' You need to keep them close, but you also need to understand that they're your competitors."
He showed a breakdown of prime-time viewing by category. "This is based on TiVo's research, and this is the current video consumption economy. Right now, you can see SVOD is taking up the most primetime viewing in the United States. Pay TV is coming in second place. We talk about the death of cable all the time, but pay TV is still most of television consumption. This is primetime, but if you look at total consumption on a regular basis, around 55 to 60% of total consumption is still pay TV. It's cable and broadcast, but we all know most people get their broadcast through their pay TV provider these days."
Stay tuned for Part Two of this article to read about the rest of Evan's NAB keynote.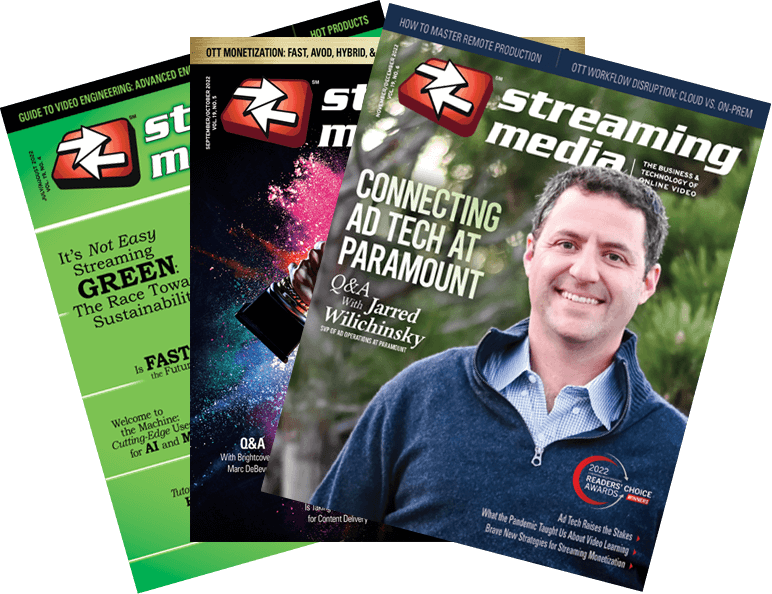 Related Articles
Where does CNN Max sit in the Warner Bros. pantheon alongside (HBO) Max and other platforms and associated brands? Warner Bros. Discovery Product Manager Dan Trotta lays out the initial strategic vision in this exchange with ESHAP's Evan Shapiro in this Streaming Media Connect 2023 clip.

23 Oct 2023
What does the data tell us about OTT consumer preferences and trends, and how can platform providers interpret it to improve reach and reduce churn? ESHAP's Evan Shapiro, Hub Entertainment Research's Jon Giegengack, and Erickson Strategy's Paul Erickson discuss in this clip from their panel at Streaming Media Connect 2023.

16 Oct 2023
As streaming media and CTV overtake broadcast as the most watched form of entertainment television, media cartographer Evan Shapiro breaks down how that usage is distributed via OTT and other channels in this clip from his closing keynote at Streaming Media East 2023.

10 Jul 2023
Companies and Suppliers Mentioned