FAST services have many options for monetization and viewer engagement strategies, such as audience targeting through curated channels and managing third-party platforms. In a recent panel discussion from NAB NY 2023, executives from AMC, Cox, Vevo, and Moloco weighed in on the current state of FAST and how their organizations are working to improve viewer engagement and monetization.
On the panel were Lindsey Stewart, VP, FAST & AVOD Revenue Strategy, AMC Networks, Matthew Dominguez, Director, Digital Distribution and Partnerships, Cox Media Group, Hedvig Arnet, VP of Business Development, Vevo, and Dave Simon, General Manager, Growth Initiatives, Moloco. The panel was moderated by Jonathan Hurd, Partner, Altman Solon.
How AMC, Vevo, and Cox Make FAST Work Best for Their Platforms
"Let's kick it off by talking a bit about consumers and a couple of you have consumer facing businesses," Hurd said. "So tell us about who your consumers are, your viewers or your subscribers, and what's your value proposition to that?" He asked Stewart to begin by talking about the present state of these topics at AMC.
"At AMC, we have an array of linear networks, subscription services, as well as FAST products," Stewart said. "And we really cultivated audiences across a broad range of genres between those services. And for each one we really target to make sure that they're really super serving niche audiences across different content offerings. Within the FAST space, we really need to replicate, amplify, create targeted specific premium streaming environments and experiences for audience everywhere." She emphasized their focus on the fandom for their very popular Walking Dead franchise, in particular.
Arnet of Vevo said, "We're the world's leading music video network. We have a huge array of FAST Channels across all genres and decades. We have 15 channels in the US alone and we also have expanded that globally every month. We reach half of the US population, so we really do reach a variety of viewers in terms of age, demographics, and cultural backgrounds. We have a huge library of over 800,000 music videos that we program into these FAST channels with a very skilled programming team."
Dominguez of Cox outlined their FAST strategies. He underscored that the definition FAST within the OTT space was critical for helping to define the ways that live linear content can be presented to viewers and categorized for content owners. "I think a lot of people who grew up with a traditional cable and broadcast TV experience found it really interesting again to kind of have that live EPG they can use to find channels and shows that they're looking for," he said. "And in terms of how we do it in the local space, we treat our FAST channels as another way for people to watch their live local news." He also mentioned that viewers could replay the broadcast if they missed it, and he also discussed how Cox can segment local broadcasting into local channels but also distribute it across their National News Tonight channel, which is especially helpful for major sporting event wins that may interest viewers outside of the team's local market.
How Moloco Helps FAST Channels Best Optimize Their Advertising Dollars
Hurd noted that Moloco differs from the other companies on the panel in how it works with FAST. Rather than a content provider, Moloco is more of a machine learning-based advertising solutions provider. "Tell us a bit more about what you do and what your business does," Hurd asked Dave Simon. "How does [machine learning] actually play out from the [FAST] ecosystem perspective here?"
"I think FAST is a really exciting space because it's actually closer to how the biggest monetizing platforms provide content experiences," Simon said. "If you think about Instagram or TikTok or even YouTube Shorts, it's all about a feed of content and how that feed is determined. What you see is determined by machine learning. And so you have the opportunity to create something that captures people and keeps them engaged. The question is, how do you do that both from a content experience and also from an ads experience?
"The fact is that Instagram and YouTube drive brand discovery at a level that's 10x what most linear TV stations can, and if you look at the data, 60% of video buyers in the US buy one video platform, it's YouTube, right?" he said. "Because they can drive outcomes in that experience. They can figure out how to get someone from 'This is the first time seeing something, to 'Now I'm buying something.' And we can say, 'Oh, that's because YouTube's on phones. [But] 50% of YouTube traffic is on connected TVs now. And so what we're trying to do is help OEMs and streaming platforms figure out how to offer outcome-based solutions for these streaming platforms so that they can make money the way YouTube does."
What are the Key FAST Metrics for AMC, Vevo, Cox, and Moloco?
Hurd asked the panel, "Stepping back from everything: advertising and audience, etc., what are the key metrics that streaming services should be paying attention to, whether it's the consumer experience, subscriber metrics, financial returns – what do you pay attention to when you get into work in the morning? What numbers do you look at across the various businesses you are focused on?"
Stewart of AMC Networks said their primary focus is on how to engage their audience best and optimize viewership. "It's really the upper end of the funnel for everything else," she said. "For us, we want to make sure that we're curating channels that are really driving strong viewership, bringing in new viewers, retaining viewers, having long duration session times for people who are watching the content. And then we can really optimize the content that we're programming, the channels that we're building around to ensure that we're creating experiences that then drive value to the platforms and the advertisers. Because the higher the quality of the channel is, the higher the value the audience behind it is. And there's a little bit more predictability. I think part of why you see we have such a broad FAST channel portfolio relative to an app portfolio or linear channel portfolio is I think one of the benefits of the FAST space is you can really create very specific channel offers."
Stewart further elaborated on AMC's unique strategies. "We have a Walking Dead universe channel built around that," she said. "We have a channel that's just weddings program and content. We have TV-MA versus TV-14 versions of some channels to create opportunities for platforms that might have content restrictions or advertisers who might want an opportunity to run content but don't necessarily feel comfortable running in the fully uncensored versions of content. So focusing on that viewership metric and what people are engaging in for us has been kind of the north star."
Arnet of Vevo said, "I definitely agree that viewership as the top level drives everything else for us. It's so important for us to drive the promotional and commercial value of the music artists do and that we're the stewards of. So that is really top of mind in every single partnership that we have. But when we're looking at platforms, and we want to be mindful of which platform we're choosing and why we're choosing them, we definitely look at other metrics such as, is this a platform that's growing and is this a platform that we want to be on because they have an existing large user base or because they're going to have one in a few years? So definitely, we look at how many channels they have available and where we can fit within that. We look at how many apps they have. Do they have 5,000? Do they have 40? Where can we fit within that? And so all of these metrics come together, and we evaluate which are the most powerful platforms for us to be on next, and we shape our distribution strategy from there."
Dominguez of Cox also said user engagement and time watch are their focus points. "It's an ad-supported business," he said. "It will be predicated on how much people watch, and you want to always see that going up. If your viewership is consistent or increasing, you will be in a good place regardless [of changing or unpredictable advertising metrics]. And just in terms of what's important when you're looking at these things for the FAST business, it doesn't make sense to be exclusive on platforms. Really, having a wide distribution will be the best opportunity for you as a content owner. With that being said, just being mindful about some of the costs that you may have with your platform or your technology partner, and then just making sure that hopefully you're at least covering those costs with that distribution partner."
Dave Simon said that Moloco focuses primarily on sell-through for their clients. "They've already done their content deals, and they're hoping for distribution," he said. "So after they've decided to sell TVs or get people to come into the app, the next question is entirely around CPM and usage rate." He cited a specific stat relevant to their approach. "In sports, when you do an upfront deal, the typical spread between what you've sold at and the number of impressions required to deliver it and then what you deliver at, it's a pretty tight spread. Usually less than 10%. In the entertainment category, that spread can be 50%, meaning you have to deliver two times the number of impressions to fulfill your KPIs like audience reach inside of entertainment. When that happens, your CPM gets cut in half. And so we pay a lot of attention to optimizing that ratio, and that's a big, big driver of where our platform customers pay a lot of attention."
Learn about various FAST topics and more at our upcoming Streaming Media Connect, November 13 – 16, 2023.
~Bethany Atchison, Vice President of Distribution Partner Management at Vevo, will be speaking on the panel "Know Your Audience: How to Use Data to Raise ROI," during our upcoming Streaming Media Connect Event on Wednesday, November 15: 4:00 p.m. – 5:00 p.m. (ET) / 1:00 p.m. – 2:00 p.m. (PT)
Click here for the full program listing, and click here to register.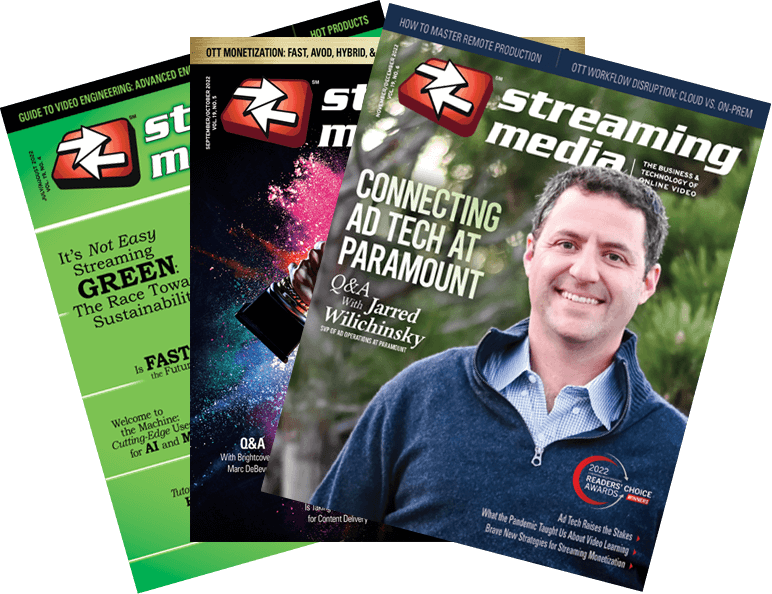 Related Articles
FAST channels are beginning to look a lot like TV – and with good reason, agree executives at major FAST providers Fremantle, XUMO, Tubi, and Fuse. What has evolved is curation. Adrian Pennington reports from IBC 2023 about a panel on the future of the free ad-supported TV phenomena.

18 Sep 2023
New 2023 Spring edition of State of Streaming survey launches, shows shifting focus

25 May 2023
A session on The Business of FAST: The Challenges in Monetization, Market Saturation and Viewer Engagement in the Streaming Summit at NAB 2023 brought together panelists from Brightcove, Gusto TV, Plex, Samsung TV Plus, SlingTV, and Vevo to discuss the surging FAST segment of the streaming market and strategic approaches to maximizing revenues and enhancing discoverability and personalization as more viewers tune in and new channels increasingly glut the market.

18 Apr 2023