Evan Shapiro, CEO, ESHAP, known as Media's "official Cartographer," charted out the next media era for his keynote on Wednesday, October 25, at NAB New York. Shapiro will be presenting the opening keynote for the upcoming Streaming Media Connect event, "No Quarter—Separating Fact From Fiction in M&E Third Quarter Earnings Reports," on Monday, November 13 at 1:00 p.m. – 2:00 p.m. (ET) / 10:00 a.m. – 11:00 a.m. (PT). Click here for the full program listing, and click here to register.
During his NAB New York keynote, Shapiro emphasized that what people may think is "coming next" for Media has actually already happened. "What's next is already here," he said. "It started a few years ago when Disney went direct to consumer, picked up 10 million subscribers in its first month, surpassed Netflix in total worldwide subscribers less than three years, and then fired their CEO 90 days later. We are now in a different era."
This is Part Two of an article that breaks down the key points Shapiro made during his NAB New York keynote. Read Part One.
All graphics courtesy of ESHAP.
Click the image to see full-size
Local News is Now the Number One Use Case for Local Broadcast Viewership
Shapiro showed an infographic depicting the results of a Publishers Clearing House study on local broadcast viewership, with a sample size of 60,000.
"We asked people, 'Do you watch local broadcast?'" he said. "42% said every single day. However, when you dig into the demographics here, what you can see is under 45, this number is not that big, so never is the largest for under 35. 35 to 45 every day – 30%. And then as you can see, most of the usage on local broadcast is driven by 55 – 65 plus. So this is my generation and my parents' generation's daily habit. However, let's dig in a little bit further. What do you watch most on local broadcast? By far and away it's news. It's not the primetime schedule coming from the major broadcasters.  So local news is the number one use case for local broadcasts. Local urgent programming information that I can use in my daily life is going to be one of, if not the most important part of the video economy in the United States and around the rest of the world for the next 10 years. Not because it's going to be more important than everything else, but because of its rising importance, [due to] world events, [and] needs in the community.
"So if you work in local television, think about what's my website strategy, what's my app strategy? What's my fast strategy, what's my podcast strategy? Because there is a very urgent need amongst millennials and Gen Zs to get local information and a massive need amongst older constituencies," he said.
A View of the US Streaming Conglomerated
Shapiro emphasized the importance of taking a conglomerated look at the current landscape of US streaming, rather than a more platform-specific view. "YouTube is now number one," he said. "Almost every home in America uses some form of YouTube regularly. YouTube is now the number one channel on TV on the planet Earth."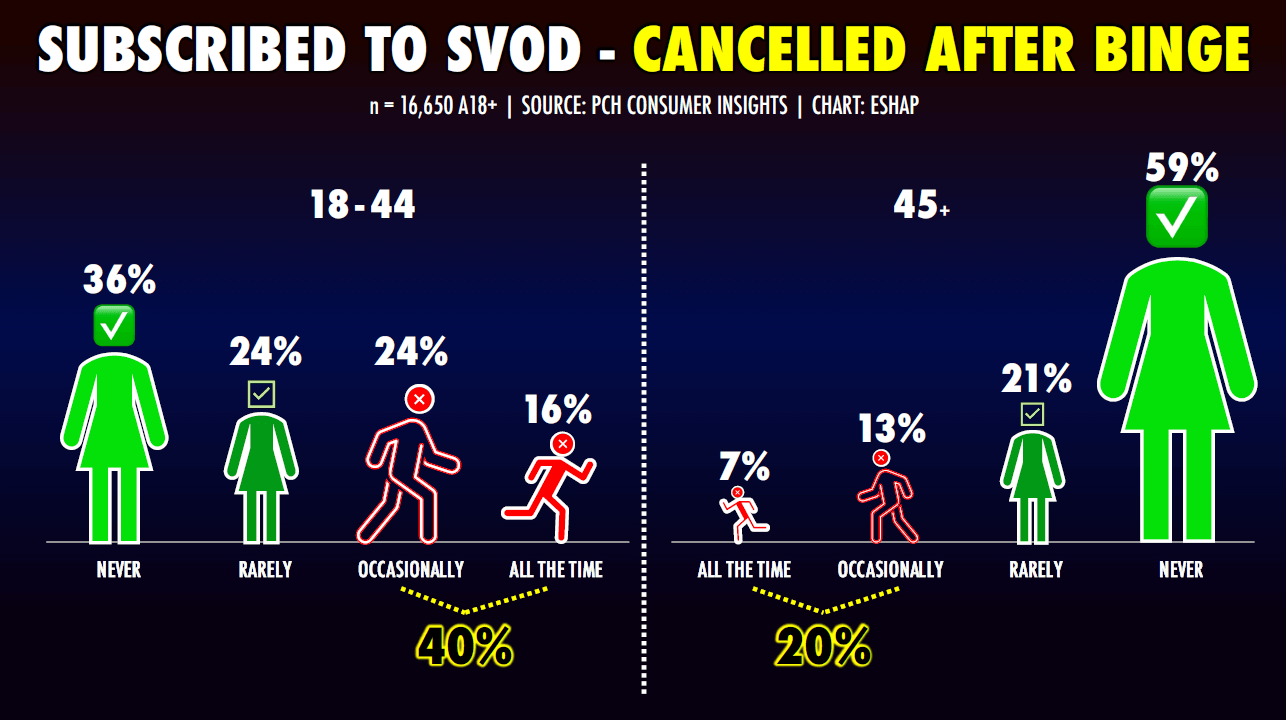 Serial Churning is the New Channel Changing
"One of the major challenges in premium streaming, including for Netflix, is churn cancellations," Shapiro said. "Serial turning is the new channel changing. It is the main reason for the existential threat in the ecosystem on streaming right now. The SVODs and the premium streamers out there…need to figure out ways that are different than just cancel or not cancel. It doesn't have to be a binary choice. What if Pluto and Paramount Plus [put out] the same app and so when you were done with Paramount, you stop paying, but you're still living inside the Paramount ecosystem and they can still remarket to you instead of having to onboard the whole time over again, you just click back on for the paid. What if you only pay when you watch? So you always are subscribed, but you're only paying based on usage. These are different out of the box things. They may or may not work, but it doesn't sound like anybody's experimenting with them, and it blows my mind that they're not because this is going to break their businesses. Even Netflix is going to have a hard time over the next five years making their business work if they can't grow their ad business and if they fall into this trap, their ad business will never work."
Where US FAST Revenue is Headed in Five Years
Shapiro showed an infographic sourced from Omdia that displayed projected US FAST revenue growth in the next five years. "Let's look at the economics," he said. "So going from 3.5 billion in 2022 to 11 billion in 2028, 208% growth. By the way, if you go around the world, this growth trajectory emulates itself. When you want to put this in perspective, the projection for growth, generally speaking, across the industry is somewhere between $14 to $20 billion by 2028 for all of FAST worldwide."
"Next year, YouTube will do $34 billion," Shapiro said. "This year, they'll do $32 billion. So yes, FAST is great. You should be looking at FAST as part of the continuum you're making out there, but if you're resting all of your future goals on this one format and thinking it's going to save your business in and of itself and replace all the revenue you're using from all these other traditional platforms, not so much. There is a cap to the total addressable market and the total addressable advertising business that this business can do, which speaks to a kind of larger shift that the marketplace is undergoing right now."
The Growth Trajectory for the Video Economy
Shapiro showed a breakdown of current viewing trends by business model. "This is the growth trajectory for the video economy right now. This data proves vMVPD is actually growing to a certain extent, SVOD is actually shrinking. One of the reasons is paradox of choice." He noted that an all too common problem now is users logging into multiple services but not finding anything worthwhile to watch. "That's why when you're thinking about your video strategy, especially your connected television strategy, it's not enough to think about one thing," he said. "You have to have a unified CTV strategy because we sold more connected television sets around the world over lockdown than we ever anticipated selling during lockdown. More people have more intelligent televisions than they've ever had in more rooms. So now rather than watching on my phone, I can go into a different room and watch on that brand new $300 connected television. The ability to leap from free [to] and to gaming and back has never been easier and it's getting easier every single day. And so you have to think like the consumer. You have to see your world through the eyes of the consumer, and this is how they see that screen hanging on the wall. You need to see it that way too."
"Interesting Times" for the Ad Business
Shapiro displayed an infographic showing changes in yearly ad spending year over year. "If you're in the ad business, it's going to be an interesting time," he said. "We just exited a massive advertising recession, 11 straight months of ad sales decline, and then we've had a couple of good months in the last three with ad sales coming back. Thing number one, a lot of this is based on a year-on-year comparison. So look at the bad months. Look at February 2023. Yes, you're down 8%. Now, look at February 2022. Well, of course, you're down 8%, you're up 19% a year ago. So, some of the ad recession was the irrational ad buying in video and other platforms that were being done during lockdown that was never ever going to continue. And by the way, yes, July is back up 6.2%, but go back a year and look at last July, down 8.2%. And so we're not back to the advertising economy that we knew. It's being reinvested, but it is not being distributed disproportionately across the ecosystem the way it was pre-lockdown, and it never will be. Again, it's going to the big platforms, and it's going to the places where the ad buyers know that their dollars work."
The Rapid Growth of Retail Media and Why Action is the New CPM
As a part of his larger advertising trends coverage, Shapiro focused on how retail media is now the fastest-growing advertising segment.
"Amazon did 38 billion in ad sales last year, 100% in the retail media," he said. "They're just getting in the television ad sales business. This is the first year they've ever taken it seriously, and it's still very small for them, but advertising is huge for them. By the way, Walmart made $2.2 billion in ad sales last year. Instacart will do $1 billion in ad sales this year. So you have to think about commerce strategy.
"This is a big part of the ecosystem, and if you're not paying attention, you'll lose a lot of money. Three-quarters of brands have a bespoke retail media budget that has nothing to do with their mainstream media budget. That's money you can't touch, [but] you can if you have a retail media strategy, and that's because action is the new CPM."
The 7 Rules of Gravity for the User-Centric Era
Shapiro summed up many the points of his presentation with his "7 Rules of Gravity for the User-Centric Era."
"There are seven rules of gravity for the user-centric era that I think is necessary to look at and operate by regularly," he said. He breaks them down: "Video, audio, social, and gaming are not silos. They are a bundle of services that consumers program for themselves. You need to try to be in all of them as much as possible. Subscriptions and advertising are not oppositional, they're complimentary, nor are they the end of the entire IP-based revenue continuum. EuroAmerica is no longer the center of the media universe. The fastest-growing 20 economies on Earth are in Latin America, Asia, and Africa. If you're not exploring opportunities in those territories, you will be competing in a very fragmented, mature market in North America and Europe. Publishers must work with big tech dead stars, and they must compete directly with them at the same time. The fastest way to lose control to the big tech gatekeepers is to cede control of your audiences to them. You must be speaking directly to your audiences on the platforms that they are on. That's why you need social media to talk to your consumers because those consumers are how you make money. So understanding how to transport audiences between TikTok and television, between podcasts and video, between gaming and social…these are important things, so you need to have direct relationships with your audience."
Shapiro also heavily emphasized the importance of having decision-makers in the room who represent the younger and most sought-after and influential generations. "If you make your decisions around your business, and you have any hope of talking to consumers age of 35, and there's no one under the age of 35 in the room when you make these decisions, you're fucked," he said. "If you are making decisions about serving consumers, the three youngest generations, the three largest generations, generation Y, generation Z, generation A, these are the most diverse generations in the history of the world. If you don't have people in your room that represent those generations both in race, color, creed, age, and economics, you're fucked. That's just how it works. Sorry to be so harsh, but these are the rules of the road, and you have to understand that we are not coming to next. 'Next' is not around the corner. Next is now."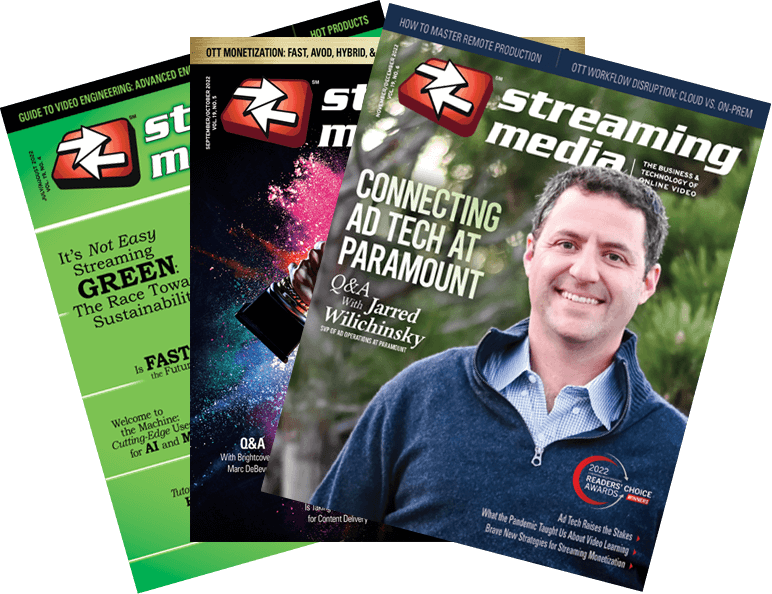 Related Articles
In his keynote address at NAB New York, media cartographer Evan Shapiro emphasized the existential threat that the M&E industry is facing. Audience consumption behaviors and business models are being disrupted. Evan used his unique way of viewing the data flowing through the media and entertainment industry's ecosystem to present a distinctive understanding of what's occurring and where things are headed.

27 Oct 2023
Where does CNN Max sit in the Warner Bros. pantheon alongside (HBO) Max and other platforms and associated brands? Warner Bros. Discovery Product Manager Dan Trotta lays out the initial strategic vision in this exchange with ESHAP's Evan Shapiro in this Streaming Media Connect 2023 clip.

23 Oct 2023
What does the data tell us about OTT consumer preferences and trends, and how can platform providers interpret it to improve reach and reduce churn? ESHAP's Evan Shapiro, Hub Entertainment Research's Jon Giegengack, and Erickson Strategy's Paul Erickson discuss in this clip from their panel at Streaming Media Connect 2023.

16 Oct 2023