Major media and entertainment companies' quarterly earnings calls ought to pull back the curtain on what's really happening in the industry, but they routinely bury unflattering numbers in expert spin, and the press on hand rarely ask questions tough enough to draw out the real story.
M&E industry cartographer Evan Shapiro pulled no punches in his keynote for Streaming Media Connect 2023, digging deep into the Q3 earnings call data to hold the spin doctors accountable and providing an unvarnished view of the industry you won't see anywhere else.
Read Part One of our highlights from his keynote presentation below, and click here to watch the full keynote video.
Why Amazon is well-positioned for a massively successful 2024
Shapiro said Amazon is well-positioned for a strong 2024 due to several factors. Their advertising business, which is the fastest growing in the world, grew by 26% in the third quarter. "You have to remember that first of all, this is primarily, if not almost exclusively, retail media at this point," he said. "So this is ads sold to consumer goods companies advertising their products, one click away from a purchase on Amazon. You can see that their e-commerce is actually growing much better than it did last year, which is one of the major reasons that their operating income popped so heavily. They had a really bad 2022, especially in commerce, where they over-invested and lost tremendous money in the first half of 2022. So part of the pop in operating incomes comes from just the pure year-on-year comparison, but still, it's a massive uptick in revenue. From an advertising standpoint, this is where a tremendous amount of their profit is coming from right now.
"This company is diversified in a way that very few other companies are, even in big tech," Shapiro said. "They're incredibly poised to grow their ad, media, services business, and a bunch of other things. And with their e-commerce bouncing back from 2022, this is a company that I think is going to have a massively successful 2024."
Why Apple will lean heavily toward services and advertising in 2024 
Shapiro noted that while Apple's net income increased by 11%, its product revenue decreased by 5%. "Every piece of hardware that the company sells went down in the third quarter from a revenue standpoint, except the iPhone, and the iPhone only went up by 2%," he said. "So for a company that gets most of its revenues and the vast majority of its profits from hardware sales, this is not a terrific story. However, their services revenue — their television, music, the arcade, the revenues they generate from taxing in the app store and what has become an emerging, still very slow-growing ad business went up by 16%."
He said that this all points to why Apple will lean heavily towards their service offerings: they can no longer rely on steady profitability from their hardware sales. An additional push into advertising will be a major part of this new strategy. "Apple will build a strong, best-in-class ad business in their app store. I think this will be one of the big new additions to the service revenue sector at Apple, as they did five or six years ago in audio and other services and a couple of years ago in gaming, which is going quite well for them now.
"I also think in the next 24 months, you will see a big concentration around their Amazon Prime competitor, Apple One. So far, they're not focusing on it much, but you'll see that change over the next 24 months."
Both Meta and Apple's Q3 trends point to a bounce back for the Ad Economy
"Meta had a massive third quarter," Shapiro said. However, he emphasized that this must be put in context with its major losses in 2022. "They had a really bad first half of 2022, they had an even worse second half of 2022," he said. "So net income is up 164%. That's a great story, but again, you must put that in context. Their total revenue is up 23%, but look at the year-on-year comparisons. So they're just getting back to the growth trajectory they had a couple of years ago, but the story is overwhelmingly good. This is a company that is bouncing back, and both this indication and Amazon's indication and a couple of others speak to a much larger trend: the ad economy itself is bouncing back once again." 
Shapiro noted that, at its core, Meta is a powerful advertising business, above all else. "They'll talk about Quest, the Metaverse, they'll talk about all these other things," he said. "They're a 98% ad sales company. And so they concentrated the first half of this year on a couple of things. One is [being] better at selling ads and focusing on selling ads, but secondarily, working around Apple's privacy changes in the App Store and creating algorithms on Instagram that sell you more shit in your Instagram feed that you saw on your iPhone last night. I'm not saying they're able to manipulate themselves around them entirely, but their ad products and the algorithms on Meta are improving every quarter on their ability to reach you and sell you stuff that you search for on other parts of the ecosystem."
Google and Wall Street's "AI bubble"
Shapiro showed how Google also enjoyed a nice turnaround in the third quarter, especially considering year-on-year comparison. However, Wall Street was not impressed due to what he said is a kind of "AI bubble" based on overinflated expectations of how that sector should perform at this point in time. 
"It's a nice turnaround for them from earlier this year to late last year," he said. "So their operating income is up 25%, and their total revenue is up 11%. In this case, their cloud business grew 22%, and once again, Wall Street wasn't satisfied. I feel this is part of a larger AI bubble that's being built right now. AI is not going anywhere. Gen AI is not going anywhere. These are going to be massive businesses, and they're going to be important parts of the media ecosystem. Still, a hyperbole has taken hold that knocks Google for only growing their cloud business, specifically around AI computing, by only 22%. That seems a little irrational to me, but once again, looking at this ad business here and Meta and Amazon, this repeats this trend that I've been talking about: the ad business is rebounding."
However, he also noted that this rebound is not benefitting every sector of the M&E industry.
Shapiro showed a slide demonstrating the disbursement of 2023 ad spending. "Google, Amazon, and Meta control 59% of ad buying or spending in the United States," he said. "And look at how small the pie slice of other digital is. This is why Buzzfeed is quickly going out of business. This is why Vox is having such trouble. This is why everybody in digital other than the big three and TikTok is having such issues right now. It's important to note that inside of 'Other Digital," of that 9%, TikTok is about 7%. So that means that 2% of that 'Other Digital' is for everybody else. That's problematic. If you're not one of these three, you can see traditional media still controls about a third of the pie, but that slice will get smaller and smaller and smaller every year."
He said that since Apple is poised to become one of the major service players, eventually joining the biggest slice of the pie as one of the "big four," everyone else must find a way to work with these media megacorporations to survive. "When I talk to traditional media companies, whether they're American media conglomerates or public service media or commercial media in Europe or anywhere around the rest of the world, the idea that you're going to grow your ad business and your platform without working with Meta and Amazon and Google, when they take up this much of the ad buying on the planet Earth is folly. You cannot do it. Remember, Meta is sharing their ad revenue with other players. Google shares its ad revenue with other players based on video views and other impressions they generate. Amazon will also get into a similar business when you go further."
Why Netflix is now simply a "

regular television channel business

"
Shapiro said that while Netflix also showed improvement in the third quarter, it is not as diversified as the other major digital media players and now falls squarely into the "traditional end" of the M&E business.
"Their growth trajectory has become a regular television channel business, especially because they have one and only one revenue source, which is subscriptions," he said. "Right after their earnings report, Netflix released a blog post from their new head of ad sales, and they were touting one year in the advertising business. They were celebrating a bunch of accomplishments. One of them was reaching 15 million monthly average users for their ad tier."
Comparatively, he said, "YouTube has 2.5 billion monthly active users. TikTok has 1.7 billion monthly active users. If you have 15 million monthly active users on your website, you can't get through the lobby of most ad agencies in the media world right now. So yes, Netflix had a really good third quarter. They added 9 million new subscribers, primarily driven by their lockdown of password sharing. They spun off a decent amount of cash flow and had a good revenue bump. [But] what happens when that bump of new subscribers from password lockdown ends? Where does the growth come from? They raised their prices this quarter following a lot of other leads like Disney and others, and that's one way to grow revenues. But when they eventually lose the bump of their password-sharing lockdown, where do new revenue sources come from? Right now I'm looking at their ad product, and it's definitely not coming from there."
Why Comcast may be well set to survive the "media apocalypse"
Shapiro explained why Comcast is in a better position than many other current M&E players. "This is a diversified revenue company, and I think that puts them in a good position versus many other traditional media players in the space to get to the other side of the media apocalypse we're on. They have various different inputs…broadband and mobile phone sales. Their mobile phone signups are rising at a good clip, but their business has some basic underlying problems.
"So first, let's look at the good stuff. Their direct-to-consumer revenue is up 64%. That's Peacock, both subscriptions and advertising. But remember, that's starting at a very low base, far further behind the rest of the traditional media's direct-to-consumer businesses versus everyone else. Crucially, look at their core business here. Their MVPD revenue, which is a combination of video and telephony and broadband, was down half a percent year on year and third quarter, and they lost broadband subscribers again in the third quarter.
"Broadband has peaked for Comcast and not just for Comcast," he said. "That's true of pretty much all the MVPD and ISP businesses. The broadband distribution in the United States has plateaued so that it will be a massive revenue generator for them, but the growth has slowed. And at some point, if you're not growing, you're shrinking. Media revenue is almost zero, and total advertising is down 8%. If it wasn't for the Parks revenue, Comcast probably wouldn't have had a net income growth year on year, and their revenue would've probably been negative. So, a bounce back at their theme park division again speaks to the importance of diversified revenue sources for all companies."
Disney: still more of a theme park destination than a media attraction
Shapiro used Disney as a key example of how the rebound of the ad economy is not only disproportionally benefitting only a few big players in digital but is barely benefitting traditional media at all.
"Their overall revenue popped up 5%, which is actually really good," he said. "Their operating income went up 5%, but their television revenue, which includes both their distribution revenue and their advertising revenue, fell a combined 9%, and their ad business, despite having Hulu, which is a very good digital ad product, is falling at a pretty healthy clip, and Bob Iger seemed to point to a fourth quarter that might even be worse.
"Now their direct-to-consumer revenue is up year-on-year despite losing subscribers. And that's largely driven by two things. The average revenue per user on Hulu, the highest in the industry, again speaks to the health of having a platform that does both subscriptions and advertising well. Nearly 60% of Hulu's subscribers are on an ad tier, and those subscribers are their highest average revenue per user. Compare that to Netflix's story, and look out 18 months and see where that goes. But again, speaking about this theme of revenue diversity, Parks revenue saved their quarter. So yes, they had an okay quarter, but it wasn't their media businesses that really did this."
Paramount's "mixed bag"
Shapiro discussed Paramount's "mixed bag" of a third quarter report. "Advertising sales were dramatically down even though Pluto did almost half a billion dollars in ad sales for them in the third quarter, a big part of their direct-to-consumer revenue growth at 38%," he said. "So they raised prices, they signed up 3 million additional subscribers in the third quarter. So that's one part of their direct-to-consumer revenue growth, their ad sales business on Paramount Plus and, crucially, on Pluto grew very healthily. If you extrapolate the third-quarter sales on Pluto to a fourth quarter business, that's almost a $2 billion a year business just on Pluto, which is really impressive.
"On a revenue increase of 3% while losing 9% on advertising and 8% on television revenue, they were able to increase operating income 10% to around $650 million on a $7 billion total revenue business. That's pretty impressive. So I think the advertising story is going down 9%, which reemphasizes that the trend of advertising's bounce back is not helping traditional media. Still, it benefits digital media, and the bifurcation of Pluto and their traditional television business at Paramount epitomizes that. But it also shows that you have to have massive scale if you're going to compete with the digital players out there."
Stay tuned for Part Two of our highlights from Evan Shapiro's Streaming Media Connect keynote presentation. 
Register for Streaming Media Connect here. View the full program here. 
All infographics courtesy of ESHAP.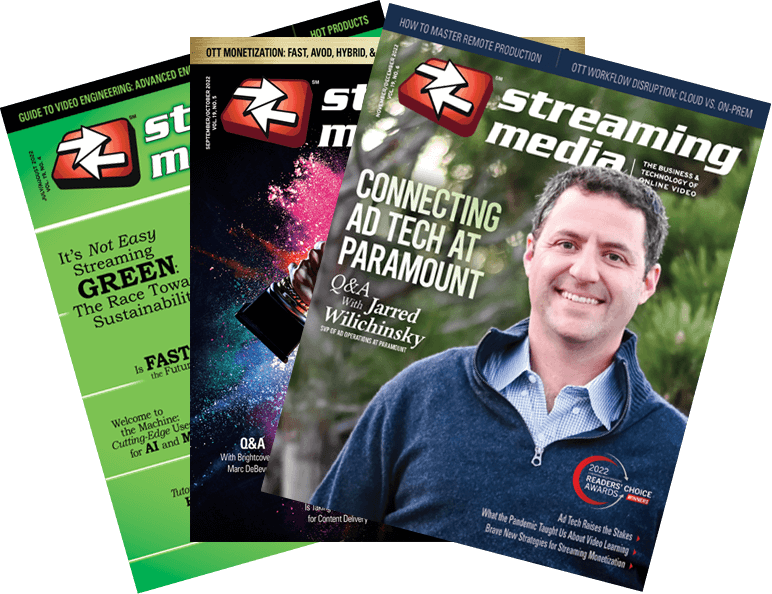 Related Articles